Unpopular Opinion of the Week – Round 4
Previously a segment on the weekly SC Report podcast, we've decided to bring in a bit of left-field, controversial thinking to our weekly lineup of articles. Who better than a Manly fan to deliver this one! Welcome aboard Matt West for the Unpopular Opinion of the Week. This one's designed to stoke the fire, so don't be afraid to fire back!
Don't buy Cleary until after the byes
If you buy Cleary now, you are doing Supercoach wrong (this season)
At close to 1 million, NayClay (©mattmobster 2022 ) and the 2022 SuperCoach season dictates that he is a MUST NOT trade until after the byes.
Nobody's averaging 100 after the first 3 rounds and if you take that as an indication of NayClays scoring potential, then his monstrous price tag should be a massive red flag being waved in your face by someone yelling "TRAP!" just before they steal $949,600 from you and run off into the night.
The top score this season so far with 129.
But does he have the potential to outscore every other SC player? Absolutely. But is he $205,300 better than Nico Hynes? And what could you do with that cash??
If we are talking about monstrous price tags, just go ask the Tommy Turbo owners how that's working out for them. The dude was scoring for fun last season, but 66 against the Dogs? Wake up and smell the cash drop……..
For me, he's not a buy until after the first bye or until he has dropped a ton of cash. There are some much better value options out there, I don't see why you would take a gamble on a price-inflated player whos coming back from a long layoff.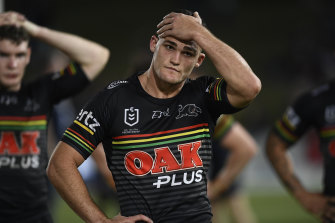 I know he's historically a fast starter after his previous injury, but his comments of wanting to get some more "confidence" and "conditioning" into the shoulder shows that they are taking it very easy with his return. So will they ease him into the side with reduced minutes?
Ideally, you want to end up with BOTH Cleary and Hynes, but with a combined price of $1,693,900, that is way too much cash to splash out at this point. Nico is here, he is performing, he is cheaper and better looking. Am I right?
You take on NayClay with the knowledge that he will drop cash and that's OK if you think his scores justify his price. But I think that he will be 800k in the coming weeks.
I'll take a cauliflower steak bet (I'm a vego…) that he is 800k by the first bye.