With the dust settling from a big Team List Tuesday, our own SuperCoach sides here amongst the Talk Team are taking shape. With just over a day to go, Weninrome, Semisonic (Lakey), Stilesy and JT have landed on their final 25. Some have gone for a few sneaky PODs in key spots, we've all gone cheap in our CTW, we all have the same hooking/fullback combination which means none of us have gone Turbo…
Will we live to regret it? Probably.
Rate or hate the sides as you please!
Wenin's Team Reveal
Team Name: Wenins Romes
I guess that I should change my team name to "Mid-price Madness"? This side is a long way away from the a-typical "Guns & Rooks" approach but with so many genuine mid-price options I have decided (for now) to capitalise on this.
My side ventures away from the cookie cutter mould in the 2RF, 5/8 and CTW positions, so let's take a closer look at these positions.
There are some fantastic dual positioned 2RF/CTW options this year, including Aitken and Fermor. Both shape as potential CTW keepers and so I have decided to start with them both. This decision plus having only one basement priced player in my CTW, results in me being able to afford just two gun 2RFs. This definitely scares me; however, there are question marks over the more expensive options in this position. Matterson may still end up in my side but the injury risk plus some doubts over his minutes does put me off a bit.
I have never been a Mann owner, but with Barry Toohey suggesting that he could play 65 minutes at lock, I can't pass up on his value and the potential for such a high base in the 5/8 position.
Finally, in the CTW position where there are just so many great options between that $250k to $500k range, I have decided to spend a bit more cash here than in past seasons. Smith and Coates are in at this stage given the huge scoring potential that both will see at the Roosters and Storm. The Broncos will likely take a while to get going (if at all) but Staggs is a gun and seriously undervalued. He may be the highest priced CTW come the end of the season.
That's me – enjoy the season and good luck.
Now over to the real stars of the show.
Semisonic's Team Reveal
Team Name: WhenHarryMetSemi
Team Semi currently lines up like this. Standard fullback pairing with Teddy and Paps. The usual cheapies being Randall, Max King, Tuilagi, Schneider, Ilias, Amone, Russell, Penisini, Tago, Vailea plus Momoisea for my steak bet with JT. Popular guns with Grant, Haas, Fifita, Aitken, Munster and also Fermor. It's largely fairly vanilla.
Where I've gone out on a limb is loading up on Warriors AFB and Curran to add to Aitken. I like their opening draw and each man has his enough pro's to convince me early on. I've got Kurt Mann in the CTW, but have stacked Fermor and Aitken at 2RF in order to fit all our cheapie CTW's in. And my biggest pod move is running Jaxson Paulo. Followers of the podcast know I'm all-in on Paulo for 2022. He showed flashes at the end of last year on the Bunnies less-favoured right wing. Now he shifts into Gagai's center spot on the left side which in recent years has crapped points like a gastro sufferer. I have three young kids. Trust me when I say that's a lot.
I'm least excited about Jackson Hastings as my starting halfback. I think the Tigers are in for a rough trot and he won't be an efficient scorer, but cash is limited with all my other picks. I'd really love (and I mean LOVE) to find $200k in order to upgrade him to someone more stable, like Rooster Sam Walker. Unfortunately, SuperCoach money doesn't grow in brown paper bags.
Stilesy's Team Reveal
Team Name: The Turnstiles
My team looks vastly different in the post-Cleary world to what did at the beginning of week. I was willing to pay up big for the best halfback in the game but unfortunately, that decision was made for me. Although, it did free up a bunch of cap space that I've managed to spread across the rest of my side, including bringing in a hopefully kicking Sam Walker in what should be a vastly improved Roosters side. I won't spend any time talking about the picks that most people have, which includes the main guns and obvious cheapies, but let's look at where my team may differ.
I have gone incredibly light in the front row. No Haas and no second FRF outside of cheapie range. This may look like a tactical error, however the premium FRFs – even Haas – likely won't get too far out of range as the season progresses. I'm not excited by JTB but he has won the starting spot on merit and coach has said he has the chance to play decent minutes. If he gets me 40-45PPG in the early rounds and makes some cash I'll be happy. My contingency is the Arrow/Momoisea combination. I'm not excited by Arrow much either but he at least should not lose value on last year and can be swung with Momoisea to cover FRF as needed. I think that flexibility is worth paying for in covid times.
I've also opted to – for similar reasons – stack up on dual 2RF/CTWs. This may seem like a pre-PVL-ball strategy but I believe Aitken, Bird and Fermor have attacking upside with strong bases, meaning they can get me good scores, cover multiple positions and potentially be stepping stones to fallen CTW guns such as Alex Johnston after the tough Souths run. I have a similar plan with Kurt Mann in the halves, who I am hoping can close the gap with Cody Walker after the Bunnies' horror stretch of playing top 4 sides. Mann can also swap with Amone as needed. Rounding out the side is Eliesa Katoa, who could honestly become Nanai or Luki. It just depends on who I have more confidence in as the teams begin to lockout. However he has previous runs on the board with known attacked upside – it is just the Tohu factor that may scare me off.
JT's Team Reveal
Team Name: FNQ Moonshiners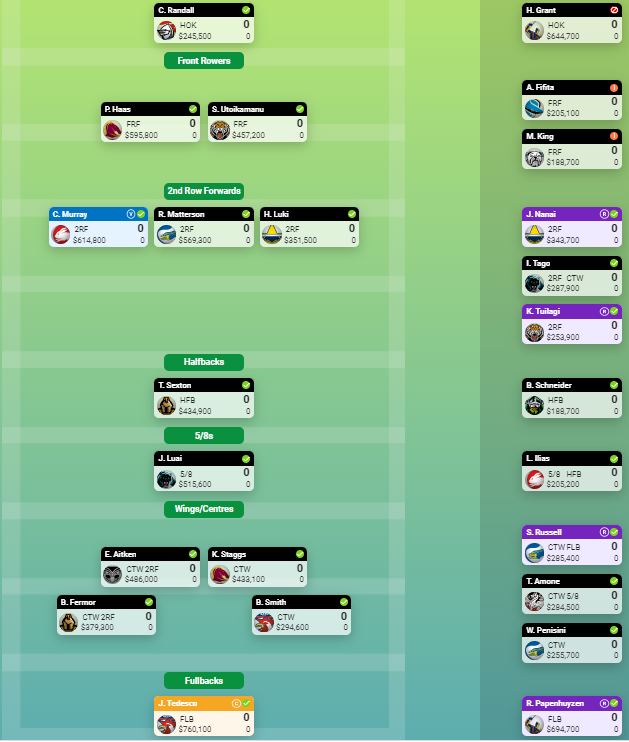 This is probably the first year in about 8 years of playing that I haven't started with Michael Morgan. It's a strange sight. I even though of buying Morgan Harper or Morgan Boyle just for the rush. There's even a Cowboy cheapie floating around called Morgan. Sadly, none of them really cut the mustard the way OG Morgo did, so onto some other guys.
There was something to like about the way Toby Sexton played last season, and despite having just 4 games to his name and a relatively hefty pricetag, I've decided to buck the Hastings trend many of us are taking and take a punt on the goal kicking coastie. Pairing him with a Cleary-less and Burton-less Jarome Luai is one of the bigger risks I've taken in setting this side up. It's fair to say the Panthers' preseason fell very flat and there's talk of a premiership hangover, but there's still quality throughout that side and Luai is a guy who should be feeding most of that. I'm backing him to start the season the way he did last year on his way to 73PPG from his first 10.
Up front the big absence you'll see, and clearly I've learned nothing from last season, is that I've left the Latrell Mitchell of the second row David Fifita out of my lineup. Yep, he can and will go ballistic. But he'll also go missing. Hopefully more often that not this season as teams get fitter and more used to the style of play he's been benefiting from. And if he does go large, hopefully Sexton gets a slice of that pie. Elsewhere, the two Cowboys midrange secondrowers have allowed me the luxury of splashing a bit more cash around, and I'm hoping for big things (and a steak from Lakey) from cheapie A. Fifita in some wild stints off the bench. Giddyup!