"In this world nothing can be said to be certain except death, taxes and a Teddy/TTurbo fullback combination." – Benjamin Franklin.
Who would have believed that these immortal words written in 1789 would hold true to this day?
With a stronger base compared to centre-wings (CTWs) and arguably the highest ceiling of any position, the custodian role is generally not one to mess with in SuperCoach and James Tedesco and Tom Trbojevic are the best in the business: as iconic a duo as Holmes and Watson or Gallen and peptides. At least, they were until what will go down in history as the 'Red Wedding' of weekend trials where we lost a Stark-load of SuperCoach weapons including Tevita Pangai Jr, Villiame Kikau and Tom Trbojevic, followed by the scratching of potential fullback cheapie Scott Drinkwater the week after.
Combine this with the rightful standing down of Ben Barba by the Cowboys and it's clear that the fullback race has been blown wide open for season 2019. But fear not, I am here to guide you through these murky waters and see you to safety.
Note: Some FLB eligible players, such as Kalyn Ponga, will be covered in articles in this series.
The Premiums
James Tedesco
($689,000, Pos: FLB, 2018 PPG: 74, Tries: 9, Line breaks: 15)
Not much needs saying about the man affectionately known as "Teddy" that you don't already know.
2018 saw him win his maiden premiership, the State of Origin series and gain an international call-up, culminating in what everyone except the voting panel considered a Golden Boot worthy year. Only 0.3PPG separated Teddy and Tom Trbojevic by season's end despite the former taking time to gel with a new club and latter producing the highest recorded SuperCoach score of all time. Teddy has shed the injury-prone label that plagued him earlier in his career and sports a ridiculous half-decade average of 70.8PPG. With "Turbo" out of the picture for the early rounds, Tedesco will cement his place as the king of the position in 2019.
The only downsides are that he will miss time over the Origin period and that his already healthy ownership will skyrocket after Turbo's injury. But don't get cute here, lock him in and throw away the key or you'll be left behind. The only decision you'll need to make with Teddy is whether to captain him each week or not.
Tom Trbojevic
($691,200, Pos: FLB, 2018 PPG: 74, Tries: 9, Line breaks: 19)
Since bursting onto the scene in 2015, "Turbo" has been a SuperCoach weapon of the highest calibre. The man with the best facial expressions in the NRL has averaged 65, 76 and 74 from 2016-18 and can now add 'highest recorded single game score' to his enormous list of accolades after decimating the Titans to the tune of 194 points. And yes, I captained him outright that round. He also breaks the line for fun (his 19 line breaks ranks tied second among all players in 2018) and sets up his teammates with the deftness of a top tier halfback.
BUT!
Turbo is now set to miss the opening couple of rounds of the NRL season and even if the persistent rumours about him being ready for Round 1 are true, it's not a risk to be taken. Those who were on the fence about fading him have now had the decision made for them. There is far too much money at stake here to simply stash him on the bench to save a trade when he comes back, and the strategy now becomes how to get him in:
When he returns
Before his first price change
When he leaks enough cash after a potential slow start
After Origin
It is also somewhat concerning that injuries, particularly to his ankles, have begun to surface each year. It may be prudent to wait and see how his body responds when he returns before jumping on. He'll also be making his return during what Wenin has rightly pointed out in a previous article (available here – another shameless plug by the sub-editor) is a difficult run for Manly between rounds two and six.
One thing is certain: you will need Turbo in your side by the end of the year. But when you pull the trigger could decide many a season for us Supercoaches.
Connor Watson
(FE/FLB, $537.1k, 2018 average 57, Tries: 7, Line breaks: 10)
Connor Watson was supposed to be one of the cheapies of the year in 2018 after being lured to the Knights from the Roosters with the promise of a full-time starting gig in the halves. Disappointingly, after getting off to a flier he got injured 17 minutes into round three which triggered many Supercoaches to sell. What we didn't foresee, was that when he returned in round eight he would go on to become a keeper at a position where many guns — including Thurston and Milford — were misfiring.
I was tossing up whether to include Gareth Widdop or Watson as the third premium in this article and the similarities are eerie. Both are dual FE/FLB. Both are switching from the halves to fullback this season in real life. Both will be part of a new-look spine at their respective clubs. Both are priced almost identically. So naturally I did some digging.
For the below stats (apart from coefficient of variance, which shows how drastically a player's scores fluctuate) I have only included 80-minute performances from the 2018 season — which also excludes an overtime game for Watson in round 1 in which he scored 57.
| | | |
| --- | --- | --- |
| | Watson | Widdop |
| AVERAGE | 66PPG | 61.95PPG |
| BASE AVERAGE | 31.6BPPG | 17BPPG |
| CoV (20% = good, 60% = bad) | 46% | 60% |
| CURRENT OWNERSHIP | 2.4% | 10% |
What this shows us is that, if you're choosing between the two, Watson held a higher average with nearly double the base and less statistical variance in 2018. This makes him a safer weekly option despite Widdop possessing the advantage of kicking, which he could relinquish to Zac Lomax as the season progresses and his Dragons career ends. Watson will have lower ownership and his switch to the back (where he spent his time in juniors) should make him even more dangerous due to his strong running game.
If you don't trust the cheapies and can't afford a premium Turbo replacement such as Kalyn Ponga, Watson enters the season under-priced based on his uninjured average and could soar even higher this season, despite some error-riddled trials performances where he was clearly blowing out some cobwebs and adjusting to his new position.
It's probably best to avoid…..
Roger Tuivasa-Sheck (FLB, $535.1k, 2018 average: 57.2, Tries: 3, Line breaks: 13). Many of us still longingly remember the 2015 season where "RTS" put up an astronomical 77PPG at the back for the Roosters. This monstrous effort placed him at the top of the fullback food chain — 3PPG ahead of second placed Teddy — and earnt him >$200k for owners across the season while breaking all kinds of real-life records. He then moved across the ditch to the Warriors and had his 2016 season cruelly ended by an ACL injury just seven games into the season which saw his average slump to 54PPG. This adjusts to 59PPG when you remove his injury affected game, which was still 18PPG short of his career best. He'll climb that peak again, surely. Right? Not so fast.
I'd like to point out some trends with pre-season talk surrounding RTS and his final average:
2016: "He'll take on even more work in a lesser side" — 59PPG (uninjured games only)
2017: "He's healthy again and under-priced" — 60PPG
2018: "He's 18 months out from his ACL injury and due for a bounce back" — 57PPG
2019: "He'll be the primary ballplayer with Johnson gone and only scored 3 tries last season" — Sound familiar?
RTS is a prodigious talent and the reigning Dally M medallist for a reason but SuperCoach is a ruthless game and it must be said: 2015 was the outlier. We're now three seasons removed from his glorious peak and it appears he is what he is — a player who will hover around 60PPG and is priced accordingly.
I'm not saying his production will drop off or that he'll have a bad season but unfortunately, he doesn't represent elite points, doesn't start undervalued or possess dual positions so therefore he should be avoided to begin 2019.
Will Hopoate (CTW/FLB, $556k, 2018 average 59, Tries: 5, Line breaks: 6) isn't the Hopoate that most people are excited about this season, but baby brother Albert. Will doesn't put up the flashiest numbers for a fullback (although he did rattle off scores of 135 and 126 in 2018), but his base is an exceptional 34BPPG (highest at the position last season) and he always has comparatively low ownership compared to the other guns at either CTW or FLB. It was easy to overlook that Will was an excellent POD on the home straight last season after switching from the centres to fullback, averaging 67PPG from round 16 onwards. He also plays in the first bye and is currently in but 2% of teams, so what's not to love?
The number on his back to start the season.
While he averaged 67PPG at fullback, he looks set to again begin the season in the centres where his average drops significantly (only 54PPG in 2018), meaning he is overpriced to start the season.
Shrewd Supercoaches will add him to their bust list for now, but should he find himself shift to the fullback role — potentially after several price drops — he surges back into contention as a POD with pedigree, particularly around the first bye.
The Mid-pricers
Matt Moylan
(FLB/FE, $483.5k, 2018 average 51.7, Tries: 2, Line breaks: 7)
The Matt Moylan rollercoaster was in full effect in his first season with the Sharks. Shifting from fullback into the halves on a full-time basis, on a new team no less, saw the former Origin player's average slip to 52PPG — his worst since his rookie season and a far cry from his previous three-year average of 61PPG from predominantly fullback.
Luckily for us, Valentine Holmes' sabbatical to the US, inevitable future signing with the Cowboys (right JT?) and the recruitment of scorned Warriors megastar Shaun Johnson allows Moylan to slide back into his best SuperCoach position.
After a quiet offseason personally, Matt Moylan is raring to go in the No.1 jersey @NRLcom

Moylan relishing return to fullback https://t.co/wZB4oMxTCQ pic.twitter.com/bZZRbp3sEk

— Hayley Byrnes (@HayleyByrnes) February 26, 2019
Those who watched Moylan's output last season will likely be nervous to trust him again. He was just as likely to throw up a ton as he was to drop into single digits. For example, he bent the Knights over for 134 then followed it up with a 12 against the Rabbitohs in a match where he got sin-binned. Later in the season he blitzed his former club Penrith for 114 followed by 39 against Canberra. In 2017 when playing for Penrith, he held a ballistic five game average of 97.4 between rounds 9 and 14, then finished the season with a six-round average of 41.5 —albeit after switching into the halves and missing some games through injury.
However, I do have a myth to bust about Moylan's wild variation in scores. Yes, the fluctuation was significant in his first season with the Sharks. However, if you look at his history, he has been largely stable for his position with acceptable CoVs of 43% and 46% in 2016 and 2017. For comparison, Nathan Cleary had 45% and 44% CoV in the same two seasons with the advantage of goal kicking.
Moylan's move to the back should provide the stability he needs to turn in a 60+ average which we know he is capable of. He looked very comfortable in the trials playing off Shaun Johnson and the Sharks have a favourable draw in the early season, which could set him up for an easy swap to Turbo if the variables fall into place.
Dylan Edwards
(FLB, $473.7k, 2018 average 50.6, Tries: 3, Line breaks: 5)
Dylan Edwards' maiden NRL season (his 19 on debut in his lone game in 2016 surely doesn't count) showed all the promise of a future gun. He scored 79 in the #5 jersey before switching to the back and going on to average 58PPG with an elite base of 32BPPG. He isn't known to score big with only two scores above 90 in his career, but he also doesn't go too small with only one score below 30 since 2017 in his 80-minute performances.
A shoulder injury cut 2018 short just 14 minutes into round 8 which saw him finish with an average of 51PPG, which adjusts to 55PPG if you remove this game. However, this does mean we get him at a discounted price in 2019 after beating out stiff competition from Dallin Watene-Zelezniak for the custodian role at the Panthers.
He doesn't have the positional flexibility of the other two mid-range players in this article, but he does provide a valuable extra number for the tricky first bye.
Jahrome Hughes
(FLB/FE, $479.8k, 2018 average 51, Tries: 2, Line breaks: 3)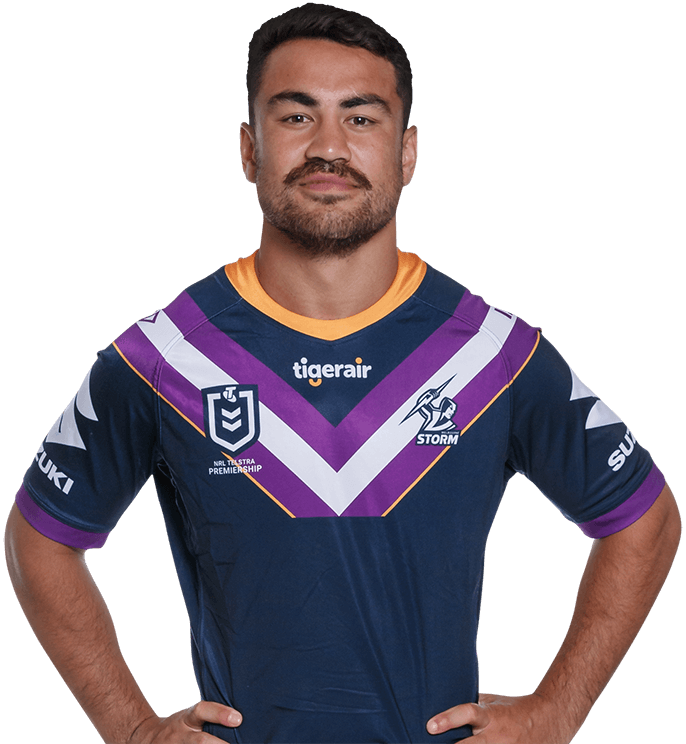 2018 saw Jahrome Hughes start the highest number of games in his career, split almost equally between fullback (56.8PPG in five games including 120 against the Dragons in round 17) and the halves (47PPG across six games). Prior to this, he averaged 64PPG across four performances in 2017 and 77 in his lone 2016 appearance. These stats left Supercoaches licking their lips at the prospect of him making the #1 jersey his own as the long-term successor to Billy Slater after signing a contract extension in December to keep him at the Melbourne Storm through 2021.
But then Scott Drinkwater appeared on the scene and seemed to have jumped ahead of Hughes in the pecking order. However, a torn pec cruelly ended what had become one of the more exciting position battles in the pre-season and has handed Hughes the Storm custodian role by default.
As pointed out in the Mega Guide, Storm fullbacks (regardless of who has worn the jersey) have averaged 65PPG since 2017. Whether this is a product of having world-level players, or whether the Storm's system allows world-level play from the position regardless of the player, Hughes should now be considered for your round one side. He may be more of a Round 3 watch however, since he hasn't played in any pre-season games after picking up a niggling injury in the All Stars match but by all accounts, he will train fully in the lead up and be unrestricted for round one against the mighty Broncos.
The Cheapies
Vale Scott Drinkwater. You were the cheapie we needed, but not the one we deserved. I'd sung your praises in an earlier version of this article but trials are a harsh mistress. Rest up young gun and come back stronger.
Casualty ward: The Storm have confirmed the worst possible news for Scott Drinkwater: https://t.co/xWOlGGtNBO pic.twitter.com/dNBelOa1xI

— FOX LEAGUE (@FOXNRL) March 4, 2019
Nick Meaney
(FLB, $281.5k, 2018 average 37.6, Tries: 2, Line breaks: 0)
With Drinkwater ruled out of the cheapie contention, people may look to pivot up to new Bulldog Meaney. Signed away from the Knights for the 2019 season, he is regarded highly enough by Coach Pay to shift Will Hopoate from fullback into the centres to fill the Josh Morris sized hole and give Meaney the first shot at #1.
Although his stats didn't set the world on fire at the Knights (38PPG from five 80-minute performances including four try assists, two tries and zero line breaks, with only 21BPPG), he has pedigree having been named the Knights NYC player of the year in 2016 and their ISP NSW player of the Year in 2017.
Additionally, with Rhyse Martin shaping to begin the season in reserve grade Meaney becomes the backup kicker to Kerrod Holland and could gain the duties should injury or poor form strike.
Supercoaches looking to go down the cheapie route were banking on Drinkwater, but Meaney should score you some handy points and generate cash, not to mention be a handy extra number for the first bye round, before being moved on.
Charnze Nicoll-Klokstad
(CTW/FLB, $254.5k, 2017 average 47, Tries: 7, Line breaks: 4)
The man whose name sounds like a Rammstein B-side track has edged out the competition to start the season as the Raiders fullback.
He didn't feature in first grade in 2018 but sported a handy average of 47PPG on the wing for the Warriors the season before, consisting of 22BPPG and scoring seven tries in as many games.
The kid is only 23, so through natural development and the early season consistency of a full-time starting gig he could produce in the high 40s or early 50s and earn decent cash for owners before being moved on.
The Raiders early draw is favourable and could see him bag some tries, however it remains to be seen what kind of service will be offered to the backline by the new halves pairing of Sezer and Wighton. Best case scenario, he gets you through the first bye round and can be traded to a keeper or fallen gun playing in the second bye.
Ideally, you'd have him in your CTW slots but if you're in a pinch at fullback or we are gifted with an abundance of CTW cheapies on Team List Tuesday, it could be an option to slide him down to accommodate the rest of your line-up.
Corey Allan/Albert Hopoate
(CTW/FLB, $168.1k)
Depending on what Team List Tuesday offers, our bottom dollar fullback-eligible cheapies may or may not make an appearance in your side to start the season. As Catfish and Bear discussed on the Champions' Podcast (free plug and you can follow them on twitter @NRLSC_Champions), it is a perfectly viable strategy to run with at least one non-playing reserve though ideally, you'd want them to be only one injury from a start and not in a position you can't cover if injury should strike. For example, if your main fullback goes down injured and your backup is not playing, you've created an auto emergency nightmare for yourself. At CTW, the risk is minimised as there are multiple other reserves who can plug that hole. With that in mind, let's look at the options.
Uncle Wayne didn't offer those most encouraging words after Corey Allan's immense three try effort in the Charity Shield, stating that he sees Allan as a fullback and there are a few ahead of him in the pecking order. Though if you cast your mind back to the beginning of 2018, he said the same about Jamayne Isaako and we all know how that turned out.
"I don't see him getting a start in round one. It all depends on what Greg does, but right now I don't see him getting a start": Wayne Bennett on Charity Shield hat-trick hero Corey Allan.@nrlcomhttps://t.co/qc7unhv3gN pic.twitter.com/ezseS1Hb2X

— Brad Walter (@BradWalterSport) March 2, 2019
The fact that Allan was the first player to be selected for the Prime Minister's XIII without having played a single game in the NRL speaks for his immense potential and he has featured at fullback for the Junior Kangaroos since 2017.
As for Albert, he turned down a lucrative offer from Rugby Union for a chance to follow in the family footsteps and make a name for himself in league. An ACL injury kept him out of action last year, and due to both that and his age (he only became game eligible after the first trial this year), we haven't seen in action at the top level yet. From all accounts, he is set to miss the Round one side with Reuben Garrick firming and Brendan Elliott to slot in at the back while Turbo is injured. That could make him an excellent downgrade option for a fattened cow should he feature later this year.
If either of these players are listed for round one, get them in!
Well that's it guy's, hopefully you made it this far….
Also, I'll be joining the site in 2019 as a weekly contributor with an announcement to come next week as to what exactly what my weekly responsibility will be.
You can follow me on twitter via @AStilesAuthor.