Lakey's Captains – Round 7
The team at NRLSCTalk are continuing to support Movember throughout the 2021 season and beyond. You can too by helping us raise much needed funds for men's health by visiting our Mo Space here If you, or someone you know, are struggling with your mental health, please reach out for help. Our Mo Space is also linked in the menu.
Every week we have plenty of captains issues to discuss for the rounds just gone or coming, but this week I want to pay homage to one of the SuperCoach greats as he announces his immediate retirement from the footballing world.
Trent Merrin was once an auto-selection in our starting sides and an every week captains option. Starting his career humbly as a front row option, Mez had a classic third year breakout in 2012, averaging 70 PPG across 23 weeks. He was huge. And it didn't stop there. He followed that season up with another 5 years with averages of 76, 69, 61, 74 and 58. All up, he went at a clip of 68.1 PPG over that 6 year span playing for both St George and Penrith.
But his biggest accomplishment came off the field, as the bloke with a bashed head bagged surfing superstar Sally Fitzgibbon. Ultimately, it didn't work out but the great man gave rise to a new wave of hope of average Joe's like myself looked to emulate his achievement in punching well above our weight class.
All the best with life after footy Trent, and thank you for all you have done for our game.
Disclaimer: The following is not a science by any means. Nothing written below is gospel. The final decision is up to you.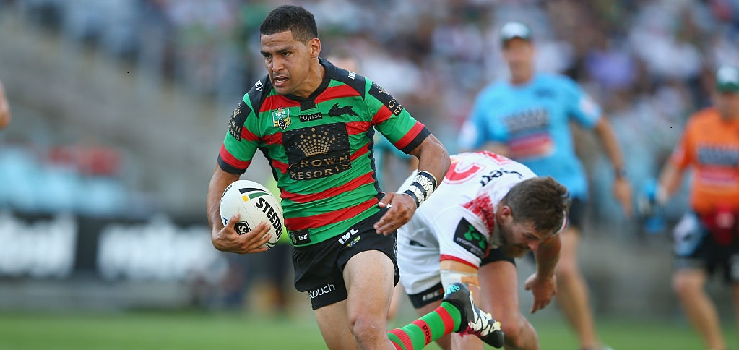 PSA: Before considering any potential VC selections, be aware that a fullback VC rules out a Teddy loop.
BEST
Cody Walker – Round 6 Score – 58 – P2P Average – 36.2 (L Halves) – Captaincy Rate – 2.6%
Walker hasn't been fantastic for me since trading him in. Games of 67 and 58 sandwiching a suspension week isn't quite what I expected or paid for. It seems like he and Latrell, despite controlling the side well, are stealing SuperCoach points off each other. When playing together, Cody is going at 71 PPG and Latrell at 78 PPG, but the week Cody missed, Latrell went off for 138 on the Broncos. And once Latrell tore his hammy off the bone last season, Cody finished the season with 81, 82, 91 and 203.
And I've put up the positional average of 36.2 above as left halves have really struggled against the Titans this year. But there are reports that Cody has been training at fullback throughout the week. That would allow AJ to slip back to the left wing and Benji to play in the halves. And it piques the interest because fullbacks are scoring a far better 74.8 PPG against the Coast this year. Just look at what Turbo did last week, and Ponga even had 66 in a side that was beaten by almost 30 two weeks ago.
For his part, Cody has scores of 70, 86, 84, 74 and 92 on the Titans over the previous five years so he's already scored well against them. But add that to his fullback prospects….
NEXT
Clint Gutherson – Round 6 Score – 103 – P2P Average – 59.8 – Captaincy Rate – 0.6%
The King is back. Gutho notched his first ton of 2021 as the Eels rebounded strongly against the Raiders. He's quietly elevated himself into elite territory in recent seasons but unfortunately gets overshadowed by the likes of Tedesco, Papenhuyzen, Trbojevic, Ponga and now Latrell. But Gutho can more than hold his own.
For instance, he scored 75 points in the round 1 matchup between these two sides when the Eels basically started playing from halftime. And last year he dropped 124 and 114 on the wooden spooners. The Eels took the Broncos lightly to start the year but shouldn't make the same mistake this week so Gutho could have yet another field day.
LONG SHOT
Brian To'o – Round 6 Score – 64 – P2P Average – 63.3 – Captaincy Rate – 0.9%
I could have gone with Cleary this week, and maybe still will, but To'o also presents as a very exciting prospect (for owners and non-Knights fans). There's no denying that he's being going great all year, but the Knights have also been really struggling in their outside backs. It's the biggest weak point in the side and an area that opposition sides target. Now that Best has returned, a lot of the attack is likely to be sent towards the combination of Tuala and Musgrove. Similar to what the Titans did with Corey Thompson (104) and the Sharks with Connor Tracey (114).
To'o has only met this side twice in his young career, one each year. In those games he's scored an 80 and a 72. He's playing at another level in 2021 than previous seasons so as much as it hurts me to say it, I can see a big ton coming from Bizza.
BEST
Harry Grant – Round 6 Score – 98 – P2P Average – 60.0 – Captaincy Rate – 0.3%
Even playing off the bench, Grant is doing ridiculous things on the footy field again. He took our world by storm last year (no pun intended) and has picked right back up where he left off after returning from injury. 66 points in 53 minutes and 98 points in 47 minutes is absurd, but just an example of what this kid can do.
Grant has been named on the bench again this week but has been vocal in saying that he's keen to secure the #9 before too long so I'm expecting another fired up performance on ANZAC day. The Warriors have had mixed success against rakes this year. They kept Rein, Lussick, Croker and McCullough to 50 or less, but have also given up big games to Brailey (90) and Hodgson (88). And Grant only had 57 on this team a season ago, but I'd be surprised if he doesn't beat that on Sunday afternoon.
NEXT
Payne Haas – Round 6 Score – 64 – P2P Average – 53.1 – Captaincy Rate – 0.2%
Payne Haas is just a very steady, solid captaincy option if you want to go that route. He's unlikely to break out a huge score, although it's not out of the question. He does have three tons over his time in the league. But he's more likely to get you a very standard 70-80 type score which you'd be happy to bank. The other thing is that unlike your other options, Haas won't get you a awful flop of a game. So if you're looking for that easy locked in safe captain, this is it.
Payne missed round 1 through suspension but his other games against the Eels have been 87, 91 and 76, proving that he will always take it up to these guys and if just about as safe as they come this week.
LONG SHOT
Nathan Cleary – Round 6 Score – 125 – P2P Average – 68.7 – Captaincy Rate – 26.5%
I couldn't leave him out. He could be anything again this week. Cleary has three tons from five games this season culminating in his season high 125 in a hard fought victory against the Broncos.
I spoke earlier about the success of left side players against my Knights this season, but right halves have been pretty handy as well. An almost 70 point average from the likes of Kyle Flanagan (78), Kodi Nikorima (34), Adam Doueihi (90), Adam Clune (65), Jamal Fogarty (68), and Townsville's finest Chad Townsend (77). Does anyone in that group inspire the confidence in you that Cleary does as a SuperCoach player?
Cleary missed the only match between these teams in 2020, but before that he's done relatively well against them. He has a 93 career average against them, including his SuperCoach high score of 186 points that came in the final round of the 2019 season. The Knights are by far his favourite team to play. I'm not particularly looking forward to Thursday night footy this weekend.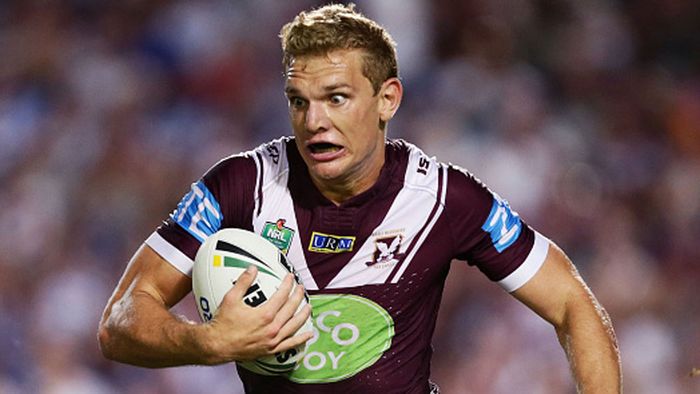 BEST
Tom Trbojevic – Round 6 Score – 116 – P2P Average – 76.2 – Captaincy Rate – 5.1%
Well I'll be damned. How was that for a Turbo return? He completely blew the much more heavily fancied Titans out of the water pretty much off his own back. I mean, 36 to zip. Nobody had that in their multi. And the Eagles were up 26 nil by halftime with Turbo scoring a try and setting up two more. He was on almost 100 by halftime, but ran out of gas in the second half to finish on 116. Still it was an incredible return and huge score. And as a matter of fact, it was pretty much on point.
Tom usually comes back big from his hammy concerns. He missed the opening two weeks of 2019 but then went bang with 152 and 58 in a half before getting hurt again. He returned later in the year with 62, 167 and 73. Last year, he started the year with a 22 but then went 71 and 152 in the next 2 weeks. He's got a history of these types of things.
Which doesn't bode well for the Tigers this weekend as they're already allowing big fullback scores. So far, they given up two tons and an 81 to fullbacks this year and there's a very good chance Turbo adds to that. His last five games on them have been 117, 54, 69, 46 and 131.
NEXT
David Nofoaluma – Round 6 Score – 71 – P2P Average – 69.5 – Captaincy Rate – 0.7%
So Nofo swaps sides, doesn't score a try, and still puts up a 71 point game against the Bunnies. That's impressive. Maybe his issue has been the Jet this whole time. Not surprising really though is it? Nofo has clearly been down this year compared to last. He's dropped over $100k in price to this point, but he's still quietly putting up some decent scores. The last four weeks of 80, 46, 76 and 71 from any other centre/wing and you'd be cheering. But we've got such high standards for this man.
He faces the might of Turbo and his Sea Eagles this week who played the game of their season last week. I don't think they can repeat that performance personally. They were lights out. Meanwhile, the Tigers, for all their defensive struggles, have been in games to the death. They've lost three on the trot but it's been by 4 to the Bunnies, 4 to the Cowboys after an early ambush, and 14 to Parra after conceding two tries in the final three minutes. I expect this to be a similar fight at Bankwest, with Nofo putting in a big workload.
Either way, whether Manly win by a lot or lose by a lot, left wingers are having success against Jason Saab, bookended by Cody Ramsey with a low of 51 and Brian To'o with 121.
LONG SHOT
Valentine Holmes – Round 6 Score – 95 – P2P Average – 71.8 – Captaincy Rate – 0.1%
Val has looked great in the past few weeks. Starting the year with a 20 on the wing against the Panthers, I all but put a line through him for 2021 but he's moved into his favoured fullback role and regained the goal kicking. As such, he's now sitting on a 5RA of 70 PPG punctuated by round 6's 95 points. He did it without scoring tries and only setting up one. He's just getting involved in everything the Cowboys do these days.
This week against the Raiders is (likely) a tougher matchup than the Bulldogs put up last week but in saying that, they are still allowing fullbacks to rack up scores. Daine Laurie, Stephen Crichton and AJ Brimson have scored within the 40's on them but Will Kennedy (65), RTS (133) and King Gutho (103) all put up really solid outings. A season best in Gutho's case. So they're definitely vulnerable there. It really just depends on whether the Cowboys can get anything going this week because it's hard to score points when you don't have the ball.
WORST
Tevita Pangai Jr – Round 6 Score – 61 – P2P Average – 41.3 – Captaincy Rate – 0.2%
TPJ has taken a huge hit in the past few weeks, which has directly corresponded with the return of Payne Haas. And despite being moved to the edge in place of Jordan Riki and playing the full 80 minutes against the Panthers, his scoring is still relatively unimpressive. Normally, you might take a 61 as a decent game. Not a captains game, but serviceable. I've had far worse scores from my front rowers (I'm looking at you Tino). But TPJ scored a try early in last weekend's game, so without that his score drops back down to 44. Woeful.
It's not all doom and gloom. In round 1, TPJ scored 79 points against these guys. The Broncos came out strong that game and surprised the Eels to go into the halftime break up 16-0, only to lose the game 24-16. TPJ only played 38 mins in the front row, but his work rate was huge with 15 hitups and 7 offloads, all effective. But last week in 80 minutes he had 11 hitups and no offloads. He's not the same guy and can't be trusted at the minute.
NEXT
Kalyn Ponga – Round 6 Score – 163 – P2P Average – 34.5 – Captaincy Rate – 0.7%
I wouldn't think too many have this guy in consideration for a straight captaincy role what with the Knights playing on Thursday night. But I've already mentioned Cleary above in the same game as a potential option so I figured I'd raise the point.
He destroyed the Sharks last week while on the border of Nate Myles notoriety, and in doing so scored 163 points in a game winning effort. However, this "MJ" type comparison is a bridge too far for even me.
I wouldn't be expecting a repeat performance this weekend against the Panthers. They've been allowing an abysmal 35 PPG to fullbacks this year. That's a bit misconception though as those fullbacks have been anything but special. R1 saw Drinkwater score 42. R2 was Corey Allan (25), R3: Hynes (53), R4: Dylan Walker (30), R5: CNK (8 (Kikau HIA)), R6: Isaako (49). So, I do believe Ponga will easily surpass those types of scores, but I don't think he's pumping out a huge ton. Although that concern is not enough to keep me from trading him in.
LONG SHOT
James Tedesco – Round 6 Score – 40 – P2P Average – 63.2 – Captaincy Rate – 12.0%
Oh, how the mighty have fallen. I said early on in the season that Teddy would be featured in his own specialty section until he proved to me that he shouldn't be, and in my own humble opinion, he's now done that. His scores have fallen well away since the injury to Luke Keary. I was in the camp of thinking he'd be more involved, but there's no denying that teams are now able to focus in on limiting Teddy's impact and thus taking him out of the game. Watching the game on Friday night, I was often left wondering just where the hell Teddy was.
That being said, I'm not brave enough at this stage to completely give Teddy the boot. He was previously putting up decent scoring before the Sharks kept him quiet and the Storm shut him out altogether. But to be fair, after Latrell's round one, 117 point explosion, fullbacks against the Storm were averaging less than 50. So it's not unheard of for Tedesco to struggle in getting involved.
The Dragons aren't quite so dominant. They've allowed 63+ PPG to the custodian position this year, including one game where Tex Hoy scored 28 in half a game. Teddy only had 47 on them last ANZAC day, but before that he'd gone 134, 57, 108, 61, 83, and 70.
---
---
Final Thoughts & The People's Team Captain
I'm very tempted to run with Ponga or Cleary as a VC, but I'm also equally keen to have a shot with Cody or To'o. The choices are too many but will likely be one of the latter for me. If Cody, it rules out another Fifita play as they play in the same game so I'll have to reach into the depths of my team to pick someone else.
That's the concern this week. Great and popular options like Ponga, Barnett, Luai, Cleary, To'o, Capewell, Brailey, Fifita, Cody, Gutho, Haas, they all play on the opening two nights of the round. It's going to be a very interesting weekend I believe.
Now with that analysis over, it's time for you to have your say on who should be the VC and C in Round 5 for the people's team.
Vote here for the VC and vote here for the Captain.
Live results below.
And as always, you can ask me any follow-ups in the comments below, or even hit me up on twitter @dlake631, and hopefully I'll be able to help some more. Good luck for the round ahead.