Lakey's Captains – Round 18
The team at NRLSCTalk are continuing to support Movember throughout the 2021 season and beyond. You can too by helping us raise much needed funds for men's health by visiting our Mo Space here If you, or someone you know, are struggling with your mental health, please reach out for help. Our Mo Space is also linked in the menu.
Here we are. We made it. We've got through all of the byes and the Origin layoffs, and we're looking at the clean stretch of games of the run home. But the pain isn't over just yet.
We already know that despite being named in the Tuesday teams lists, Tom Trbojevic will be getting a rest from the Friday night game against St George. It's not a surprise considering Manly's careful approach with their star this year and that the game is just two days after the Wednesday clash, but it still sucks for owners. However, short term pain for long term gain guys. You'd be more upset if he backed up and pinged a hammy as your captain. Plus the trade it would cost to replace him in a time when trades a so short.
Even without him, he still have a whole host of names returning this week and a full slate of games to go through. And plenty of amazing matchups and selection options available to us. If anything, having Turbo not be there has given us more variety to go with.
But as I've said before following the Origin matches, keep a very close eye on Stilesy's late mail through the weekend to see who else is being given the weekend off to recover.
Disclaimer: The following is not a science by any means. Nothing written below is gospel. The final decision is up to you.
BEST
Clint Gutherson – Round 17 Score – DNP (bye) – P2P Average – 82.38 – Captaincy Rate – 2.4%
Turbo would have been the top bet for a big early score but since we won't get to see him back up, Gutho is next man up. He also has a fantastic matchup coming up against the Titans in Friday's early game. The GC have been leaky to fullbacks, as many other have, allowing over 80 PPG to date. A lot of that is Turbo's 208 from three weeks ago but he's not alone in destroying the side. They've also allowed two other big tons, one a 156 to Jamayne Isaako, and three in the 90's. There's plenty of points to be had.
The worry for me is that Gutho only had 36 on the lowly Titans a year ago, and 47 on them in 2019. Those were sides that were far inferior to the one they'll see this week, but he couldn't get it done. Still, even though they're a better side in 2021, the Titans are still vulnerable in the PVL ball era.
And also, the King has been a bully from the back this year. And by that I mean, he's beating up on the weaker teams and yet goes quiet when the strong teams are around. Here's his scores against the bottom 8 teams:
Broncos – 75 and 124
Bulldogs – 140 and 93
Raiders – 103
Warriors – 58
Knights – 121
Tigers – 81 and 95
and they've yet to play the Cowboys or Titans.
It's an average of 98.9 against these lower places sides which could continue on Friday afternoon.
NEXT
Reuben Garrick – Round 17 Score – 51 – P2P Average – 68.88 – Captaincy Rate – 2.4%
With the news of Turbo's omission from the side, it should see the shuffle happen to bring Suli / Walker onto the wing and Garrick shift to fullback as he has in both of the back up games. Garrick has had varying success in the spot. He scored 106 points against the Cowboys after Origin 1, but then just 51 last week as the Eagles collapsed against Canberra. The huge difference between these two games is that DCE was there for the former but not the latter. Regardless of what you think of the man, he does steady the Manly ship and having him back in the side (at this point) would have me feeling a lot more at ease if I were a Garrick manager.
Adding to this is the mess that is the Dragons at the moment. Dealing with the fallout from the infamous BBQing incident, St George is missing Matt Dufty, Tyrell Fuimaono, Daniel Alvaro and probably Zac Lomax who is due to return but now can't. And of course Paul Vaughan. It's just lucky Jimmy Maloney wasn't there or it could have been really awkward.
Similar to the Titans above, the Dragons have given up four tons this year to fullbacks. But they've also kept some guys to very low scores. There's not been an in-between with this side. Although, three of those low scores have been due to injury. Tex Hoy has 28 points in 40 minutes, Teddy dropped 17 from 34 minutes and then there was Papi in Magic Round with his 23 in 14 minutes. So it's my opinion that this average should be a hell of a lot higher.
The team has been weakened and the Dragons are vulnerable. Throw the VC on Garrick.
Sidenote – Josh Schuster is back this week for anyone who has played the long game with him. He replaces Lawton on the left edge and the Dragons are already allowing 70.88 PPG to left edge forwards. Just FYI.
Long story short: I'd be targeting the Dragons this week.
LONG SHOT
Sam Walker – Round 17 Score – 65 – P2P Average – 78.63 – Captaincy Rate – 1.3%
The way the weekend has been laid out in the post Origin scheduling, this recommendation of Sam Walker stretches pretty deep into the round. The Roosters and Cowboys play in the second of the Super Saturday line up. But it's worth looking at young Sam Walker all the same. He's been serviceable in his young career, with some ups and downs, and I'm personally predicting an up this week.
He scored 65 last week in that infamous win over the Dogs, and should have Angus Crichton backing up from Origin to help stiffen up the side, but I'm less certain about Teddy. He ran for 200+ metres on Wednesday night and still has that hip pointer issue that he's dealing with. In any case, Walker remains an interest for one reason in particular: the Cowboys.
Through 17 weeks and 16 games of footy, the North Queenslanders are giving up an average of almost 80 PPG to right side halves. In fact, the scoring has been so strong that the low score against them is 33 to Blake Green when the Knights got flogged in round 11. Other than that, the floor is over 50 with the ceiling stretching up to 148. And that score is one of five 100+ scores on them from the position this year. Sam Walker himself had 63 points on them earlier in the year, and I'd expect an improvement on that this weekend.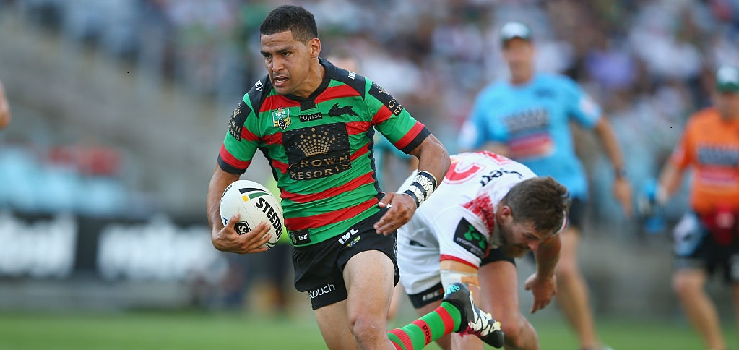 BEST
Cody Walker – Round 17 Score – 130 – P2P Average – 60.44 – Captaincy Rate – 19.8%
Coming into round 18 as the most popular captain option is Cody Walker and that's because Cody is back. After being talked down because he hadn't broken the 100 point barrier all season, Cody did just that in round 15 against the Broncos. Then he followed it up with a 99 against the Tigers despite completely switching off after halftime, and 130 last weekend on the Cowboys when we needed him most. It was such a welcomed sight for not only desperate SuperCoaches in a highly depleted bye round, but also for Queenslanders as we watched Moses and Wighton bungle game 3. It was a beautiful sequence of events.
And making things just that little bit better, the Bunnies get to play the Dogs this week. In saying that, he's never dominated them like you'd have expected him to, having a career high of 91 which came last season. He played them earlier this season for a 67 too. It's not been amazing, but he has been amazing of late. And the Doggies give up some decent scores. Nothing crazy but with the way this team and this side and this player are playing, I'll have no hesitation in throwing him in the mix once more.
NEXT
Adam Doueihi – Round 17 Score – DNP (bye) – P2P Average – 58.19 – Captaincy Rate – 0.1%
Doueihi is back in the halves where he was dominating opposition earlier in the year, and the move comes just in time to face the Broncos. For reference, while playing in the #6 this year, Doueihi has averaged 74.8 PPG which includes a 20 and a 25, but also a 141 to even it out. More often than not, he's knocking up 80's and 90's.
Meanwhile, the Broncos have been giving up good scores to halves on both sides of the field this year. The 5RA of right sided halves against Brisbane is a healthy 63.6 PPG. And I know the Tigers have been bad as of late, but this is the start of what should be an good run of games for them. And with Doueihi having his hands on the ball, plus the goal kicking, he's shaping up as a very nice pod for the next couple of months.
And don't forget the Broncos crazy allowance of 97.44 PPG to opposing fullbacks, for all you Daine Laurie holders.
SAFETY NET
David Fifita – Round 17 Score – 82 – P2P Average – 47.13 – Captaincy Rate – 2.0%
He could have been in the "long shot" category given his form all season long but I still have to make mention of Davey Fifita as a captaincy avoid for round 18. He almost single handedly kept me afloat early in the season with some huge scores but I parted ways with him for his suspension and Origin periods. However, after serving a secondary suspension during Wednesday's Qld win, Fifita will play early on nice and fresh and probably frustrated at having missed the one good game the Maroons player all series.
However, it comes against the Eels, which means life won't be as easy as we'd like it. To date, Parramatta has allowed the fewest points to left forwards on the year, and third fewest of all edge forwards. Only Luciano Leilua (91) in round 4 has managed to break through for a decent SuperCoach game against the Eels, the next closest score being 67.
It's a concern, sure, but a slight one in my mind. Fifita backed up last round against the Raiders and was on track for a massive game before copping a sin bin and then 20 minute rest with the game in hand. In total, he played 49 minutes but still knocked up an 82. He should be back to 80 minutes this week (pending disciplinary issues of course) and a nice safe score to boot.
LONG SHOT
James Tedesco – Round 17 Score – DNP (Origin) – P2P Average – 78.31 – Captaincy Rate – 5.5%
I'm not expecting Teddy to back up from Origin 3, but just in case, I wanted to take a quick minute to talk about his crazy form against the Cowboys. These sides met at Magic Round and unfortunately, our man JT had front row seats to see Teddy carve his boys up for 131 points. And last year it was 178 points. He's just brutalised these boys in recent years. And now he (potentially) plays them without the direction of their fullback Val, who is out with a busted shoulder.
The Cowboys are also giving up close to 80 PPG to fullbacks so it could be just the game that Teddy needs in order to get back on track for the final two months of the year.
WORST
Reece Walsh – Round 17 Score – 65 – P2P Average – 38.94 – Captaincy Rate – 0.8%
Some guys warrant mentioning as having bad matchups for captains responsibilities. Walsh here has just a straight up awful matchup for playing him at all. Fullbacks against the Panthers have been woefully underperforming considering the potency of the position in 2021. An average of under 40 PPG sits somewhere in low CTW ranges (only 9 P2P averages from the 2-5 positions are currently less than what the Panthers allow to fullbacks).
And you might say "but Lakey, Penrith are missing Cleary and Luai and could be without To'o, Capewell, Yeo and even JFH". True. But even without these guys during and after Origin 1, Daine Laurie had 54 points including a try and Will Kennedy scored 24 points. Both were 80 minute performances and Panthers losses.
They just don't give up points to the position. I'm moving him on this week.
NEXT
Kalyn Ponga – Round 17 Score – DNP (Origin) – P2P Average – 50.56 – Captaincy Rate – 0.4%
I'm very tempted to trade in KP this week, but there are two main things that are stopping me.
He's backing up from a huge match in Origin on Wednesday. Ponga was pivotal for the Maroons in their upset win. He ran for 181 metres on the night and was involved in most of the good things that happened for Queensland. And now he'll be backing up three days later? It's a big ask, but AOB has already stated that Ponga would play if he was healthy and as of now, I haven't heard of any injury suffered during the game.
He's backing up against the Storm. As if backing up wasn't going to be difficult enough but Ponga has to do it against the NRL's form side and competition leaders. Historically, KP goes well against the Storm. He's had 70, 67, 60, 117 and 65 when facing the franchise but to repeat those on the back of SoO3 would be another epic feat.
I'll want Ponga soon enough. He has a fantastic closing run. But I'm not sure about jumping the gun this weekend.
LONG SHOT
Nicho Hynes – Round 17 Score – DNP (bye) – P2P Average – 60.31 – Captaincy Rate – 3.2%
I'll say this right off the bat, I wouldn't sit Hynes as an NPR this week by any means, hence the "long shot". But as a captain? There are a few concerning factors that come into play against the Knights. First of all, who is playing for the Storm. It doesn't really matter because this team just kills everybody in it's path lately, but they will have a heavy contingent backing up from Origin including Munster, Finucane, JAC and Welch. If all of these guys sit, it could interrupt the chemistry of the side, although unlikely.
But mostly, the Knights don't seem to give up huge scores to fullbacks. It's something that I haven't quite figured out. But whether the Newcastle boys win or lose, they're still restricting opposing fullbacks. They've only had Val (138) and Gutho (121 in the bye round) break out for a ton against them, while keeping other names like Trbojevic (40), Manu (43), Walsh (30), Val 2 (35), Latrell (48) very, very quiet.
As I said, I will definitely be playing him, especially with Turbo now out. But I'm not willing to risk the captaincy on it.
---
---
Final Thoughts
It's a very open round and plenty of great options in round 18. Provided teams run out as named of course, but we know that's not going to happen. Hell, it's already started changing.
For me, I only have forwards (Fifita, Papali'i, Matterson, CHN) or halves (SJ, Hughes, Sam Walker) in the early games. So I might take the punt on young Sam as the VC. Then fall back on Cody to bring it home for me late.
As always, you can ask me any follow-ups in the comments below, or even hit me up on twitter @dlake631, and hopefully I'll be able to help some more. Good luck for the round ahead.