Lakey's Captains – Round 16
The team at NRLSCTalk are continuing to support Movember throughout the 2021 season and beyond. You can too by helping us raise much needed funds for men's health by visiting our Mo Space here If you, or someone you know, are struggling with your mental health, please reach out for help. Our Mo Space is also linked in the menu.
Round 15, or the Turbo round, went a long way towards proving that the VC loop is a myth. After Cleary dominated the Roosters on Friday night, so many coaches opted to run the loop and lock in the (then) 134 points. Usually, that's money but Turbo had the final say of the weekend.
Three tries, four try assists, eight tackles breaks, two offloads, two linebreaks, four linebreak assists, a whole bunch of runs and zero penalties or errors. It was as close to a perfect game as any I've seen and netted 208 SuperCoach points, the second highest single game score of all time. Incredible. I hope you were on board.
Personally, I got lucky in having the VC on Alex Johnston. An 80 point game is still great, but it's not nearly "loopable" in todays game. I guess also as fortunate is the Gagai simply refused to pass to AJ for much of the game or he could have scored four times and made me screw this up as well.
Leading into round 16, we're a week removed from State of Origin Game 2. With that in mind, keep an eye on the late mail across the weekend, but especially for Origin players from the Roosters (Teddy, Angus), Melbourne (Munster, Welch, JAC), St George (Hunt, Macca, Sims), Panthers (Luai, Capewell, To'o, Yeo, Martin) and Eels (Paulo) who are all playing on the Thursday or Friday, just 4 or 5 days after the clash. In addition to that, Turbo and Manly play in the early Saturday game against the Dogs. It's a very juicy matchup but if Manly are consistent, Turbo could be rested again, especially with that calf complaint he picked up in the game.
We already know that we're without Cleary (for 4-6 weeks) but if anyone else gets rested, we could be left with another disaster round.
Disclaimer: The following is not a science by any means. Nothing written below is gospel. The final decision is up to you.
BEST
Jahrome Hughes – Round 15 Score – 123 – P2P Average – 64.64 – Captaincy Rate – 1.5%
The next logical halfback option considering what he's doing this season. And he's coming off a 123 point game against the Tigers. In that game against the Tigers. And honestly, he didn't look all that good until deep into the first half. It wasn't Reuben Garrick levels of a turnaround (from single digits to 158), but he wasn't involved in the onslaught early on and then finished the night with two tries, try assists and linbreaks and the one linebreak assist. And incredible performance really.
The Chooks are far better than the Tigers, certainly. But what can't be ignored is what sort of points they've given up to this position in particular over the last few games. Since coming off their bye in round 13, the Roosters have seen both Jamal Fogarty (150) and Nathan Cleary (140) rack up copious amounts of SuperCoach points on them.
Additionally, Hughes has enjoyed the matchup with the Chooks recently. This is the second matchup of these sides on the year. In the first, in round 6, Hughes dropped 102 points to lead his side in scoring. In 2020, Hughes scored 85 and 103 in their two meetings with the Roosters.
NEXT
Roger Tuivasa-Sheck – Round 15 Score – 23 – P2P Average – 68.60 – Captaincy Rate – 0.5%
This matchup was one of the reasons I was happy to bring in Reece Walsh before last round. Everything since then has been a shit-show for me but it has given RTS the chance to play in his preferred #1 once more. Having still be in the position when these sides met, RTS put on a show and registered his second ton of the season.
The Dragons though are hard to read. Evident by their last game against the Raiders when they were awful for 60 minutes and then world beaters to close it out. Fullbacks facing this side seem to be scoring either 70 or above (with four tons in there too) or they score under 40. It's a remarkable split when you look into it. But I can't see the Warriors or RTS having that much trouble with St George and he'll be good for a very big game.
LONG SHOT
Nicho Hynes – Round 15 Score – 84 – P2P Average – 53.86 – Captaincy Rate – 6.6%
If you don't go for Jahrome Hughes in game 1, or maybe you don't have him there, then Nicho Hynes is the next logical pick in the side but I'm less certain about him. Unlike his halves teammate, fullbacks score at a bottom three rate on the Roosters this year. Only the Storm and the Panthers let in worse scores to the position through 2021 (but more on that later). The Roosters, along with the Panthers, are one of two teams in the league not to have given up a 100+ score to the fullback position. The top score against them is 80 points courtesy of Ryan Papenhuyzen in their first matchup.
And that's what gives me hope. Papi had that score in just 65 minutes having had to come off for a HIA and the shoulder issue that held him out for his first injury layoff. There's every chance that he'd have a ton if he'd stayed on the full 80 and been fully healthy. The Storm are on an insane run these days too. They're putting up points for fun and Nicho has been heavily involved throughout. It should be a cracking game on Thursday. But I can't see Melbourne dropping this one and Nicho will have his hands on it plenty.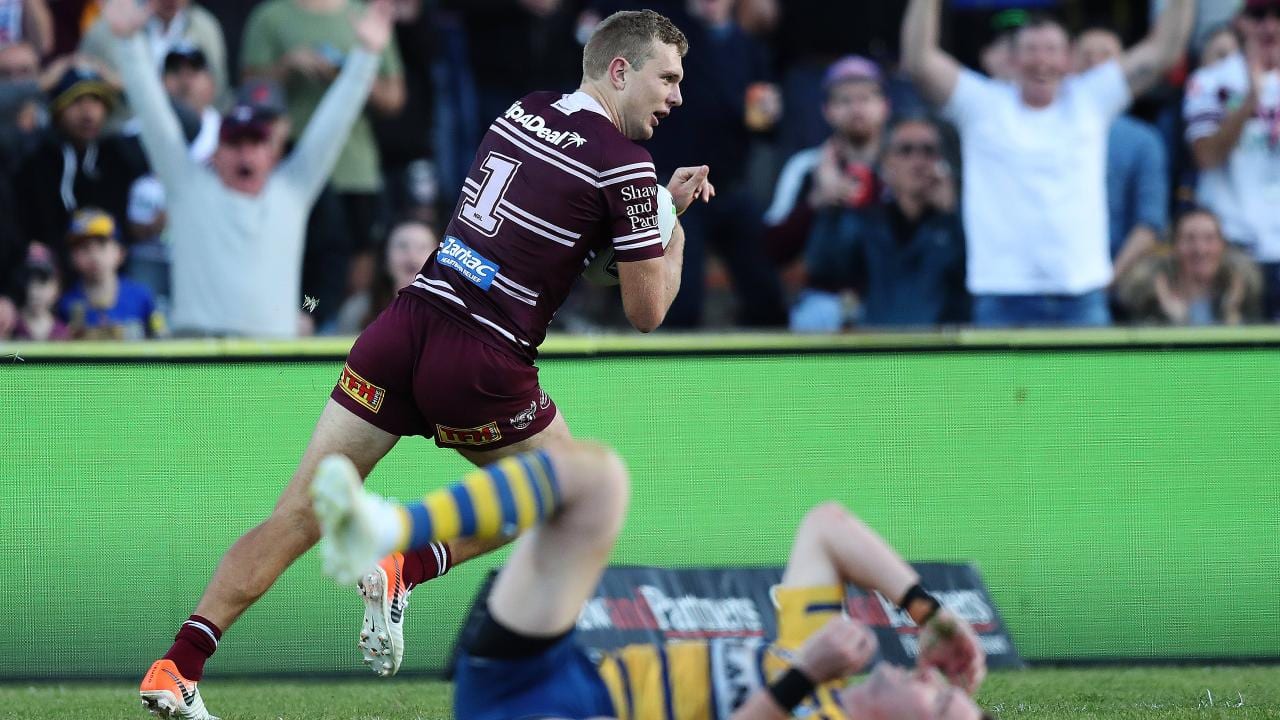 BEST
Tom Trbojevic – Round 15 Score – 208 – P2P Average – 82.29 – Captaincy Rate – 29.7%
As already mentioned, this game is being played early on Saturday so there is an opportunity for a VC play if you're worried about the question marks hovering over Turbo (Origin backup, calf issue). However, just like last round, Turbo is playing a team who bleed SuperCoach points to fullbacks. And just like last round, you may regret not locking him in for the double feature.
Forget the 200+ score though (if you can), just check out the fullback scores against the Dogs this year:
Round 1 – Tex Hoy – 43 points
Round 2 – Dylan Edwards – 38 points in the torrential rain weekend
Round 7 – Will Kennedy – 47 in the Dogs surprise first win on the year
Round 14 – Matt Dufty – 21 points in the second Dogs surprise win.
Apart from that, only one other fullback has scored under 85 points, which was Latrell Mitchell's 74 points in round 4. They've given up four big tons (111, 113, 114, 140) and five scores between86 and 95. Big scoring. You'll be extremely nervous watching Turbo in this game without the armband on.
NEXT
Cody Walker – Round 15 Score – 110 – P2P Average – 68.20 – Captaincy Rate – 2.5%
The Bunnies and Tigers close out round 16 and it's good news for Cody with the merger club giving up the most points to left halves on the season. Over their last four games in particular (two wins; two losses), Cam Munster had 66, Mitch Moses scored 112, Matt Burton scored 65 (in a horribly depleted Panthers side), and Corey Norman dropped 107.
It's a small risk with the Cody having scored just 58 on the Tigers in round 6. And his 2019/20 scores being 20, 59, 67 and 82. However the confidence that he got after registering his first triple figure score of the year against the Broncos (and doing it without a try) should see him through this one with another big display on a team that's prone to giving up solid scores.
SAFETY NET
David Fifita – Round 15 Score – 83 – P2P Average – 61.29 – Captaincy Rate – 1.7%
I traded out Fifita when he copped his suspension before the Origin break, and it's largely turned out to be the right decision. He returned with an 82, missed the next week for Origin, backed up with his worst score of the year (47), then produced 83 in a badly beaten side last round. But, it doesn't mean that I enjoy watching his games. I'm a nervous non-owner every time he takes the field. I honestly don't know how JT has done it this whole season.
And especially this weekend with the Raiders matchup. He's already met them once and scored 88 and has 80 and 66 point games on them over the previous two seasons. You know, when they were good. And while they haven't given up massive scores lately (a 3RA of 43 against left forwards) they've faced Tariq Sims, Alex Glenn and Nat Butcher in that time. They've also given up scores of 83, 77 and 129 on they year to go with Fifita's earlier showing, proving that they are definitely vulnerable on their day. And I'm nervous again.
LONG SHOT
Will Kennedy – Round 15 Score – 74 – P2P Average – 98.87 – Captaincy Rate – 0.1%
Don't say I never do anything for you Wenin. This is obviously based on the matchup. And that's not to say that Will Kennedy hasn't been good this year. He's actually been quietly great. He's averaging 63 on the year with only five games that haven't gone above that mark. One a 38 minute injury game, one a bad loss to the Dogs, two games against Penrith, and the final against Melbourne, which was still 60 points.
But whatever else you want to say, the Broncos matchup is gold-star. 98.87 PPG to opposing fullbacks, and it only fell below the 100 point mark because of Latrell's 71 point game in round 15. He played 65 minutes. If you've gone to the trouble of getting this guy in for this weekend, enjoy the ride.
WORST
Clint Gutherson – Round 15 Score – 93 – P2P Average – 39.67 – Captaincy Rate – 5.0%
Gutho faces the very difficult task of facing the Panthers this Friday night and I don't see it going very well. Penrith are the only side keeping fullbacks to less than 50 PPG, and they're holding them to less than 40 PPG. In today's PVL style NRL, that is truly incredible. And every single fullback to play against them have played the full game bar one, and that was CNK who only had 8 points in 24 minutes (Dylan Walker played 77 minutes for 30 points, but near enough).
Then you might say "well who have they played? Maybe they haven't played anyone good." But no. Not so. They have faced all of Tom Trbojevic (68), Kalyn Ponga (58), James Tedesco (54), Nicho Hynes (53), and Latrell Mitchell (50). Then there was Daine Laurie (54) when the Tigers beat the Origin depleted Panthers in round 13 by 26-6. But those are the top scores allowed by the club. A truly incredible and consistent feat.
And as was pointed out by JT on the SC Report this week, Gutho is a bully. Against the tough sides he doesn't fare as well. It just so happens that the Eels have had a very nice draw to date. But when they played Melbourne he scored 32. Against the Roosters he had 47 and then against Souths he scored 67.
NEXT
James Tedesco – Round 15 Score – 54 – P2P Average – 50.93 – Captaincy Rate – 5.1%
Despite playing a starring role in the Origin clincher, JT has made Teddy his prediction for flop of the week. He said on the pod that he can see Teddy going at a sub-50 score, and I tend to agree. It's not just that the Storm are incredibly hard to score on, although they are. But also because Teddy will be backing up from game 2, if he plays at all, but signs for now are positive on that front.
We saw Teddy with that "bum bag" on during Origin 2. It was heavy padding used to protect the hip pointer injury he's carrying at the moment. My concern for him is that the tough matchup along with that injury concern, just four days removed from Origin could all combine to limit the man to a rough outing.
LONG SHOT
Valentine Holmes – Round 15 Score – 66 – P2P Average – 62.00 – Captaincy Rate – 0.2%
Holmes loves to play against Newcastle but the Knights, for all their faults, are still the sixth hardest team to score on from fullback. They're allowing 62 PPG to the position which isn't awful, but it's not captainable. Especially with the scores being put up these days. The reason I have this as a long shot is that it wasn't all that long ago that Val scored 138 on Newcastle, during round 11 to be exact. It's the easiest high score from a fullback against the Knights this year, and one of only two tons they've conceded on the year.
The Cowboys have had a COVID scare as of Wednesday afternoon, so this game has the added element of late changes pending test results. Coach Payten has already been put into quarantine and hopefully no one else is effected.
---
---
Final Thoughts
We have so many options, but so many questions being just a week removed from the second Origin match. I mentioned earlier and on the pod that I'd like to have the option of VC-ing Turbo considering the back-up and calf concerns, but if he's out then he becomes my loop option. So I'll look to Nicho Hynes tonight, or more likely, Jahrome Hughes if I make the move from Cleary.
As always, you can ask me any follow-ups in the comments below, or even hit me up on twitter @dlake631, and hopefully I'll be able to help some more. Good luck for the round ahead.