Lakey's Captains – Round 15
The team at NRLSCTalk are continuing to support Movember throughout the 2021 season and beyond. You can too by helping us raise much needed funds for men's health by visiting our Mo Space here If you, or someone you know, are struggling with your mental health, please reach out for help. Our Mo Space is also linked in the menu.
How is it that we got a full complement of teams back for round 14 and somehow had a harder time filling out an active 17 than the bye week? It was a round of injuries and rests which saw some of our games biggest names watching on from the stands. As such, many SuperCoaches were left with only 15 or 16 available players which included names like Stefano Utoikamanu.
Fortunately, week 17 sees a return to somewhat normalisation. Just taking a quick look at my current squad and I have 23 out of 25 green or orange dots (Leniu and Suaalii the only omissions). It's much nicer to have that depth now.
It's also the final round of games before next weeks representative weekend. Between round 15 and 16 we'll see Origin II take place along with a number of international friendly's. It's a good chance to get away from this game and have your own midseason bye week before gearing up for round 17 and the run home.
But before we do, we need a huge week to send us out on a high. As always, I've trawled through the matchups and past stats to come up with some of the best VC and Captains options for the week ahead. Hopefully, we can land on the right one.
Disclaimer: The following is not a science by any means. Nothing written below is gospel. The final decision is up to you.
BEST
Latrell Mitchell – Round 14 Score – 48 – P2P Average – 100.86 – Captaincy Rate – 0.7%
Quite the shock right? A fullback playing against the Broncos? Who could have guessed?
I won't waste your time with a lot of wordy analysis on why Latrell is great this week. Just know that fullbacks score huge against the Broncos this year, especially over the last five with 119, 97, 156, 156, 116; a 5RA of 128.8 PPG. And one of the bigger scores on the Broncos this season came in round 5, when Latrell himself dropped 138 points on them. I know a lot of Coaches have moved him on since then, but if he is still floating around in your team, don't overthink it. This one's a gimme.
NEXT
Alex Johnston – Round 14 Score – 124 – P2P Average – 61.14 – Captaincy Rate – 0.5%
I tried to find an option from another game, truly I did, but this matchup has proved too juicy for me to steer away from. After dropping a big 124 against the Knights last week thanks to three tries, he now gets to face the Broncos "defence". He played them alongside Latrell in round 5 obviously, and had 85 points in that one. It was actually his best score against the Brisbane club from the 12 times they've faced off.
However, I love the way the Rabbits are attacking at the moment and the Broncos aren't keeping opponents off of the scoreboard. They've allowed 436 points against this season, easily the most (by 50+ points to 2nd worst). It's a massive 31.1 points allowed each week and I can't see them keeping this Souths side quiet on Thursday night. And we know that when the Bunnies attack, it's down their left hand side. So the likes of Selwyn Cobbo, Jesse Arthars and Karmichael Hunt will have their hands full trying to contain this potent offense. Good luck.
*Also see: Cody Walker (R4 – 76 – P2P – 53.57 – 2.0% captained).
LONG SHOT
Shaun Johnson – Round 14 Score – 79 – P2P Average – 81.85 – Captaincy Rate – 0.1%
Is SJ back? He certainly looked good last weekend against an understrength Panthers side but still needed a try in order to get his score up to 79 points. Still, that's back-to-back scores in the 70's for one of the games best halfbacks and a very positive matchup upcoming in round 15.
The Cowboys have snuck themselves into the "allowing 80 PPG" club, but there's comes to right halves. DCE just destroyed the (North) Queenslanders for the second time that week, leading Manly to a 42 point victory in which he had four try assists, ten tackle breaks, a couple of line break assists and even two intercepts. The Cowboys have been freely giving up big points to right halves all season. The only time they haven't allowed a 50+ score from the position was in round 11 from a essentially retired Blake Green.
And SJ also like to face them. His last five games against North Queensland have been 61, 108, 77, 44 and 74. He definitely not a spritely as he once was, and also working his way back from that devastating achilles injury, but the signs are there that he could go large.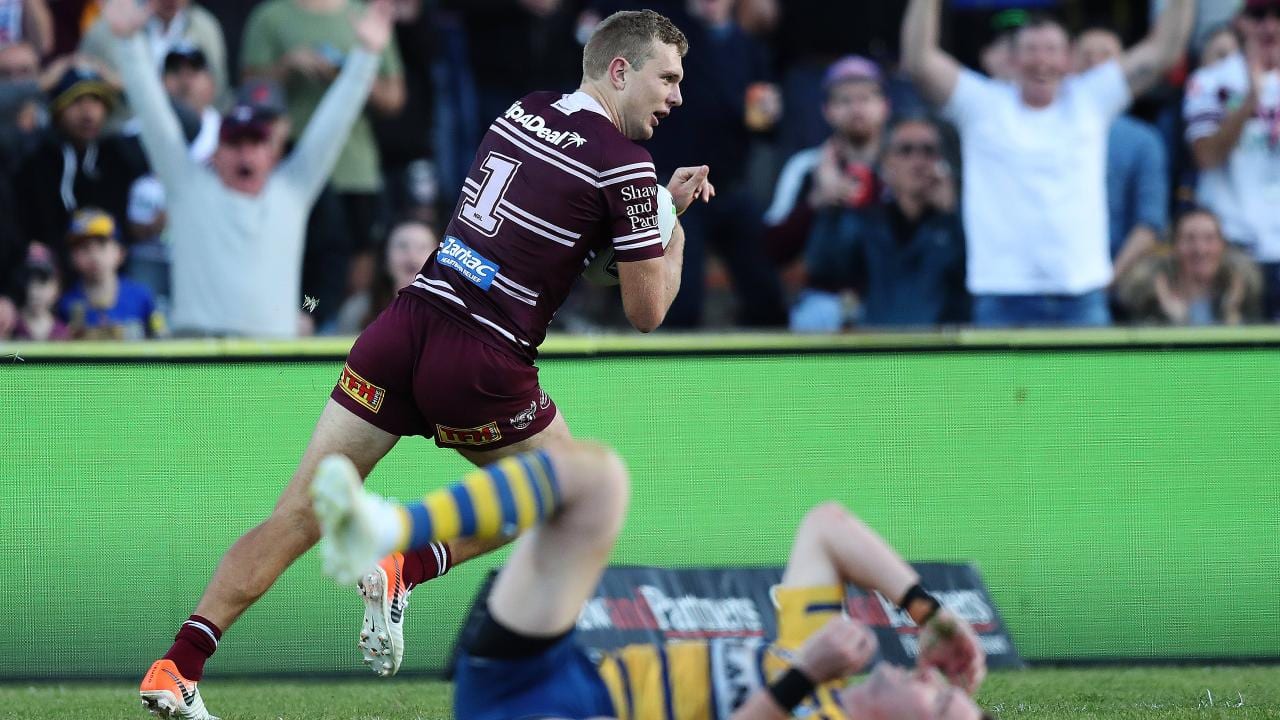 BEST
Tom Trbojevic – Round 14 Score – DNP (rested) – P2P Average – 77.29 – Captaincy Rate – 14.4%
Turbo plays in the final game of round 15, eleven days after his State of Origin I three try masterclass. He should be nice and rested coming up against a Gold Coast side who he had 116 on in his return game this year. And that came in 72 minutes as the Eagles eased him back after the latest hammy flair up. Funnily enough, round 19 2020, the Eagles played the Titans in what was Turbo's final game of a very disrupted year and it saw him depart early with a shoulder injury for just 12 points.
Before that though, he'd played them well in the past, knocking out scores of 73, 194 and 70 from their previous three meetings. They are (equal with New Zealand) his favourite team to play against from a SuperCoach standpoint, with a very healthy career average of 93 PPG. And the Warriors averaged only got there thanks to a 191 he put on them earlier this year. He just loves to play the Titans and I'm not expecting too much different on Sunday afternoon to bring our round home with a bang. I just feel bad for anyone who doesn't have him. It won't be a fun game.
NEXT
Clint Gutherson – Round 14 Score – 95 – P2P Average – 81.46 – Captaincy Rate – 7.9%
The King was dancing and jiving all over Bankwest last weekend, scoring two tries on his way to 95 points. I said this last week:
…. he dropped his fourth ton of the year and first since his original three-game burst back in rounds 6-8. And this weekend's game against the Tigers presents the opportunity for a secondary run for Gutho.
But he couldn't quite get there. Was close though, and this week against the Bulldogs is his shot for a "bounceback" type game. They've been the third easiest side to score on from the fullback spot, allowing a huge 81 PPG, even after keeping Matt Dufty to 21 points in round 14's upset of the round. The five games before that and the bye week, the Dogs had allowed 140, 111, 87, 90 and 86 to the fullbacks they were facing. And the 140 was from Gutho when these sides met in round 8.
But if you think that Gutho and the Eels will be more round 14 Dragons than round 8 Eels, then I can't help you. Just move on.
SAFETY NET
Isaiah Papali'i – Round 14 Score – 85 – P2P Average – 68.23 – Captaincy Rate – 2.1%
Gutho's teammate is my safety net of the week. If we're being honest, Ice is lucky to be playing this weekend after the incident with Luciano in the games final 10 minutes. It cost the man a ton (ten points for a sinbin and eight minutes off the field) but it seems like the MRC has decided that the on field sanction plus a fine was enough. Having seen it, I can't say I agree but as someone with Papali'i in my side, I'll take it.
The Dogs have been a bad side this year, we know that, but they're also allowing left edge forwards to score 66 PPG on them which is the third best clip for the position. Then there's the round 8 game. It was right in the middle of Papali'i's breakout and he had 125 points on the Dogs without scoring a try. I remember it distinctly because it was right off the back of my hater period when I said "once the tries finally dry up he'll stop scoring so good". Touché, young man.
LONG SHOT
Nicho Hynes – Round 14 Score – 87 – P2P Average – 70.5 – Captaincy Rate – 13.9%
It's not really a long shot but I guess I'm less confident in Nicho this week than I am of Gutho or Turbo, and so he lands here.
It's ultimately Nicho's last shot in our sides before the return on Ryan Papenhuyzen (hopefully) next round and he's up against a side that he could completely destroy in the West Tigers. They've been giving up 70 PPG to fullbacks this year, including Gutho's score last week which was discussed above. The Tigers were looking a bit better over the past few weeks and kept their opposition #1's to scores of 38 and 30, but that was Dylan Edwards without 90% of his teammates and Cody Ramsey when Dufty was out hurt. They also kept Tex Hoy to a sin-bin affected 9 points in round 10, but then in round 11 Reece Walsh put himself on the map with a massive 129 point game.
And Nicho has met the Tigers just once in his career. It was round 19 of last season, and one of the two games of that year that Nicho played as the starter and had 80 minutes. He walked away with 91 points. This Melbourne team is truly something else this season. Since the round 3 loss to Penrith, they've won every game and outscored their opponents by an average of 26.5 PPG (38.5 vs 12). With that many points being scored and Nicho potting goals, he's in for another big outing.
WORST
James Tedesco – Round 14 Score – DNP (inj) – P2P Average – 38.64 – Captaincy Rate – 6.0%
Teddy has been named to return tomorrow night but unfortunately for SuperCoaches it comes against the Panthers. They are the only side in the comp holding opposing fullbacks to less than a 50 average. And they're doing it easily. Even the games top teams like Melbourne (50.21 PPG), Roosters (55 PPG) and Eels (57.57) are allowing serviceable scores, but Penrith have been suffocating.
Plus, at the time of writing this, Teddy still has to pass some final fitness tests on the hip pointer injury that saw him withdrawn at last minute. It seems likely that he will but I wouldn't be surprised if he's still not 100% regardless. This might just be the week to park him on the reserves and let someone else take the responsibilty.
*You could potentially "avoid" all Penrith and Sydney players this week. It's a tough SuperCoach matchup either way, with the potential to be a true blockbuster. Just sit back and enjoy the affair.
NEXT
Tohu Harris – Round 14 Score – 57 – P2P Average – 55.86 – Captaincy Rate – 0.5%
If you didn't catch the podcast this week, first of all, why not? But secondly, I said on it that we've been so spoiled by Tohu's greatness of the past few years that when he drops a score of 57, we cry and moan about how bad that is. For many forwards, that's a good score and just goes to show how high of esteem we hold Harris.
But for captain's sake, it is a concern. It's his second sub-60 score in a row. Maybe it was because he played the Storm and couldn't get into the game, or maybe it was because Curran returned and stole some role / production from him. I can't tell you as I wasn't watching the game that closely (kids man). He still played 80 minutes but started out wide and his PPM suffered out on the edge, dropping from a season average of 1.02 through the first twelve weeks, to just 0.71 PPM last week. And even though Tohu managed to score 85 when these sides played in round 2, he was at lock that day. He's been named on the edge again this week with Curran at 13. The Knights aren't a great defensive side, but have managed to keep right edge forwards to just 55 PPG this year.
LONG SHOT
David Fifita – Round 14 Score – 47 – P2P Average – 59.62 – Captaincy Rate – 1.9%
I'm very nervous about this one, but I'm not anti-chasing last weeks points. He played off the bench following on from the Origin on Wednesday. I'm essentially wiping that result. The reasoning for this suggestion is Manly's decent hit rate against left edge forwards. The almost 60 PPG rate listed above is far from a bad average. It actually sits in at 8th in terms of ease of scoring. Right in the middle. But over the first 7 weeks, the same position was averaging 69.29 PPG which would sit as the easiest team for left forwards to score on today. Since then? It's just 48.34 PPG, and against some relatively reputable names too:
Round 8 was Viliame Kikau who had 23
Round 9 Josh Curran scored 57
Round 10 Jordan Riki had 33 (or TPJ with 41 depending on who played left that particular week)
Round 11 was the one successful game as Isaiah Papali'i dropped 98
Round 12 and Lachlan Fitzgibbon scored 45 in a surprise Knights win, then
last week it was 34 for Shane Wright.
All of those not named Shane are or have been SuperCoach relevant at some point over the past 2-3 years. And only one put in a captains knock. Additionally, Fifita was one of the scores against Manly from the earlier seven week stint I mentioned. Gold Coast played Manly in round 5, when Turbo returned and Davey boy scored 78, his fourth lowest score of the season (or third since I'm disregarding last week).
As I said, I'm nervous as a non-owner now, but there's enough there to warrant some concern.
---
---
Final Thoughts
It's a great weekend for captains. Popular options of Cody, AJ, Val, SJ, Latrell, Nicho, Turbo, Gutho etc etc etc all have very favourable matchups across the round. But then there's Penrith vs the Roosters. It will be interesting to see how that ones plays out. They are two of the games better defensive sides and equally good with the ball. Both teams rank in the top 4 for points for and against on the year. It's going to be a great game.
For captains, I was very eager to go with a Hynes / Turbo combination this week but looking at it closer, I wouldn't have any NPR's by the time Hynes plays on the Saturday night. As such, I'm going to go with AJ against the Broncos, and follow that up with who I presume will be up as the most popular captain of the week, Turbo Tom.
And don't forget to vote on the VC and Caps for the peoples team below.
As always, you can ask me any follow-ups in the comments below, or even hit me up on twitter @dlake631, and hopefully I'll be able to help some more. Good luck for the round ahead.
VC Voting Link https://www.menti.com/87jm1oh3jk
EMBED
Captain Voting Link https://www.menti.com/q3jxfcvrnw
EMBED