Lakeys' Captains – Round 11
The team at NRLSCTalk are continuing to support Movember throughout the 2021 season and beyond. You can too by helping us raise much needed funds for men's health by visiting our Mo Space here If you, or someone you know, are struggling with your mental health, please reach out for help. Our Mo Space is also linked in the menu.
Magic Round is now over for another season and I can say from personal experience that it was a great weekend. I'm not necessarily talking about the football itself, where PVL's latest rule change caused huge controversy. But getting to watch 8 games of football, with good people and plenty of beers was such a huge success.
Plus, as far as SuperCoach goes, it was the perfect weekend. We don't cheer for teams, we cheer for individuals and got to do that all in person. There were some huge scores accross the weekend, but none better (ever) than the new SuperCoach single game record holder Nathan Cleary. He was a popular captain choice and watching that score come live was something else. Site OG' Surgebuster and I were there with the big C on Cleary and the game had us dancing in the stands like…
But it's back to normal programming now (except for that rule) and I'm here to find you the best captaincy choice for round 11. It's fair to say that I was relatively successful last week. Let's get to it.
Disclaimer: The following is not a science by any means. Nothing written below is gospel. The final decision is up to you.
BEST
Adam Doueihi – Round 10 Score – 114 – P2P Average – 47.0 – Captaincy Rate – 0.2%
When Madge named up that Tigers team list last week, boy did I laugh. It looked ridiculous and as a Knights fan heading to Suncorp on Friday, I was very excited. But then Ponga was withdrawn, the Tigers played like world-beaters (because the awful Knights let them) and Doueihi tore the team to shreds. It wasn't a fun start to Magic Round. Fortunately, the Broncos hiding happened next and lifted my spirits again.
Anyone who jumped on Doueihi two weeks ago is laughing at the rest of us. Scores of 141 and 114 over the past fortnight are his highest scores of his career and only the second and third time (respectively) he'd ever broken into triple figures. AD is having the very definition of a breakout season in 2021. The matchup with the Warriors on Friday evening isn't the most enticing of matchups, with NZ allowing 47 PPG to right centres, but that's still the 6th best scoring rate of the positional average. And would have been better off if not for Waqa Blake's sensational return for 17 points.
The Warriors have been good this year but are allowing 25 points against each week which is a good sign for a goal kicker, although the Tigers aren't the strongest offensive team. If they can string a few points together, Doueihi could be on for a very nice repeat.
NEXT
Valentine Holmes – Round 10 Score – 63 – P2P Average – 55.3 – Captaincy Rate – 0.1%
So here's a breaking news flash. The Newcastle Knights suck right now. As just mentioned, Doueihi torched us, and the week before it was George Williams who scored a 78. Why mention these two guys in particular? They're the goal kickers for their respective teams and that helped them put big scores on the Knights. So, even though fullbacks haven't been lighting us up, Val having the kicking tee is a big added bonus for him.
But what really makes this a mouth-watering matchup for Holmes is his scoring history against Newcastle. Since 2016, he's had 131, 97, 101, 43, 110 and 131 on them. However, he didn't play them last year nor in 2019 obviously. So, it's been a couple of years but the way North Queensland and Newcastle are both playing at the moment, I'm not looking forward to this game and having to deal with JT on next week's pod.
Additionally, Jason Taumalolo – R10 – 53 – P2P – 60.1 – Cap Rate – 0.6%, marks as decent opportunity first up. He's been quietly increasing his minutes and work rate and I'm predicting that it won't boo long before we all want him back in our teams. However if you do have him already, the Knights middle defence sets up perfectly for Lolo to play himself back into form.
LONG SHOT
Mitch Barnett – Round 10 Score – 53 – P2P Average – 64.1 – Captaincy Rate – 0.1%
I'm really not liking these early matchups for options, so if you want a really long, long shot Barnett could be it. He's been hugely affected by the return of Lachy Fitzgibbon who has pushed him into the lock position in a timeshare with Connor Watson. But along with ruining Barnett and Watson, Fitzy has basically ruined the Knights. But don't get me started on that. In what is a small glimmer of hope, Barry Toohey tweeted the following:
In particular regard to Mitch Barnett, Toohey said "Be surprised if he doesn't start at lock Rob but Fitzy definitely under some pressure." "Double edged sword Rob. The consensus is he is better for the team at lock and he prefers to play there. But he not on the field as much when he does. Coach may consider a mixture of both."
I can only hope this all results in a shuffle of Barnett to edge, Watson Lock and Fitz bench. Then Fitzy on for Watson in a limited capacity to allow Barnett into the middle. And if this is the case there's more chance of attack stats with a solid base for Barnett. And also hopefully kicking based on Hoy's success last week. But this is all wishful thinking. He's previously scored 91 and 102 on the Cowboys from the last two years so hopefully he can repeat that.
BEST
James Tedesco – Round 10 Score – 131 – P2P Average – 88.7 – Captaincy Rate – 8.6%
With the bonus of hindsight, I probably would have traded Teddy back in to my team last weekend if I had my time again. He was back to his absolute best with a big 130+ score without getting over for a try himself. He set up two, had a hand in another and either broke the line or assisted on a line break another five times. And he did it all without playing the full 80 minutes (cheeky f**ckers).
Teddy is the obvious choice for captain this week simply because he's playing the Broncos, who are allowing a whopping 89 PPG to fullbacks this year, the most of any position against any team. Turbo was awesome again in Magic Round dropping 119 in his 69 minutes of game time. And if that doesn't sell you on it, Teddy LOVES playing them. Last season he dropped a 176 in his round 16 game against them. He missed the round 4 against them, but BMoz dropped a 114 as fullback that day. Further, in the 2018/19 seasons when the Bronx weren't one of the worst teams in the NRL, he had scores of 75, 85, 84 and 79. He just loves to punish them.
NEXT
Nathan Cleary – Round 10 Score – 225 – P2P Average – 53.1 – Captaincy Rate – 35.1%
Wow! Just…wow! What else is there to say? 225?!? Truly insane, and I got to witness it in person. It was the last game of the weekend, I'd been at Suncorp for 14 hours across the three days by the time this game kicked off, it was a completely one-sided bloodbath, and I stuck around for every minute of it. Just watching the scores continually ticking over.
So first of all, he's going to have a huge regression game this week against the Bunnies. There's no possible way he can't. Surely. That would be some sort of effort. But that's not to say he's going to be bad. Even before that Magic explosion, Cleary was averaging 96 PPG with four tons from his eight games. He had a 99 on the Bunnies in 2020, and scores of 74, 65 and 76 in the couple of years prior to that. Souths are far from the easiest team to score SuperCoach points against but Cleary has always had some success. Plus over the last five weeks, right halves have scored well on the Bunnies. Chad Townsend had 71 last week, Jahrome Hughes 103 the week before. Forward turned makeshift halfback Hudson Young scored 53 in round 8. Then there was a 59 for Jamal Fogarty and a 61 for Adam Doueihi. Cleary is looking like a minimum 75 IMO.
SAFETY NET
Ryan Matterson – Round 10 Score – 74 – P2P Average – 47.2 – Captaincy Rate – 0.2%
Whilst I'm down that Matto cost me a steak by a measly 4 points (that second disallowed try would have been very handy), I'm still glad I got on board the big fella. He looks like he's back to his best already and will be one of the big three in the second row come end of the year. He's gone from pod to popular overnight, but that was always going to be the case. Matto is a solid 70 ish scorer on any given week.
His past three games against Manly have been 65, 65 and 67 whilst his last three this year since his injury comeback are 60, 85 and 74. There's not a whole lot to say about Matterson. There's a concern every week about his concussion history, but if he's healthy he's as safe a scorer as anyone else.
LONG SHOT
Nicho Hynes – Round 10 Score – 182 – P2P Average – 80.0 – Captaincy Rate – 0.6%
I am SO mad at Tyrell Fuimaono right now. I spoke about limiting expectations on Papy coming into that game, but I still brought him in for the "what could happen" aspect. What I didn't account for was a huge late shot knocking Papy out of the game. And that sh*t happened right in front of me too. Then we saw what could have happened when Nicho went to the back and put on an absolute masterclass for 182 points. He is definitely a star of the future and as an off-contract player at the end of the season, he's more than likely adding a few digits to his bid price for a new team next year.
This week he comes up against the slightly stronger Canberra Raiders, although Canberra, like Melbourne, have their own suspension and injury crisis going on. Missing from their best 17 are CNK, Croker, Rapana, Wighton, Hodgson, Papalii, Tapine and Soliola. Almost half of their regular top squad. That's going to make it hard for any team, let alone a team who just scraped home against the Doggies and are allowing 80 PPG to fullbacks this season.
And they've been worse lately. They're giving up a 5RA of 94.4 PPG, and even DWZ went off for 76 during Magic Round. And the fact that his lowest score since taking over from Papy is 69, Nicho could go nuts once again. Actually, if I had my time again knowing what I know now, I would have gone for Nicho over Papy and Teddy.
---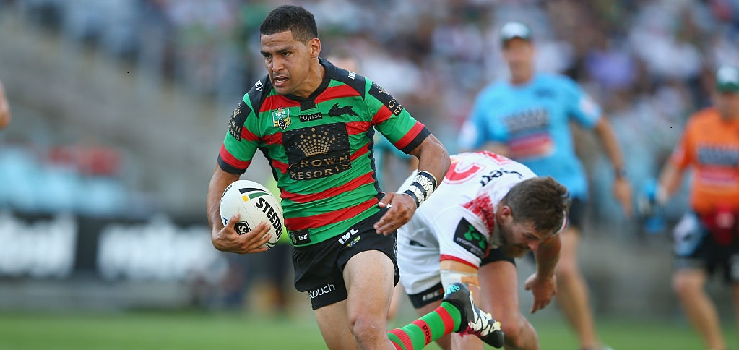 WORST
Cody Walker – Round 10 Score – 81 – P2P Average – 48.1 – Captaincy Rate – 0.6%
The Bunnies get a much needed boost in the form of the return of Latrell Mitchell, which allows Cody to move back to his favoured five-eighth position. But this isn't necessarily a great thing for Cody. He's been far from formidable in the number 1 jersey, punctuated by his 16 point game against the Storm, but he's also not been as strong as usual with Latrell in the team with him.
The two playmakers have a habit of stealing points off each other. Over the last two seasons, Cody has an average of 79.2 PPG when Latrell isn't on the field with him, compared to 70 PPG when they play together. On the adverse, Latrell has scored 64.5 with Walker and 86.7 PPG without him, albeit in a much smaller sample size.
The other thing is that it's against the Panthers this week. They're on a supreme roll right now and extremely difficult to score against with a clip of 48.1 against left halves this year. Many sat Cody against the Storm a few weeks back and this strikes me as a similar matchup, if not worse.
NEXT
Tino Fa'asuamaleaui – Round 10 Score – 56 – P2P Average – 49.5 – Captaincy Rate – 0.1%
Some coaches are still carrying Tino after his suspension period, and some of those may be looking at the matchup with the Dogs and Tino's move to lock as positive's for his potential output this week, and rightly so. But it would take a very brave sole to go this route, even in the draft game.
For whatever reason, the Dogs aren't giving up big scores to the lock position despite losing almost every game. It might just be because teams are running around them with the skill players while not needing to rely as much on the middle men. Of the backs and skill spots, fullbacks (second best scoring rate), right wingers (first), right centre (third), left centre (second), left halves (third) and hookers (first) are scoring really well against the Dogs. Even the edge forwards (left, first; right, third) are having success.
But compare that to locks and the Dogs are the 4th hardest team to score on at less than 50 PPG. It's an interesting stat and I can't find a genuine reason for it. Only Dunamis Lui (25 points in 26 minutes) and Nathan Brown (23 in 37) have played limited game on them. And even having said all that, front rowers (first) also score really well on the Dogs. I can't make sense of it.
LONG SHOT
Tom Trbojevic – Round 10 Score – 119 – P2P Average – 51.5 – Captaincy Rate – 18.6%
I'm no where near as sold on a Turbo avoid as I usually am for players in this section, but I've gone for the true definition of a long shot. The man has been next level good since he's come back. He's now played five games on the year for scored of 116, 118, 68, 191 and last week's 119. And he's done so while playing just 73 MPG.
However, those scores have come against the Titans, Tigers, Panthers, Warriors and Broncos. It was that Panthers game where Tommy was held to his only sub-100 score. And this week's opponent is somewhat similar as the Eels are the second hardest team for fullbacks to score on, behind the Panthers only. Through the first third of the season, only Matt Dufty has broken out against them for a 113, with the next best's being Papenhuyzen's 73 and Teddy's 54. So it's not like they're playing nobodies. They are just tough to score on.
In saying that, over the last three years, Tommy has scored 62, 106, 47 and 95 on the Eels through largely injury affected seasons, and he's in a very rich vein of form. I'll still expect (read: hope for) a solid 70-80 point game but not a boom score worth captaining in the final game of the round.
---
---
Final Thoughts
As much as I enjoyed Magic Round, I'm looking forward to a quieter weekend this time around. A few (much cheaper) beers and footy while on the couch.
With my SuperCoach side, it's a weird week for VC and C options. Not a whole lot going on in the first few days and then all the real options stacked at the back end of the weekend where loop plays become a lot tougher. If you're planning on trying to loop, make sure you've got a viable NPR to switch in.
For me, I would have loved to have gone the VC on Sam Walker against the Broncos, who are giving up 60 PPG to right halves, but doing so rules out Cleary. So, I'm looking at a Nofo or Laurie VC as my only likely options of the first four games. I have no Titans, Dogs, Sharks, Dragons, Warriors (exc. Curran) or Cowboys, and the Knights I have are Barnett, Brailey and Watson. None of them are likely to go huge.
It will be hard to go past another Captain Cleary play, but JT's Brian To'o 360 point pod premonition has me thinking too. Is it a sign?
As always, you can ask me any follow-ups in the comments below, or even hit me up on twitter @dlake631, and hopefully I'll be able to help some more. Good luck for the round ahead.