Lakey's Captains – Magic Round
The team at NRLSCTalk are continuing to support Movember throughout the 2021 season and beyond. You can too by helping us raise much needed funds for men's health by visiting our Mo Space here If you, or someone you know, are struggling with your mental health, please reach out for help. Our Mo Space is also linked in the menu.
Do you believe in magic? Because we're just hours away from the 2021 Magic Round at Suncorp Stadium and a lot of prominent SuperCoach guns are disappearing before our very eyes. Poof, David Fifita is suspended. Poof, Harry Grant and Cam Munster have been injured. Poof, Kalyn Ponga has an abductor injury. Poof, Mitch Barnett and Connor Watson's roles have evaporated. Poof, Reed Mahoney is under a HIA cloud. Poof, Kurt Capewell too. Poof, Jordan Rapana tweaked a hammy. And poof, Jake Simpkin and Stefano Utoikamanu have been dropped (not guns but highly owned). Suddenly, NRL Magic Round is looking just a little less magical for SuperCoaches.
But it's still an amazing weekend. The first iteration was a huge success and coming to the long awaited second coming of Magic Round, I could not be more excited. It's the absolute perfect weekend for SuperCoaches. We spend all our time not only supporting our home team, but cheering on players from every team across the league. And there are still plenty of good options for us to cheer on as our captains and vice captains beginning from game 1 on Friday night. Let's take a look.
Disclaimer: The following is not a science by any means. Nothing written below is gospel. The final decision is up to you.
BEST
Tom Trbojevic – Round 9 Score – 191 – P2P Average – 85.33 – Captaincy Rate – 18.0%
It literally couldn't be anyone else. Not after last week. 191 points against a team who were "holding" fullbacks to 59 PPG is phenomenal. Turbo just seems to be doing it so easy at the moment and it was crazy to watch. So now how will he fair against a Broncos team that's giving up 85 PPG to the position? I can't wait to find out.
In Brisbane's defence, they kept an in-form Val Holmes to 50 points in the Cowboys 1 point win last week, even while goal kicking. But the fact is that the team has already allowed three 120+ fullback scores through nine games this year and one of those was a 197. And Turbo since his return has 116, 118, 68 (against the Panthers league worst 37 PPG) and now 191. He's in incredible form.
NEXT
Kalyn Ponga – Round 9 Score – 107 – P2P Average – 76.22 – Captaincy Rate – 0.7%
If you think, for one minute, I'm not going with Ponga after what he just did to the Raiders, in the first game of the round against a Tigers team giving up heaps to fullbacks then you are out of your ever-loving mind. In all honesty, Ponga looked almost bad in the first half, as did the rest of the Knights. It wasn't a good 40 minutes for anyone in blue and red on Saturday afternoon, but then a completely different team came out after the halftime break. Ponga scored a try and set up another in helping the team cap yet another second half collapse for the Canberra Raiders. I did speak last week about how well fullbacks score against Canberra, however not far behind them are the Tigers.
Wests have allowed big points to the position all season including 80 to Brimson last week and 118 to Turbo in round 7. Between that, Dufty did struggle badly when the Tigers "shocked" the Dragons and he put up a season low of 31 against Wests. So, if the Tigers get an early jump on the Knights and put the pressure on (similar to their round 3 encounter), it may result in a smaller score. However, even in that round 3 loss that KP wasn't apart of, Tex Hoy scored 103 points from fullback. And Ponga is so essential to everything Newcastle does that he shouldn't go missing. Plus has the kicking boot against a team averaging 29 points against per week.
And should I also mention that his most recent score on them is 172? Round 13 last year Ponga went bananas. It was a nice addition to his previous scores of 82, 32, 84, 80, 84 and 46.
I'm not crying. I swear. It's probably just the dust at Suncorp from the Broncos trophy cabinet.
NEW NEXT
David Nofoaluma – Round 9 Score – 113 – P2P Average – 48.00 – Captaincy Rate – 0.5%
As much as I hope it doesn't happen, I fear for what Nofoaluma might do to my beloved Knights on Friday. Newcastle isn't giving up huge scores to right wingers this season, most of that is happening on the other side of the field. But the 48 PPG allowed includes a 4 point/7 minutes game from Phillip Sami when he was knocked out in round 5. Excluding that, the scoring rate jumps up to 53 per game.
And one of those games was Nofo's own 80 point outing in round 3. He scored a try that day and added a few tackle breaks, but was largely quiet. Coming up against an injured Brayden Musgrove could mean big things for him. Previous to this season, Nofo has games with 58, 59, 123 and 37 on the Knights from the past few years.
LONG SHOT
Cody Walker – Round 9 Score – 16 – P2P Average – 72.78 – Captaincy Rate – 0.6%
That round 9 score hurt (almost as much as writing this after the Ponga news broke this morning). It partly plays into Cody as a long shot designation but also that it's a long way into the weekend, being the second game played on the Saturday. But look at the games ahead of it. Are you trusting anyone else from the Tigers, Knights, Sea Eagles, Broncos, Bulldogs and Raiders as a VC option? Apart from those already mentioned, I can't see anyone worthwhile.
Before last week, Cody was going along ok. He'd been averaging 73 PPG on the season, was on a 75 point 5RA and a 72 point 3RA. You'd happily take that from your starting 5/8. But it's also why last week's showing was so bad. Yes it's the Storm and it was somewhat expected, but also Cody was a bees D away from two try assists. Unfortunately, both were denied by the bunker.
He gets one more chance at fullback before the return of Latrell and you just know he'll be fired up to avenge last weeks showing. Good thing he's playing the Sharks who have just been leaking points over the last couple of weeks. In the past three weeks, they've lost 48-nil to the Panthers, 40-14 to the Storm and gave the Dogs their only win of the year, 18-12. Despite this, fullbacks aren't destroying them with scores. Edwards had 51, Hynes scored 69 and Meaney scored 48. It's only been Ponga (RIP my love) who has truly destroyed them this season with his 163 point game a month ago.
However, knowing Cody's penchant for getting involved in scoring raids, of which the Bunnies will be doing plenty based on recent Sharks results, he should be in for a big bounce back game. You'd just be very brave to do it after a 16.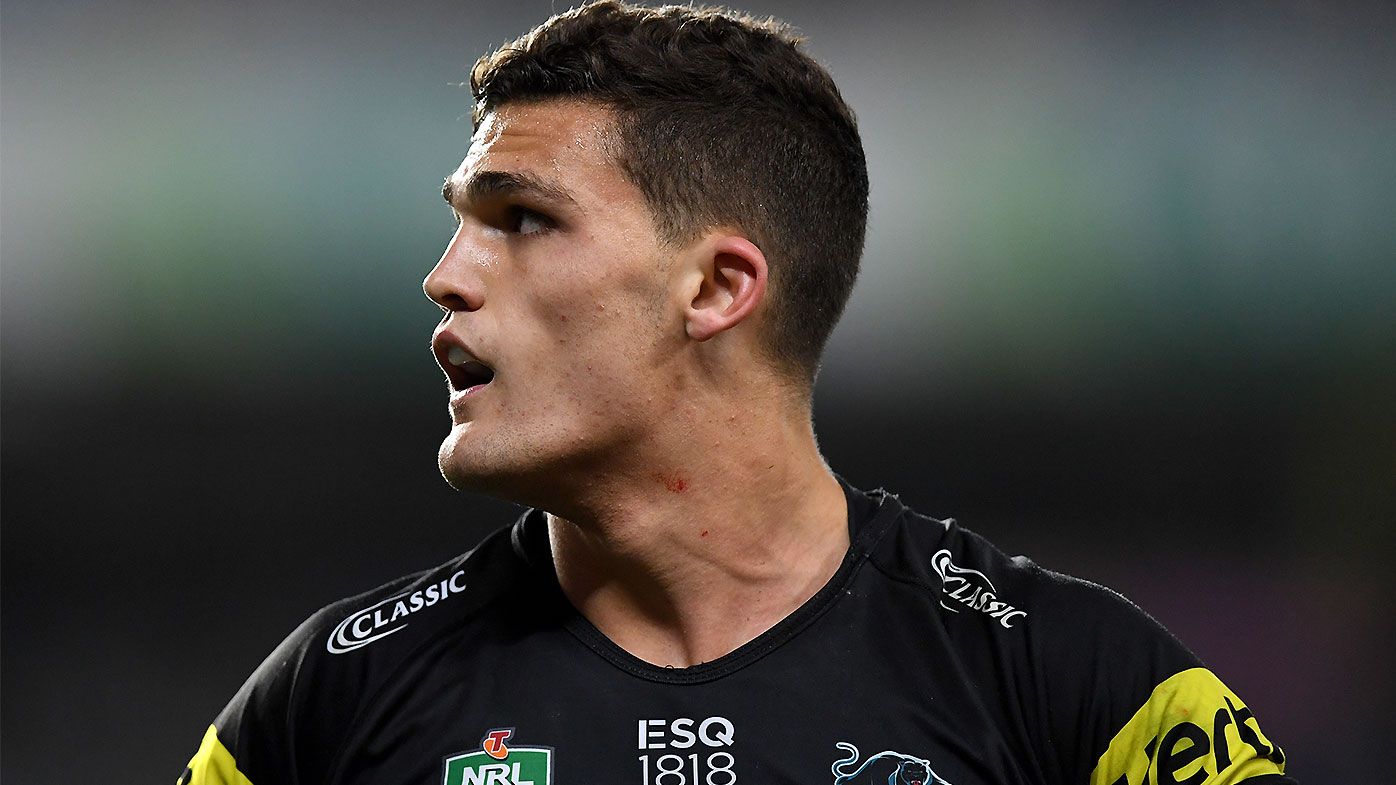 BEST
Nathan Cleary – Round 9 Score – 107 – P2P Average – 57.89 – Captaincy Rate – 30.7%
Cleary has been awesome all year and was coming up against a Titans side who were allowing almost 60 PPG to right halves this year, before the news of Fifita's demise came to the fore. Fifi was likely the big reason that the Gold Coast competed this week but without him it's hard to see them getting close to the Panthers in the final game of the round.
Meanwhile, even with Fifita there those right halves have scored 72, 60 and then Doueihi's 141 against the Titans. A 3RA of 91 SuperCoach points each week while the Gold Coasters as a team are giving up close to 35 points against over the same time frame. That's points to right halves and points to goal kickers. Cleary's bread and butter.
Additionally, Brian To'o (R9 – 71 – P2P – 53.56 – Caps Rate – 1.5%) is another good play. He had a down week while the Panthers went right and still managed to pumped out a 70+ score. The guy is a freak. He scored 82 in his only career game against the Titans and is facing Anthony Don and Beau Fermor this week.
NEXT
Isaiah Papali'i – Round 9 Score – 97 – P2P Average – 53.22 – Captaincy Rate – 2.7%
I think it's about time ol' mate here made the list. I've hated on him for far too long. It's a jealousy thing. You get it.
But Ice has been crazy good this year. I've had questions every week, and for every one he's had an answer. I said he couldn't keep scoring tries. He dropped five of them over a four week span. I said the scores would dry up when he stopped scoring. He's scored 125 and 97 the past fortnight without scoring. I said he never had a history of scoring well so would return to normalcy. He's gone strength to strength to averaged 106 over a six week period. I said he'd lose his spot when Matterson came back. Parra actually moved Matto back over to the right side to accommodate Ice. He's made me look silly at every turn.
Now he gets to come up against the team that let him go last year. It's revenge season. He has no past scores to the Warriors obviously, but he's on a true breakout campaign and has some extra motivation for this one. He could go nuts.
SAFETY NET
Tohu Harris – Round 9 Score – 104 – P2P Average – 49.33 – Captaincy Rate – 0.5%
Same game, opposite side of the field. Tohu Harris might just be the safest play in SuperCoach this year. He has gone between 66 and 104 in every game this season. That's an incredibly consistent scoring variance. The fact that only 0.5% of the comp are captaining Tohu on any given week is straight disrespectful.
The Eels have been very tough to score against this year in a generally high points position. They're currently one of just four teams holding opposing locks to under 50 PPG, but that includes Radley's 8 points from last week's 9 minute HIA game. Remove that and the average is closer to 54 PPG. In round 8, Corey Waddell of all people dropped P2P season high of 71 on them. I'd put good money on Tohu beating that. His 66 that I mentioned earlier was the only time he hasn't scored over that mark. He also had 77 on the Eels last year and then a 70 on them in 2018. He doesn't mind a game against these guys.
LONG SHOT
James Tedesco – Round 9 Score – 54 – P2P Average – 75.78 – Captaincy Rate – 4.9%
Mr JT. Whatcha got for me? It's been a very rough trot for Teddy. He burst out of the blocks last week to be on 33 points after setting up Ikuvalu for the game's opening score after four minutes of game time. He went on to score 20 points for the rest of the game. That's not the Teddy we know and love, but it was something that was on the cards coming up against the Eels.
This week against the Cowboys provides a better matchup despite the turnaround to winning form from the North Queenslanders. They're still allowing 75 PPG to fullbacks on the year. Opposing #1's have been going at mostly mid-fifties against the 'boys with a few tons sprinkled in. It bodes well for a Teddy bounce-back, which I'm sure won't excite our own JT here at NRLSCTalk.
I also like Sam Walker (R9 – 34 – P2P – 84.33 – Caps Rate – 1.6%) this week as a throw at the stumps play. The Cowboys are not only giving up the most points to right side halves in the comp, but the third most points of any team to any position and most outside of the fullback position. Last week's 55 to Tom Gamble was the least they've allowed this year. Not a bad floor, huh?
---
WORST
A.J. Brimson – Round 9 Score – 80 – P2P Average – 37.44 – Captaincy Rate – 0.2%
We all know how good the Panthers are in 2021 but last weekend against the Sharks was ridiculous. I've been keeping a close eye on Shaun Johnson since his return and his 28 on Friday evening left me feeling super underwhelmed. But then I checked out his teammates. HE WAS CRONULLA'S HIGHEST SCORING BACK. Chad Townsend had 14. Connor Tracey had 17. Jesse Ramien had 17. Will Chambers had 19. Mawene Hiroti had 17.
And absolute worst of the lot, fullback Will Kennedy had 4 points. He played 80 minutes. That's a PPM of 0.05. I didn't know that was possible without being sinbinned or sent off early. Wow.
But this is about Brimson, not how truly awful the Sharks were a week ago, and the concern is that Brimson is the next fullback victimised by the Penrith Panthers. Especially now that Fifita is out in a massive blow to their side. AJB's scores on the Panthers have been 64, 17 and 26 and this year they're giving up the least points to custodians by a long way.
NEXT
Clint Gutherson – Round 9 Score – 47 – P2P Average – 73.89 – Captaincy Rate – 2.9%
Has the Gutho well burst? After three-peating big tons, the King came back to earth against the Roosters with a 47, only the second time he hasn't gone above 50 all year. The other of those games was on the Storm so they were against two of the better sides in the NRL however both still came in wins.
This weeks against the Warriors isn't as fear-inducing as far as matchup goes but it's also not easy. You might look above and think "but Semi. They're allowing almost 75 PPG. You said that was a great captains floor" and you'd be correct. However, 191 of those points came just last week with Turbo. As I said above, before that 1 game New Zealand were allowing 59.25 PPG which was 5th worst at the spot. They have given up only three scores above 75 over the nine weeks. The other two were 98 to Hynes with a try and two assists, and 78 to Dufty with a try and two assists. Gutho can repeat that but will also be without Dylan Brown and potentially Reed Mahoney. I'd say Gutho will be good without being great on Sunday.
LONG SHOT
Ryan Papenhuyzen – Round 9 Score – N/A (inj) – P2P Average – 61.56 – Captaincy Rate – 2.5%
Just because. I'm no longer an owner so I want him to fail.
I'm obviously kidding (kind of), but there are far too many question marks hanging over Papy for me to trust him right off the bat. Firstly, he's not even named yet. I don't know what the 2.5% of current captainers are thinking but I can only assume that they're ghost teams. I do believe that he'll be promoted on game day as it's been reported that he only needs to clear captains run now, but there's still the small doubt.
Second is that he's got that shoulder issue. Again assuming, he should be fine if he's gone through the process to get himself in a position to be named, but just how healed is that injury?
And finally, without Munster and Grant and Smith and a host of guys playing out of position in order to cover, the Storm may not be the force they have been over the past few weeks.
---
---
Final Thoughts & The People's Team Captain
My final thoughts this week are that SuperCoach is such a fun and frustrating game. The SC Gods love to drag us through hell and this week is no different.
My VC this week will be either Ponga or Turbo as both strike me as the best fullback options of the week. Following that, I'd have to dig deep into the roster to pick a captain. I'd love to grab Matto and back him in for a steak, but it will likely land on Cleary to continue his superb form.
Finally, some of the boys from the site here, myself included, will be heading to Newstead Brewing Co on the eastern side of Suncorp Stadium just after lunchtime on Saturday. So if you're in and around Magic Round before the Saturday leg, come in and share a beer.
And as always, you can ask me any follow-ups in the comments below, or even hit me up on twitter @dlake631, and hopefully I'll be able to help some more. Good luck for the round ahead.
People's Team voting below