Lakey's Captains – Bye Round 2
The team at NRLSCTalk are continuing to support Movember throughout the 2021 season and beyond. You can too by helping us raise much needed funds for men's health by visiting our Mo Space here If you, or someone you know, are struggling with your mental health, please reach out for help. Our Mo Space is also linked in the menu.
We're into the final run of it now. The round 17 bye is here which means a return to normality in just a week's time. Our stars will start making comebacks from Origin duties and hopefully injuries. But we still have a huge hurdle to get through before we can worry about that.
As we look towards the weekend and what little captaincy choices have, I've gone back to the same set up I had in round 13. And that is to look at everyone who's realistically an option in each game. There's no VC / Cap / Avoid sections as there's barely enough SuperCoach players to make a starting 13, let alone be picky about who get chosen.
So let's take a look. But be warned. It's not pretty.
Disclaimer: The following is not a science by any means. Nothing written below is gospel. The final decision is up to you.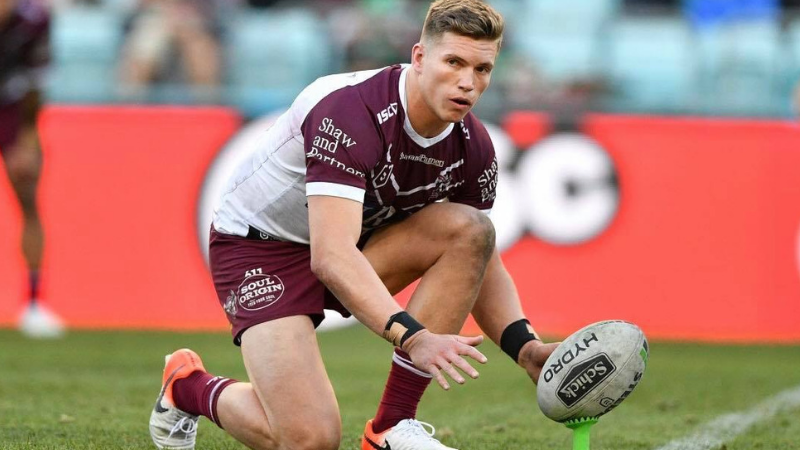 MANLY SEA EAGLES vs CANBERRA RAIDERS
I really wish Turbo was playing this week. Actually, if I'm wishing for stuff, I wish that I'd got on Reuben Garrick (R16 Score – 169 – P2P Average – 81.0 – Captaincy Rate – 4.2%) at the start of the season when Turbo returned. Since that fateful day in round 6, Garrick has scored 102.8 PPG. He has six 100+ games in that time, including a 128 in round 11 vs Parramatta (then a career high), a 156 in round 15 on the Titans (then a career high) and a 169 last weekend (now a career high). He also filled in at fullback when Turbo was rested following the first Origin game and Garrick dropped 106 that day against the Cowboys. To date, the Cowboys are allowing 80 PPG to fullbacks and the Raiders are going one better (worse?) at 81 PPG. It could be another big day out.
Garrick's regular wing partner Jason Saab (R16 Score – 162 – P2P Average – 41.9 – Captaincy Rate – 0.6%) has come back in vogue after his massive showing against the Doggies in round 16. It wasn't all that long ago that SuperCoaches were clamouring to trade the man out, and now he's the most popular trade in of the week. The left edge of the Raiders aren't giving up big scores though, and he doesn't have Turbo feeding him this week so it may be a joy that's short lived. Also, he's played the Raiders once ever, round 8 last season, and scored 54. He was a Dragon at the time but it looks like he got out from under that bed just in time.
There are two more popular Eagles in Marty Taupau (R16 Score – 46 – P2P Average – 50.1 – Captaincy Rate – 0.1%), Karl Lawton (R16 Score – 77 – P2P Average – 62.7 – Captaincy Rate – 0.2%). As forwards, they're less likely to bust out a massive score that you'd want to captain (funny how things have changed) but if you needed to rely on one of them, I'd be more inclined to go with Lawton. Left second rowers are scoring at a better clip than front rowers against the Raiders and Lawton has three games over 75 from his five games this season.
The main guy for the Raiders is clearly Corey Harawira-Naera (R16 Score – 61 – P2P Average – 45.5 – Captaincy Rate – 0.1%). However, Manly have been very strong against forwards of late, allowing just a 36 3RA since their bye in round 13. That's been against Matt Doorey, Sam Stone and Coen Hess though, none of whom are SuperCoach relevant. I'd imagine that CHN would knock up a decent score but as mentioned on the pod this week, I'm worried about all the decoy runs he was relegated to in the Titans game. Just give him the ball already.
Other options include Josh Hodgson (R16 Score – 49 – P2P Average – 45.7 – Captaincy Rate – 0.1%) and Jordan Rapana (R16 Score – 57 – P2P Average – 42.1 – Captaincy Rate – 0%). Neither have been amazing this season. Hodgson is averaging 57 and Rapana is averaging 59, but surely you have better options.
And then there's Ben Trbojevic (R16 Score – 1 – P2P Average – N/A – Captaincy Rate – 0%) and Ryan James (R16 Score – N/A – P2P Average – 50.0 – Captaincy Rate – 0%) who are somehow both still in almost a quarter of all SuperCoach teams. But no.
SOUTH SYDNEY RABBITOHS vs Nth QUEENSLAND COWBOYS
This is the game where we can truly look forward to some decent scores and they should all come courtesy of the Bunnies.
Front and centre is Cody Walker (R16 Score – 99 – P2P Average – 54.2 – Captaincy Rate – 12.4%). The man broke his triple-figure duck in round 15 in a domination of the Broncos and then backed it up with a 99 last week. The Bunnies then stopped playing footy altogether so he really should have had his second ton on the trot, and going for a third against a Cowboys side who let Jake Clifford score 65 on them last week. Unfortunately for Cody fans, his all-time stats against the Cowboys aren't very impressive. He had 68 on them in 2020, which marks his career high against the club. From eight games against them, he's averaged 51 points, the worst rate against any opposition.
The second most popular Rabbit is Alex Johnston (R16 Score – 107 – P2P Average – 60.6 – Captaincy Rate – 3.6%). He's gone huge in the past month with scores of 154, 124, 80 and then last weeks 107. He had 78 on the Cowboys last year, and is playing on the same side that Dom Young scored a double and 88 SC points last weekend. Of course, that was set up by Kalyn Ponga but the Bunnies potent left side attack will be targeting this side who are giving up 60 PPG to left wingers on the season and are now "weakened" by Kyle Feldt missing out on Origin 3 selection despite doing nothing wrong (according to his own assessment).
There are four more Bunnies who feature predominantly enough in SuperCoach sides for round 17. They are Taane Milne (R16 Score – 66 – P2P Average – 51.5 – Captaincy Rate – 0%), Adam Reynolds (R16 Score – 69 – P2P Average – 79.3 – Captaincy Rate – 0.7%), Campbell Graham (R16 Score – 102 – P2P Average – 50.1 – Captaincy Rate – 0.1%) and Keaon Koloamatangi (R16 Score – 45 – P2P Average – 58.3 – Captaincy Rate – 0%).
All four of these men play on the less favoured right hand side of the Souths attack but as shown last week, there's still plenty of potential for big points on their day. Reynolds especially as the team's goal kicker and playing in a position where the North Queenslanders allow almost 80 PPG. The last three to play them have been Mitchell Pearce (67), Shaun Johnson (59), and Daly Cherry-Evans (148). He's a very pod, but very real VC option.
On the other hand, the only real option playing for the Cowboys is Jason Taumalolo (R16 Score – 60 – P2P Average – 49.2– Captaincy Rate – 0.6%), but is he really an option? Lolo's always been a SuperCoach stud but this year under Payten he's scoring WAY less than he has compared to just the last two seasons averages. Forget the overall average, but he's scored only 53 Base+Power PPG this year (down from 69 BP PPG from 2019/20), he's had 1 linebreak (14 in 2019/20), 1 try (5), 7 offloads (20.5) and he's averaged 1 tackle break (compared to 3.6 per game from 2019/20). It's hardly worthwhile at this point.
And apart from Val, there's no other Cowboy with a +5% ownership.
Sorry JT. But it's shaping up as another long night for your boys.
---
CANTERBURY BULLDOGS vs SYDNEY ROOSTERS
I'll start with the Roosters because, let's face it, the Dogs are competing with only the Cowboys for the least relevant SuperCoach side of the year. And when Val returns next week, Canterbury will take the crown.
The most popular player of the week for the Chooks is Daniel Tupou (R16 Score – 49 – P2P Average – 64.1– Captaincy Rate – 0.3%). He's been added by 2.2% of teams heading into round 17 and should be seriously considered as a VC or C option. Garrick played this same side a week ago and dropped his 169 points. I know Tupou isn't a goal kicker and to be honest, he's not a huge ceiling type of guy traditionally, but there's a very obvious benefit to playing on the wing against this side.
The most highly owned player named for Sydney is Sam Walker (R16 Score – 29 – P2P Average – 51.0 – Captaincy Rate – 1.8%). He bombed last weekend but better players than Walker have had issues coming up against the Storm. There's no shame in that. What was impressive about his game last week was seeing him bounce back up after getting absolutely torpedoed by Justin Olam. He's a tough kid. And he should have an easier time against the Dogs but it must be said that right halves score at the fifth worst rate against these Dogs. They haven't allowed a single ton from the position all year.
My favourite option in this game though is Joseph Manu (R16 Score – 36 – P2P Average – 86.4 – Captaincy Rate – 0.4%). He is a fantastic play, and one that I unfortunately will be having to death ride. Usually, I'm not that high on Manu. Great NRL player; poor SuperCoach scorer. But at fullback? It's a completely different story. In the last three seasons, Joey has filled in at the back on seven occasions. In those games, he's recorded scores of 97, 46, 102, 94, 74, 22 (injured) and 136. And coincidentally, that 136 point game came against the Dogs. He's so dangerous there and the Dogs give up such huge scores, any owners out there should at least have the VC on this man.
I'll group these next three guys as they're all playing in the forwards. And they are Siosiua Taukeiaho (R16 Score – 45 – P2P Average – 59.6 – Captaincy Rate – 0.1%), Sitili Tupouniua (R16 Score – 33 – P2P Average – 55.9 – Captaincy Rate – 0.1%) and Victor Radley (R16 Score – N/A – P2P Average – 52.8 – Captaincy Rate – 0.1%). While all three have some potential for a decent score, if there's just a high run of scores from the outside backs and halves then these guys will have all their base scoring stolen by just watching conversions. Sitili is the most likely to feature in the attacking stats so if you must, look at him first.
And finally, Joseph Suaalii (R16 Score – 36 – P2P Average – 61.7 – Captaincy Rate – 0.2%). I stressed before that Walker is the most popular named player for the Roosters, however the most highly owned of any Sydney player is Suaalii. But why mention him if he hasn't been named? I do so because I have very little doubt that he will in fact be called up. You may not actually realise in your panicked moments, but Suaalii has played the last five rounds and every single time he's been named in the #21 jersey. There's some conjecture as to why. Maybe because of the betting agency sponsorship on the top 17 jerseys, or maybe because the NRL has a clause about 17 year olds being named to play in the top 17, but whatever the case, he could and should be called up. And that likely spells bad news for Matt Ikuvalu, who was the man to make way last weekend.
For the Dogs, the only viable option is Luke Thompson (R16 Score – 52 – P2P Average – 48.1 – Captaincy Rate – 0.1%). He is easily the most owned Bulldog (ahead of Jarred Anderson and Jackson Topine) but plays the front row in a team who are likely to be dominated. He still scored 52 points in a 66-0 game last week so it's not all bad. But not a captains choice.
---
CRONULLA SHARKS vs NEW ZEALAND WARRIORS
And like the first bye round, our last game of the weekend is probably the most Supercoach relevant game. So again, I'll just run through a list below.
Shaun Johnson (R16 Score – 75 – P2P Average – 67.8 – Captaincy Rate – 2.4%) is probably the clear favourite here as the most highly owned named player (dammit). Despite the surprise loss last weekend, I like what I saw from Johnson. He looked more confident in running the ball and had a patented double step run. It tells me he's more confident in his achilles now. And with SJ, it's also a weird revenge / trial game against his former and future club. And FWIW, right halves against the Dubs have scored 93, 80, 71, 67 and 70 over their last five games. But if you want to captain SJ, make sure you haven't had Cody locked in before this game.
Jesse Ramien (R16 Score – 62 – P2P Average – 44.8 – Captaincy Rate – 0.1%) is a great centre/wing player in 2021. He's got his base game back, averaging 53.7 PPG in Base+Power. That's more than Lolo. He also had two games against the Warriors last year and scored 44 and 74. Playing outside of SJ can only help his stocks too. Sidenote – I also like Sione Katoa who's almost $100k cheaper than Ramien. The Sharks nice run home should mean some good scores for him.
Addin Fonua-Blake (R16 Score – 76 – P2P Average – 56.7 – Captaincy Rate – 0.2%) came in for my side last weekend and did not disappoint. It was only in the 2019 season when AFB was the fourth highest averaging front rower in SuperCoach. He has a premium game and I can't believe that some were put off my the arrival of Matt Lodge. We'll see how that plays out this week but I don't see his usage being affected too badly. And in better news, AFB has played the Sharks once in each of the last two season. His scores? 142 and 111.
Reece Walsh (R16 Score – N/A – P2P Average – 65.3 – Captaincy Rate – 1.2%) had better destroy the Sharks this week. I got him in round 15, particularly for this game and have been on an emotional rollercoaster ever since. The 65.3 PPG fullback scoring against Cronulla isn't the best so there's a bit of risk involved in this. But we've seen what Walsh can do in his burgeoning career. In a three game stretch against Parramatta, Wests and North Queensland, Walsh averaged 104. In the other four, he's averaged 42.8. Rocks and diamonds and I'm personally hoping for the latter this week.
Roger Tuivasa-Sheck (R16 Score – 73 – P2P Average – 52.9 – Captaincy Rate – 1.1%) would have been the biggest round 17 trade in if you'd asked coaches at the start of the season. But then the Broncos gave away a fullback prodigy and RTS relinquished his spot to the kid. Now he's playing on the right wing and just doesn't score the same.
Kodi Nikorima (R16 Score – N/A – P2P Average – 56.5 – Captaincy Rate – 0.5%) is back. He broke many trade plans last week as many people were deciding between him and SJ, and the late withdrawal made the decision for them. But if you traded him in and forgot to reverse in time, or got it locked out then the good news is that you've got a guy playing this week. Unfortunately, the Sharks don't give up the best scoring to right halves, but as a goal kicker he should get a decent bump in what is likely to be an open and high scoring game.
Matt Lodge (R16 Score – N/A – P2P Average – 56.7 – Captaincy Rate – 0%) owners have been KOTD. Getting him for the r13 bye week, and holding him because he's actually scoring pretty well, Lodge is now playing in black and silver in round 17. KOTD!
Toby Rudolf (R16 Score – 42 – P2P Average – 45.3 – Captaincy Rate – 0%) isn't an exciting play but he is somehow owned by 6.5% of SuperCoaches. That surprised me. However, the Warriors don't give up a lot of points to the lock position.
Will Kennedy (R16 Score – 76 – P2P Average – 71.7 – Captaincy Rate – 0.3%) is the last guy I'll look at just for Wenin. A few jumped on for his game against the Broncos which ended up ok, but not what was expected. The Warriors don't give up as much as Brisbane but a 70 PPG allowance can't be ignored. In saying that, his two games against New Zealand last year returned scores of 68 and 18.
And to think, this game could have been even better with Tohu Harris and Josh Curran named. I hate SuperCoach at times.
---
---
Final Thoughts
As I said in the write up, I'd be all over Joey Manu if he was in my side. He should go massive against the Dogs. I'd be very surprised if he doesn't.
For me, I'll more than likely VC Cody and the go with Reece Walsh as captain. He owes me. But hopefully I can loop early and not rely on it anyway.
As always, you can ask me any follow-ups in the comments below, or even hit me up on twitter @dlake631, and hopefully I'll be able to help some more. Good luck for the round ahead.