Lakeys' Captains – Bye Round 1
The team at NRLSCTalk are continuing to support Movember throughout the 2021 season and beyond. You can too by helping us raise much needed funds for men's health by visiting our Mo Space here If you, or someone you know, are struggling with your mental health, please reach out for help. Our Mo Space is also linked in the menu.
How important are captains? A week removed from Captain Nathan Cleary proving that the loophole is, at times, a horrible risk then Nicho Hynes came out and showed us exactly why we need to keep it in mind. Knocking up a 156 against the Broncos on Thursday night, so many coaches (myself included) decided that it may be worth letting that slip with Cleary facing the Dogs and Turbo coming up against my hapless Knights. Then those guys scored 54 and 40 respectively and I was left wondering "what could have been?"
And now the bye rounds are here which means our SuperCoach sides are completely decimated by outs through the byes and Origin selections. Because of this, I've gone away from the usual VC / Caps / Avoids format for one week only (and probably r17). This week, if you've got enough guys to be worrying about who you should be avoiding then you're doing so well in your planning, or potentially so bad if you want r17 numbers. Below I've listed just about anyone who's relevant with brief bits and pieces on each man.
So, let's check out the who's who of round 13. It won't really take too long.
Disclaimer: The following is not a science by any means. Nothing written below is gospel. The final decision is up to you.
ST GEORGE DRAGONS vs BRISBANE BRONCOS
There isn't a whole lot to be getting too excited about on Thursday night. I don't see a lot of names in these lists that are high in SuperCoach popularity. The main man, in my humble opinion anyway, and someone I've been spruiking for a few weeks now is Matt Dufty (P2P Average – 95.0 – Captaincy Rate – 0%). He may be returning from injury but it's just in time. Look at that "points-to-position" rate. We've had 12 games this year and the average fullback score is 95 points. I think that's the highest P2P score I've ever seen. I know I said I wasn't doing my "best VC" bit, but if I were, it's Dufty.
Tevita Pangai Jnr – (R12 Score – 62 – P2P Average – 55.33 – Captaincy Rate – 0.3%) is the other popular option in this game. He's been pretty good all year, averaging 68.8 PPG but isn't really a huge score candidate at the moment. He'll also be flicked back over to the right to accommodate Alex Glenn's return, after having played on the left side the past couple of weeks. Who knows how those combinations will play out. TPJ should still get through plenty of work though so I'd expect another 65-ish type score at a base.
The only other name of any sort of interest here is Jamayne Isaako – (R12 Score – 24 – P2P Av – 79.42 – Capt Rate – 0.1%). And I say that without any real confidence. But the Dragons are allowing a tick under 80 PPG to fullbacks this season and in particular, the last three scores against them have been 182, 100 and 117. A whopping 3RA of 133 PPG. Could be worth a sneaky VC.
WEST TIGERS vs PENRITH PANTHERS
This is the game that has been hit the most out of those suiting up this weekend. The Panthers are SuperCoach royalty this season, but are missing eight regular top 17 players from their squad (and still run out $1.35 favourites). Add the Tigers outs to that and it brings the total to nine. Wests are missing just Jo Ofahengaue. And despite their genuine lack of rep players, both sides are still flush with SC options.
Best of all is Adam Doueihi – (R12 Score – 83 – P2P Average – 40.75 – Captaincy Rate – 0.1%). He's been on a tear all year, whether from five-eight or centre. It doesn't matter where he's lined up, he's getting the ball and doing good things. And while the Tigers are scoring points (21.7 per game) Doueihi is getting goal kicks to boost his scores. Penrith are very stingy against right centres this season, but then again, all of the P2P ranks against the Panthers will be low. But that needs to be taken with a grain of salt this week. Without all those regular first-graders, it's hard to know how the team will perform.
David Nofoaluma – (R12 Score – 65 – P2P Average – 29.83 – Captaincy Rate – 0.4%) and Daine Laurie – (R12 Score – 117 – P2P Average – 38.58 – Captaincy Rate – 0.2%) are other popular Tigers players that could be relied on. Laurie would be the one I'd look to if I owned both as he's shown more of a tendency to go big this season (imagine saying that a year ago).
For the Panthers, their main man this weekend is Matt Burton – (R12 Score – 66 – P2P Average – 60.5 – Captaincy Rate – 1.1%). He goes from strike centre to gun half, taking over for Cleary, and arguably Luai as well. Burton has been scoring very well all year thanks to the strong Penrith attack but it remains to be seen how he'll go steering the side himself. He had one game in the #7 earlier this year, when Cleary missed round 3 due to concussion. Burton had 41 points that day against the Storm. He also played two games last season as the starting half. He scored 43 in a 90 minute tie-game against the Knights, and then 102 points against the Warriors.
Another semi-gun fullback I've been high on leading into this week is Dylan Edwards – (P2P Average – 71.17 – Captaincy Rate – 0%). Similarly to Dufty, Edwards has been on the sideline for a few weeks but returns just in time to face a Tigers side who give up plenty of points to his position. However, unlike Dufty, recent fullbacks have been really struggling against the Tigers. The latest three scores against them have been 9, 129 and 30. The 129 mentioned came from Reece Walsh in the Warriors win. The other two, both Tigers wins. So I guess it's just a matter of who you think wins this game?
Then there are guys like James Fisher-Harris – (R12 Score – 68 – P2P Average – 53.13 – Captaincy Rate – 0.2%), Viliame Kikau – (R12 Score – 37 – P2P Average – 58.25 – Captaincy Rate – 0.2%), Charlie Staines – (R12 Score – 94 – P2P Average – 57.92 – Captaincy Rate – 0.2%) and, to a lesser extent, Stephen Crichton – (R12 Score – 86 – P2P Average – 40 – Captaincy Rate – 0%). Of those, I'd be leaning towards JFH as a safer captain choice, while Charlie could be your boom-VC if you wanted to go that way. He could just as easily be your bust-VC, as we've seen many times before.
---
MELBOURNE STORM vs GOLD COAST TITANS
Melbourne, like Penrith, have a host of names missing this weekend for Origin commitments. But unlike Penrith, only two of those names, being Josh Addo-Carr and Felise Kaufusi, were in this same side that destroyed the Broncos just a week ago. They have incredible depth and the Titans are in for a very long afternoon it seems.
It's such a shame that this game is so late in the weekend because Nicho Hynes – (R12 Score – 156 – P2P Average – 76.0 – Captaincy Rate – 2.8%) is just about the perfect VC this week. Fortunately, with one game left to play on Sunday, and a gluttony of bye players not locked in until that one kicks off, he still can be. The kid has been sensational in the lead role for the Storm. He's been floating around the field and striking from the depths when the moment is right. He now has an average of 113.1 in games that he's started for Melbourne, including his last three of 182, 138 and 156. He's picking off the easier teams at will. It's like he can smell blood in the water, like he's some sort of…… I dunno. I can't think of anything here. Any help Bronco fans?
His spine partner, Jahrome Hughes – (R12 Score – 65 – P2P Average – 73.5 – Captaincy Rate – 0.7%), is a fantastic play as well this week. He's been in top form all year and the Titans have been allowing huge scores to right halves of late. One of those being the all-time SuperCoach record during magic round. That's not to suggest he'll do that well, but I wouldn't be at all surprised to see him crack a ton with ease here. Maybe I look at getting him in.
And then a man who's quickly becoming one of my favourite NRL players, Brandon Smith – (R12 Score – 110 – P2P Average – 46.42 – Captaincy Rate – 0.3%). It certainly helps that I jumped on board last week off the back of his 106 point game. I was hoping to use him as bye coverage and a bit of a cash generator to flip into a Tohu Harris type. What I didn't expect was a two-try, 110 point performance against the Bronx. Outstanding. Back-to-back tons. Can he make it three on the trot against a side missing names like Fifita, Fotuaika, Brimson and Fa'asuamaleaui?
For the Titans, I can only really see Brian Kelly – (R12 Score – 36 – P2P Average – 38.75 – Captaincy Rate – 0%) as someone who you'd potentially take on, but then again, against such a strong side like the Storm. Nah, pass.
---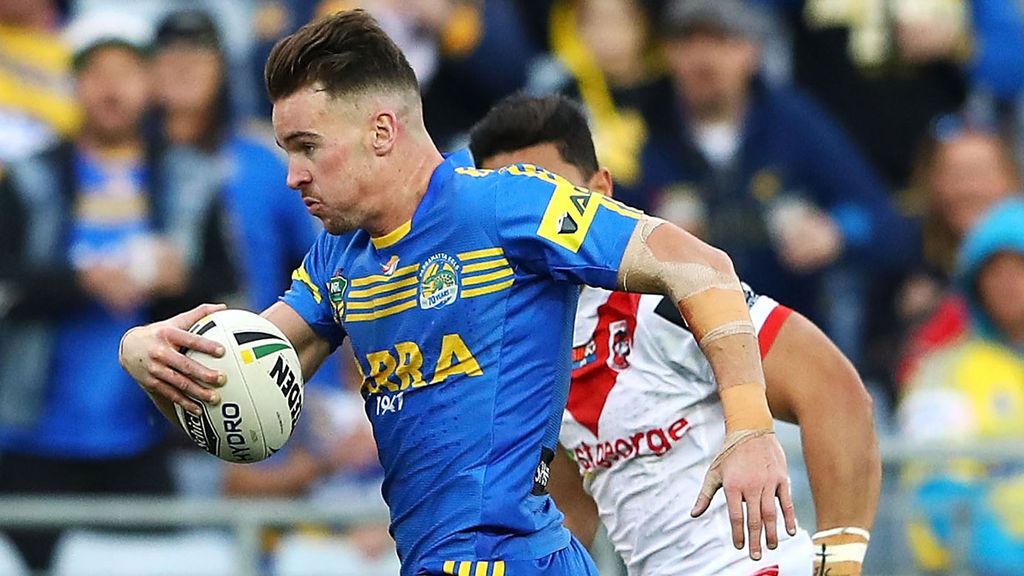 NEWCASTLE KNIGHTS vs PARRAMATTA EELS
And then there's this game. It's easily the most Supercoach relevant game of the weekend and provides plenty of captaincy options to close out the round. As such, I'll just run a list below, in no particular order.
Clint Gutherson – (R12 Score – 67 – P2P Average – 60.92 – Captaincy Rate – 1.8%) is probably the clear favourite here and most highly owned fullback from all the round 13 teams (Nicho at CTW not included). He's been a gun fullback choice this year, particularly beating up on the weaker sides. His run of three tons in a row came against the Raiders (the 2nd easiest side to score on from any position), Broncos (easiest side in SuperCoach P2P) and Bulldogs (3rd easiest). But for whatever reason the Knights haven't been easy to score on. They kept Turbo to 40 points last week, and the only scores above 80 on them this season have been 83 from RTS in round 2, 82 from Dylan Edwards in round 7 and then 138 to Val Holmes in round 11. It can be done, but it's far from certain.
Isaiah Papali'i – (R12 Score – 62 – P2P Average – 71.75 – Captaincy Rate – 1.2%) is my pick for safety captain of the week and the guy I'll be relying on should my VC fail. The Knights give up 72 PPG to the left edge forward this year, which includes and 89 and 79 over the past two weeks.
Ryan Matterson – (R12 Score – 42 – P2P Average – 53.5 – Captaincy Rate – 0.2%) is less certain. He doesn't look the same player this season as the last few years but is mostly putting up solid scores. He had a 94 on the Knights last season too. If he's your only option, then he's not an awful choice but I'd be hoping someone else gets the job done.
Mitch Barnett – (R12 Score – 65 – P2P Average – 47.08 – Captaincy Rate – 0.1%) has dropped well away since the return of Lachie Fitzgibbon. If he was kicking, you could still make an argument for him, but it looks as though Tex Hoy has taken over those duties once more. There are better options out there.
Jayden Brailey – (R12 Score – 58 – P2P Average – 57.0 – Captaincy Rate – 0.2%) faces Mahoney (maybe) in a battle of the two best hookers from the first half of the season. The Eels are actually giving up good scores to hookers this year, but Brailey seems to have slowed down a fair bit of late, boosting his last couple of scores with a try and try assist in the dying minutes.
Connor Watson – (R12 Score – 89 – P2P Average – 48.17 – Captaincy Rate – 0.1%) strikes me as a true boom-or-bust option for this game. Capable of big scores with the ball in hand, as showcased by his 89 last week, but there's still the concern of a pack shuffle which sees him at lock or worse, on bench. He could bring you home strong, but you'd be brave to trust him.
Bradman Best – (R12 Score – 62 – P2P Average – 52.92 – Captaincy Rate – 0%) has been solid without being great in 2021. He's putting up decent scores but needs an attacking stat to take him to that next level. I'm not sure I see it happening against this Eels team with this Knights squad.
Maika Sivo – (R12 Score – 67 – P2P Average – 46.42 – Captaincy Rate – 0.1%) isn't someone I'd be trusting. He can go massive or he can go missing. He had 39 on the Knights last year in an Eels win (albeit 10-4), so only back him if you see a few tries coming down his wing. But the Knights outside backs have been woeful this year, so it could happen.
and at this stage MAYBE Reed Mahoney – (R12 Score – 56 – P2P Average – 50.67 – Captaincy Rate – 0.4%) if he's released from his Origin commitments and allowed to play the game. It's still somewhat up in the air from what I understand. But he scored 103 on Newy last year so is another great option if he's there.
Also, Mitch Moses – (R12 Score – 49 – P2P Average – 45.0 – Captaincy Rate – 0.3%) needs to score over 60 so I can claim my steak from JT.
---
---
Final Thoughts
For me, it will be a stess free Nicho VC and Ice C combination. I'm sure that will be popular but I don't see an awful lot of better options this weekend. Hopefully you can jag something out of the ordinary to give you a solid four figure score and boost your rankings.
As always, you can ask me any follow-ups in the comments below, or even hit me up on twitter @dlake631, and hopefully I'll be able to help some more. Good luck for the round ahead.