JT's Weekend Roundup – Round 9
What a week. This had a bit of everything – plenty of blowouts, some huge scores by losing sides, tight finishes, sinbins, non-sinbins, a handful of crucial SuperCoach injuries and suspensions and a near-200 from a SuperCoach darling to boot!
The fullback conundrum in SuperCoach continues to be an issue. Teddy is being crippled by his side's injury toll, Papenhuyzen is still nowhere to be seen, Gutho had a rare miss and Ponga and Turbo turned it on for their owners. What will it be next week?
Dave Fifita had somewhat of a bounceback game this round, but a final-minute high shot saw him likely scratched for a week and also took 10 points off his score. And yet still nearly got a ton! What a player. Now the question becomes, who do you bring in for him if you want to move him on with Origin looming? Matto came back with a bang and Isaiah Papalii is just continuing to destroy opponents and non-owners alike. Tohu Harris just chugs along and is putting up attacking stats for fun. And Taumalolo finally hit top gear for the first time in a long time and looks a play from Round 14 if he's still healthy…Decision time!
And what to do with these goddamn CTWs? Staines. Simo. Saab. All going ballistic. All probably on everyone's bench. I have so far sat Charlie Staines out for just two weeks. In those weeks, he's gone 115 and 85. Sigh.
Unsurprisingly, the results of the weekend saw scores trending into the 1700s. We've just come to expect this kind of carnage from the NRL these days. Hopefully your captaincy and reserve choices were kind to you!
And finally…
Yee.
Haw.
The Weekly Top 5
Rockers– the 'SuperCoach-relevant' players who killed it
Floppers – the 'SuperCoach-relevant' players who killed your week
Shockers – the left-field players who will no doubt be high on the list of trade-ins the next round and prime candidates for SC players chasing last week's points!
Trade Fail of the Week – always good value.
Unfortunately, it has to go to the 50-odd who traded out Josh Addo-Carr this week just prior to his ridiculous 174. Some of the candidates in the list of trade-ins for him…did not go so well. Zac Cini (7), Daine Laurie (29), Jamayne Isaako (55), Daniel Tupou (48) and even his teammate Reimis Smith (35). Tough luck. Might be delete team time for those unlucky SuperCoaches.
1. Tom Trbojevic – 191. This was looking every bit a 200-point game with about 15 minutes still to go. The Warriors found some momentum and unfortunately that meant Turbo was quietened down after absolutely blitzing them in both halves. 4 errors to his name by the end of the game also cruelled what could have led to more attacking stats, but few will be complaining if they had the captain's armband on him. At Lottoland, in the afternoon, in his 100th game. The only thing that would have stopped him was a reoccurrence of his hamstring issues. Every week he can stay healthy is a blessing to rugby league.
2. Josh Addo-Carr – 178. What else can you say. Just his 3rd score above 60 all year but this is why 11% of SuperCoaches own him. While they may be a bit hit and miss themselves, the skit the Professor and Barney did on Sunday night about his 6 tries is worth a watch – poor Dane Gagai.
3. Isaiah Papali'i – 97. I asked it last week but the question is still valid – when is this going to end? It just doesn't seem like it will, with an incredible base workrate in 80 minutes on the edge being regularly complemented by attacking points. Notably a run that yielded a couple of busts, an offload and a try assist/linebreak assist to put the game to bed for the Eels late in the game. With Fifita now looking like he's out for at least a week, all eyes that weren't already on this bloke will be turning his way. Will play the Origin weeks Fifita will miss. Dual position. Averaging a ridiculous 92 points a game. He's head and shoulders above the rest of the pack in FRF this year.
4. Tohu Harris – 104. Just carrying on the form he had throughout 2020. In a spot virtually free of consistency, he's proving to be one of just a few set and forget options at 2RF this year. Firstly ran onto a great ball close to the line to barge over, then set up a late Reece Walsh try with a brilliant standing offload just short of the line. His lowest score all year was a R1 66 in a bludger of a game against the Titans. Since then, in mostly 80-minute efforts, he's gone 70+ every single week. Looms a great buy for the Origin period if you unfortunately don't already own him.
5. David Nofoaluma – 113. Was looking like another underwhelming score from Nofo before he kicked into gear in the second half to put on two tries, and almost had a third before he was bundled into the exposed fencing on the sideline…7 busts and 3 offloads is the type of game we've come to expect, but have rarely seen this year. Hopefully this sparks something in him going forward.
1. Cody Walker – 16. Leaving $600k on your pine is a bold move despite all that was seemingly going against the enigmatic Walker this week. And anyone who was brave enough may have started a little worryingly, with a marginal forward pass call preventing an early try assist and an attacking kick rolling dead ultimately robbing him of some decent points to start the match, and from there he was nowhere to be seen with the Storm running absolutely rampant. Tough watch for owners, normally you'd expect a bit more from a player of his ilk at the back but fullbacks won't score many points in a 50-0 thrashing.
2. Reimis Smith – 35. I may have spruiked Smith's worth to a colleague at the pub late on Thursday night and that colleague may have traded him in. If you'd checked the score at fulltime, you surely would have expected Smith to have been part of that action throughout, right? The Foxx stealing the limelight. With two tons leading into the game, it was no surprise to see that many thousands of SuperCoaches had pulled the trigger on Smith. Tough night at the office but if the Storm play like that in the bye week, I'm sure all will be forgiven.
3. Shaun Johnson – 28. His price is dropping rapidly here but it must be said his recent scores may not reflect his true value in the game. He put 60 on the Storm last week, should have had a lot more against the Dogs in the first week back and then could get nothing going against a rampant Penrith side who dominated possession yet again. For SuperCoach these poor scores are going to mean an SJ that could be sub-$500k come Round 17 when you'll really want him in. A couple of forced dropouts here show he's at least got his kicking boot on which has always been a great string to his bow.
4. Angus Crichton – 39. Just when you think he's back into form after a try last week and 90-odd, he pulls out by far his worst score of the year and one of his worst scores ever when playing the full 80. Just 11 runs all game is a disappointing return but given the frenetic nature of this game and the Roosters' horrible injury toll forcing players to move all over the field, we may just have to move on and forget it. While his season average is a respectable 65, there have been a few low scores in that average that we're just not used to seeing.
5. Daine Laurie – 29. A tough night for Laurie, who firstly was denied a try assist off a forward pass (correct call) and then had a try of his own scratched after a bobble in the leadup by Luke Garner. Again it's one where if you looked at the scoreline and Laurie's own formline leading into this one, you'd expect a much better return. His worst score for the year is not the output I'd have been banking on! The dry track looks to be his best friend so far this year and he should have a few of those in the months to come. Keep the faith.
1. Carty Party – 87. Two tries. What world are we living in?
2. Adam Doueihi – 143. I have to give credit to Wenin here. Not many own, nor traded this guy in this week. But he called him out as his buy for the round early on and it absolutely paid off. To be fair, his very good scores so far this year have gone largely unnoticed by me and I was genuinely surprised to see that outside of a couple of 20s (including one two weeks ago which had kept his breakeven to 90 before this huge score here), he had put on scores of 90, 84, 94, 61 and 83. With a handy (at times) goalkicking boot, we may have just found our 5/8 play for Round 13. Sorry to burst your POD bubble, Wenin.
3. Saab/Simo/Staines – Huge scores on pretty much everyone's bench. Impossible to pick this year. Maybe Saab was the likeliest play given the impact Turbo was likely to have on this game. Staines finally got some quality ball (thanks for learning to pass, Crichton). Simonsson was in a lot of the attacking plays the Raiders put on early (there were not many later in the game).
4. Jack Bird – 107. Apart from a couple of handy scores midway through the year in the 70s, Bird has been very quiet in his return to the game from a mountain of injuries. I don't know what sparked this performance (maybe the opposition), but 7 busts, 4 offloads, a try assist, an almost try of his own and a huge 32 points in hitups was immense. Is he a thought now?
5. Mathew Feagai – 89. A cheapie CTW who scores a heap of tries in his debut game? We've seen this a few times before. Hopefully for his sake he can kick on from here, but a knock copped late in the game coupled with the impending returns of Ravalawa and Pereira from suspension may mean his time in the side is short.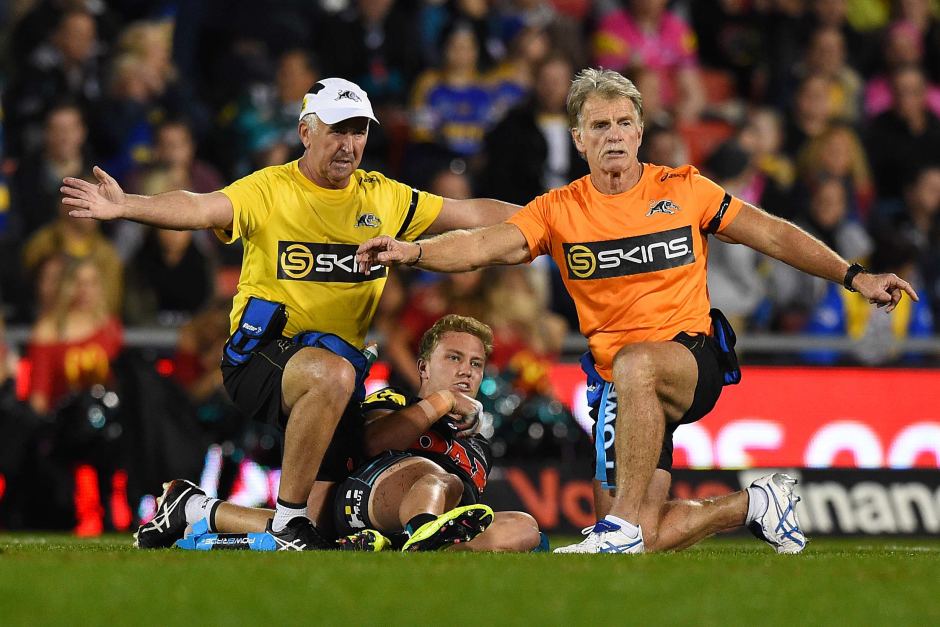 Injuries
Corey Allan (head/neck – TBA)
Lachlan Lewis (lung damage – TBA)
Drew Hutchison (ribs – TBA)
Ryan Sutton (elbow – TBA)
Joseph Tapine (medial ligament – TBA)
Pat Carrigan (ACL – season)
Braden Hamlin-Uele (ankle – 8 weeks)
Sio Siua Taukeiaho (calf tightness – TBA)
Brayden Musgrove (ribs – TBA)
Matthew Feagai (ankle – TBA)
HIA – Victor Radley, Reed Mahoney, Taniela Paseka, Jesse Ramien, Kurt Capewell, Blake Lawrie, Ava Seumanafagai
Suspensions
Dylan Brown – 3 weeks (dangerous contact)
David Fifita – 1-2 weeks (high tackle)
Brandon Smith – 1-2 weeks (shoulder charge)
Marata Niukore – 2 weeks (high tackle)