JT's Weekend Roundup – Round 7
Imagine not owning Brian To'o or David Fifita after this weekend (my hand up). Imagine captaining poor James Tedesco for his 17 points on Sunday (thankfully not raising my hand for that one). Imagine taking a punt on Utoikamanu to keep your FRF afloat with all the injuries this week (my hand up again – same for any RJ owners). Imagine playing, say, a Charles Stainesworth VIII over a Samuel Walker in your reserves (hand raised to the ceiling).
What a week!
While a lot went wrong for SuperCoaches out there, if you were on the right side of some of those calls above, you're absolutely cheering. 7 scores in the 1600s for the week is truly insane and just goes to show, like teams in the NRL, if you get on a roll it can be hard to stop. Yep it's a bit of bad luck to have a guy like Teddy go down, particularly if you've captained him, but there were plenty out there who saw the value in trading him in a few weeks ago at the first sign of a downfall – possibly the loss of Keary, though the way they've played against the Sharks and Dragons without him suggests they'll be ok – and are now reaping that reward with Teddy dropping to a ridiculous $590k with a breakeven of 157! And there were plenty out there that put their faith in Dave Fifita early in new colours and have been handsomely rewarded since the start with a series of truly insane, mainly first-half, scores.
HIAs, suspensions and injuries are continuing to wreak SuperCoach havoc and causing a stack of headaches coming into the trades. Read on for all the guns and busts from the week that was!
And finally:
Yee.
Haw.
The Weekly Top 5
Rockers– the 'SuperCoach-relevant' players who killed it
Floppers – the 'SuperCoach-relevant' players who killed your week
Shockers – the left-field players who will no doubt be high on the list of trade-ins the next round and prime candidates for SC players chasing last week's points!
Trade Fail of the Week – Always great value.
Josh Schuster has been killing it for Manly on the edge and has found a new firing partner with the return of Tommy Turbo. In a day game against the Tigers, this could, and did, mean only good things. Not so for the one SuperCoach who saw plenty they liked out of Dylan Brown (…) during the week and made the bold move to push Schuster out, forgo the massive price rise(s) he's racking up and bank Brown's 57 points. Handy, but…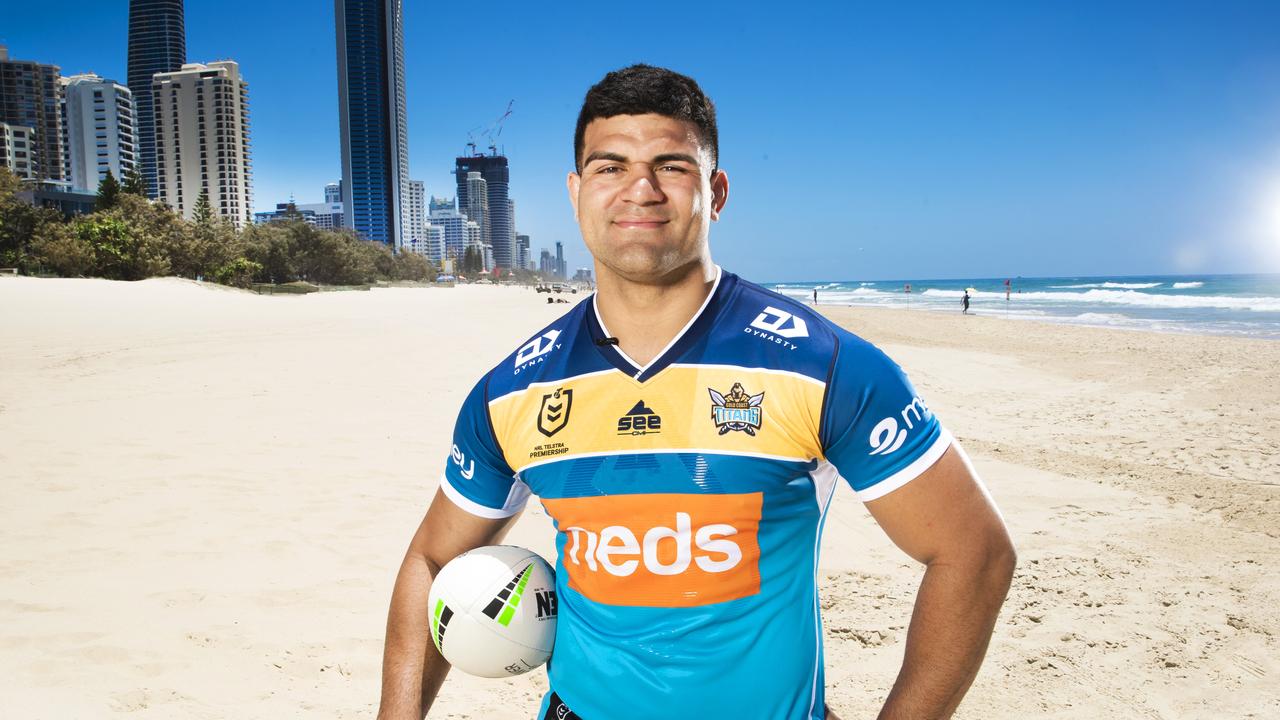 1. David Fifita – 153. Until about the 8th beer on Friday night, I was in a dark place watching these score updates (and the group chats roll in from the fortunate/not stupid players that own him). What a weapon he is turning out to be. His 2nd first-half hattrick for the year! His biggest enemy so far this year has been the halftime siren.
2. Clint Gutherson – 124. Gutho was sublime against the Broncos and was duly awarded three try assists for his work out there, and even got across the line for one of his own late in the piece courtesy of Moses-san, the Karate Kid. Coupled with two forced dropouts, a few offloads, it was always going to lead to a big score. His 14 runs for just the one tackle bust is not usually a decent return for a fullback of his calibre, but I guess we're paying for the full arsenal and not just the legs. With games coming up against the Bulldogs (x2), Warriors, Tigers and understrength Warriors and Roosters over the next few months, these scores could be come quite frequent.
3. Sam Walker – 125. Again he started this game with a stack of errors and again it was like water off a duck's back, with Walker leading the charge to put the Roosters well clear. How good is that cutout ball of his! While that play in particular didn't lead to many points this game, it was his running game and the ability to offload that led to his first attacking stat of the game, followed by a run to the line to just find a way to get it down that led to his second try in the grade. Eventually found his goalkicking mojo as well after shanking the first two, finishing with 5 from 7. His runs and involvement in the games are slowly building – sitting at only around 4 for the first few rounds and going to 5 and 6 this last fortnight. It's very tough to pick him at the moment but three great games out of four suggests he's going to be a play for a long time.
4. Tom Trbojevic – 118. Would have had owners worried after 25 minutes or so when he was sitting around 10 points as the Tigers held firm on him. Then he just clicked into overdrive as he always does and went into the sheds on around 70. As soon as this guy gets the ball, you know he's either going to break the line with ease (as he did twice) or go close to. A try and three assists capped a very big afternoon, and it could have been even bigger if Des had have left him on to close out the game. But they're taking care of this absolute Ferrari and his dodgy hammies for another week. I can't wait to see how he fares against Penrith in a true litmus test this week. What a show it should be. Let's hope he revs up that Forbes Ferrari on the other side…
Honourable Mentions – I don't often do these, but how could you not in a week like this. An incredible 16 players tonned up over the weekend! And plenty of them have SuperCoach relevance, like TPJ (100), Rapana (106), Addo-Carr (107), Reimis Smith (109), DCE (110), Corey Thompson (110) and most impressive of all, the often-forgotten halfback for the Storm Jahrome Hughes (141), who managed to piss off plenty of Cam Munster owners throughout the first half as everything golden went through his hands. What a week if you had some of those in your sides! Outside of those guys, there were also a stack of good scores in the CTW ranks, with Nicho Hynes (98) looking a very valuable replacement for the injured Papenhuyzen in the short term, and a great play in the bye week R13, and Val Holmes (97) and Brian To'o (89) proving they are the ones you should have grabbed in those premium CTW spots recently. And how's Isaiah Papali'i just continuing to find the f'ing line! He's just under $700k! My god.
1. James Tedesco – 17. It's very, very unfair that he has to cop this award this week. But it's now the second week in a row he's found himself here, this time through no fault of his own. Really frustrating one for both owners and especially captainers, as you could just see the way they dismantled the Dragons after he went off the field for an HIA looked like it was a game made for a return to form for Big Ted. Eurgh.
2. James Roberts – 18. It's been quite sad to see how genuine the decline really is in the Jet's game over the last month or so. In a Tigers team that desperately needs some experienced heads to step up, Roberts is just coming up with crucial errors. And you can't say he's not trying, with plenty of runs in each game, they've just been very ineffective. Not sure where they go from here with BJ Leilua's broken thumb in the lower grades – Roberts might just keep himself in the side until the all-important Round 13 bye week. And surely will deliver bigtime. Surely. Has to.
3. Kodi Nikorima – 24. With CHT out, many expected Nikorima's hot start to the year to continue, but outside of his 104 against the Dragons last week, he's scored 35, 37 and 24. Too many rocks, not enough diamonds. Interestingly enough, when the Warriors put on some points in the back end of the game, it was new boy Reece Walsh doing all the work.
4. Shaun Johnson – 27. Tough to put him in here but it's probably worth it. A game against the Dogs should have been a handy enough platform for SJ in his return game from injury, but he was often let down by the players around him as the Sharks bombed try after try. Poor Hiroti cost SJ some big early points as well, fumbling with the line wide open a couple of times. It's a great score for prospective owners down the track as his price is a little too high for now, but I liked what I saw in patches of his 5 runs to suggest he'll add some value down the track.
5. Stefano Utoikamanu – 28. What. The. Hell. Utoi was leading the charge for the Tigers as they came out of the blocks nicely, laying on the first try on the back of a dominant display through the middle from the very likes of Utoi himself. So the fact that he only added 6 minutes at the very end of the game to his first stint of 24 absolutely belied belief. What was doing there, Madge? It's frustrating for owners of both Utoi and Leniu as they have been showing good work out there in their time on the park but are just not getting the minutes, which I guess is fair enough when they're both rookies, but for Utoi's sake, it surely wasn't the right move here. If you ran the gauntlet with the injured TKO this week and had to make the move on game day, you've been stitched up bigtime.
1. Carty Party – 120. He. Is. Back. Yeeeeef'nhaaaaa!
2. Keaon Koloamatangi – 114. Not sure what was more shocking – this score, or the fact that a lot of it came on the back of 800-year old Benji Marshall.
3. Mawene Hiroti – 99. I watched this game and I have no idea how he scored this high. If he had have capitalised on some chances, SJ would be out of the Floppers and into the Rockers.
4. Maika Sivo – 157. Sometimes there's a player who has a statement game that makes you sit up and remember that they were once an absolute weapon in the SuperCoach world. Is Sivo's dismantling of the Broncos, with three tries and five (5!) linebreaks, a sign of a return to big-scoring form, or is it going to be like his effort against the Cowboys last year when everyone jumped on board and he flopped just about every week after?
5. Benji Marshall – 105. Seriously how.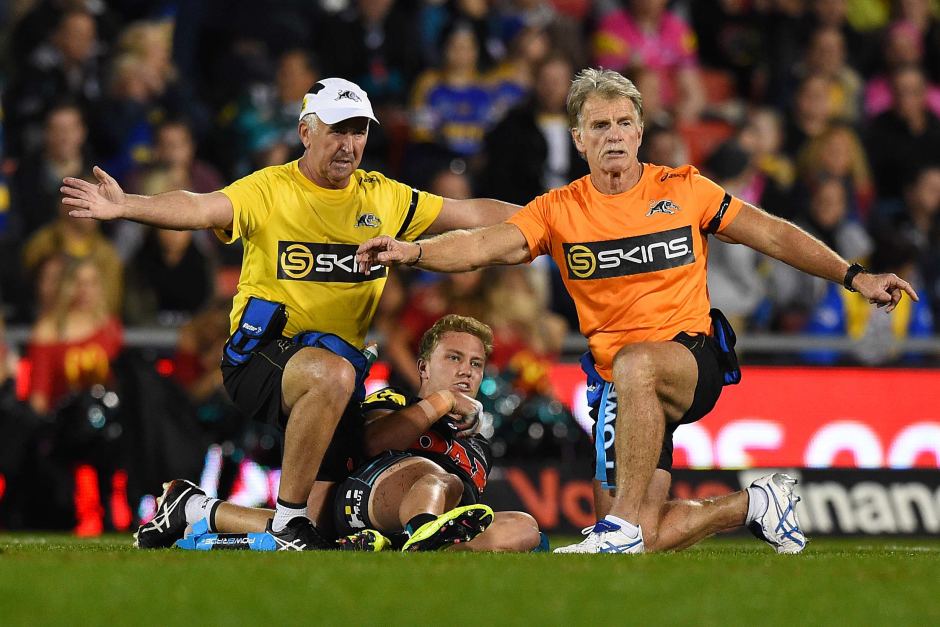 Injuries
Tohu Harris (Concussion symptoms – 0-1 week)
Will Smith (Broken Thumb – TBA)
David Fusitua (Hamstring – TBA)
Joey Leilua (Broken Thumb – TBA)
Matt Moylan (Calf – 0-1 week)
Jordan McLean (Hamstring – TBA)
Patrick Herbert (Calf – TBA)
Sam Lisone (Pec – TBA)
Alex Glenn (Calf – 3-4 weeks)
Tui Kamikamica (Shoulder – TBA)
HIA – James Tedesco, George Jennings,, Tevita Tatola, Matt Doorey, Chris Smith (All Failed)
Suspensions
Jordan Pereira (Carless High Tackle – 3-5 weeks)
Mikaele Ravalawa (Shoulder Charge – 2-3 weeks)
Josh Curran (Careless High Tackle – 1-2 weeks)
Siosifa Talakai (Shoulder Charge – 4-6 weeks)
Mitch Dunn (Crusher – 1-2 weeks)