JT's Weekend Roundup – Round 6
Another disaster week for this SuperCoach here! The season is going only one direction when you back up an 882 with a 955 this week. Another 10 H2H games with a big L next to the name and plummeted from 1,800th to 25,000th in no time at all. Going to have to hit those byes pretty hard!
This week some of the cream well and truly rose to the top (and all I've got is a skinny soy latte). It started with a 70-minute, 250 metre Taumalolo vintage effort as he shapes up as a very handy acquisition in your front row with his newfound dual positioning. Damien Cook then showed he's definitely not making up the numbers in the hooking rotation with another terrific performance. Nathan Cleary then proved he's not only untouchable when it comes to being punished for on-field indiscretions but also untouchable on the field itself with a mammoth 151. So much for that cash drop! And Kotoni Staggs is back, of course.
If that wasn't enough, Dave Fifita steamrolled his way to his second ton in a fortnight with another try and try assist, Cam Munster and Sifa Talakai had huge games in a Saturday night blockbuster, before plenty of the Eels' popular brigade had handy showings in their shock loss to the Tigers of all teams to round the week out. How great for you Tigers fans. Have to love your rugby league.
In short – I had none of those players and plenty of you do, so hopefully a few more green arrows amongst the Talk community to end your Easter on a high!
At least I had one bright light…
The Weekly Top 5
Rockers– the 'SuperCoach-relevant' players who killed it
Floppers – the 'SuperCoach-relevant' players who killed your week
Shockers – the left-field players who will no doubt be high on the list of trade-ins the next round and prime candidates for SC players chasing last week's points!
Manic Minutes – a quick check of any minutes of interest across the round.
1. Nathan Cleary – 151. After a couple of very quiet weeks on return, Cleary burst into life and showed no signs of the lingering shoulder issue we thought might cause him to come back to the pack a little. Cleary's price has remained in the $900k's and with this big score floating in his average, may even bounce back in the next couple of weeks. Who'd have thought? Three try assists, three forced dropouts, his usual goalkicking, a 40/20 and a huge 13 runs! Anyone who jumped on despite the pricetag and the breakeven deserves a pat on the back. And f*** you. 🙂
2. Damien Cook – 121. Cook has set the tone for a couple of Bunnies wins in a row now and it seems like he may finally be capitalising on the quicker speed of the game as we all expected him to from last year. Broke his tryscoring drought with three of them and kept his average hitup count up with 6. It might not seem like a lot, but there were times last year where Cook was running it only once or twice a game. With his tackle count dipping (just 29 here), he needs the attacking stats more than ever and they always look likely when he's charging ahead. Has now outpointed Grant two weeks in a row. They'll both miss the Origin weeks, so can you afford to carry both?
3. David Fifita – 120. 13 runs is a decent return for Fifita who was being utilised much less at the start of the year. He's now doubled up his tryscoring tally with another here and as soon as he gets the ball 1 on 1 with a defender you just expect something like that to happen. It just doesn't happen as often as owners beg for. Would love to see a stat on the number of times a single defender has been able to get Fifita to ground without him throwing an offload, as he managed four of them like that this week.
4. Siosifa Talakai – 114. That Talakai had the Storm waiting for him this week and the usual centre in Connor Tracey (and second rower in Wade Graham) waiting to return gave enough of us pause to hold off on bringing him in a few weeks ago when his breakeven was incredibly low. How silly that looks now. A great redemption story for the NRL and SuperCoach, as you feel like this is the year Talakai should have been having back in 2021. Another six busts, a try and two assists (about time the centres get credited for them more often, although that scoring consistency is a debate for another day…). What a run he's having.
5. Kotoni Staggs – 102. A good reward for the owners who stuck it out despite a bumbling start to Staggs' season. The confidence looks back and the only real blemish on his game was another dropped ball over the line that cost him a try. To still knock up a ton despite that shows Staggs is definitely back in form. The only downside to this is that the Origin door might be getting knocked upon with each improving game.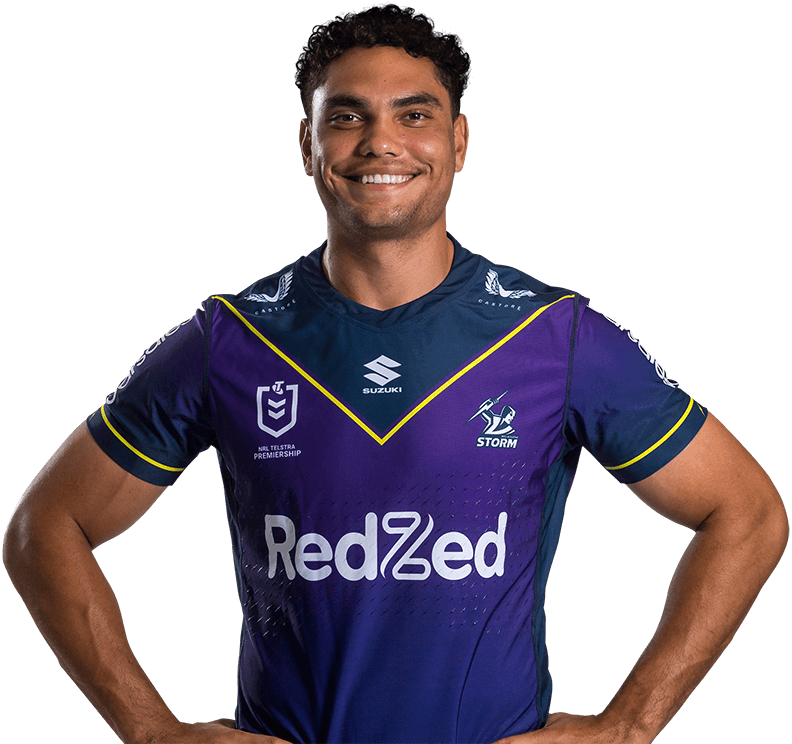 1. Xavier Coates – 18. What's happened to Coates in the last fortnight (outside of me trading him in, sorry). The combination that had started the season so well with him, Olam, Hughes and Papenhuyzen has been whittled away and Coates is back to the dreadful base stat games he was renowned for at the Broncos. The shine's gone off but I guess he plays in a side that shares the attacking love around regularly given the calibre of spine players they have, so maybe not all is lost. A handful of runs coming out deep from your own end isn't going to cut it, though. Just not on the right side of the field lately.
2. Joseph Manu – 27. The banner is undefeated so far this season and Manu was the latest victim in probably the worst outing so far against its curse. His name was rarely called out by the commentators in a day that was a little bit frustrating for the Chooks despite the eventual win. They look a touch off so far this season but it hasn't mattered to Manu who has commanded plenty of ball in good field position that's ultimately led to him banking a ton of attacking stats. Sometimes as a centre you just have these days. And at least the Talk Admin don't like to double up on their banners during a season, so he's safe for now.
3. Nicho Hynes – 35. It was a relatively unhappy homecoming for Hynes in what was always billed as a tough matchup for him. Just one try contribution seems a little harsh as he definitely had more of an impact on this game, but that's occasionally how the scoring flows. Talakai was the one either scoring or finishing off the plays this week so he was rewarded duly and Hynes was rewarded with some tough goalkicks from the sideline as a result (2 misses). Either way the play he pulled off deep in his own half to kick to his winger for space shows the kind of vision and testicular fortitude that will mean he finds himself in the list above more often than he will this one.
4. Viliame Kikau – 37. Kikau averages just 36 when he's playing 80 minutes so far this season, and another full game on the park led to another poor score here somehow. All three games under 80 minutes have led to 87 points in all of them. Kikau will forever be the rollercoaster you just can't pick but maybe there's something in him getting a breather on the bench. One bust and one offload from just 9 runs. Strange night.
5. Beau Fermor – 39. There'll be a few people out there who either went for, or kept, Fermor over Talakai these past few weeks and this one will hurt again. Denied a junk time try despite looking like the kicker clearly ran him onside (didn't the Broncos get a penalty try for that a few weeks ago…) which would have salvaged an otherwise quiet night. As Fifita has warmed into his year, Fermor has cooled which is a real concern. Does come up against the Cowboys this week who have shown to have a few leaks of late but how much longer can we show the faith. Apart from a couple of tryscoring games, he hasn't hit more than 50.
1. Ronaldo Mulitalo – 125. Just 2.5% owned but now has a 3RA in the triple digits courtesy of a huge game against Melbourne of all teams on Saturday night. The Sharks often share it around in the backline so it's hard to nail down anyone in particular, but this guy's confidence is at an all time high and he's in the exact right spot on the field to capitalise. Whether it's Hynes or Talakai, the ball just keeps finding its way to him.
2. Kalyn Ponga – 122. He lives!
3. Scott Sorensen – 104. His previous best score was 80. Against his current side, Penrith, back in 2018. Those 854 owners are absolutely laughing.
4. David Nofoaluma – 89. A guy who has fallen way off the radar in recent seasons but had a day out against Parramatta with a couple of tries to his name. He looks a far cry from the tackle busting, no try scoring beast that he was a few years ago, though.
5. David Klemmer – 94. Should have gotten more points for shirtfronting Lomax after the game.
The much-maligned, even though they're not that bad, minutes for Jason Taumalolo (71) got a big lift this week but much of that may have to do with the chillier weather which both the coach and players admitted was a big help to them. In fact the Cows only used 15 men all game which was helpful for the forward rotation (Granville and Lemuelu missing out). Reuben Cotter (50) was again elevated to the starting side along with Heilum Luki (80) and knocked around some okay minutes. His first stint was quite poor so thankfully bounced back for his second.
Jai Arrow (44) battled a nasty facial infection leading into the game which ultimately led to a drop in minutes, but he was still effective enough to set up an early linebreak. It meant a few more minutes for Cam Murray (67) who came off for the last stretch of the game and did look a little surprisingly gassed at times. A lot of hands on hips in that 67 minutes! Good to see debutant Isaiah Tass (17) cross for his first try despite the limited minutes off the bench.
As noted above, the 80 minute efforts have not helped Viliame Kikau so far this season with another poor showing despite extended gametime. Matt Eisenhuth (25) hasn't yet seen his starting stints translate into anything of value but front row counterpart James Fisher-Harris (58) looks like he's warming back into the swing of things.
In Payne Haas' absence, the main beneficiary was Keenan Palasia (60) with Haas' value in his big minute stints showing their worth. A 45-point effort from Palasia is a bit of a disappointment.
Surprisingly, both Andrew Davey (67) and Haumole Olakau'atu (71) didn't get full stints on the edge in their game against the Titans. Similarly, Beau Fermor (80) didn't get a full game at second row, shifted to the centre position for a 10-minute period while Phil Sami left the field late in the game. Almost nabbed him a try though!
Ryan Papenhuyzen (73) got an early shower after suffering an ankle injury part-way through the game but playing on. Another week where he's failed to play out the full stretch. Similarly, Jahrome Hughes (74) was also taken off with the game in hand. The rotations again helped Josh King (66) stay out there longer but this week it didn't translate into SuperCoach points. In the same game, Cam McInnes (80) played his first full game for the year, rewarded for a couple of consistent weeks with a starting spot with Nikora missing.
Josh Curran (69) had a whirlwind afternoon. First looking like he was done for the day after hobbling off and almost having his knee iced (was a lower leg concern that he left the field for) before shaking it off and returning, then copping Angus Crichton's (80) head to his sternum later in the game but still playing on. Good news for Crichton with him now playing a couple of starting games in a row but very hard to trust that the benchings won't resume at random.
A couple of popular Knights cheapies had differing minutes over the weekend, with Brodie Jones (67) being given a rest at the end of the game as he continues to build on his return from injury (though he did play 80 last week), and Chris Randall (80) given another full game in a great 67-point effort.
And finally, how good to see Kelma Tuilagi (80) finally make it through to the full time whistle! For their opponents, it was strange not to see the same for Reed Mahoney (67) who was taken off inexplicably for Mitch Rein (13) with the game still in the balance.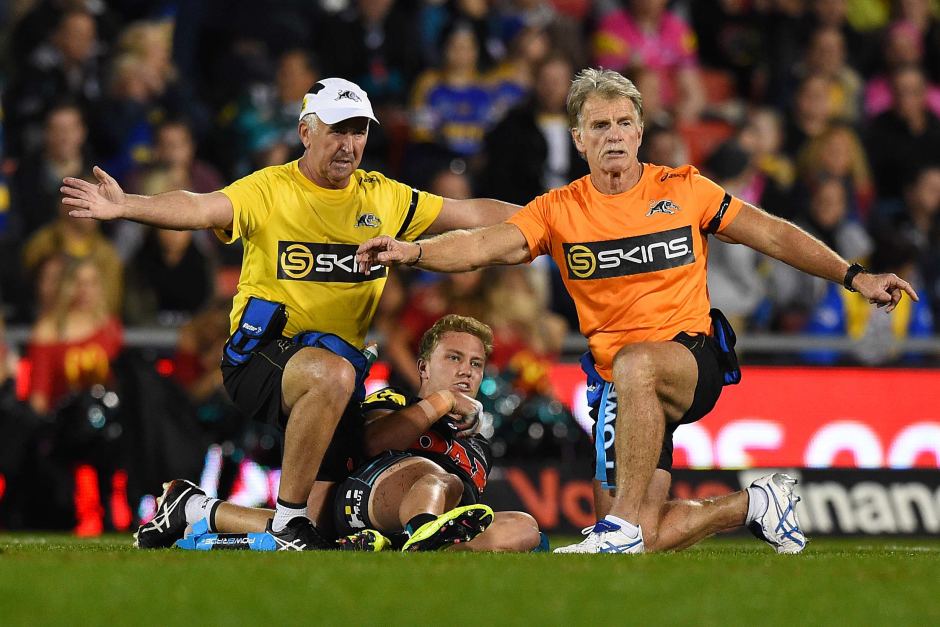 Injuries
Jake Simpkin (ankle – 4-6 weeks)
Ken Maumalo (knee – TBA)
Tom Opacic (throat – TBA)
Regan Campbell-Gillard (ankle – 1-3 weeks)
Tesi Niu (hamstring – 10 weeks)
Connor Watson (throat – 4 weeks)
Braden Hamlin-Uele (wrist – TBA)
Braidon Burns (hamstring – 4 weeks)
Charnze Nicoll-Klokstad (leg – TBA)
Josh Aloiai (shoulder – 0-1 week)
Ryan Papenhuyzen (ankle – TBA)
HIA – Dale Finucane, Sean Keppie, Tolutau Koula, Chris Patolo, Ryan Sutton, Lachlan Croker, Josh Kerr (did not return)
Suspensions