JT's Weekend Roundup – Round 6
It seemed like we were destined for another massive week of SuperCoach scores after the first two games, where some of the usual suspects in Cleary, Capewell, Luai, Barnett, Watson and To'o all scored pretty handily (though To'o owners would have loved a try…). Then the 2019 Grand Final rematch hit and the Roosters had a very quiet game, BMoz didn't even take the field, Papenhuyzen was knocked out (but then miraculously came back on and scored a try), the Titans got walloped by a Turbo-driven Manly outfit and the round finished with plenty of popular players barely bothering the scorers.
Overall, backing the Titans really killed me this week, with Tyrone Peachey, Brian Kelly and Big Tino all flopping in a big way and seeing my score peter out to a 1060-odd, well off the pace. Anyone who got to 1150 should have held their spot firm or climbed up a few spots depending on where you're sitting in the rankings, so if you got out of that one alive well done to you!
This round has also thrown up a few conundrums for SuperCoaches. Latrell looks like having a lengthy stint on the sidelines through suspension, Teddy has fallen away over the last fortnight and there are plenty of options putting their hand up in the fullback spot, with Gutho, RTS, Ponga and of course Tommy Turbo having big scores over the weekend. And what to do if you've got the likes of Taukeiaho (injured) and Tino (suspended) in your front row? It's been a pretty ordinary scoring position so far in season 2021 as the smaller men take charge of the game, but some big moves will have to be made in the coming week there.
And finally:
Yee.
Haw.
The Weekly Top 5
Rockers– the 'SuperCoach-relevant' players who killed it
Floppers – the 'SuperCoach-relevant' players who killed your week
Shockers – the left-field players who will no doubt be high on the list of trade-ins the next round and prime candidates for SC players chasing last week's points!
Trade Fail of the Week – Always great value.
With Isaiah Papali'i doing such a terrific job filling in for the concussed Ryan Matterson these past few weeks, and a negative breakeven leading into this one, it shouldn't have really even mattered whether he trundled out on the bench or not as he was still making money. For whatever reason, that spooked one SuperCoach into one of the more headscratching panic trades you'll see, moving on Papali'i (and his 126 points) for Tyrell Fuimaono. Who did get a nice 43 points. So there's that.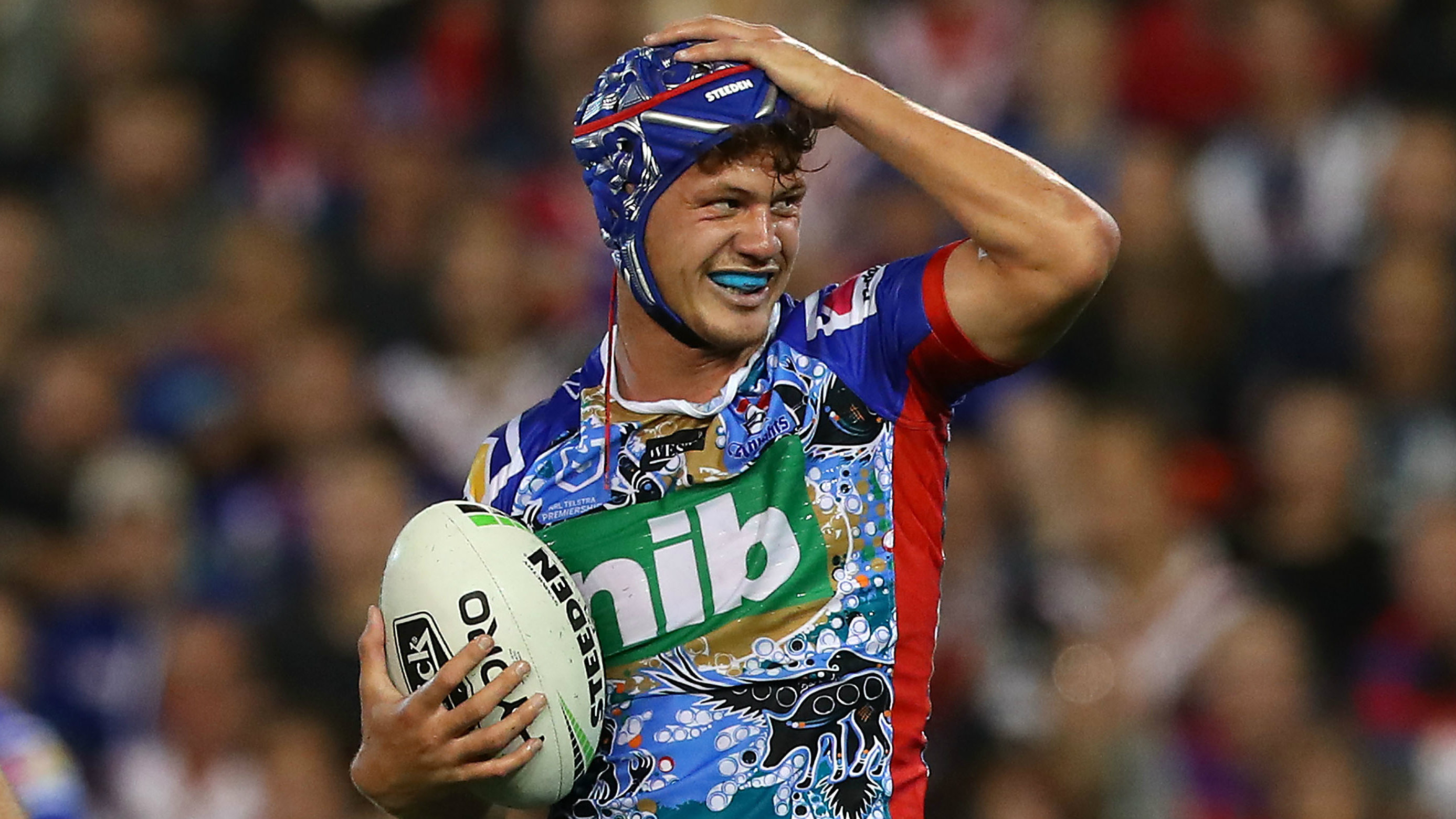 1. Kalyn Ponga – 163. One of the more remarkable performances in just his second game back from injury, with Ponga lacing on two tries and scoring two of his own including the matchwinner, all while battling a nasty virus that saw him dry retching out on the field at regular intervals. Has taken back the goalkicking (but still not striking them fantastically with 3/5 on the night) to add that string to his bow, and is now due a decent price rise with a 26 breakeven this week. It wasn't just junk time points either, with Ponga having his hand in plenty of early plays that led to points and proving he'll definitely need to be in fullback calculations with the usually-reliable trio of Latrell, Papy and Teddy.
2. Tom Trbojevic – 116. What is it about Turbo's injury-return games that just sees him go absolutely ballistic? The hamstring didn't look to be troubling him at all as he systematically dismantled the Titans, who've been in decent form defensively so far this year, in the first half. He slowed down a little as the game wore on and the points dried up, but it was still great signs for a guy who was in plenty of pre-season SuperCoach sides given his cheap price of $593k. Of course it's longevity that's been Turbo's issue, and there'll always be an added risk given his predisposition to hamstring strains, but an arvo game against the Tigers this week looms as another potential high-scoring affair for Manly's saviour. What's more, his presence may just work wonders for the likes of Saab (two tries) and Schuster (try/try assist combination).
3. Nathan Cleary – 125. Bit of controversy around for those that didn't captain him, with a 40/20 awarded to him that may not technically have been one. But whatever, he deserved it (and I thought there was a forced scrum rule for that very reason?). Regardless, Cleary's Panthers took a little while to break away from the much-improved donkeys, but he rose to the top when it mattered with a 2-point field goal and late try to seal the deal. Had an early try assist of his own (just his 4th of the year – incredible that he's still got a 99 average over those 5 games with that strike rate). It was his base that also lifted, with 31 tackles to his name by the end, a much higher number than we're accustomed to seeing from him. Did everything right on the night apart from one kick dead early on. Good stuff.
4. Isaiah Papali'i – 129. What a season he's having. Ever since coming off the bench in Round 1 and sparking the Eels to life, he's done everything well and really capitalised on the starting spot afforded to him by Matto's untimely concussion spell. It's been three weeks of Matto being named, Papali'i on the bench and then being promoted a day or so out. And every time he's delivered, including a double here in his second 80-minute game of the season. If you got on him early when he was just $408k, you're absolutely cheering this rare run of form, as he's now made $225k and proving every bit the 2RF/FRF dual of the year so far. Is this run going to end?
5. Harry Grant – 98. Why you gotta do this, Harry? We thought we could bide our time with you as you shed cash coming off the bench, but then you score tries, set them up, break lines, offload, break tackles and score at 2.1PPM. Ridiculous. Interestingly enough, he copped a knock during the game but stayed on the field long enough to put on a try and try assist to win the Storm the game before being brought off eventually. Controversial, but they all count for SuperCoach.
1. James Tedesco – 40. Blushes were saved bigtime by a late try assist with a chip out to an unmarked Ikuvalu with the siren about to sound. Without that, it would have been his lowest score in years. Fair to say the Roosters were never in this game, down to 12-men at one point and with the Storm having a glut of possession (56% in the end) and a poor completion rate (70%), he was never in this game at all. Compounding this was the rookie spine partners he's got around him, with Walker, Marschke and Hutchison struggling to find their marquee player at the right times. That combination will build over time. I think it has to be a game where you just write off, avoid the temptation to rage trade (given he's shed so much cash) and wait for normal services to resume, which they always do with this guy.
2. Tino Fa'asuamaleaui – 41. This was one of the least impactful games of Tino's short career. Just the 11 runs, with 6 of them under 8m, two penalties, an error and a couple of missed tackles. Worse, he now finds himself looking at 2 weeks on the sidelines for a shoulder charge, has a 110 breakeven and is back into the $400k's ($490,800 to be exact). Oof. Just two games over 60 points so far this season but there's been enough glimpses to warrant holding onto him. This week may have just pushed the case too far for him to be traded out.
3. Staines (15), Simonsson (11), Roberts (16) – Enough said.
4. Daly Cherry-Evans (24) – He really has not kicked on this year, and with an average of just 48 despite taking the reins while Turbo was out, and a terrible score in a 36-0 blowout here, the writing is on the wall. He's back to $475k which you'd be jumping at for DCE almost any other year. For whatever reason, it's just not happening in 2021. Maybe Origin will kick him into gear and he'll be a play late in the year in a tricky halfback spot (outside of Cleary).
5. Matt Moylan – 25. At a breakeven of 56 now and having made $94k since the start of the year, it looks like the time is right to make a move on Moylan. Against the Knights, he looked like going close himself to either scoring or setting them up but was brought down just short or let down by his teammates around him. And the emergence of Will Kennedy in the backline is taking away his chances of notching try assists – with an incredible run of 7 try contribution stats and 0 try assists in his last 4 games. What could have been for owners.
1. Connor Tracey – 114. I still haven't quite heard the end of mixing up Tracey and Toby Rudolf in an early season pod last year, claiming that this prop forward looked pretty good in his stint off the bench. But I think I was just foreshadowing how versatile this guy is. Parked on the wing and scored just the one try, but continuously found a way through the line (4 linebreaks) and looked right at home out there. Has now made $153k this season. Incredible.
2. Cameron Murray – 105. So far in season 2021 he really hasn't gotten off the ground, with 4 of his 5 games going under 60 points and a previous top-score of 64. It's a huge fall from SuperCoach grace as the tackle busting, offloading Murray has been put away for a more robotic version of the once-premium 2RF. It took his first try of the year early in the game to do it but for the 16,000 SuperCoaches that have held him through this tough time, it'll be a welcome relief.
3. Renouf Atoni – 90. Scored an easy try for the Dogs and then butchered a last-tackle play so a little bit of a mixed bag. Has been getting some reasonable minutes out there (46 this game) and slowly building.
4. Josh Curran – 77. I had to double check his stats here. 46 tackles (4 missed). Two busts. One ineffective offload. 15 hitups. 80 minutes. And he's priced at $203k. If only he was given a run in Round 1!
5. Brodie Jones – 78. Three cheapie 2RFs to round out this list. Jones was a revelation for the Knights on the night with even talk of renaming the stadium after him. A couple of try contributions and a try of his own. How he didn't get given the assist for his offload back inside to Kalyn Ponga for the matchwinner I'm not too sure. The makeshift centre deserved it. Was given a run there for 74 minutes through Hymel Hunt's early hamstring issue and absolutely rose to the occasion.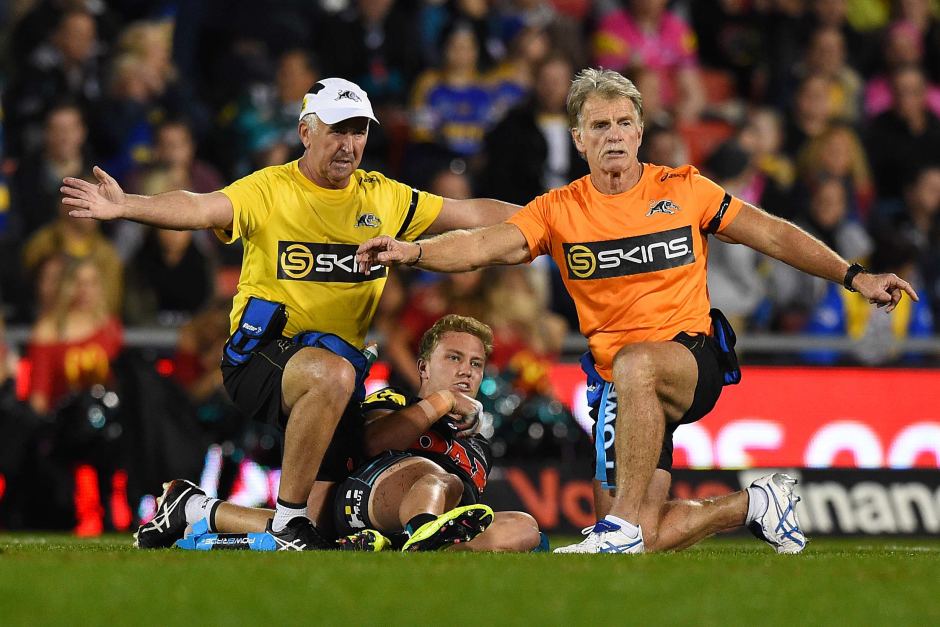 Injuries
Asu Kepaoa (ACL – season)
Jason Taumalolo (Hand – 1-3 weeks)
Peta Hiku (Shoulder – 4 weeks)
Adam Pompey (Leg – TBA)
Josh Mansour (Hamstring – TBA)
Ryan Matterson (Concussion – TBA)
Jared Waerea-Hargreaves (Shoulder – TBA)
Sio Siua Taukeiaho (Ribs – 1-3 weeks)
Brett Morris (Calf – 0-1 week)
Hymel Hunt (Hamstring – TBA)
HIA – Bailey Simonsson (Failed 2nd half)
Suspensions
Latrell Mitchell – 3-4 weeks (dangerous contact)
Tino Fa'asuamaleuai – 2 weeks (shoulder charge)
Paul Momirovski – 2 weeks (dangerous contact)
Victor Radley – 2-3 weeks (careless high tackle)
Aiden Tolman – 1-2 weeks (crusher)