JT's Weekend Roundup – Round 4
This might just go down as one of the craziest weekends of NRL SuperCoach in its decade-long history. Starting on Thursday, going right the way through to a Monday afternoon game. What a weekend. While the action on the field was largely predictable, with the gap between the best and worst of the combination well and truly widening, the round turned on its head when Ryan Papenhuyzen strolled in for his fourth try in the space of one half of football to leave half the competition reeling, and half cheering a score that was (until downdates) sitting in the 200s. To think that a captaincy call like that could be the difference between a comfortable 1400+, and a score in the 1200-1400s is ridiculous, particularly when the likes of Teddy and Cleary did fare reasonably for themselves as well. Teddy less so, which makes two weeks in a row of sub-Godlike SuperCoach scores, but still, you'd normally cop a 70-odd…
It's certainly gotten plenty of good discussion going, especially in amongst the trade talk and scores chats on this very site. If you haven't had a chance, take a dig around some of the forum here to check out what the punters have made of this round, and the season so far. Certainly these 'massive' weeks seem to be just about the norm these days, but is this really what we can expect for a 25-round season? Personally, and speaking as a fan of a team that is dishing up absolutely atrocious performances on a weekly basis and being fodder for both the NRL and SuperCoach opponents, I do expect somewhat of a levelling-out as the season wears on. Teams will gain match fitness, gun players will lose some of their own, and the changing rules, which everyone is still adapting to, are still taking some getting used to. There is still a huge gap in class between the top and bottom sides which will naturally remain given the quality of the team lists, but some of the huge scores might just level out as the year drags on (and believe me, as a Cowboys fan, this is already dragging…).
Overall, the strategy seems to have moved from picking genuine workhorse forwards who find an offload or two and bust the odd tackle, to trying to squeeze in as many backline speedsters as possible. Scores would be hitting 1500-1600 regularly if we could have an extra two fullbacks, it's been that kind of year. It seems that the likes of Crichton/Matto/Murray in our 2RF are just afterthoughts as we scramble to get on some sort of Luai/Munster/Walker/Papy/Teddy combination.
Regardless, we all started with the same rules, the same salary cap and the same chances as everyone else. SuperCoach might be a game of luck at times but anyone who finds themselves up the top end of the competition can pat themselves on the back for being able to adapt to the early days of season 2021 and find the guys who are benefitting the most from this changed landscape. Anyone feeling dejected that the might have missed out on an insane week of scoring can take solace in the fact we still have 20 (!) rounds to go and a million and one more twists and turns. Don't give up!
The Weekly Top 5
Rockers– the 'SuperCoach-relevant' players who killed it
Floppers – the 'SuperCoach-relevant' players who killed your week
Shockers – the left-field players who will no doubt be high on the list of trade-ins the next round and prime candidates for SC players chasing last week's points!
Trade Fail of the Week – Always great value.
Josh Schuster with his -65 breakeven was the talk of the SuperCoach trade world leading into Round 4. Thousands upon thousands of tradeins as SuperCoaches seek to make some very big early cash gains, with stints in the second row proving very profitable for the talented forward/five-eighth. So, with every reason to find a way to bring this guy in, why on earth would anyone go the other direction? 7 coaches did exactly that. Two for Connor Watson (why not from R1?), one for Sam Walker (couldn't you have waited?), and one for Marata Niukore, who has been killing it at centre lately and did so this week, were justifiable in a sense. But for those coaches bringing in Dylan Walker, Tyson Smoothy and Tyson Gamble…just. What.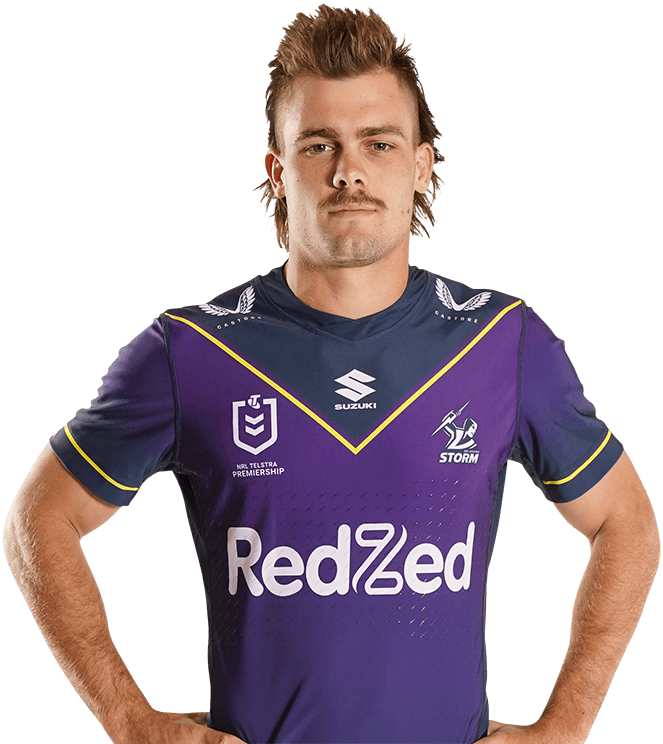 1. Ryan Papenhuyzen – 197. Who else?
2. Brett Morris – 117. This guy is making a mockery of a position that is usually so volatile. This is his 3rd ton in 4 games. An incredible strikerate that puts him on his own tier in 2021. Just 13% owned seems crazy – congrats if you got on! Even his little efforts throughout the game, like managing to make it back infield when a forced dropout looks all but certain, is proof that this guy is absolutely defying his age with every week that goes on. Looked to have picked up a knock in that very play, but continued on and dotted down for his second of the night. The guy's a freak and so far ahead of the rest of his CTW counterparts.
3. Jarome Luai – 128. What a season he is having. He was comfortably outpointing Cleary during this game before Cleary notched his usual junk with the game in hand, but it's Luai's incredible ability to step at the line and change the angle of play that is making defensive lines have nightmares trying to stop him. 4 try assists here takes his tally to 8 for the season after a rare clean sheet last week. His first ton of the year cements him as a very, very serious SuperCoach option. How can there be so many points in this Panthers' side…
4. Damien Cook – 106. Cook's rollercoaster 2021 continues here, tearing apart the weaker sides as he did a few weeks ago against Manly. 44 tackles was a great stat, but the way he sliced through to set up two tries was vintage Cook. It looks like if you want value, go elsewhere in the hooking spot, but if you want a guy who can go massive, he's just about the best there is in that spot. His runs are getting more frequent which is a great sign, as is his opponent this weekend in the Broncos. Scary thought. But he has gone flop, rock, flop, rock so far this year so would need to buck that trend.
5. Brian To'o – 121. Finally breaks through for a ton and is just doing everything right to start the year. The amount of times he gets the ball in his hand, often twice in the same set, is incredible, and his ability to break tackles is a horrible sight for non-owners. Well-deserved double here and if you own him and Luai, which isn't a POD combination but isn't an overly popular one at that, you were soaring after Thursday night. And if you had Papy as captain…well. To'o and Morris looks a class above in this spot at the moment.
1. Tevita Pangai – 32. Could not get a thing going in this game, with criminally-low minutes. I have no idea if this is due to the impact of Payne Haas, but I was initially surprised to see TPJ on the bench and Lodge in the starting side before this week, and even more surprised to see this score dished up. Just two offloads seems low from him, and it was in an absolute rout against Melbourne, so this may be forgiven, but patience will wear very thin for an interchange forward who is costing you $600k.
2. Stephen Crichton – 30. It was a new position for Crichton, but it was telling that the best fullback play of the night was provided by Charlie Staines in a brief cameo at the death here. His top-score of 51 so far this year looked a long way off in another disappointing effort in such a weapon of an attacking team. So far, the most reliable of the Penrith backline has been Brian To'o by far, followed by Matt Burton (wow). Plenty of time to warm into the role as Edwards recovers from his broken hand, but plenty of SuperCoaches will be hoping to see him shifted back to the centres and Staines given the role. He's a gun though, and will be back eventually.
3. Tyrone Peachey – 36. After 60-odd minutes of the Panthers game over the weekend, I was quietly happy that I overlooked Kurt Capewell for this guy. Then, Capewell scores an arsey try to bump his score into the 50s, and Peachey comes out and makes a ton of errors, penalties and missed tackles (14 negative points conceded!). Don't ever count your chickens. I was happy enough with his minutes at 59, 10 minutes higher than his previous-highest, but this was by far his lowest score of the season. Hopefully kicks back into gear next week and holds down this roving lock role.
4. Brandon Smith – 46. The Cheese now has 3 scores in the 40s and just one above. Big expectations for him leading in to this season with the injury to Harry Grant opening up the hooking door, but he's shedding cash and just not getting minutes. Time for him to be moved on.
5. David Nofoaluma – 39. Just the two tries so far this year and only one score above 60. He'll update here with some offloads and hitup points, but is quickly losing value and not proving to be the reliable, huge attacking stat player he was in 2020 that saw his stocks rise immensely. If he dips into the $500ks over the coming weeks, you'd be stupid not to look at him. You can see the potential there, he just hasn't really had a chance to break out yet despite those couple of tries (which don't always flow freely for him).
6. Saab/Fusitua/Simonsson/Staines/Roberts. Might as well just keep this up here.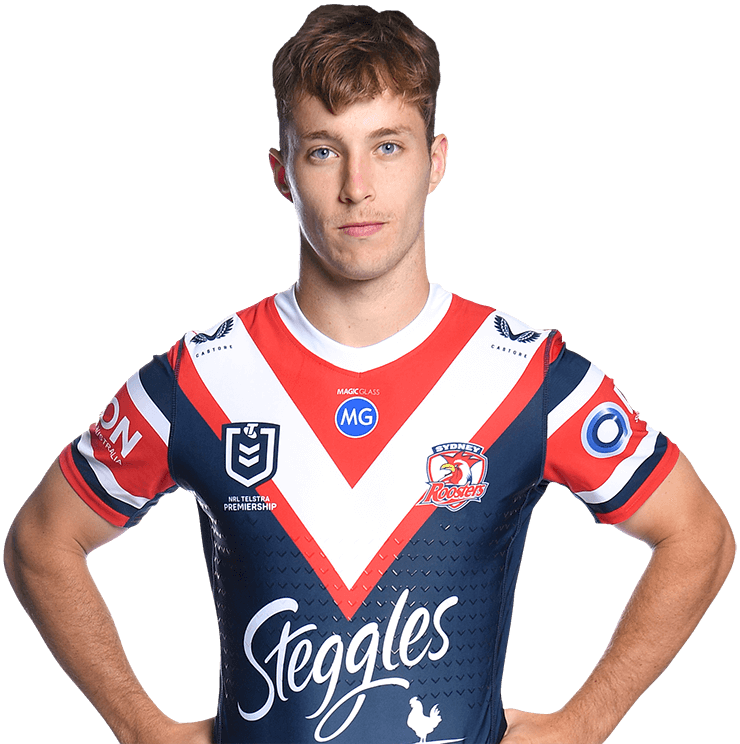 1. Sam Walker – 81. We've heard all the raps on him, but the way he slotted into this Roosters' ferrari of a rugbaleeg side was seamless and worthy of the shocker of the week when you realise this guy has only been able to buy a beer legally for about 9 months. Should he get through this next week unscathed, he'll be in everyone's side in a fortnight.
2. Tariq Sims – 101. Hasn't turned it on like this since destroying the Broncos in a final at Suncorp in 2018. Charging balls down and bursting onto a short ball to break through and score was very much a windback to his early days in this competition. Have always had a soft spot for him having started out at the Cows before being cruelled by injury. Great to see he's still got it at this level.
3. Matt Burton – 107. This Panthers side can do no wrong. What a talent this guy is – bench, halves, centre. It doesn't matter. Dogs might just have a very good one here, but will have to wait.
4. Will Kennedy – 123. Kennedy's massive score here in a dismantling of the Cowboys now sees him sit with a season average of 77. What an incredibly profitable position this fullback spot is this season.
5. Ryan Sutton – 90. Backing up a 113 from last round to do it once again. He had around a thousand tradeins this week and owners would have frothed seeing yet another try for the big man. His time in SuperCoach relevance may only last another week or so with Tapine due back to take over his lock spot, but for now the points and cash are tremendous.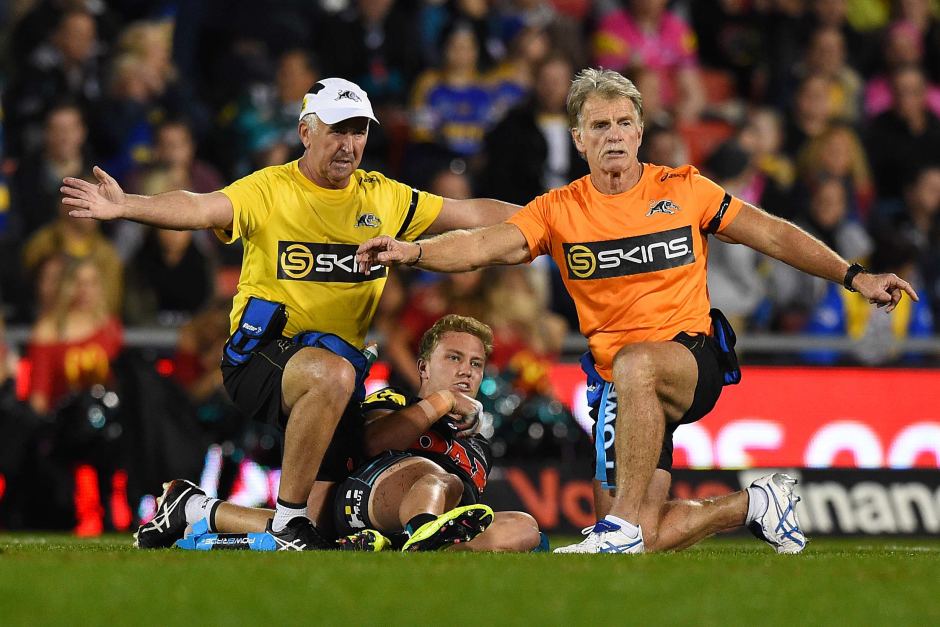 Injuries
Mitchell Pearce – Pec – 10-12 weeks
Tex Hoy – Hamstring – 2-4 weeks
David Klemmer – Knee – TBA (played out game)
Addin Fonua-Blake – Knee – 1 week
Anthony Don – Hip – TBA
Jamal Fogarty – Corked quad – 0-1 week
Nick Meaney – Ribs – TBA
Ronaldo Mulitalo – Knee – TBA
Moses Suli – Back – 0-1 week
HIA – Kurt Mann, Lachlan Lewis, Josh Dugan, Justin O'Neill, Murray Taulagi, Sitili Tupounuia (all failed)
Suspensions
Jacob Saifiti – Shoulder Charge – 1-2 weeks
Bunty Afoa – Shoulder Charge – 1-2 weeks
Morgan Boyle – Crusher – 2 weeks (accepted)
Cody Walker – Dangerous Contact – 1 week (accepted)
Keaon Koloamatangi – Crusher – 2 weeks (accepted)
Pat Carrigan – Dangerous Contact – 1 week (accepted)