JT's Weekend Roundup – Round 23
Well this week was an absolute monster and reminiscent of the days of 2020. It was pure 'end of season' footy with plenty of sides looking like they were backing up from a Mad Monday, much less looking forward to one. The most points scored in the competition in one round since 1998. Incredible.
On the SuperCoach front, there were plenty of worthy captaincy choices this week but if you were like me, you were a little spooked by the Tedesco 'will he play or won't he play' talk throughout the weekend, so went the safer option of Latrell VC, Joey Manu C. That didn't quite hit the mark.
On the bright side, the majority of key players made it through unscathed with the injury and suspension lists, so if you happen to have burned your last trade (or don't have any at all), with a bit of TLT luck, you might be able to comfortably name the same 17 next week. Hugely valuable at this time of year!
There was a lot of talk about what 'par' is this week, but it's probably safe to say it's at least 100 points higher than the 1,384 I landed!
The Weekly Top 5
Rockers– the 'SuperCoach-relevant' players who killed it
Floppers – the 'SuperCoach-relevant' players who killed your week
Shockers – the left-field players who will no doubt be high on the list of trade-ins the next round and prime candidates for SC players chasing last week's points!
Trade Fail of the Week – always good value.
Few have a better lead-in to the finals than the Cronulla Sharks, so it would pay to be getting more of them in your side, not less. Particularly if the player you're thinking of moving on is Nicho Hynes, who had a handful of tradeouts this week. Of note were the two coaches who moved him on for Hamiso Tabuai-Fidow, who was named back on the bench in his normal low-minute impact role. Bit how ya goin' that one.
1. Angus Crichton – 160. Amazingly, this was Angus's first 100+ game this season, and sitting at under 20% ownership at this stage of the year, suggests people had cooled off him a little bit given his inconsistency. He just about had that hundred within the first half hour against the Tigers, with an early double and a try assist from some damaging runs. He went on to bust seven tackles, throw four offloads (two effective) and even nab 34 hitup points. A genuine all-round game from a player that was yet to play that kind of game this season.
2. Dylan Brown – 134. Had been holding the fort admirably while Moses was briefly gone but was back to his best in direct combination with Moses this week. A couple of very handy tries, three assists of his own and he stuck 21 tackles. With that kind of involvement, you can expect the error account to creep up which it did with three, but he has way too much in the arsenal for that to be a worry. His highest score for the year and now faces a Broncos side that's just conceded 60 points. A dangerous opponent to come up against in H2H.
3. Nicho Hynes – 130. Hynes has been ultra-bankable these last few weeks, with scores of 112, 90 and 130 against some ordinary opposition. While sometimes it can be hard to truly gauge where his points are coming from, his fingerprints were all over the game on Saturday night. Nailing six goals, two assists and two tries of his own. I thought the Manly hoodoo factor might have held him back a little but that was way off the mark. A couple of very handy opponents to come as well mean he'll be one of the first-picked captains in the run home and with good reason.
4. Valentine Holmes – 118. A massive game from a CTW who didn't even cross the stripe himself. 30 points just from goals and 29 from hitups. When you share that around with his usual busts and try/linebreak involvements, the score will invariably go big. Val desperately needed this big score for his owners given he came into this week with back-to-back 30's, but hopefully this is the kickstart he needs into the back end against much stiffer opponents than he faced on Friday.
5. Harry Grant – 113. Another guy who needed a big score was Grant, who has been serviceable rather than outstanding for most of this season and had drifted behind Cook in performances of late and season average. This was very much an in-form Grant game, with casual pickups from dummy half, constant tests of the line, early ball to his forwards and even a dart over try of his own. 17 hitup points is very healthy as well and is his third-most for the year, with his next best coming way back in Round 9. A welcome return to form.
1. Joey Manu – 58. Tough to put the FotW tag on him given he still scored 58 but when you consider the scoreline his team put up and the way he's gone about things this season, that is way under expectations. Still ran the ball a ton but none of those led to points. Remarkable.
2. Viliame Kikau – 34. Kikau has suffered a bit of a post-bye hangover with four scores in a row where his highest has been 57. Despite playing the full stretch on Thursday night, this was his second-lowest return all season. He's in 24% of teams so for those still in contention, the change in halves over the last few weeks looks to have absolutely stifled him. Missed tackles have cost him 16 points alone over the last four weeks.
3. Joseph Suaalii – 36. The same as Joey Manu. None of the points barring one bat-back from Suaalii ultimately led to tries. You wanted just about anyone else in their starting 13.
4. Payne Haas – 40. Tough for a forward to get much going when your team is being streamrolled by ten tries but Haas copped a lot of criticism on Friday night for shirking the tough stuff. 12 hitups in total, half of them under 8m. One offload, two busts and only 17 tackles. In fairness, Haas had his lowest minutes in over two months with just 52, but as a forward leader, the numbers on return are well below par. We know what he's capable of but is the off-field stuff starting to overtake the work on the field? His huge 105 against Parra seems an age ago now.
5. Cam Murray – 48. Murray got only 60 minutes in this game which ate into his return considerably. All 48 points came from tackles and hitups – a surprising return given Murray had a 3RA of 100+ leading into this game on the back of plenty of offloads, busts and try involvements. Penrith defended well on him but you'd suspect he'll be back to his damaging best against a Cowboys side that is conceding a decent amount of points lately.
1. Nat Butcher – 140. Butcher has fallen way off the radar lately after coming into focus midway through the year on the back of plenty of attacking stats. Four tries for a forward!
2. Jack Bird – 131. Two tries and an assist – he's nowhere to be seen in most H2H leagues with just 5% ownership but he's the exact type of guy that you'll have run into in your Draft finals who's just single-handedly knocked you into next season.
3. Tautau Moga – 120. Great to see the journeyman finishing off a hattrick in style.
4. Chaddy Townsville – 108. Give him the keys to the city.
5. Royce Hunt – 97. This week's 'random prop who fell over the line and scored massively'.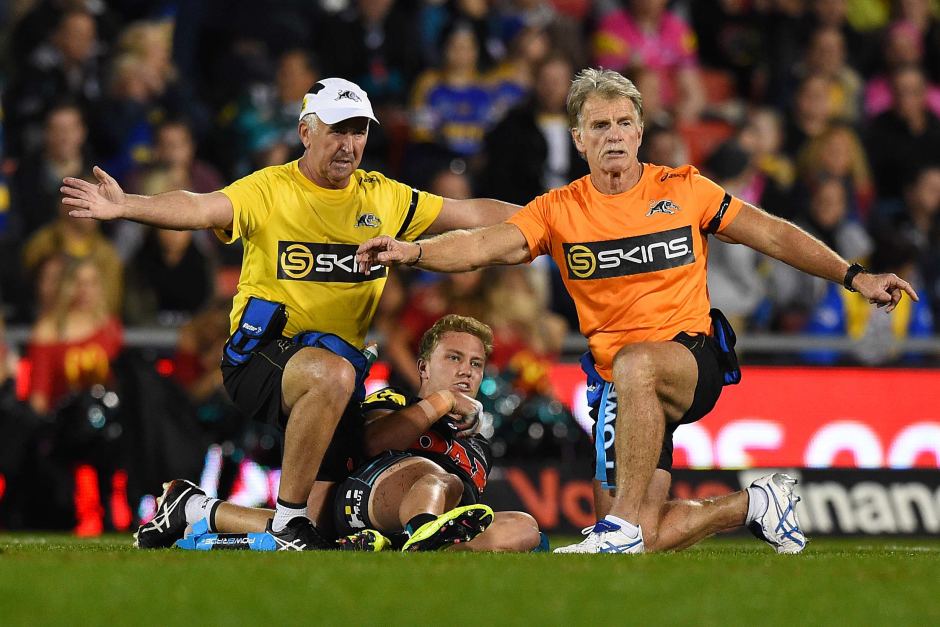 Injuries
Tyson Frizell – Ribs – TBA
Daniel Saifiti – COVID – 0-1 week
Bradman Best – Hamstring – TBA
Andrew McCullough – Knee – TBA
Tyran Wishart – Ankle – 4 weeks
Tui Kamikamica – Back – TBA
Kurt Capewell – Ankle – 1-2 weeks
Tom Dearden – Ruptured Testicle – 2-4 weeks
Kade Dykes – Calf – 0-1 week
Alex Seyfarth – Shoulder – 2 weeks
Failed HIA – Phillip Sami, Xavier Coates, Luke Garner
Suspensions
James Tamou – 2-3 matches
Francis Molo – 4-5 matches
Moses Mbye – 2-3 matches