JT's Weekend Roundup – Round 22
Well last week was a massive scoring week courtesy of some gun players going ballistic, but this week was just…a bit flat.
Teams like the Warriors and Titans were expected to be cannon fodder for some SuperCoach spine gun players, but instead thumped their opposition to break huge losing streaks and see plenty of captainers (or just owners) caught on the hop. We bid farewell to another team from finals contention in Manly (although the classic 'mathematical chance' tag is still technically available to them) so this could mean that Manly become another matchup play in the run home, or, like some of the surprise packets this week, they play without trepidation and put all the pressure on their opponents. Interesting few weeks up ahead.
Even Teddy couldn't kill it in his milestone game.
There are now just two weeks to go in H2H finals and three to go in the main competition. While the injury pileup was unfortunately quite high this round, at least no one has been suspended.
The Weekly Top 5
Rockers– the 'SuperCoach-relevant' players who killed it
Floppers – the 'SuperCoach-relevant' players who killed your week
Shockers – the left-field players who will no doubt be high on the list of trade-ins the next round and prime candidates for SC players chasing last week's points!
Trade Fail of the Week – always good value.
Manic Minutes – a quick check of any minutes of interest across the round.
The Bunnies have been a popular feature of this column this year, and there are a couple of healthy candidates for the TFoTW in Round 22. Damien Cook has been absolutely killing it, but one SuperCoach saw this week as a prime time to generate some cash and traded him down to Jayden Berrell who plays for…*checks notes*…the Newtown Jets.
Cam Murray has also been on fire but someone liked the cut of Tom Starling's jib. At least Starling played I guess.
1. Latrell Mitchell – 115. Latrell has been near-perfect on his return from injury this year. Despite one 'blip' where he could only put on 52 points, he has scored three 90s and three big hundreds. What a return and what a disaster if you have been waiting for him to flop. This week he wasn't reliant on tries or try assists (scoring none himself and setting only one up), with eight busts, three linebreaks and a massive 13 runs (massive for him) all contributing to the hefty total. Wasn't as popular a captain choice this week as we thought Parramatta would show some fight. They did not. A massive game against Penrith now looms and who would bet against him?
2. Selwyn Cobbo – 119. Cobbo hadn't played a game before last week since Round 16 and could get nothing going against the Chooks. Against the Knights, he burst into life and rewarded the 15% of SuperCoaches (not sure how many are still active) for holding firm. Three tries and three linebreaks sealed the ton – he is a gun. Not a name you want to come up against in your H2H if the Broncos are on, but he does face the Storm this week who always trouble the Donkeys.
3. Damien Cook – 93. Been ultra-consistent this year and it's flown pretty well under the radar given he's only tonned up once. Two 90s in a row now and it looks like the criticism he copped around Origin has done him the world of good. Thankfully Harry Grant has kept up with him over the last couple of rounds but longer-term he looks the bigger threat. A try assist, three offloads and a huge 12 runs. All the stats you want him to tick off.
4. Reece Robson – 91. Another under-the-radar pick this year has been Reece Robson who has held his own all year despite a recent slide (scores of 57 and 62 nothing to be furious at, though). Broke his tryscoring drought of a month in fine style and put on the rest of the finishing base stat touches to lock in his highest score of the season. While not setting the world on fire, he has kept the gap between the likes of Cook and Grant (and eclipsed the latter many times this year) and has likely saved owners who got him for the bye from having to spend another trade.
5. Nicho Hynes – 90. It looked ominous with Hynes on around 50 at halftime after having seemingly done very little against a Tigers side that looked like folding at any moment, but they held firm in the second half and limited his opportunities. In the end, if you said at the start of the game that Hynes would rack up 25 points in hitups, and the Sharks would go 30+, you'd have been looking at $1.01 for a Hynes ton. Not to be, but a very safe play as a captain that you'll take and move on to next week with.
1. Matt Burton – 23. This was a real disappointment as an owner. He was the 6th lowest-scoring player on the park in this game and over half of his points came in goals. Just three runs, no busts or offloads, and a huge four errors. A very off night for Burton who has been up-and-down lately. Might be showing signs of such a long year with Origin and the turbulence of a Bulldogs season gone awry.
2. Daly Cherry-Evans – 28. Owners, new and old alike, have been waiting and waiting for things to start clicking again with DCE and thought for sure an afternoon game against a Titans side who haven't won in three months would be it. Instead, his only try assist for the game was for his opposition with a looping pass intercepted easily at a crucial point in the game. The formline now reads 31, 46, 32 and now this season-low 28. Don't know where he and Manly go from here but you're kind of stuck with him at this point.
3. Zac Lomax – 33. Another who had looked like he was building to something midway through the year but has fallen away reasonably quickly over the last few months. Doesn't look in the right headspace, and is giving away penalties and making errors at will. A goalkicking CTW is normally great value as the tries pile up at this time of year, but the Dragons don't look like putting on too many anytime soon.
4. Jeremiah Nanai – 35. Hadn't scored below 60 since Round 10 and now in the space of two weeks has dropped a 36 and a 35. Not an ideal outcome for a highly-priced 2RF but it was a tough slog on Saturday afternoon. Gets a big chance to get back to form with a game against the Warriors in what's sure to be an emotionally-charged affair, and surely can't go a third week without dotting down!
5. James Tedesco – 47. He was the second-highest captain pick of the round and just shy of 10%, but failed to deliver in his 200th game despite his own side putting on six tries. A strange return for Teddy but the Cowboys have a habit of limiting him in their encounters with a decent record against him. Virtually all the traffic was directed through the middle in this game with the Roosters' forwards racking up big metres, so Teddy wasn't overly required, and neither was Joey Manu. Not a disaster but this is the type of captaincy pick that costs you bigtime at this stage of the year.
1. Talatau Amone – 141. Would have been very handy months ago when he was a popular cheapie pick but a hattrick is a great return for the young kid in an otherwise poor Dragons team.
2. Sam Verrills – 131. A great weekend for the Titans with one of their 2023 picks knocking out a huge game with a couple of tries. Hopefully the Titans forwards remember to hold their opposition in the scrums to make sure he gets the space he needs, though…;)
3. AJ Brimson – 111. Speaking of the Titans, what an afternoon for them. You have to ask 'where this has been' given the talent they have at their disposal, and this was the first time all year I can recall AJ Brimson showing us what he's capable of. A couple of huge runs in this game against big forwards that led to a try and a try assist. In all, the fact he's maintained a pricetag of $540k with a 5RA of 66PPG shows he hasn't lost the touch we know he has, it's just very rare that it's been on show like it was on Sunday. One to consider for next year.
4. Reece Walsh – 102. His best game all season with a couple of try assists and plenty of goals. He's had a handful of reasonable games so far this season but like the Warriors, has been mostly down rather than up.
5. Jack Bird – 98. This is his only score above 70 all year. Strange as I thought he was going a little better than that.
Most of our key SuperCoach players have settled into a nice rhythm, so for now, minutes is all about just keeping an eye on these guys given minimal trades and making sure there's no critical reason to sit a player in our 17.
Josh Papali'i (54) again didn't capitalise heavily on the absence of Joe Tapine this week, which is a surprise given he does tend to warm into this part of the season.
Some backup dummy halves (for SuperCoach) in Reuben Cotter (56), who started, Brandon Smith (56), who started and was very fired up, and Cam McInnes (59), who was benched but got a good chunk of minutes through some HIA and Toby Rudolf-injury disruptions, played well.
The reliable Payne Haas (68) and Joe Ofahengaue (70) churned through plenty of work in consistent time to shore themselves up as week-to-week plays.
Some downers for the weekend included Jason Taumalolo (50), who was visibly flat given the events of the week, and Ryan Matterson (52) who has been clouded recently by some concussion talk. And Ben Trbojevic (20) continues to wreak havoc from the pine for loopers in another quintessential AE nightmare performance. Early spells as well for Shaun Lane (76), Dave Fifita (76) and Cam Murray (73).
Finally, Ray Faitala-Mariner (80) played his second full stint in a row and is one to keep an eye out for in draft leagues.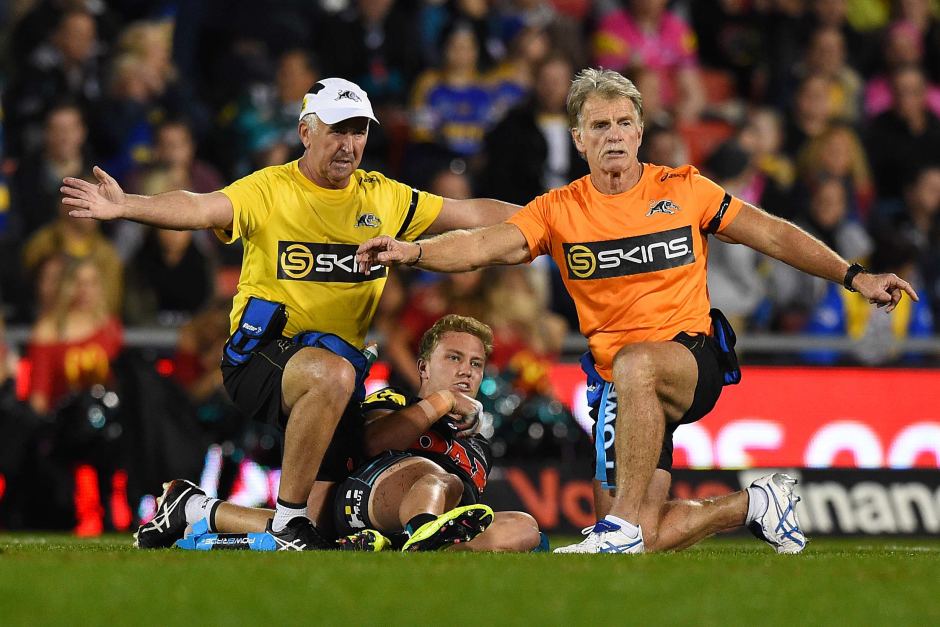 Injuries
Jason Saab – ACL – Season
Toby Rudolf – ACL – Season
Siosifa Talakai – Shoulder – 0-1 week
David Klemmer – Knee – 0-1 week
Lachlan Ilias – Hamstring – 1-2 weeks
Liam Martin – Ankle – TBA
Taylan May – Shoulder – TBA
Failed HIA – Kobe Hetherington
Suspensions