JT's Weekend Roundup – Round 21
If last week was the week of the POD, this week was the time you wanted to run with the crowd!
Of the top 20 scorers this week, 13 of them are owned by more than 10% of the competition and a heap in the 20-40% range. It means if you're running with a lot of PODs in your side, you might have run into a bit of trouble in your first week of H2H finals.
Plenty of good weather and some teams seemingly eyeing off Mad Monday contributed to the raft of massive scores this round – you expect much of that will continue as we move out of Winter and teams get closer to the end of their year. Round 25 could be absolute mayhem, so maybe hanging onto a trade or two could be the move.
A couple of nasty injuries might see that become a more difficult prospect, with coaches sweating on the fitness of Joe Tapine (ribs), Viliame Kikau (hip) and Jahrome Hughes (shoulder). It's going to be a very nervy run to the line.
I landed a 1360 this week and still dropped ranking spots, so looks like you needed a 1400 or more for some green arrows. We're back in 2021 again!
The Weekly Top 5
Rockers– the 'SuperCoach-relevant' players who killed it
Floppers – the 'SuperCoach-relevant' players who killed your week
Shockers – the left-field players who will no doubt be high on the list of trade-ins the next round and prime candidates for SC players chasing last week's points!
Trade Fail of the Week – always good value.
Manic Minutes – a quick check of any minutes of interest across the round.
When cash is so tight at this time of the year, you start to see some really weird nuff decisions getting made. Top of the list this week has to be someone cashing in on Cam Murray (135) who admittedly has taken until now to go into full beast mode, for backup dummy half Cory Paix (DNP) of can't make the Broncos' side fame.
1. Latrell Mitchell – 152. Daylight robbery on the Sunny Coast with Demitriou deciding to put his prized possession in the garage with 15 minutes of the game still to go. Latrell went ballistic in no time at all after his role for the first 20 minutes of the game was purely to convert tries and nothing else. He ultimately grabbed a double and two assists to go with a perfect 8/8 goals. In true Latrell style, he did all this from just 8 runs. His only downfall is that he busted just two tackles along the way, but you can't get too greedy. The Warriors look like providing plenty of points in the run home for captains, but I said the same thing about the Knights two weeks ago and broke Burton and Doueihi in the process bringing them in…
2. Cam Munster – 147. Fullback might have paid off for his highest score all season but it may not be his position for very long given their shortage of halves. At least against the Titans he was able to cash in there, with three tries, two of them simple runs at the line, and even a decent goalkicking return of 4/6, putting him top of the list for halves this week by a decent stretch. 18 runs for the game. The strategy for the Storm has to be to get it into this guy's hands as much as possible in the run to the finals. Scary thought as a non-owner.
3. Cam Murray – 130. Blink and you'll have missed it. Murray went from 0-100 in a matter of around 20 minutes on Saturday afternoon, laying on three tries, nailing 30/30 tackles, breaking five tackles and throwing three offloads. He had a couple of errors in his game in the second half which slowed his scoring right down but you can't argue with that result. He pipped his top score for the year by a point, but this is just his second ton all year. Not sure whether that's the start of a big stretch for him given his opposition, but any time he has the offload going like this is a good sign.
4. Clint Gutherson – 127. In amongst all the Teddy/Latrell/Drinkwater love that's been going on, Gutho looks to be hitting his straps at the right time, backing up an 88 with a 127 here and laying on three tries and one of his own. With Moses out for at least another two weeks, Gutho will retain the goalkicking (although he only kicked at 4 from 7) in another string to his bow, and you can always bank on his hitup count to be decent (18 here). He's the cheapest amongst that lot and just 5% owned, but obviously carries a bit more risk given we have no idea which Parramatta will turn up each week.
5. Nicho Hynes – 112. The scorers were kind to Nicho again with some very handy upgrades on Sunday, finishing with a try and an assist, a mammoth 30 tackles, six busts and an offload. He did put up four errors during the game but the quantity of ball he was getting in an overall scrappy game meant he would still grind out plenty more than he would lose. Midway through the year he looked like he was in a bit of a lull with a few 50-point games, but with a soft run home, he should continue on the good times.
Honourables:
Shaun Lane (104) – just keeps on finding attacking stats.
Scott Drinkwater (100) – as above.
James Tedesco (99) – warming bigtime into this season
Dylan Brown (98) – star of the show without Moses.
Harry Grant (97) – unicorn updates (I'll take them)
1. Daly Cherry-Evans – 32. The danger that is SuperCoach. Coming off back-to-back tons in round 16 and 18, his ownership shot up almost double and he has since delivered…very little. 31, 46 and 32. The caveat is that middle game given the jersey drama, but outside of that the Manly wagon has just completely stalled. Just two try assists across those three weeks, just one run in total this week and a sprinkling of errors creeping in. With a game against the Titans coming up, loyal owners can expect at least some repayment, but that is a nasty 3RA to have in such a key position at this time of year.
2. Valentine Holmes – 37. A rare down game for Big Val. Missed a couple of conversions in the howling wind and received very little ball with just 11 runs for the game. In all, he lost 17 points from missed goals, missed tackles, errors and penalties which he's normally pretty tidy with. This is his lowest score since Round 10, and will hurt, but this is the CTW and this is the floor you get with that position.
3. Joseph Manu – 48. After being shown up by Staggs in the same game earlier in the year, I expected Manu to come out firing and take the ball for 72 hitups on Thursday night. Instead, it was a low-ish 15 hitups, his least in a month, and just a couple of busts and offloads off the back of it. Like Holmes, even in a 'down' game the score is not awful, but relative to the pricetag, you have to expect at least one attacking stat a game.
4. Brian To'o/Izack Tago – 36. Was a quiet night for these guys despite the Panthers getting the job done. To'o has now failed to score in three straight games and has a 3RA of just 45. His tackle busts have fallen back with just two here (none the week before) and he has thrown just one offload all season. In terms of actual base work, he's top of the line with another 20 runs here, but that level of base can only take you so far in SuperCoach. You need the occasional try to help out.
5. Jeremiah Nanai – 36. Well this game came out of nowhere. He hadn't dipped below 70 points in almost two months of footy and has been scoring tries for fun. That run came to an end against the Bulldogs with the Cowboys' game plan being to attack through the middle. It was Luciano Leilua who put the points on on the opposite side of the field, and the ball didn't make it past Drinkwater for the Cows' last two tries. With the forward tryscoring record in sight, the Cowboys just have to be getting the ball to him!
1. Cooper Johns – 96. These 96 points eclipse what Jahrome Hughes has been putting out in the halves since Round 16. Crazy.
2. Kelma Tuilagi – 82. Another classic example of a highly-owned player saving his best for late in the year when we've all moved on. It took him until round 19 to go higher than 50 points, and he's now got a 3RA of 68.
3. Jason Saab – 104. Just the one try! Normally when he puts these scores on there's 3 or 4 in the bank and zero base.
4. Luciano Leilua – 97. Not a bad outing for a bench prop. Some fans will claim it was a double movement. I say call Lee Hagipantelis and get him to take us to court for you.
5. Young Tonumaipea – 72. Hasn't played an NRL game in an age. Good to see him back.
I thought this week I'd take a look at some minutes going around on a position that's historically been a profitable one for SuperCoach, but might have just lost its lustre this season: the starting lock. Gone are the days of Corey Parker, Paul Gallen and even Jakey Turbo topping the charts from here. Time-wise, things seem to be scaling right back.
Across all 16 teams this week, just three starting locks played the full 80 minutes. Jake Trbojevic and Isaah Yeo do this most rounds, but they were joined randomly by the returning Raymond Faitala-Mariner.
Looking over the rest of the lot, and it's clear that it is a gun or nothing position at the moment. Plenty of sides have Taumalolo, McInnes and Matto running around but their minutes were very quiet this round and they now pose genuine sit/start queries each week.
Pene (26)
Kamikamica (29)
Hetherington (32)
Pole (36)
Radley (49)
Taumalolo (50)
McInnes (53)
Clark (55)
Matterson (55)
de Belin (58)
Barnett (61)
Elliott (64)
Murray (66)
Plenty of potential but unless you can throw three try assists in the space of 5 minutes like Cam Murray, locks just don't seem to be living up to it these days! Given most teams use their 13 as a battering ram/third prop, it's not overly surprising that the motors can't keep up. But it's still an element that's changed
Elsewhere, Ben Trbojevic (13) played a relieving role again this week which to spell the HIA'd Koula, was a disaster if you own him and wanted to take advantage of the VC loop. Story of his SuperCoach career so far!
Joe Ofahengaue (69) bounced back from some low minutes with the absence of Hastings from the team in a good sign for his run-home potential. Brandon Smith (44) had an interesting time on field and is probably lucky to be backing up next week after a hip drop tackle resulted in just a fine. ReubeN Cotter (53) built on last week's 40-minute stretch and topped the metre count for the Cowboys in the process.
You can set your watches to Payne Haas (65) and Isaiah Papali'i's (80) minutes at the moment which is handy. You can do the same with Max King (51) but unfortunately he's hit a bit of a lull in output. Not unexpected given this generally happens to young players who are working through their first full season in the grade.
And lastly a couple of spellings that hurt prospects somewhat – Latrell (66) was robbed of a double ton with an early shower, and Talakai (76) and Tohu (74) didn't see out the game with restings.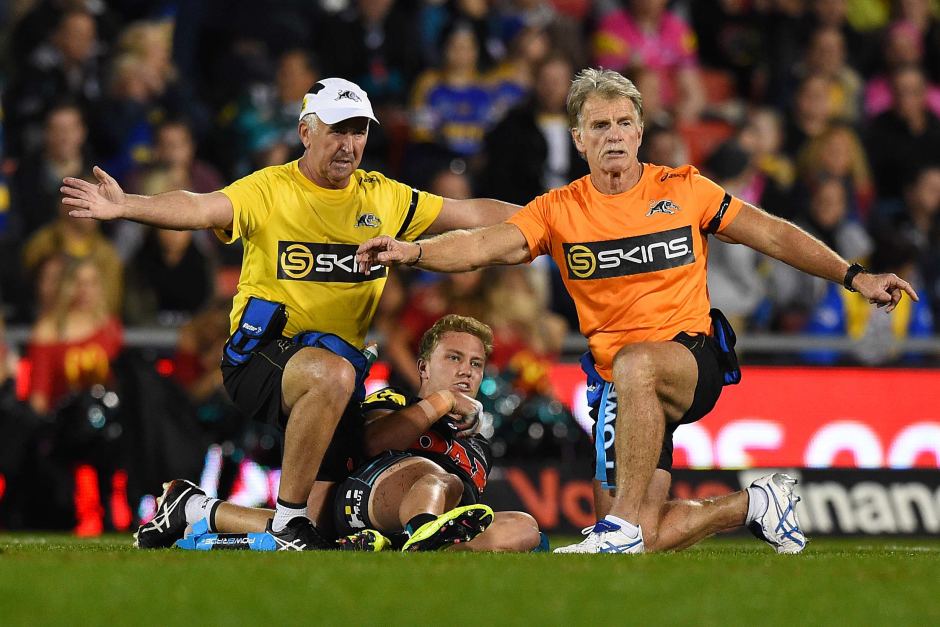 Injuries
Jahrome Hughes – Shoulder – 1-2 weeks,
Joe Tapine – Ribs – 1-3 weeks
Keiran Foran – Hamstring – 2 weeks
Aaron Booth – Knee – Season
Viliame Kikau – Hip – 0-1 weeks
Ken Maumalo – Knee – TBA
Dylan Edwards – Sternum – TBA
Matt Moylan – Quad – 0-1 week
Failed HIA – Connor Tracey, Ryan Sutton, Sam Verrills, Ryan Matterson, Cam Murray, Jacob Saifiti
Suspensions
Tariq Sims – 4 weeks
James Fisher-Harris – 2 weeks
Nic Cotric – 1-2 weeks