JT's Weekend Roundup – Round 20
It's a week that is likely to define the SuperCoach season. For the 15% who captained him, Nathan Cleary's sendoff could prove to be a killer blow to H2H aspirations or overall. Particularly if your trades are running low, or have already run out. In fairness, there weren't many other high-choice captains who went ballistic, with Tedesco (73 – 17.2%), Hynes (74 – 7.5%), Munster (74 – 7.4%) and Latrell (52 – 5.2%) going relatively quietly by their high standards. But that's still a huge difference at this stage of the season.
As we gear up into H2H finals which start this week, it may be time for coaches to look at a POD option to mix things up in these crucial rounds. Looking at the top 5 scorers this round, and their ownership percentages read 11.1%, 11.7%, 1.6%, 1.1% and 0.9% (although no one should be buying the latter number there – Ed Kosi). Just three players in the top 20 for ownership cleared 80 points.
In fairness, chasing last week's points ultimately led me to pick up both Angus Crichton (44) and Matt Burton (45 – and my captain…) who scored terribly in very good matchups. It's a tough old game, this!
The Weekly Top 5
Rockers– the 'SuperCoach-relevant' players who killed it
Floppers – the 'SuperCoach-relevant' players who killed your week
Shockers – the left-field players who will no doubt be high on the list of trade-ins the next round and prime candidates for SC players chasing last week's points!
Trade Fail of the Week – always good value.
Manic Minutes – a quick check of any minutes of interest across the round.
Always easy to use hindsight for this part of the article, but surely anyone could have told you that Ethan Bullemor was not a trade in for Jeremiah Nanai this week. Bullemor got a handy 52 points it must be said (and that will be about what he gets combined for the next 5 games), but Bullemor v Nanai was a round 1 selection choice, not round 20.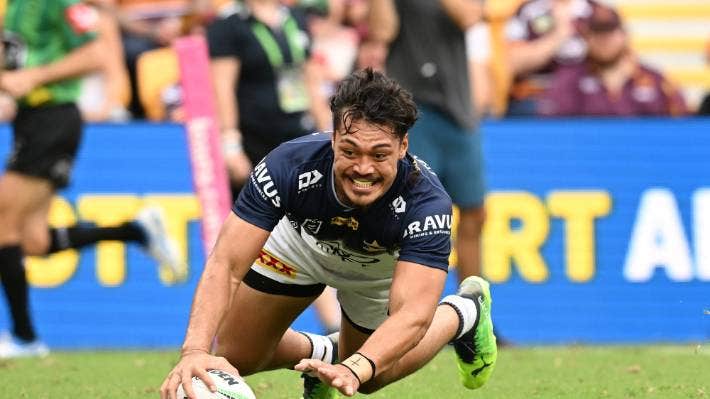 1. Jeremiah Nanai – 158. Shoutout to Buy, Sell, Hold contributor Alex who earmarked Nanai as a very handy POD play to carry into the run home and he certainly proved that with another double, a try assist, ten busts, three offloads, and a decent 43 points in pure base. Those base stats have been creeping up which was a key point in Alex's suggestion, and the guy just can't stop scoring tries. Ten in his last eight games! 11% of teams have held on but you suspect many of those may be zombie teams from his original 23k owners at the start of the year. This is how David Fifita should be playing every week.
2. Joey Manu – 101. It's clear to see that they're going to continue to do whatever it takes to give him the ball, running the most of any Rooster courtesy of him popping up regularly through the middle. Not ideal for Teddy, who at least got a couple of assists on his way to a 72. For Manu, a try, twelve busts and three offloads is just standard Manu fare at the moment. No sign of the quad injury in another plus.
3. Adam Doueihi – 122. Doueihi absolutely killed it on Saturday night and I had the pleasure of watching it live at the ground. Had the ball on a string with his goalkicking (6/6) with some tough ones from the sideline (thanks for getting your bad ones out of the way the week before, champion). Scored another try off a scrum move and even stuck almost 30 tackles. He had bottomed out a week earlier at just over $500k, and now looms as very interesting buy for a Tigers side with a mixed run home (Knights, Sharks, Roosters, Dragons, Raiders) but with absolutely nothing to lose. All the better if Brooks isn't there, as well.
4. Joe Tapine – 113. Not even a sinbin could stop him. He was called post-game 'the best prop in the world' by his coach, who may be a little biased, but at least in SuperCoach terms that might be ringing true. Isaiah Papali'i might be pipping him in the average stakes by around 10PPG, but there's no one who can really come close to touching Tapine on recent form. He's scored 73+ in his last 8 games, and that's despite his minutes moving anywhere from 45 to 67 in that time. Scary to think what the score could have been had he remained on the field, but it was probably better for him to get that enforced rest in the end. His second try for the year and a ridiculous 13 busts.
5. Scott Drinkwater – 106. A sigh of relief for both Cowboys fans and Drinky owners after he returned to form after a couple of poor weeks. It could have been even better if he just ran the ball himself when he broke through the line, with one try left begging and another gifted to Kyle Feldt, but that's just how the guy plays sometimes. The road gets a little tough going from here but at least with this game to build some confidence he'll return to being a relatively matchup-resistant play.
Honourables:
Valentine Holmes (89) – Now has a 3RA of 98 and hasn't gone sub-55 since Round 10. Elite numbers for a CTW.
Isaiah Papali'i (101) – Despite scoring plenty of tries this year (9), this is just his third ton for the season and first since Round 10. A great chase through off the chip (how good are second rowers at those these days) and his usual base churn.
1. Nathan Cleary – 4. Thrown the SuperCoach season into disarray.
2. Joseph Suaalii – 27. This one looked destined to be another big game for Suaalii with the depleted Manly side on offer, but three errors and five missed tackles contributed to his worst score since Round 12. In fairness, one of those errors was almost a miracle try, but you can't score them all.
3. Ronaldo Mulitalo – 40. Might not have been a miracle try but it was an absolute cracker for Mulitalo on the weekend. Unfortunately, it did nothing much for his SuperCoach output with three errors, a penalty and very limited involvement contributing to yet another poor score. He has stalled in a big way with a 3RA of 34 and 5RA of 43 but has a big chance to arrest that slump this week with a game against the Dragons.
4. Angus Crichton – 44. I'll field the blame for this one, having brought in an in-form Crichton who was running the ball a lot more of late and looking ripe for another try against a makeshift Manly side. Ultimately he ran the ball just 9 times, dropped it once and busted just two tackles. A frustrating night but there was no real quality ball to be had. Did that coincide with Manu hogging it through the middle? Probably.
5. Matt Burton – 45. Again I'll take this one. Brought him in and captained him against a Knights side who have been playing absolutely horribly. They still did on Sunday, but the Dogs didn't play that much better, particularly in the second half. The mid-field bombs ultimately led to a try assist and try contribution (overturend on updates) for Burton, but his running game was pretty ordinary here. Six runs, two busts, three errors. The joys of SuperCoach!
1. Jacob Kiraz – 144. That Kiraz put on 3 tries against the club that saw no value in him must be particularly grating to Knights fans, but probably moreso for the tens of thousands of SuperCoaches who had already moved him on after we thought his dash was done a few weeks ago!
2. Edward Kosi – 114. Strolling across for some pretty simple tries (three of them in fact) against the Storm of all teams. Comfortably his highest score in two years of NRL. It's a strange old year.
3. Tevita Tatola – 99. Every time he scores, he finds himself in this list. Which makes it…3 weeks out of 4?!
4. Hudson Young – 128. I was going to put him in the rockers, but then his ownership (2.3k) and erratic formline throughout this year (seriously have a look through at how up and down he is) has me putting him down here. An enigma. Where did some of that attacking play come from.
5. Tanah Boyd – 88. Has looked just about the only attacking threat the Titans have had the last few weeks since his move to 5/8. Though still following the 'don't give Fifita any ball' playbook.
Some very bankable second row forwards for your run home nabbed full games this weekend. Tohu Harris, Angus Crichton, Jeremiah Nanai, Nat Butcher, Shaun Lane, David Fifita, Hudson Young, Cam Murray and Keaon Kolamatangi were all out there long-term. Some highly-owned players, some PODs and some erratic scorers in amongst that bunch. Throw a dart if you're looking to get any of them in.
In the final game of the round, Jason Taumalolo (53) is again getting pretty hefty stints on the bench, but at least looks to have a bit more fire in him with a couple of vintage big runs. And the returning Reuben Cotter (40) made an immediate difference to the Cows goal line defence. Would suspect those minutes take a little while to climb back up but Round 24/25 he could be a very handy POD play for those that have stuck strong.
For Parramatta, it was ultimately a comfortable if not unconvincing second half, and Ryan Matterson (61) and Isaiah Papali'i (76) got their usual rests off the back of it.
Melbourne will have at least one returning player for them this round with Brandon Smith due back from his suspension in R21. Harry Grant (80) owners can at least rest easy knowing he looks to have a bit more gas in the tank with Grant looking to have shaken off the flu/injuries that have hurt him mid-year.
Finally, some other forwards of interest had decent stints. Joe Tapine (56) shaved a few off courtesy of his sinbin. Cam McInnes (79) benefited from Dale Finucane's suspension and Wade Graham's mid-game HIA (which he ultimately passed) to stay out there for the majority of the game, including golden point. He'll have one more week as a starting lock at the least. At Suncorp, Payne Haas (70) had his most time on the park since all the way back in Round 4. Pretty incredible run, although unfortunately it didn't end up getting him even 60 SuperCoach points. Max King (54) continues to make a handy contribution that could come in handy when injuries strike your team. And Joe Ofahengaue (59), who has had his minutes eaten into with Jackson Hastings (73) moving to lock, should move back there himself now that Hastings is unfortunately out fo the year.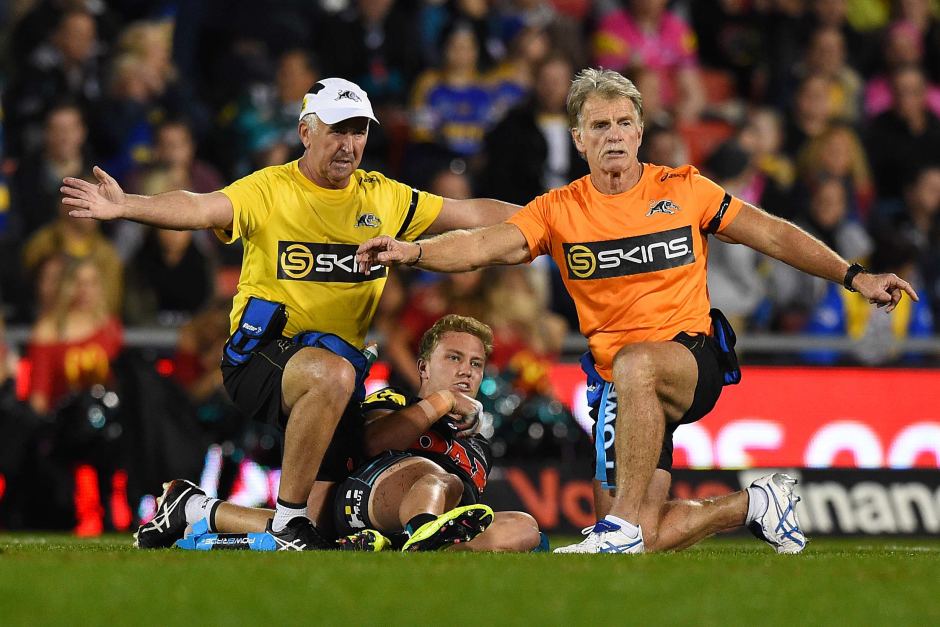 Injuries
Jackson Hastings – Ankle (Season)
Kyle Feldt – Hamstring (TBA)
Mitchell Moses – Finger (4-5 weeks)
Jed Cartwright – Hamstring (TBA)
Royce Hunt – Shoulder (TBA)
Nick Meaney – Shoulder (0-1 week)
Chanel Harris-Tevita – MCL (Season)
Failed HIA – Andrew Davey, Lindsay Collins, Rob Jennings, Kelma Tuilagi
Suspensions
Pat Carrigan – TBA
Nathan Cleary – 5 weeks
Tom Burgess – 1 week
Alfred Smalley – 1 week
Egan Butcher – 1-2 weeks