JT's Weekend Roundup – Round 17
The second and final bye round has come and gone and I don't know what to make of it.
Outside of the Bunnies absolutely torching my useless mob (why do they give us hope?) and three of them putting on an absolute clinic with a triple 130 to AJ, Walker and Milne – the scores were a fair bit more levelled out this week. The rain held off for the most part and some of the football had a touch more quality to it than we've seen in recent weeks, so the lack of blowouts might have helped that low-scoring cause.
It means if you were lucky enough to target a solid 10/11/12 players for this round, you would have done very well for yourself. On the other hand, if you'd saved the trades, the damage was probably minimal and you can now focus on launching yourself into the absolute business end of the season with 8 rounds to go. Those who loaded up on R17 players may also have a few headaches in the coming weeks, with some guys just not kicking on and now dropping cash and making it very hard to flip them back up to the genuine guns we might need in the back end. It's a fun time of year.
And of course there were some classic bye round stitchups. Sualii getting named in 21, then talk about that just being a formality for betting sponsor-based reasons, then scratched anyway. Then there were mutterings on social media that Shaun Johnson was in doubt on Sunday afternoon. Not the case. How about the most expensive player in the round (Reuben Garrick) going missing? Or Talakai being named on the bench, then in the starting side, and somehow only notching 30-odd points anyway. Then Nikorima completely flopping? And a People's Elbow try celebration to cap it all off? I have definitely seen it all.
Well done also to Julian and his 'Ju-Ju Team of Fun' who finished the highest for the round with 1,341 points. This obviously excludes the 12 people above him who decided to sign up this week for a shot at the top prize :). You've nailed the bye planning there and deserve a zinger box for your troubles!
The Weekly Top 5
Rockers– the 'SuperCoach-relevant' players who killed it
Floppers – the 'SuperCoach-relevant' players who killed your week
Shockers – the left-field players who will no doubt be high on the list of trade-ins the next round and prime candidates for SC players chasing last week's points!
Trade Fail of the Week – always good value!
On the one hand, some absolute SuperCoaching gurus had decided to take a punt on two-try hero Sam Williams for the injured Jarome Luai this week and banked a very handy 104 points in doing so. On the other hand, one unfortunate punter decided to go the other way and trade Williams out for Luai. Must be hoping for a huge run when he gets back into the side…
1. Cody Walker – 130. He might not have scored the highest in this game, with that honour going to Taane Milne who pipped him by a point, but this guy had the ball on an absolute string. I don't know the record, but surely 6 linebreak assists has to be up there in the record books. His 4 try assists were all perfect passes on both sides of the field. Combine that with two forced dropouts and it was an absolute masterclass of a game. Just the one completed run from Cody so there were no real tryscoring points on offer for himself (though he could have gone through if he wanted on multiple occasions) but this was just quality over quantity of base. Just happened to be against my own team, but whatever.
No point splitting out Alex Johnston (130) either. Keep up the good work, Bunnies!
2. Sitili Tupouniua – 80. A much improved showing on his non-involvement the week earlier where he ran just 3 times all night against the Storm. Charged onto the ball 12 times with a linebreak, three busts and a try to his name by the end. The type of game he was churning out regularly at the start of the year. May just need the likes of Radley and Walker around him to be providing him with quality ball and now has a run of pretty weak opponents to get back into gear. 31 tackles is also above average for him this season. All round good game right when it was needed.
3. Joseph Manu – 79. The third Rooster on this list but the one who probably played the best. We know fullback Manu is a completely different beast from centre Manu when it comes to SuperCoach, and that was clear from the outset with his try, linebreak (what a valuable, easy-looking play that was), 7 busts, offload and a huge 36 hitup points leading from the back. This is what Tedesco has been failing to do recently. With that form, you'd suspect he'll get another go there this week against the hapless Cowboys while Teddy puts his feet up.
4. Matt Ikuvalu – 83. Owners (just 1% of the competition, to be fair) would have been sweating bullets up until the point Joseph Sualii was scratched from the lineup, meaning Ikuvalu got to step on the park against the 16th-place Bulldogs and reap the rewards. A try, 6 busts and two linebreaks was great reward for him, with his 32 hitup points being a season high. On the other wing, Daniel Tupou caught a cold out there. Tupou is obviously the more favoured SuperCoach player based on his pedigree in the game, so going forward, that doesn't bode awfully well. But Ikuvalu owners can start realistically considering him for matchup plays, of which he'll have plenty in the coming weeks.
5. Jason Taumalolo – 87. By no stretch is he completely back, with the talk at the end of this game still being his minutes (57) and the drop in momentum when he is moved to the pine. But, the sight of Lolo in full stretch breaking through the line is something seen just one other time in the whole of 2021, and his two offloads were a season high. Could this be the game that finally kickstarts his lacklustre year, or like the Broncos' 101 point game earlier in the year, is this the aberration? Either way, he banked points right when owners needed it.
1. Kodi Nikorima – 7. This score blows my mind. He started pretty well, with a linebreak assist (that was ultimately taken off of him in the washup) but after that, his role was reduced to link man and little else. He even shelved the kicking duties this week as Reece Walsh took over the boot. Assuming that is entirely injury-related after he was a late scratching last week. Granted, he was an inch or two away from putting a couple of guys over for tries, but those missed opportunities don't really explain this woeful score. Again, a classic bye play that went up in flames, but one I wouldn't have blamed anyone for making (and in fact was flipping a coin between him and SJ a few weeks ago – not that SJ has set the world alight, to be fair). On the bright side, you've now got dual flexibility in your halves for a guy who should be goalkicking again eventually, who plays a stack of bottom 8 sides in his run home…
2. Jason Saab – 12. For once I didn't fall into the trap. His 160 points last week would have had plenty of coaches looking to bring him back into their sides after being shipped away on the 'never again' list by most of us earlier in the year. If you have held him this far, at least you haven't burned a trade, but this score here will absolutely burn nonetheless. The worst possible timing. At least for his sake, Turbo will be back, but he looked lost out there without him. Strange, as it looked like he was finding a fair bit of confidence out there over the last month or so but this was early-days disaster Saab all over again.
3. Will Kennedy – 26. A disastrous showing from the POD fullback who was coming off a 74 and 76 heading into this game at a very affordable $475k. It's now a massive headache for owners who bought in, as the early season form where he was linking so well with the likes of Townsend and Moylan looks a ways off. Reasonably well contained throughout the game, with 8 runs out of 11 below 8m, but the damage was done when the likes of Shaun Johnson just kept shovelling inside balls to the forwards to charge up through the middle. In fact, all the outside backs for the Sharks outside of Connor Tracey had very quiet games as a result of that style of play. Now, owners have to play catchup to move on from Kennedy and his 73 breakeven this week.
4. Corey Harawira-Naera – 44. This was his lowest score in around two months and was timed terribly for his almost 12,000 new owners over the last month, who would have hoped for plenty more offloads and busts than he ended up putting out. For whatever reason, he just couldn't get the ball out his way, and his tackling game (4 misses) was way off as well. 44 points might not be the worst output in the world but the standards have been set high by this guy who has just found a way to knock 60+ scores out regularly this year.
5. Campbell Graham – 33. Thought I was onto a superstar buy when I picked Graham up last week for a solid ton. Didn't expect that he would be absolutely surplus to requirements in a rout of the Cowboys that was basically shared by AJ, his outside man Milne, and Cody Walker. Centres who get cutout balls flying past their noses should get try contribution points for staying out of the way!
1. Sam Williams (104). One of those random players who just absolutely kills it on the bye week. A couple of high-50s in his scoreline so far this season but I'm sure no one saw this on the horizon…
2. Jared Waerea-Hargreaves – 75. Has to be one of the most consistently inconsistent props in the game.
3. Dylan Walker – 84. His second highest score in almost the last 4 years. Good on him.
4. Braydon Trindall – 84. Great to see the young kid doing well. Not great if you own SJ. Taken the goalkicking and taken the assists!
5. Aiden Tolman – 68. The renaissance continues! Just one point off glory…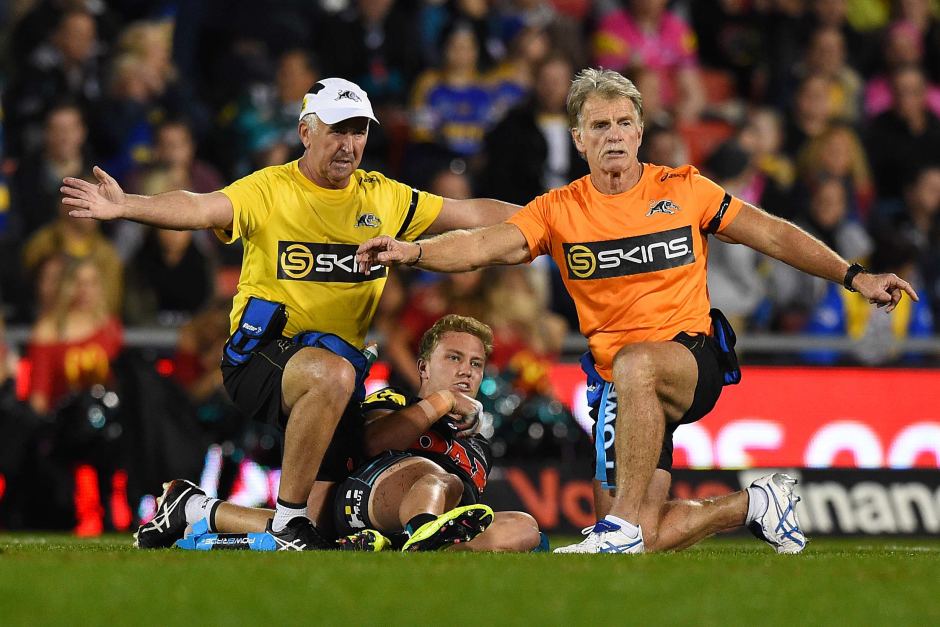 Injuries
Dunamis Lui – 1-3 weeks – calf
Toa Sipley – 2-4 weeks – shoulder
Suspensions