JT's Weekend Roundup – Round 17
We're almost through the SuperCoach Silly Season (after the post-Origin carnage is past us in Round 18) and well and truly into the business end of the season. Across your leagues, there'll be a massive spread of tactics and strategy that have taken us to this spot. Have you been a firebug and burned through plenty of trades to either claw some ground or consolidate your spot, or played it safe, taken a bit of a bath during the bye weeks and kept some trades up your sleeve for the run home? Have you deleted team?
If you think back to the Round 13 split week, there were plenty of handy scores from popular players which made that week look like the one you wanted to target. But Round 17 threw up plenty of good totals with defence often at a premium for NRL sides in reasonable conditions. It's hard to split which one was better, but if you were able to target having a solid grouping of 12-14 players for both of these weeks, you should be sitting pretty.
Even some of the one-and-done cheapies got their job done very nicely this round. Fonua Pole (48), Zac Hosking (63) and Jed Cartwright (49) were brought in by a lot of cash-strapped coaches to plug a gap this week and delivered tremendously. Usually these sorts of guys get picked up, score 15 points and then act as an AE nightmare barnacle for your side for the run home. They've passed their first test, so good luck to owners from here on!
The big talking point of the round has to be just how poor the Melbourne Storm were on Thursday night, with a bruised and battered Ryan Papenhuyzen nowhere near his usual self in a routing by the Sharks. That is a hell of a lot of cash to have laid out on a guy who now has some serious question marks on his health, but should at least still make it on the park this week by all reports. The other talking point was some sinbin mayhem – Latrell may have been lucky to stay on the park at the end, Klemmer perhaps unlucky to be given the full marching orders at the death during the same play (and no subsequent ban), and Tariq Sims unlucky to go off the first time but lucky not to get sent the second time around. Crazy week.
As always, it's hard to put a reading on what was a 'good' score this week as it is all relative to your trades in hand and how much manoeuvring you will have to do to clear out the PODs you've brought in for run-home guns. With some luck, even those running with only 7 or 8 playing this week might have still salvaged a score in the 600+ range with a good captain pick, given some of the bigger scores we saw across the week. And hopefully the hundreds of coaches who have mysteriously only signed up for this week can come back and join us for round 1 next season!
The Weekly Top 5
Rockers– the 'SuperCoach-relevant' players who killed it
Floppers – the 'SuperCoach-relevant' players who killed your week
Shockers – the left-field players who will no doubt be high on the list of trade-ins the next round and prime candidates for SC players chasing last week's points!
Trade Fail of the Week – always good value.
Manic Minutes – a quick check of any minutes of interest across the round.
1. Cody Walker – 119. As an owner for a few months now, it's been a frustrating ride being on the Calker train, but he delivered his best performance all season right when it was required. Whether it was the loss of Lachlan Ilias within the first minute of the game putting more onus on Walker to step up as a senior playmaker, or whether the addition of Latrell Mitchell is finally sparking him into life, it was a 2021-style performance. Two tries, three assists and only a couple of errors. One of the tries was even an intercept (5 points) that showed he still had a little bit of toe left in him (settle down Kotoni). It remains to be seen whether this was a flash in the pan effort, as the Knights are not exactly a top tier football club this year, but may be a confidence boost to a guy who looks to have had none all season.
2. Mitchell Moses – 115. Moses has been a less frustrating version of Cody Walker this year, with his side going a hell of a lot better but Moses not really reaching any great heights on a consistent basis. Like Walker, he turned it on when it matter most with a powerful running effort (try, 9 busts and 2 linebreaks) and a kicking boot to match. It would have been like a dagger through the Tigers' fans hearts watching him do this to their club as this form hasn't always been there for Moses this year. The other genuine alternative at halfback for this round would have been Jahrome Hughes and he comfortably cleared him.
3. Kotoni Staggs – 103. A great reward for owners who have stuck strong through some pretty turbulent times. Watching him live in Townsville in R16 and it was clear this guy was down on confidence and form in a big way, but bounced back on a much flatter track at home against a woeful opponent with a couple of tries and three linebreaks. The form was awful coming into this game, but the last time he put on a hundred, he followed it up with another. Against the Titans, he's every chance to do that again this week. Well done to those who've played the long game here.
4. Latrell Mitchell – 93. As mentioned, a little lucky not to be marched for running in during the final play of the game on Friday night but it wouldn't have dampened this score a great deal. It took him a little longer to warm into this game than the Eels a week earlier, but he looked dangerous with just about every touch. Only five busts for the game seems a little unders from watching him on the night. Regardless, two try assists (with linebreak assists) and six goals from eight attempts, some very tough ones, is another huge plus for the returning gun. The only downside was the three penalties to his name by the end of the night. If you decided to save around $300k and opt for Latrell over Papenhuyzen, you're laughing. For this week at least.
5. Isaiah Papali'i – 90. Bounced back in a big way from a quiet effort the week prior and delivered for those who played it safe with him as their captain. He didn't go crazy with base stats given he was parked on the edge, and missed the final ten minutes of the game when he was rested, but notched some attacking stats including a try off a kick to pump this score up to something we're more used to seeing from him. Decent post-try celebration as well.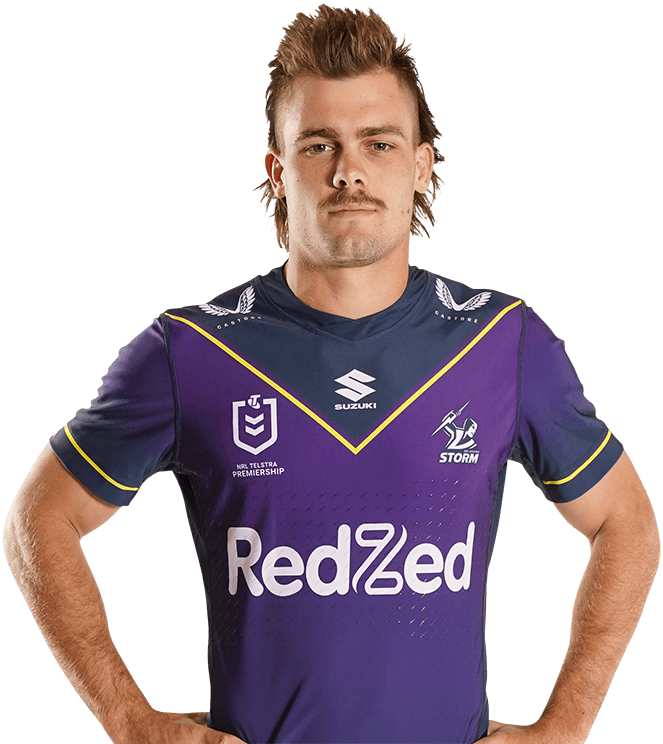 1. Ryan Papenhuyzen – 49. New owners were breathing a huge sigh of relief when Pap slipped through to score a second half try that would have pushed his score into the 80 mark, which wouldn't have resulted in a loop for the many who VC'd him, but was enough to not have you cursing too many wasted dollars. That was quickly taken away with a Storm decoy interfering with the line and the try scratched off. Ouch. Outside of that, every single run he made looked to be one made under duress, gripping his hips regularly, and then looking more Billy Bowden than Billy Slater with a finger injury. On the plus side, he did manage to play the full game out. And a 50 is not the end of the world. But at that pricetag? That's a flop. In fact if he and Jahrome Hughes didn't combine for a linebreak in the second half, both their scores would have been pretty awful relative to their price/ownership. As a non-owner of Pap, I fully expect this week to be a one-off and for him to play through the injury bug and notch plenty of tons in the run home.
2. Will Penisini – 22. Unlike Staggs, the big Peen wasn't as rewarding for owners who've stuck firm since week one. The lowest-scoring Eel on the night with a couple of errors and few effective hitups who is still owned by 33% of SuperCoaches (presumably many dead teams), this was just the third time all season he's dipped below 40. Unfortunately this score followed a game of 21 only a week earlier. Hasn't timed his run very well but has still made enough cash and has a decent enough price to be upgraded without much fuss.
3. Mikaele Ravalawa – 22. I seem to be able to pick one POD CTW every year who absolutely stinks it up during the bye week and Rava was my buy this year. Picked him up a couple of weeks ago and he started strongly enough, with a double (for his first try in about 3 months) and has since reminded me exactly why he was so cheap in the first place. Have to caveat the score somewhat given he picked up a hamstring injury in the second half, but very limited involvement throughout the game suggested there was not much more to gain on this score anyway.
4. Adam Doueihi – 27. He is not a popular option this year at all with less than 500 owners, but worth including him in this list here as just a reminder how far poor Doueihi has fallen this season. He was an out-and-out gun in 2021 but a cruel knee injury has had him play just the three games so far this year with a top score of 36. Hard to do much when you're coming from the bench, but he did get a start in the centres in this game (great for his position next season). With Brooks stinking it up, he was moved into 5/8 where things clicked a little better for his team. If he stays in this position, and once his price bottoms out (still a long way to fall), he could be worth a look for the run home if you fancy a SuperPOD and have the trades to do it. But what a risk.
5. Grant Anderson – 17. Again hard to put an injured CTW in this list but there weren't a lot of popular players who stunk it up this week. Unfortunately Anderson was battered from pillar to post from his first hitup. He came off for an HIA, looked like possibly going off for a second, before finally leaving the field with his arm in his makeshift jersey sling. Unfortunately, despite starting his NRL and SuperCoach career with plenty of promise, it has fizzled out here and he looks to be a nuff option at best for the run home. Rough for the poor kid but I guess handy for the 35,000 of us who have brought him in.
1. Tesi Niu – 140. Quite funny that he is not exactly a fan favourite for the Broncos diehards (his four errors may be behind that) but one that stepped up hugely at fullback in an injury-ravaged side in attack to guide them home here. He has actually scored a ton before so he does have an attacking game, but 140 points? Jesus. Four linebreak assists, two linebreaks, two try assists, a try and even a forced drop out. Calm down.
2. Jesse Ramien – 133. All the talk about Mulitalo, Katoa, Talakai and even Will Kennedy. The answer was staring at us this whole time! A wildly erratic game with two penalties and two errors, one where he just dropped the ball cold over the line (there goes 150+). Since Round 6, he had scored 55+ on one occasion. When his teammates around him were racking up those sorts of scores for fun. How good's SuperCoach. And how good's old mate trading in Saab.
3. Delouise Hoeter – 92. His first try since 2015. What a comeback.
4. Richie Kennar – 91. These were Alex Johnston's points! Three tries! Thankfully we have the reverse trades function this season as I, and a lot of others, would have had to make a pre-game shuffle with the news AJ was officially scratched. For those who bought him before this round, and those that missed the news, I expect the Daily Tele writers to be receiving a few emails around whether they will pass on Kennar's points as a proxy. Can't hurt to ask.
5. Edrick Lee – 79. Why isn't he playing for Queensland?
Origin weeks are always too erratic for minutes to be looked at in too much depth, but I've picked out a couple of the interesting ones from this round:
Brandon Smith got through 70 minutes but could have had a full game out there were he to keep his mouth shut. This was helped along by the injury to Anderson forcing Wishart into the game early, so may not have been the intended result. His likely absence after an evening at the judiciary could be good news for Harry Grant's time on the field when he comes back from Origin.
Cam McInnes (57) again came off the bench but played 57 high-impact minutes straight. With Wade Graham and Finucane unable to play full games, this may be the sort of output we see weekly. Could be a hold with that dual HOK/2RF flexibility in the run home.
David Klemmer (66) was called upon for a big effort in this game with the Knights' short of a gallop in the forwards and showed no real sign of fatigue, unless you consider his 80th minute crazy eyes to be a sign of fatigue-induced insanity.
Joe Ofahengaue (72) continues to deliver massive stints through the middle and looks a comfortable hold for the rest of the year if this keeps up. With minimal other options in the forwards, at least none that are putting their hand up for bigger stints/efforts, Ofa will continue to benefit. At least until his body gives out.
Jed Cartwright (80), Zac Hosking (80), and Fonua Pole (48) got plenty of time on the park to solidify themselves as very positive cheapie buys this week.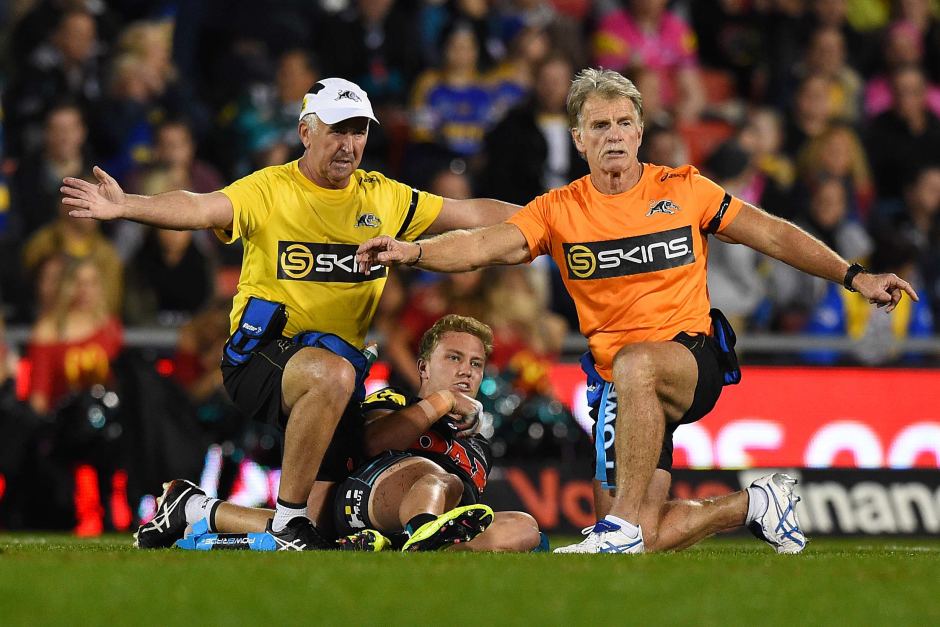 Injuries
Jordan McLean – Hamstring – 3-4 weeks
Cam Munster – COVID – TBA
Murray Taulagi – COVID – TBA
Grant Anderson – Elbow – TBA
Ryan Matterson – Ribs – 0-1 week
Ken Maumalo – Knee – TBA
James Tamou – Calf – 0-1 week
Ryan Papenhuyzen – Finger/Back/Hip – 0-1 week
HIA – Cory Paix, Lachlan Ilias, Pasami Saulo, Ezra Mam,
Suspensions
Briton Nikora – 1 week (accepted plea)
Brandon Smith – 4+ weeks (straight to judiciary)
Tariq Sims – 1-2 weeks