JT's Weekend Roundup – Round 16
Another week, another round where we kick things off by talking about how ridiculous the scoring has been yet again in 2021. Blowouts everywhere, fingers being pointed all over, club mismanagement, rule changes, referees, Peter V'landys – everyone's in the firing line as we see consistently massive scorelines unprecedented in recent history in what was previously a pretty airtight competition.
For SuperCoach, it's leading to a huge disparity in weekly scores which is a good and bad thing. It means you can fall way behind in the space of a week if you pick the wrong reserves or go a POD option over a guy that ends up scoring 3 or 4. Conversely, it means you can make up ground very quickly when the tide turns your way. Whichever way you see it, the traditional playbook for SuperCoach seems to be getting thrown out the window.
Watching some of the games over the weekend (though as mentioned in last night's podcast, I made the wise choice of not sitting through the Cowboys' debacle against the Knights), I'm starting to think we need a bit of a shift in the scoring across the game. Should a cutout ball play between two players that leads to a try still be worth a potential 50 points (i.e. what seems to be the output for most hookers and front rowers across an entire game these days)? Should players start being penalised for contributing to a 6-again infringement? I wouldn't want to go down the pathway of the NRL Fantasy world where attacking plays are criminally low, but a recalibration may be needed if these scorelines are going to stay in regularity over the next few years.
Anyway – back to the actual round that was – bye planning was thrown somewhat into disarray with a couple of key Round 17 players going down with injury. Tohu Harris was brought in by nearly 15,000 SuperCoaches and lasted barely 20 minutes before succumbing to a nasty-looking shoulder and HIA issue, and now looks doubtful for next week. As does Bailey Simonsson, who has been somewhat of a painful hold for owners who have kept him in for the luxury of his Round 17 bye coverage, only to have that looking like being snuffed out by a painful ankle/foot injury suffered late in the game. Kodi Nikorima also didn't suit up at all for the Warriors on Friday night and would have been a nightmare trade if you pulled the trigger early. As was Matt Ikuvalu after being dropped to 18th man duties just before the Roosters' game. And the less said of cheapie Daniel Suluka-Fifita's -9 points and 1-game suspension looming, the better.
On the bright side, Cody Walker owners can breathe easy after he didn't make the final cut for Origin, and maybe, just maybe, the Warriors might need to trot out an underdone Josh Curran next week. Us owners can dream, can't we!?
And how good are Manly going. Ooft. Reuben Garrick gives a big 'f*** you' to the banner this week! Alex Johnston and Cody Walker looked like matching the Turbo/Garrick combination from the day before in their first-half rout over the Tigers, but that was just about where it ended for their scoring. A shame as that was looking like a 400+ combination at stages!
The Weekly Top 5
Rockers– the 'SuperCoach-relevant' players who killed it
Floppers – the 'SuperCoach-relevant' players who killed your week
Shockers – the left-field players who will no doubt be high on the list of trade-ins the next round and prime candidates for SC players chasing last week's points!
Trade Fail of the Week – always good value!
This is all a bit of brutal bad luck, but just goes to show if you can hold off making your trades until the last minute, you may avoid the type of issues that poor old Damon copped early on into the round.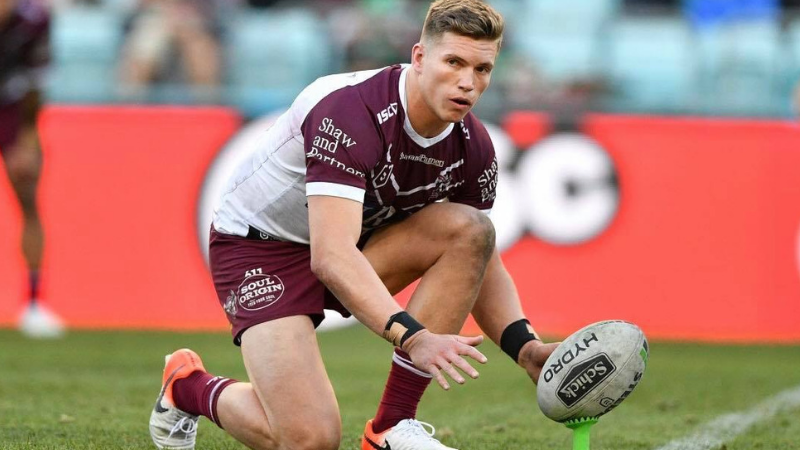 1. Reuben Garrick – 169. Nailed the goalkicking, backed up well, busted 7 tackles and breezed through for 5 linebreaks. Aside from one error, it was a flawless performance by a guy who has reaped the benefits of the most in-form player in the game being alongside him since Turbo's return earlier in the year. $846k for Reuben Garrick would have been laughed at at the start of the year. No one's laughing now (especially not non-owners, like me…).
Not going to bother including his teammates Tom Trbojevic (144), Daly Cherry-Evans (119) and Jason Saab (162) separately. They all deserve top billing. Turbo himself could have reached 200 were he able to not run behind his own players, not throw forward passes and yell loud enough for his teammates to hear him when he's in open space…
2. Isaiah Papali'i – 122. Comfortably the top point-scoring forward for the round in SuperCoach. Got a 7-minute spell late in the game but outside of that just keeps on keeping on. 4 offloads, a clean linebreak, a stack of tackles and 9 busts. What a buy he has been for both Parramatta and SuperCoaches. Parra are shifting it far more often down his left-hand edge than they are Matto's and it's reflecting in their scores. That said, his try for this game came on the back of him fielding a kick and powering over. He's just got it all. $665k seems a bargain the way he's playing.
3. Nicho Hynes – 104. There's no question his SuperCoach prowess has been lifted by the fact he's been goalkicking in the Storm's ridiculous run of blowout wins over the last few months, and that was also the case here with 7 goals from 9 attempts, but the quality in his runs helped him to his 4th ton of the year here. Tupouniua will be having nightmares at running through trying to get to him on a kick chase. Great hold if you could bare the slight cash loss. Still not below $800k!
4. Kalyn Ponga – 96. Welcome back to first grade. Took 3 minutes to get on the scoresheet and then backed it up in the second half with a trademark scything run that led to points. Hasn't yet taken the goalkicking back as he eases his nether region back into the rigours of rugby league (settle down, Lakey), but was a strong showing right when Queensland wanted it. If he can stay on the field, he may become a genuine option in a fullback spot that is a little more open after some recent flops from the likes of Teddy and Gutho.
5. Brandon Smith – 90. 7 games out of 8 now where he's gotten across the stripe! He hasn't played a single 80-minute game all season but still has a 70PPG average to show for it courtesy of that knack of finding the line. Since Round 7, when the Storm have really started racking up some scores, he hasn't dipped below 60. It's a dream run for owners who may have thought his time was up when Harry Grant came back into the fold. With or without him, he's looking every bit the long-term gun 2RF you can carry to the end.
1. Clint Gutherson – 28. A flat performance on the night in a scrappy game from Gutho – and it's following somewhat of a worrying pattern when he comes up against the better sides. 32 against Melbourne, 47 against the Roosters, 67 against Souths and now this score against Penrith. What's saving him is his scores against the poorer sides (flat tracks and Parra players, who'd have thought), and with games against the Raiders and Titans coming up before a tough stretch (Roosters, Rabbitohs, Manly, Cowboys (lel)), he may be worth looking at moving on in a few weeks if you've got the trades up your sleeve. 3 errors was painful viewing.
2. James Tedesco – 45. Started this game very flatly before the Storm took over completely. It was only a late burst with an offload, a few busts and a forced dropout that saved him from a truly disastrous score. A tough couple of rounds are now past him and the draw does open up from 18-onwards. He's currently at a breakeven of 138 but with a post-Origin matchup against the Cowboys coming up, he might not be shedding any more cash.
3. Matt Burton – 18. Looked a safe buy/hold up until the point he was named at centre for this game with Tyrone May in the halves instead. While he's still performed well out there, most would have thought this was his time to shine with Nathan Cleary now gone. It was a scrappy game all around, so maybe it's worth forgetting about this score entirely, but at least now he's guaranteed to be taking the reins with Luai now out as well.
4. Sitili Tupouniua – 33. Two runs all game! His scores without tries so far in 2021 have been nothing short of dreadful and that was the case here. Needs a handy brace coming up against the Dogs this week to justify his selection in 9% of teams (including mine, as of last week). Like Tedesco, at least the draw for his Chooks opens up a little from here. Just parked too much on the edge and never in the middle to ever be in premium 2RF consideration unlike some of his more productive counterparts there.
5. Tyrone Peachey – 4. Benched. Ooft.
1. Aiden Tolman – 83. Who didn't shed a tear when he got over for just his 15th try ever in a 289-game career?
2. Connor Watson – 107. Has been sitting idly on our benches for a long time while he's done the same for the Knights. If you had to play him this week, what a move that turned out to be. A couple of tries and easy, easy yardage for him throughout his short 47-minute stint on the field.
3. Toa Sipley – 100. 2 tries! Emphasises just how bad an afternoon the Bulldogs had on Saturday.
4. Tesi Niu – 104. Got to love a rare Broncos win that leads to the Courier Mail inevitably asking whether they've finally turned the corner.
5. Jack de Belin – 58 and wasn't even at the house party that's now thrown the Dragons' season into disarray. Talk about turning a corner! lel.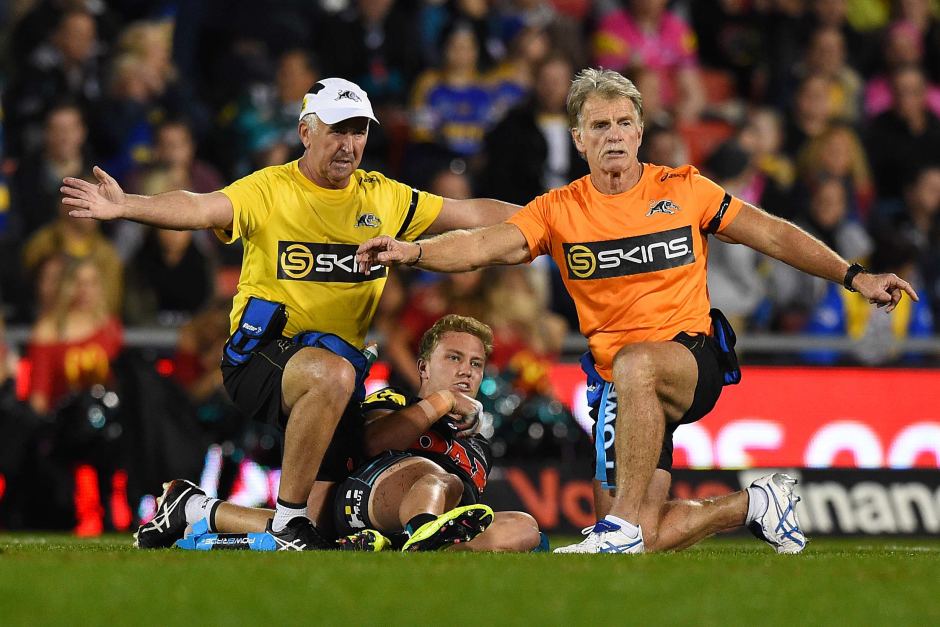 Injuries
Tohu Harris – Shoulder/HIA – 1-2 weeks
Bailey Simonsson – Foot – TBA
Matt Moylan – Calf – TBA
Jarome Luai – Knee – 2-3 weeks
Eliesa Katoa – Ankle – TBA
Chad Townsend – Shoulder – TBA
Daniel Saifiti – Ribs – 2-3 weeks (replaced by Finucane in Origin).
HIA – Isaiah Papali'i, Tohu Harris, Jesse Arthars
Suspensions
David Fifita – 1 week
Daniel Suluka-Fifita – 1 week
Jeremy Marshall-King – 2-3 weeks
Ava Seumanafagai – 1 week