JT's Weekend Roundup – Round 15
We now get our first true breather of the season with an 11-day gap between the next game in Round 16. After what had started as a relatively slow year, with all the talk about the speed of the game being reduced through the tinkering with the 6-again rule and guns coming back to the pack, over the last month we have started to see some big scores racked up once again. Twelve tons last week, a further seven here and as a result, the 'par' score for the week continues to nudge around the 1200+ mark. And finally some captain choices going as they should! Hopefully you found yourself on the right side of those picks this week and have yourself sitting comfortably for a big tilt into the run home.
I've got a pretty low-ish 12 trades left (and one boost) so the next few rounds will make for some very critical calls as short-term cash grabs change into nuff plays and we try to nail the right mix of Round 17 bye week players and run home guns. A few big moving weeks ahead, but let's focus back on the week that was.
Another week of dry weather led to some cracking games and very few surprises as a result. The floppers have been tough to fill recently!
The Weekly Top 5
Rockers– the 'SuperCoach-relevant' players who killed it
Floppers – the 'SuperCoach-relevant' players who killed your week
Shockers – the left-field players who will no doubt be high on the list of trade-ins the next round and prime candidates for SC players chasing last week's points!
Trade Fail of the Week – always good value.
Manic Minutes – a quick check of any minutes of interest across the round.
Are you like me and long for the Carty Party days of yesteryear? Well looks like a couple of other SuperCoaches are in the same boat, with big bad Bryce getting two tradeins this week. Briton Nikora and Jarome Luai clearly don't know how to party. Imagine he comes in during Round 17 and tons up now. Imagine.
1. Dylan Edwards – 105. Last week I commended entire Panthers' team but it's worth singling Edwards out this week. For a few years now, he's garnered only fleeting interest as a fill-in player during the bye week who then fails to put together consistent scores. This is now the second time he's put three scores of 60+ together this season, with the last time being Round 8 last season. Fullback hasn't quite been the deepest pool of SuperCoach talent this season given Teddy's own inconsistency and the injuries to Papenhuyzen and Turbo, so if you brought this guy in for the bye, the question is now at what point you trade him back out. Another try and an assist here and a handy couple of games ahead.
2. Brian To'o – 101. Two tries here but a surprisingly-low number of busts (just 3). He'd been averaging double that over his last five games, which seems low when you compare it to another cracking hitup stat column (34 points). Either way, To'o looks like one of those must-haves for the run home, with those that jumped on early and ignored the bye week and possible resting post-Origin 3 coming up being rewarded. His price has shot up into the $600k's again and he finds himself in that Garrick/Manu logjam of expensive players who are consistently racking up points in the CTW.
3. Damien Cook – 103. The Bunnies were bog average in this game and if it wasn't for the Dragons taking their foot off the pedal 32 points up, they were all going to score unders. That may have been the case for Cook as well, but a try and an assist helped catapult him to his second ton for the season. It's actually been those attacking stats recently that have helped him now put his fifth 70+ score together in a row and prove a very handy foil (or even replacement) for Harry Grant at HOK. He's probably never really been under this kind of pressure before both in club-land and Origin, so that may be helping. His running game looks to be making a comeback which will usually lead to these kinds of scores when on.
4. Jahrome Hughes – 101. Occasionally Hughes (along with Munster) can take a bit of a back seat in games and let the others do the work but this was a game Hughes took by the scruff of the neck to prove that he will be a crucial play if you can squeeze him in for Round 17. A low score of just 44 so far this season – he rarely, if ever, has an off game. Certainly wasn't the case here with two classy tries and an assist to complement his usual handy base stats. He's never going to reach the heights of Nathan Cleary, but you don't need him to. One of those players you can bring in for R17 if you don't have already, and comfortably carry for the run home.
5. Nicho Hynes – 96. A few others around that could have been included on this list (Suaalii, Holmes, Cleary) but Hynes has copped some flak lately so deserves a run. He's again just outside the NSW 17 but can't be too far away. For SuperCoach here, he almost managed a ton with just the one try assist to his name (would have gotten there again if he didn't miss (thankfully) only one conversion) which highlights a strong all-round game. Six busts is a record for his season and a couple of offloads was a nice boost (though a way off the six he got against the Warriors earlier in the year). Still sheds some value but there are signs of life.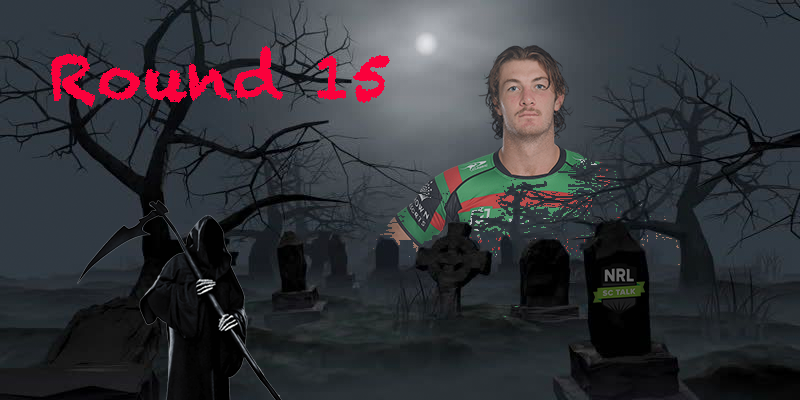 1. Campbell Graham – 30. Another win for the banner who has faced some challenging opponents lately. Graham unfortunately timed his worst game all season for the crucial pre-Origin week and extinguished any hope he had of a callup. Good news in the long run for owners who have jumped on the ultra-consistent centre. In fairness, not a lot you can do on the edge when your side is down 32-0 at halftime, but a game-high three errors wasn't ideal.
2. Brandon Smith – 25. What's happening with Brandon Smith? At times during games he's come away looking like he's picked up an injury but played through it, so that may explain a horror season where he's cleared 50 points just once in his last six weeks. We're not used to seeing that, no matter whether he's playing prop or hooker (bench or starting). He's now shed almost $250k off his starting price and only a brave coach would be considering him for anything other than Round 1, 2023 at the Chooks.
3. Cody Walker – 34. Walker is a frustrating own. It's a stunning stat to think he hasn't actually been binned once this season despite seemingly always being the first one to respond to a bit of niggle out there. Surely that's coming – probably in R17 right when we need it…Ilias copped all the attention after being hooked mid-game but fair to say his halves partner should be the focus, with another listless effort. His sole attacking stat was a linebreak assist and little else from his six runs. Fall from SuperCoach grace for the once-gun who needs to lift if the Bunnies are to do anything this year. Though that's been said for a while now.
4. Izack Tago – 38. Tago has been solid without being spectacular of late, but was surplus to requirements out there on Saturday night. I actually moved out Taylan May instead of Tago this week and lost around 30 points in the process. It was mostly Tago's dual flexibility that won out but with a reasonably hefty breakeven and a while between drinks, it's probably Tago's turn now. The only thing – even in a 'down' week this score isn't terrible, and can you ever have too many Panthers in your side? Particularly in the run home.
5. Siosifa Talakai – 39. A double whammy for owners this week, with Talakai missing out in SuperCoach but finding his way into the Origin 17 for this Sunday's game. Great for the player himself though! Talakai had made something of a mini resurgence lately with a couple of handy scores in his last couple of games but had just three busts and no attacking stats against the Titans of all teams. Most would have pencilled this one in for a return to the 100+ scores from earlier in the season, but not to be. A player you now have to hold for at least another week just to see if he's there for R17, but is not looking like the season-long hold he did a while ago.
Honourable Mentions: Worth including some horror scores for a few key players in Lachlan Ilias (-1), Josh Schuster (4), Toby Sexton (7), Nat Butcher (12) and James Schiller (4) who is still owned by over 20% of SuperCoaches…
1. Lachlan Croker – 103. What a ten minutes of play from the great man. Such a shame the rest of his teammates couldn't put another 7 minutes of their own together. Yeehaw.
2. Shaun Lane – 98. Under the radar without a doubt but now has his highest score since Round 7, 2020. Shoutout to Lakey who called him out as a play on last week's podcast, but in true SC Talk fashion, didn't follow his own advice.
3. Matt Moylan – 90. Why are we talking about every other Shark when the big Moy has scores of 101 and 90 in his last fortnight?!
4. Dean Ieremia – 82. Before Papenhuyzen was scratched with COVID, it was coming down to the battle of the wingers in Ieremia (at $250k) and Anderson (bottom dollar) as to who would hold their wing spot. Well, that isn't any clearer now but a two try effort (his first try for the season) might just swing the pendulum back in Ieremia's favour.
5. Mikaele Ravalawa – 76. Speaking of the SC Talk podcast, Rava was my buy for last week given his bottomed-out price and the fact he was due for a pie having not had one since way, way back in Round 1. Cue a double (on my NPRs, of course) and he's wasted them all before we actually need them in R17!
Jack de Belin (60) has now posted his fourth 60+ minute game in a row and even crossed the stripe in the process. In terms of pecking order for Round 17 plays, he's middling at best, but that kind of time on field is handy. The only other Dragon forward coming into contention recently was Michael Molo (16) who looks to have done his very brief dash.
Speaking of left-field options, how's Siliva Havili (39) who has PPMs of 2.0, 1.6 and 1.5 in his last few rounds.
Good to see Haumole Olakau'atu (80) stay out there for the full game for the first time in a few weeks, but the score wasn't overly exciting. And what a fall for Josh Schuster (22) who barely got out there and whose highlight was a no-look pass that was knocked on and just about ended the game for the Eagles. Guess we'll see him next season when he's the full-time 5/8. For their opponents, Reece Robson (80) showed his value to our side once again with a huge effort in tandem with Jake Granville (46) off the bench. Has value at both hooker and in the forwards. With the injury carnage at the Cows, Jason Taumalolo (68) again benefited with a big game in the minutes column. He's averaged 69 (lel) MPG since returning from injury but fair to say there's been some extenuating circumstances there with injury and Origin depletions.
Starting at lock did nothing again for Brandon Smith (32) who got less minutes than the benched Josh King (42). Don't know what's going on there. On the bright side, he hasn't really eaten into Harry Grant's (71) minutes this year which has been a welcome sight. Payne Haas (62) looked tentative at times out there but got through a decent stint without the same high output we're used to. Teammate Pat Carrigan (63) would be commanding a lot more interest if he was going to play in 17. Another good hitout – his fifth 60+ game in his last six.
A disappointing game overall for Cam Mcinnes (50) who has been a popular buy in the leadup to the bye week. Dale Finucane (39) came onto replace Toby Rudolf (55) in his return from injury which was good to see, with McInnes then replacing Finucane for the final 20. SuperCoaches will be hoping it's the props that Finucane pinches minutes from as he gets back to full fitness. It's not a death sentence for McInnes who has put on a couple of decent scores when he fails to eclipse 55 minutes, but it's still not great.
The Warriors are in disarray and look to be SuperCoach poison at the moment. So we'll just note that Josh Curran (80), Tohu Harris (70) and the returning Addin Fonua-Blake (51) played relatively good minutes. Hopefully a return over the ditch might spark them into life. The poor old Tigers being the ones who have to face them in their return to Mt Smart is just another bout of bad luck for the joint venture. In this week's game, their opponents Penrith had a comfortable enough time that they gave spells to Nathan Cleary (76), Api Koroisau (68), Liam Martin (68) and Isaah Yeo (62). I can't recall another side having the kind of fortune that Penrith have had with their injury (and judiciary…) tolls in the last few years, but I guess you make your own luck.
Parra's secondrowers had a good night out on Saturday, with Ryan Matterson (61) profiting from a gameday promotion from the pine. Isaiah Papali'i (65) went for an HIA in the final 15 which meant he couldn't come back out regardless of the result. If you're after guaranteed 80 minutes, Shaun Lane (80) looks to be your Parra guy here. Only a 3-week stretch midway through the year where he didn't hit the full game mark.
Nat (15) and Egan Butcher (39)'s respective failed HIAs ultimately gave a big boost to the rest of the Roosters pack, but they really are missing Victor Radley and JWH through the middle, aren't they. Angus Crichton (80) has played well enough to force his way back into the Blues' side but that's largely inconsequential for owners who were missing him in 17 anyway.
Joe Tapine (45) again suffered from Stickyitis with two benchings during this game, ultimately coming back onto the park for the final four minutes for some reason. He'd been very consistent with his minutes lately, so obviously that had to be stopped. For the Knights, David Klemmer (64) couldn't capitalise on some boosted minutes courtesy of a couple of mid-game HIAs to Barnett (passed – 66) and Frizell (failed – 36). Off the bench, Mat Croker (63) was again impressive and while not a SuperCoach play, looks a good prospect for Newcastle.
In the final game, it was again another huge effort from the attacking stat beast that is Max King (63). While Pangai (51) just throws offloads for fun, King backs up through the middle regularly and has snuck a few offloads of his own in that have led to breaks and tries. Huge effort once again for a guy we've hopefully all stuck around with. Raymond Faitala-Mariner (58) was demoted back to the bench but still got through plenty of work as he warms back into things.
The only Tiger I've been keeping an eye on is Joe Ofahengaue (77) who got another huge game on the park, this time courtesy of the first-set HIA to Alex Twal (1). He made just his first error since Round 5 in the process despite a low score, and has now played minutes of 71, 65, 68, 63 and 77 in his last six games. An uninspiring SuperCoach selection, but one of those ones people will make for a warm body in 17.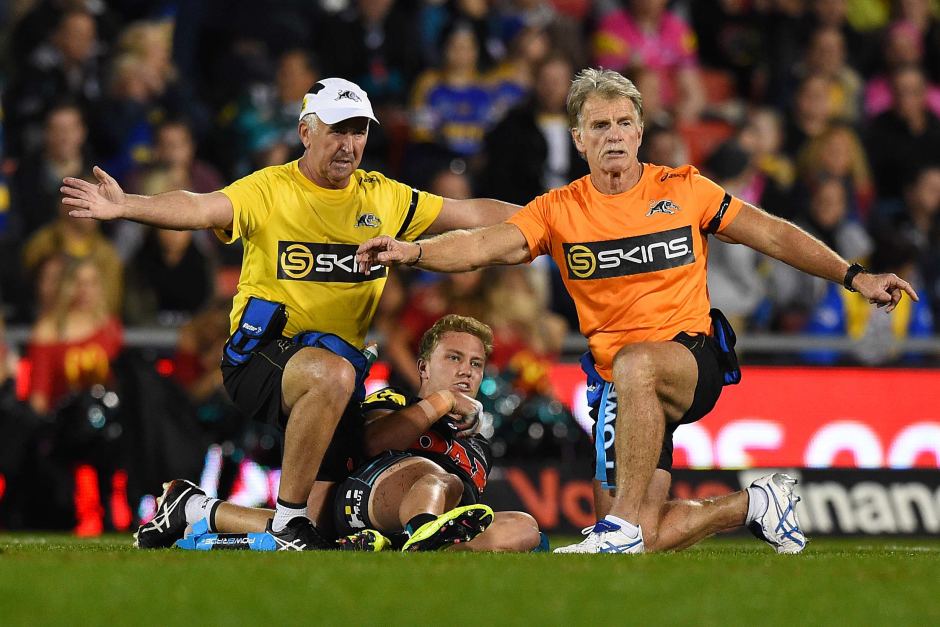 Injuries
Reuben Cotter – Hamstring – 3-5 weeks
James Schiller – Collarbone – TBA
Kurtis Morrin – Shoulder – TBA
Starford Toa – Ankle – TBA
HIA – Isaiah Papali'i, Nat Butcher, Egan Butcher, Alex Twal, Jordan Rapana, Tyson Frizell, Hamiso Tabuai-Fidow (did not return).
Suspensions