JT's Weekend Roundup – Round 13
The first big moving round of the year is behind us now, and if you went extremely hard at it and filled a 17, you could have been nudging the 1300+ mark which will feel like a huge gap for those in the 700-900 mark who may not have. On the bright side for those that haven't stacked their sides, you're likelier in a much better position for the R17 bye week without having to burn through too many trades.
One thing that helped out this week was the weather, with dry skies for pretty much the entire round meaning sides could capitalise in attack against some depleted opposition (or just the Bulldogs, Titans and Warriors doing what they normally do). Some big scores resulted, with two huge tons but a stack of scores in the 60+ mark for popular players. There also weren't any real standout floppers this week. There weren't many great cheapie options this week, but even the lowest option in Lakey's Twitter poll here, Saab, managed a 37.
So a very handy week for those looking to climb some spots with a host of playing options, and it means the Round 17 heavy hitters will have to perform strongly to match them. Interesting times!
The Weekly Top 5
Rockers– the 'SuperCoach-relevant' players who killed it
Floppers – the 'SuperCoach-relevant' players who killed your week
Shockers – the left-field players who will no doubt be high on the list of trade-ins the next round and prime candidates for SC players chasing last week's points!
Trade Fail of the Week – always good value.
Manic Minutes – a quick check of any minutes of interest across the round.
This week's has to go to the 35 coaches who decided to trade out Scott Drinkwater and his 119 points for the Broncos' Ezra Mam and his zero points. With Adam Reynolds returning, it could take a while to see his third game.
1. Joseph Manu – 130. The classic Manu fullback game delivered as it always does. An incredible 50 hitup points, 24 points in offloads and 34 points in tackle busts. He did set a try up, but imagine him getting over at the death. Massive. We've always said Manu was a high quality NRL player who put out mid-quality SuperCoach scores, but this might have been a rare occasion where that was the reverse. The term ball-hog was thrown around quite a bit, and safe to say Manu may have cost his side going himself when he could have passed. Nonetheless, we're coaches of fantasy NRL players, not the real things, so I (and 48,515 others) will take that!
2. Scott Drinkwater – 119. Drinky was handed the reins to the Cowboys attack here and put on three try assists and kicked a handy four goals from six. The Titans were no match at the back ends of their halves where the Cows got on a roll and the fullback was a huge part of that. He has always had the potential for big SuperCoach scores but this year has been a model of consistency outside of last week's Penrith game. A great VC option to start the week as plenty of SuperCoaches did. The question now becomes just when, or if, you trade him out of your sides.
3. Reuben Garrick – 99. No linebreaks in this one but Garrick didn't need them, with a couple of tries from kicks, and another disallowed, and plenty of goals (30 points from them) leading to a huge score. Normally he's filling in for Turbo in these Origin games, but with the fullback position now his, he looks a very premium option in the run home. This score may have been against the Warriors, but he's backing up from good games against the Eels and Storm away from home. A great play if you can afford him – with Manu and Garrick being the premium CTW options for R13, are they worth bringing in if you don't already own them with their huge pricetags, or should owners be targeting someone for R17 instead? Doueihi? Lomax? The fun of the Origin period!
4. Viliame Kikau – 86. Kikau has been bullying players in defence for the last couple of weeks, which doesn't translate to big SuperCoach scores, but delivered when it mattered here for the 25% of coaches who own him. Three busts and two offloads is about what he's been averaging this season, but when you add a try in he of course goes large (duh). Exactly what he did here against his future club. Always quality over quantity with Kikau given he only ran 10 times in 80 minutes here.
5. Haumole Olakau'atu – 86. The poor Warriors' left edge will be having nightmares for months to come. Were it not for a little niggle he picked up in the second half that saw him rested for the final 20, this score could have been anything. Where Kikau picks his spots to run, the Big Guac just gets the ball in hand almost every set, with 18 runs here and 7 busts accordingly. They tamed him a little in the second half prior to the resting, and he may have used up plenty of gas in those barnstorming early runs, but this is still a cracking score for someone who's surprisingly not that highly-owned still.
1. Luke Keary – 36. It's been a frustrating season for Keary owners this year. Just when he looks like making a decent run, a drop back to those mediocre scores resumes and this will particularly sting here given it's arguably the most important week of his season. In fairness, Sam Walker with his kicking game and Joey Manu just running the ball 400 times a set didn't leave much room for Keary. But for a guy who started with plenty of promise (and 28% ownership from Round 1), this will hurt. A popular rage trade candidate this week.
2. Christian Tuipulotu – 17. As some CTWs inevitably do, Tuipulotu saved his worst score of the year for the bye week. All the damage was being done through the middle and the second row/centres, so unsurprising that the wingers for Manly missed out. A tough break for owners given Manly put on a big score, but he's done his job, lost minimal cash this round (just $13k) and can be used as a stepping stone for a genuine gun.
3. Tom Starling – 23. In the last fortnight, Starling's minutes have been slashed to 24 and 32, and his scores have suffered bigtime as a result. No attacking stats and just seven runs in total across those weeks. Given the lack of hooking options this week, it was unsurprising that some savvy coaches had brought him in a while ago with this round in mind. But this score, and this Sticky rotation, was not in the plan. An easy trade-on this week given he's made $100k.
4. Nat Butcher – 41. Also not in the plans was N. Butcher being given less gametime than E. Butcher but that's what happened here. With the Roosters clawing their way back into the game in the second half, Nat spent that time watching from the sidelines, only coming back on for a brief stint when Joey Manu was taking all the hitups. I thought I was being savvy buying into Butcher and his cheaper pricetag than Angus Crichton, but Crichton doubled his score here for less than $100k more. Not the end of the world given he still scored at 1PPM, but last week he was shifted between the edge and middle, not rested.
5. Shaun Johnson – 25. Little else to say about Johnson and the Warriors. Commentators have been calling him out all season for a lack of involvement and the game here was a clear demonstration of that. Still has an 8% ownership so would have looked like a great POD option for this round given the usual defensive frailties of teams in these weeks, but that never eventuated.
1. Adam Elliott – 99. At one point, you could pick up Adam Elliott for $313k after having shed almost $170k off his starting price. He was coming off the bench then and doing very little. Fastforward to Round 13, and he's just put up a near-ton, has a 5RA of 71 and just scored his first try of the year. With Papali'i missing, he was given some extra minutes this week and delivered. Great POD buy for this round if you trusted him at lock.
2. Lachlan Croker – 94. Croker is currently priced at $553,900. What is going on. He's 7th overall for 5/8s on average this year (that list includes Ezra Mam and Connor Tracey) and top 5 for both 3RA and 5RA. Scenes.
3. Xavier Savage – 96. Savage FINALLY delivered a score and a game befit for his big reputation just when non-owners did not need it.
4. Toafofoa Sipley – 85. Love a random forward scoring his first try of the year.
5. Erin Clark – 72. Clark top-scored for the Titans. Let that sink in.
With no major injury or HIA-affected games this week, there weren't a great deal of surprises in our Minutes Watch for the round.
Jason Taumalolo (66) returned with a vengeance this week, looking like the tacklebusting beast of previous years and getting a very healthy amount of time out there. DIdn't look too encumbered by the recent knee injury which was great to see. Fellow Cowboy Reece Robson (70) saw a dip in minutes with Jake Granville (22) forcing him into the middle, but saved his best for late in the game with a dart over try to reward those that looked for a HOK option this round.
Penrith's forward stocks saw some quality time out there this week if you decided to go with them, with James Fisher-Harris (65), Viliame Kikau (80), Matt Eisenhuth (48) and Api Koroisau (80) all getting good starting minutes and all scored well accordingly.
For the Dogs, Raymond Faitala-Mariner (55) was relatively ineffective in his time out there, but in his first starting game in quite some time coming back from injury, he is at least building on a weekly basis. With TPJ also due back soon, the end might be near in SuperCoach for Max King (53) who played another handy starting game, this time at lock. He's been an invaluable cheapie this year and we thank you for your service!
Haumole Olakau'atu (59) came limping out of another big charging run midway through the second half and was taken off not long after. Hopefully that was just a tactical rest with the game in hand to give Karl Lawton (20) some added game time, but it probably robbed him of another 20-30 points the way he was going. Tolutau Koula (67) was taken off for an HIA very early on but thankfully passed to come back on and score reasonably well. Surprisingly in the same game, Euan Aitken (70) saw just his second sub-80 game all season, with the only other one being when he was heavily concussed against Cronulla. Jazz Tevaga (43) tries his heart out every game but just hasn't rewarded SuperCoaches who backed him in with all these recent starting games. And Tohu Harris' (74) low PPM this week can probably be explained away given the amount of defending and standing under their goalposts that the Warriors had to do.
In the final game, Zac Woolford (48) made it two weeks in a row where he was on the park more than Tom Starling (32) in a cruel blow to Starling truthers. At least some other Raiders' forwards in Joe Tapine (57), Adam Elliott (65) and Ryan Sutton (55) were much busier in their decent stints out there. And the one week you want James Schiller (0) to come on the park for a 5-minute stint, he gets parked on the bench. For the Chooks, Drew Hutchison (38) proved one of the great trap buys if anyone was looking at his pricetag and thinking he was an option this week. Interestingly, Nat Butcher (39) copped a huge stint on the bench midway through the game, coming back on for the final 10 or so but scoring much lower than Sitili Tupouniua (80) and Angus Crichton (80) as a result. The lock is more than likely the one to be given a rest as was the case here, but being beaten in minutes by Egan Butcher (41) was a surprise.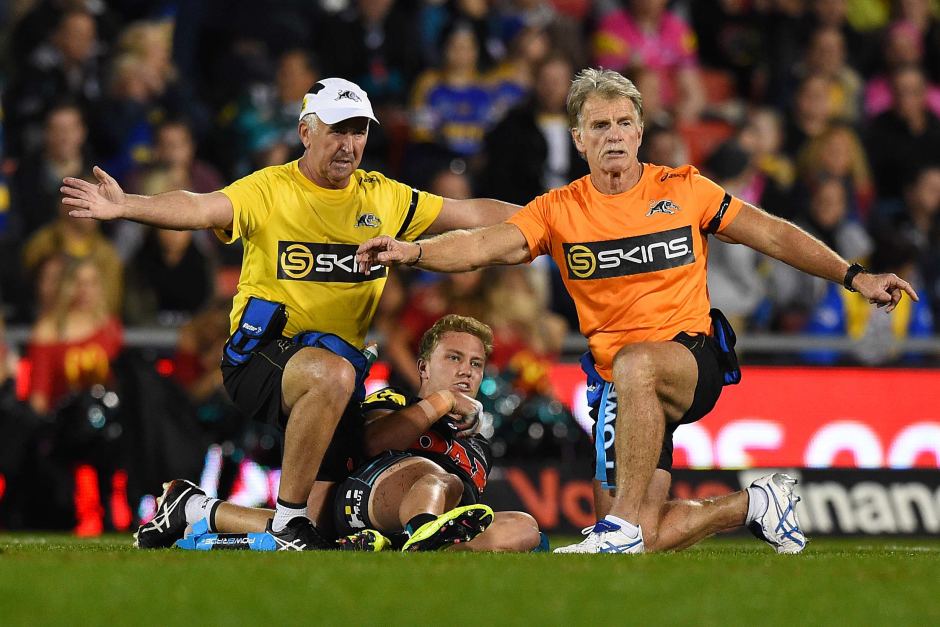 Injuries
Jayden Campbell – Hamstring – TBA
Karl Lawton – Knee – TBA
HIA – No players that were not eventually cleared.
Suspensions