JT's Weekend Roundup – Round 12
It seems like it's taken an age but we've finally gotten to State of Origin teams and the all-important SuperCoach bye week!
Of course the last of the rounds before this threw up the usual mess of last-minute carnage, with a slew of AE nightmares, captaincy flops, injuries, suspensions, Origin callups, massive scores, scoring controversies and late scratchings to last us a lifetime, let alone one round of Rugbaleeg.
Sam Walker and Josh Schuster missing out meant teams were scrambling to find replacements, poor scores from the likes of Simonsson and 5-point, 90-second superstar Ben Trbojevic meant that using the VC loophole may not have been as profitable as many had hoped. If you managed to avoid that carnage, the loop on Nicho Hynes and his 156 points would have been a massive play this week, with the usual suspects in Nathan "Unicorn no More" Cleary and Tom Trbojevic somehow not putting their respective oppositions to the sword in afternoon matchups. Surely no one saw that coming!
Thankfully, some favourable outcomes at the Match Review Committee spared some crucial Parramatta players in Ryan Matterson and Isaiah Papali'i from missing out next week, with owners holding their breaths as the charge sheet was being put together Sunday morning.
Elsewhere, without the usual suspects going large, the scores were a little flatter than they have been, but there were still plenty of decent scores and some massive ones from the likes of Daine Laurie and Nicho Hynes in the CTW to bump the par score up to 1200+. If you got your captaincy/loophole right this week, that was the key!
And finally the real important result out of the weekend – the Cowboys are in the Top 8 and on the Premiership Charge. Get around them.
The Weekly Top 5
Rockers– the 'SuperCoach-relevant' players who killed it
Floppers – the 'SuperCoach-relevant' players who killed your week
Shockers – the left-field players who will no doubt be high on the list of trade-ins the next round and prime candidates for SC players chasing last week's points!
Trade Fail of the Week – always good value.
Didn't want to look too far or wide for this week's trade fail. I'm just going to give it to myself for bringing in Viliame Kikau and his 37 points on the infallible science of 'he's due'. He was not.
1. Nicho Hynes – 156. Hynes is playing for a contract next season and is adding about $50k to the value of it with each week. What a buy he has been if you picked him up as soon as Papenhuyzen went down earlier in the year. The production mill for fullbacks in Melbourne (ably fed by reasonable QLD Cup sides) just continues to chug along. Finally got across the stripe to boost this score from his usual lowly-100s into the 150+ mark and moved around with the ease of a fullback who's been around the NRL traps a lot longer than he has. If he was auditioning for his future NRL side next year in the Broncos, he gave them plenty of reasons to throw the chequebook at him. Which, incidentally is what you'll now have to do if you don't already have him in your SuperCoach side.
2. Daine Laurie – 117. Been a little bit quiet lately which has led to a few teams throwing him overboard. Outside of a 119-point effort, also against the Dragons in Round 8, this is his only other score above 73 so far this year. Those sort of stats don't tell the full story. Laurie looks electric at the back, is always involved and finally got reward for his support play in this game with a try and an assist. I'm not sure whether or not he's a keeper, but he's warming into the first grade role and could be a great matchup play down the line. But unfortunately he won't play St George again for the rest of the year outside of a very unlikely finals appearance..
3. Brandon Smith – 110. The Cheese took his owners, many of them new as of this week, on quite the rollercoaster on Thursday night. Scored the opening try, got taken off for an HIA on some wobbly legs, then came back out to lace on a try and score yet again. Like with their fullbacks, the Storm are flush with gun options in their hooking stocks as well it would seem. Got a spell late in the game which may have cost him even more big points as the Broncos were ready and willing to just roll over and let the Storm procession roll on.
4. Alex Johnston (154) / Dane Gagai (149) – This is the sort of game that people buy these two players for. Tore the Parramatta defence to shreds on the left edge, assisted in some ways by a 12-man defensive line for parts of the match. 6 tries between them meant if you'd PODded up in your CTW stocks with either of them you're definitely cheering this week. Gagai has been switched to Origin Gags a week early it would seem.
5. Valentine Holmes – 100. Hadn't scored a ton until Round 11 and has now put two in a row on. The accolades were flowing for the almost-40m field goal at the death, but his cutout ball to find the Hammer for the match-leveller showed his class at the back and why he's becoming a genuine option here. May need to be more involved in the kicking game now that Jake Clifford has departed, but hopefully that doesn't cloud his judgement. Run first, think later has been his mantra for the last few months and it's definitely paying off. Even the usual errors are starting to dry up and will push his pricetag to the $700k mark in a week or so's time if this form keeps up outside of Origin. This is the Year of the Fullback.
1. Tom Trbojevic – 40. What a play it was looking to have foregone the also-sure thing of Nathan Cleary as your captain at about 4:00PM on Sunday afternoon. At about 4:45PM the alarm bells were still quiet but had a few eyes darting their way. At 5:30PM the bunkers were starting to be filled with only the true optimists hanging around in the open expecting the incoming nuclear disaster to be averted in some way. At 6:00PM the toasters were in the bathtubs and SuperCoach apps deleted nationwide. A rare off day for a guy that has been pumping out tons for fun. He was playing more of a link man role all game and when the ball did shift to him, the Knights defence managed to hang on. Only the lone linebreak assist to his name to show for a day where he just didn't get going.
2. Nathan Cleary – 54. Colour me stunned to see Cleary actually drop points in a post-match update. 26 of them to be precise. Awarded a couple of try assists that were always going to be in dispute (will save the debate for the Twittersphere and Tom Sangster's DMs), they were ultimately changed to Try Contributions on recount and cost him a heap of points. A stinger for any captainers who had backed him in against the firm favourites for the spoon, at home in a daytime game. He got a spell with the game in hand as well just for added frustration. Most expected that spell to come when the Panthers side had run away with the game, but that took a long time to happen and was not really of Cleary's doing. Strange one. Move onto Round 14, if he backs up then.
3. Jarome Luai – 21. Yet another swing and a miss in SuperCoach for Luai who is going to be in the $400ks after this week with a 130 breakeven leading into this game. He's done enough to win his spot in the Origin arena. Assuming he plays well enough to hold down the role there, he'll miss a fair few games over the next couple of months. May be time to sell now and buy at a discount for the run-home. A 3RA of 28 is shocking considering the scores Penrith have racked up over those weeks.
4. Matt Ikuvalu – 23. Ikuvalu has taken on the role of BMoz replacement since Round 6, but over the last two weeks has failed to live up to the hype. Looked a surefire buy in the $490k range playing in a red-hot Roosters side, but apart from a ton against Parramatta where he put on three tries, hasn't set the world alight. One of those players that doesn't really go in for work so you're relying on him getting some quality ball. Last week, Sam Walker was very well contained and the usual cutout balls didn't find their mark. This week, without Walker, Ikuvalu failed to see much ball either. Tough matchups against Penrith and Melbourne in his sights in 15 and 16 will have a few worried but there's points to be made in this Chooks' lineup. Hold firm.
5. Brian Kelly – 36. Scored the opening try and then proceeded to score exactly 0 points in the second half as he caught a cold out there. Shoved to the wing when Brimson went off with half an hour didn't help. Neither did the likes of Dave Fifita taking crabbing runs all over the park and Tanah Boyd deciding he didn't need to bother looking left (or right) all game. A late break by Tino F down the touchline where Kelly was wide open and he didn't bother to pass summed up a frustrating afternoon for the Titans and Kelly owners.
1. Corey Norman – 107. No tries in this one? Absolute must-buy for next week then if the Maroons' selectors don't get to him first.
2. Tommy Talau – 96. New spot in the centres might just pay off for Talau. Hopefully keeps feeding the Jet as he did here for a couple of assists for any long-suffering Roberts owners.
3. Euan Aitken – 90. Very close to spilling the ball for the opening try but just held on and dotted down in the second half for a solid showing from this uber-POD with just 200 owners. Before this, scores of 35, 39 and 35 hardly drew much confidence around him. But it's been a stop-start year with injury, maybe this is the confidence boost he needs himself to kick on. He has been decent before…
4. Charlie Staines – 94. Staines actually scoring well in a game we expected him to? Take me now I have seen it all.
5. James Roberts – 82. Parked on the wing, scoring two tries. As Anton put it on the podcast, maybe a simplified role for the Jet is what will do wonders for him.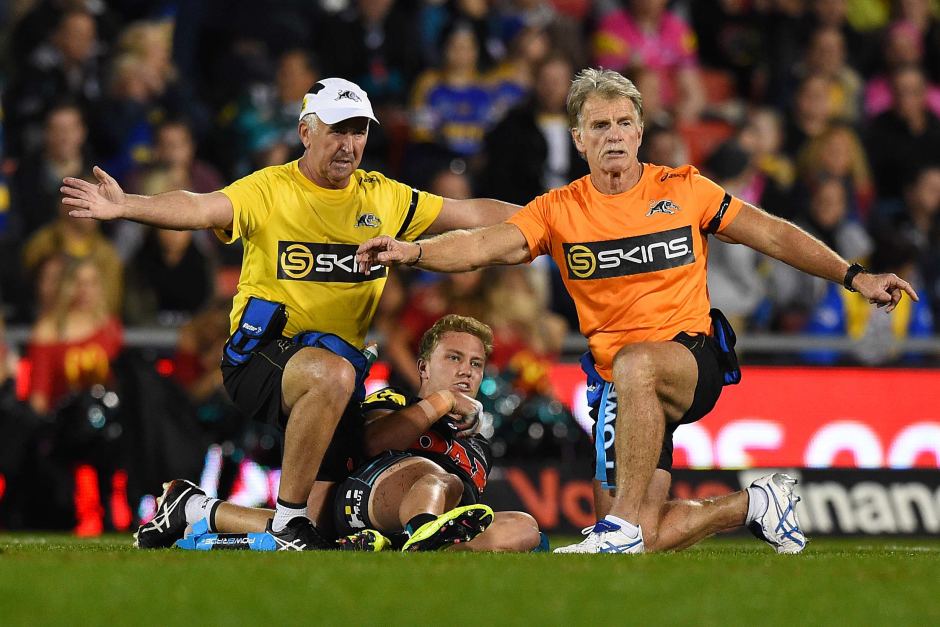 Injuries
Tyson Frizell – ankle sprain 2-3 weeks
AJ Brimson – bone bruising – 1-2 weeks
Josh Schuster – missed game with muscle strain – 1-3 weeks
Kurt Mann – missed game with muscle strain – 1-3 weeks
Corey Horsburgh – broken wrist – 1-2 months
Sam Walker – rested for a shoulder issue – 0-1 week
Payne Haas – MCL sprain – 1-3 weeks
Nat Butcher – ankle – 3-6 weeks
Brad Deitz – hamstring – TBA
Isaac Liu – eye – 2-3 weeks
HIA – Mark Nicholls, Lachlan Fitzgibbon, Ben Trbojevic, Mitch Dunn (failed HIA).
Suspensions
Moses Leota (1-2 weeks)
Ryan James (1-2 weeks)
Reece Walsh (1-2 weeks)
Mitch Dunn (1-2 weeks)
Luciano Leilua (1-2 weeks)
Adam Pompey (1-2 weeks)
Felise Kaufusi (1 week – challenging)
David Klemmer (2-3 weeks)
Tevita Funa (1-2 weeks)
Sean Keppie (1-2 weeks)