JT's Weekend Roundup – Round 11
Another wild week of SuperCoach scoring saw scores soar into the ridiculous once again, with this season looking more and more likely that we'll find multiple players averaging 100+ for the year. Nathan Cleary, James Tedesco, Ryan Papenhuyzen, Tom Trbojevic and David Fifita are odds-on on their current form to find themselves reaching that mark come round 25!
Elsewhere, it was actually a quiet one on the injury front this week, with just a scattering of minor injuries and failed HIAs. The charge sheet on the other hand? Huge. And obviously the big talking point as it's now starting to have a major impact on SuperCoach scoring. Anyone who traded in Victor Radley this week would have felt the brunt of that…
With just the one round to go before the all-important bye week, it's crucial to keep your eye not only on the field but off of it, as those million and one '*Insert former player*'s Origin Lineups' articles coming thick and fast and throwing up a few names we had hoped for selfish reasons would miss the cut. Do Cody Walker and Clint Gutherson get a call-up now? Jarome Luai and Brian To'o to keep their Penrith combination alive? Reed Mahoney now that Harry Grant is out longer-term? It's all happening!
The Weekly Top 5
Rockers– the 'SuperCoach-relevant' players who killed it
Floppers – the 'SuperCoach-relevant' players who killed your week
Shockers – the left-field players who will no doubt be high on the list of trade-ins the next round and prime candidates for SC players chasing last week's points!
Trade Fail of the Week – always good value.
Rinse and repeat from last week. Somehow Nathan Cleary is still finding himself in the trade out lists. What's going on? Some of the names he's being moved on for as well did not hold up too strongly this round. Sam Walker and Jason Taumalolo…oof.
1. Nathan Cleary – 190. Enough said.
2. Tom Trbojevic – 159. Tommy Turbo almost took it to Cleary for Rocker of the Week, with a late try providing a massive boost to this score, but not enough to overtake him. The ease with which he put this score up was incredible – there were multiple times during the game where a pass just missed the mark, a player just caught his bootlaces to trip him up, or a player got held up or dropped the ball over the line for what would have been another try assist. What a day out! Doesn't seem to matter whether it's Brookie or not, Turbo has come to play this season with his 5th ton in 6 games now. Touch wood those hamstrings make it through the rigours of Origin, but you'd suspect this week could be his last regular NRL game for a while with a 2-day backup against the Cows after Origin looming.
3. Nicho Hynes – 138. Third-string fullback in Melbourne. What a production line. Again, Hynes cruised to this score, with no tries to his name and just the two assists. His running game was lethal, with twelve busts, a linebreak and three offloads all from a huge 20 runs. Just wants the ball in hand. And it was his control that impressed most judges more than anything, with those assists and a deft forced dropout showing his value in the game. What they do with Papenhuyzen back, who is likely to get another month on the sidelines, is anyone's guess, but this guy's name will be showing up somewhere in the team sheet. For now, he's just yet another gun player skyrocketing in value that you hope you've already gotten on.
4. Reece Walsh – 129. In a season defined by so many ridiculous scores coming from fullbacks, it's one of the cheaper talents there that's doing plenty of damage as well. What a position – why don't we have 5 of them? Much like Hynes, Walsh is playing with a confidence well beyond his years and is putting on 3 assists any fullback would be proud of – notably RTS, who has shifted himself to the wing just to accommodate this kid. A swan dive into the corner for his try was a nice touch, as was the lack of recorded errors to his name by the end of the night. A couple of hairy moments early may have led to opposition tries, but for SuperCoach they don't count. If for some reason you haven't spent up big in both fullback spots, you hope you've got this name in there.
5. Valentine Holmes – 138. Speaking of fullbacks. Holmes won't play in Round 13 and so therefore has had plenty of eyes taken off of him. In the meantime, he's just steered himself to his first ton of the year courtesy of a huge 6 linebreak assists as the Cowboys carved up in the opening and closing stages of the game, and hasn't dipped below the 50 point mark since Round 1 – a rare showing of consistency available in your CTW spot. With those consistent scores not ballooning out, he's only been over the $600k mark once during the season. His only blemish of late (outside of the usual errors he's always had in his game) has been his goalkicking. He couldn't miss earlier in the season but hit the post twice on Thursday night. Fix that up and he'll move into genuine gun territory for the first time since that fullback stretch way back in 2018. For now, he looks likely to either score or provide an assist every single week. Good to see as a Cowboys fan.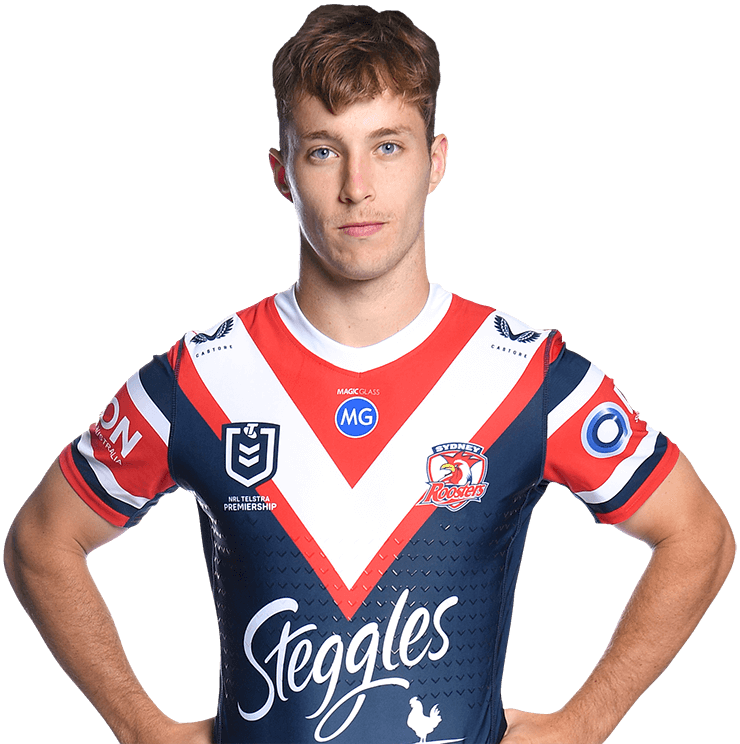 1. Sam Walker – 13. He was terrorised by TPJ all night and finally looked every bit the 18 year old, 70kg halfback who has played just a handful of NRL games now. Unfortunately for him, a couple of vital errors led to Broncos' tries, including one of those patented rainbow balls that found its way into David Mead's welcoming hands for a match-turning intercept try. Based on what we've seen from him so far, he'll bounce back from this setback. He did it mid-game against the Sharks a few weeks ago when things weren't going his way. He'll just need to do it without his usual enforcers in Radley and JWH who will simply have to curb their enthusiasm when it comes to defending, as it's costing them bigtime. This game will have stung with plenty eyeing him off for a big score against the hapless Broncos, including a few that would have even backed him in with the Captaincy armband, but he'll now have a few question marks on him given a huge loss of value after this game.
2. Jarome Luai – 41. Again, Penrith go ballistic and Luai plays a bit-part role in it. The scorers, it has to be said, were not kind to him after the washup of this game, with Luai credited with no assists but three try contributions. I thought at least one might go his way which would have made a big difference to this score, but not to be. Again, Cleary steals the limelight, and with an Origin callup looming, Luai is finding himself lost in the SuperCoach shuffle, fast. A late linebreak assist in this game was his lone attacking stat outside of a forced dropout. Even Cleary was providing the usual try assist to Brian To'o out on his edge in what was sure to have infuriated Luai owners and non-Cleary Captainers alike!
3. Damien Cook – 36. Much is starting to be made about Cook's quiet start to season 2021, with zero runs to his name at the end of this game and a couple of crucial errors while the Rabbitohs were on the attack in the second half. He is in desperate need of some confidence and might need an Origin spark to get there. Even now, his spot in the side is coming under scrutiny, with yet another Panther in Api Koroisau being floated there (why not just trot the whole lot out). To think we could be looking at a sub-$400k Cook for the first time in…a very long time. Crazy. Who'd be brave enough to back him in for the run home? The old adage of buy low, sell high may ring true if you have faith he can turn it around. No injuries…a decent pack around him…and now some fire in the belly from the media?
4. Mitchell Moses – 32. The track was more bumpy than flat on the weekend and it showed, with Moses going missing as Parramatta folded in a big game yet again. Caught on the last, three errors and just 4 runs for the game. Thankfully for him, he managed a linebreak, because this score was looking like being a very ordinary one from a guy who looks one of the few alternatives to the Cleary/Walker halves combination most are running with leading up to the byes. Owners and potential owners of Moses will be eyeing off a R13 meeting with the Knights as make or break for him. If he can't get on a roll there, when can he? I've backed in a sub-60 performance from him that week in a steak bet against Lakey and I have to say based on what I saw here, I'm a little more confident in that one now.
5. Victor Radley – 21. Dual position, $354k, getting starting lock minutes, playing for the Roosters, playing against the Broncos…what could go wrong? 2 sinbins, 4 reports and a near-send off late in the game saw this safe trade go up in smoke for his thousands of new owners this round. That he actually got to 21 points is pretty remarkable in itself, with a ridiculous 24 penalty/sinbin negative points and 20 minutes off the park to cool his jets. A player like Radley was always likely to get caught in the crosshairs given how close to the wind he sails with some of those shots. Like it or not, the shoulder connected with the head and he had to go on both occasions. It's now just going to be something we have to consider in the 'cons' column for a few of these players when thinking of bringing them in.
Honourable Mentions: Our boys in Staines, Saab, Simonsson and fkn Tyson 'let me get binned for doing something stupid in the final minute of the game' Gamble not getting the job done, again.
1. Matt Burton – 124. Hometown hero gets a hattrick in Dubbo. The Bulldogs (hopefully) have gotten onto a good one here.
2. Reuben Garrick – 128. Saab owners would have wished the attention was down the other end in this game. Garrick was on fire. Unfortunate timing for the halftime siren to be let off when you're midway through your goalkicking motion, though…
3. Lachlan Fitzgibbon – 93. Killing Barnett in SuperCoach and killing it in the scoring. Go away.
4. Luke Garner – 100. The unlikely hero found his way to the opening two Tigers tries. What a man.
5. David Mead – 89. Not going to lie, I did not expect Mead to get there when reeling in an intercept on his line to put the Broncos in front at halftime. The biggest shock of the week is that a backline containing both Mead and Dale Copley managed to get a convincing win. What a world.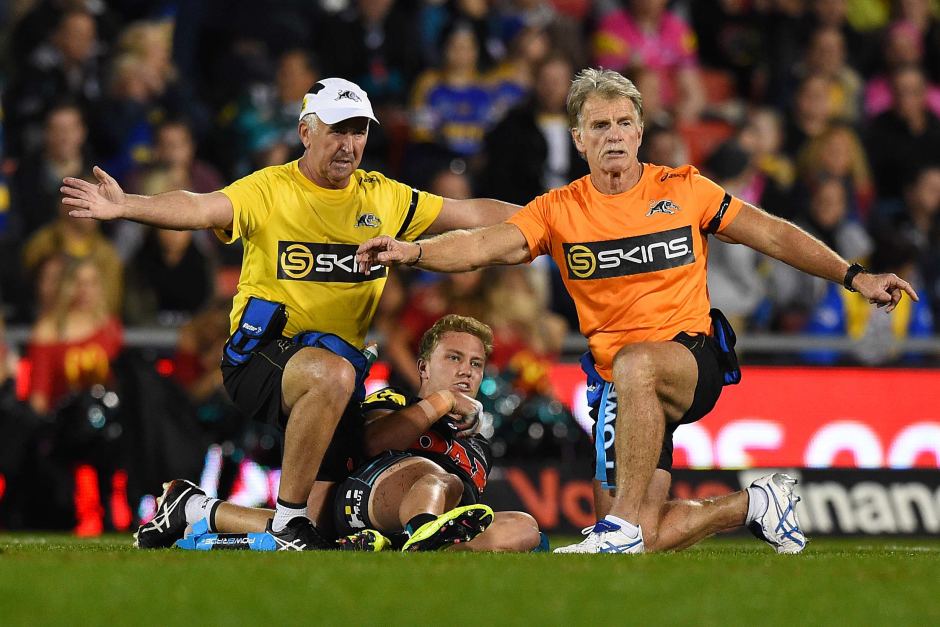 Injuries
Harry Grant – could miss 4 more weeks for hamstring injuyry
Ryan Papenhuyzen – still 3-4 weeks away with concussion
HIA – Francis Molo, Cody Ramsey, Jaiden Hunt, Max Feagai, Josh Mansour (failed HIA).
Suspensions
Victor Radley 4-6 weeks
Angus Crichton – 2 weeks (challenging)
Chris Smith 1-2 weeks
Sione Katoa – 1-2 weeks
Tyson Gamble – 1-2 weeks
Matt Lodge – 1 week
Mawene Hiroti – 1-2 weeks
Josh Dugan – 1 week
Josh Kerr – 1-2 weeks
Jason Taumalolo – 1-2 weeks
Lachlan Burr – 1-2 weeks
Kurt Capewell – 1-2 weeks
Regan Campbell-Gillard – 1-2 weeks