JT's Weekend Roundup – Round 11
This weekend's games were again largely played in pretty ordinary conditions which limited the scoring potential of a lot of bigger-name SuperCoach players. A few late shufflings of players to the bench caused some frustration over the weekend, but good players coming off the pine this year still seem to be putting up handy numbers. TPJ, Cotter and Matto were given the dreaded benching after being named to start, but pushed through with very nice scores.
Outside of that, the big news is obviously Tom Trbojevic and another luckless year for the superstar that's now ruined by injury. $756k is a handy amount of cash to splash around over the next week or so as teams try to replace him, but some shaky performances by fullbacks lately mean there are no cut and dry trades to be made.
With all that, the range of scores was around the 950-1100 mark. Not a disaster if you missed out, and not likely to have skyrocketed you too high if you were up the tall end of things. If you had a couple of those pesky Broncos outside backs, and a Will Penisini still floating around, that was probably enough to give you a green arrow come this morning.
Finally, while my SuperCoach week was on the wrong side of that spectrum, I've at least won myself a steak from Wenin courtesy of Teddy crawling to 67 points (65+ was the go) and the Cows putting the cleaners through the Storm for six in a row. Any Sydneysiders got a spare room in October?
The Weekly Top 5
Rockers– the 'SuperCoach-relevant' players who killed it
Floppers – the 'SuperCoach-relevant' players who killed your week
Shockers – the left-field players who will no doubt be high on the list of trade-ins the next round and prime candidates for SC players chasing last week's points!
Trade Fail of the Week – always good value.
Manic Minutes – a quick check of any minutes of interest across the round.
Poor old Dale Finucane can't seem to take a trick with his injury history, and his latest head knock looks like unfortunately keeping him out for a relatively extended period. With all that in mind, not sure why he had at least 15 tradeins this week, particularly for the likes of James Tedesco and Will Penisini who finally cracked a big game for owners. Hopefully Big Dale is on the comeback trail soon!
1. Selwyn Cobbo – 131. Moved to fullback for the first time all season and Cobbo continued his rich vein of form, piling on two tries and a huge four linebreaks. He looked lethal every time he touched the ball and had a season-high 22 hitup points. A massive $102k in price gains just this week as a result, and still holds a relatively-affordable pricetag if you're keen to jump on. I was waiting to see how he'd respond to the new role and he passed with flying colours. Admittedly, the Broncos (and Cobbo) were gifted a try through an awful decision in the second half and ran away as a result, but Cobbo put a lot of these points on prior to that. Great game.
2. Reuben Garrick – 100. Garrick's stocks don't necessarily rise now as a result of Turbo's injury, given Turbo usually provides him with plenty of points out on the wing, but a 70+ average in three games at fullback so far this season looks somewhat promising. Two tries against the Eels (scored while on the wing), some busts and offloads were enough to give him his second ton for the season (and second in three games). Goalkicking always adds a boost to him, but with Manly seemingly up against it due to these injuries, can you expect many of those moving forward? Personally, I'm looking forward to seeing how a guy like Schuster fits into the attacking shape of Manly rather than Garrick. Regardless, for the 10% of owners who already have him, bank another good score and move on.
3. Jarome Luai – 102. This is Luai's second big score in a row, following on from an 84 against the Storm at Magic Round. He's piled on three tries over that time which has definitely helped, but looks to have some confidence back after being a little passive to start 2022. A couple of forced dropouts (his first for the season) were a very nice boost, and he's now matched it with Cleary over the last three weeks as they start to share some of the pill around.
4. Zac Lomax – 93. Lomax has quietly gone about his business so far in 2022, not reaching any great heights but still managing to find himself 6th for points scored in the CTW position (and only 10PPG behind runaway leader and new CTW-dual Talakai who is fast dropping back to the pack). The tryscoring drought for Lomax broke this week, with a double and his first since Round 2. His best score before this was a R1 70, but all bar two of his scores this year have been below 50. Very handy floor to have in a volatile position.
5. Ryan Matterson – 91. A huge six offloads did more than enough to offset Matto failing to cross the stripe for the third time in three weeks. Another powerhouse outing despite coming off the bench. The minutes may have been helped along somewhat by an early Campbell-Gillard HIA, but he's been on an absolute tear for a while now so wouldn't read too much into that. A massive 63 just in tackles and hitups. Ticking all the right boxes, and expect to see that 7% ownership continuing to climb.
1. Cody Walker – 34. Nothing worked for Walker on Sunday afternoon in yet another disappointing outing for him and his side. Wild passes, ineffective runs, blowups with the opposition. Not leading from the front, and now continues an erratic few months with scores of 10, 44, 77, 99, 47, 86 and 34. Have no idea what you're going to get from him, but that game yesterday is exactly the type of game he would have comfortably tonned up on last year.
2. Siosifa Talakai – 43. The wheels have fallen off the train. Since that 165-point blitzing of Manly, he's failed to breach more than 50 points. It's a frustrating watch, as the Sharks are either failing to get him the ball enough, or the defence are just numbering up well on him whenever he gets it. The full head of steam in each of his runs are still there, but coaches must have clued onto a way to nullify him. Just one bust all afternoon, admittedly in the wet, and trudging off late with an ankle concern. Just when he becomes a dual 2RF/CTW, we might now be looking at moving him on.
3. Haumole Olakau'atu – 45. Very lucky to avoid a suspension coming out of the game and failed to make a real impact, with just 9 runs (6 below 8m) and no busts, the first time he's failed to land one all year. Was looking like matching it with the absolute guns of the 2RF world a while ago (as was Talakai), but may need a re-assessment after Round 13 if he and Manly fail to fire.
4. Cameron Munster – 37. Munster was supposedly battling illness during the week which could explain a pretty flat performance by his standards. Kicked the ball dead, just one forced dropout and an innocuous try contribution (what?) his only attacking stats for the week. He 'couldn't wait for next week' after Magic Round, but probably meant to say Round 12. Yeehaw.
5. Brad Schneider / Lachlan Ilias – 23. We're waiting patiently for a big score from these two but it's just not happening. Clogging up some valuable HFB/FE spots if they're still in your side. Schneider rarely seems to capitalise on the Raiders' attacking shape with Wighton getting all of the profits, and there's no shape at all to speak of for the Bunnies.
1. Hudson Young – 102. He finds himself in this list quite a bit each season. Three tries in four weeks now for a 5RA of 63PPG. Not groundbreaking but absolutely not the worst of late in the 2RF.
2. Will Penisini – 97. He's been a comfortable hold for the 40% who still own Penisini, and just goes to show it can pay to have the floor, rather than the flash, in your SuperCoach CTWs. There was some definite flash at least this week for him, with just his second try for the year, 8 busts and two offloads.
3. Jordan Riki – 96. You forget he's an 80-minute backrower with a bit of attacking spark about him sometimes, until he pulls a game like this out.
4. Shaun Johnson – 96. Did I see a wild Shaun Johnson taking the line on and scoring? Scenes.
5. Cody Ramsey – 94. This guy had 'avoid' written all over him after some poor performances on the wing and an average of 25'ish in a couple of games before this at fullback. No idea where the spark came from, but it was a masterstroke to move him to fullback by Hook. A try, an assist and a couple of linebreaks in a day out for the still-cheap ($279k) CTW/FLB…
A couple of late shufflings of team lists (just another day) meant some concern heading into the games, but some interesting results coming out of the weekend for minutes.
Ryan Matterson (65) and Josh Schuster (33) were on the pine to begin the match but came on within the first 15 to relieve their teams of respective HIAs. While Matto was kept on for the rest of the game, Schuster was subbed back off before coming out for the final 20. Fair to say they had contrasting fortunes while out there. And interestingly, Isaiah Papali'i (70) was given a ten-minute breather midway through the second half.
I was keeping an eye on newly-promoted starter Royce Hunt (33) who tore it up for the Sharks with his usual high impact game, but could only beat his previous-best minutes this year by just 3.
Some big minutes for the Bunnies' Bench Brigade as a result of the early HIAs to Milne (25) and Tatola (1), but most would only have been looking at starters Trent Peoples (80) and Jai Arrow (64) for SuperCoach relevance. Cam Murray's impending early return could sting Peoples owners moving forward. Same injury story for the Cowboys after losing Feldt (15) and Lolo (26) in the first half, with the benched Reuben Cotter (58) having to play through illness in another big stint. For the Raiders, Xavier Savage (40) was given fullback duties after Charnze Nicoll-Klokstad's (40) hamstring strain.
Max King (50) got through plenty of gametime for the Dogs after being promoted to starting lock, but didn't really capitalise. First stint was 29 before playing the final 21. Similar story for the Raiders' Adam Elliott (42) who was originally 18th man before coming into the side for the injured CHN. Tevita Pangai (56) had a much-improved outing this week despite the game-day benching. The less we talk about the benched Kelma Tuilagi (16), who played a couple of minutes as an HIA replacement early then relieved Luciano Leilua (65) late, the better.
In the hooking stakes, the rotation of Woolford (26) and Starling (54) continued, while Jazz Tevaga (51) provided plenty of impact in his new starting hooker role.
Finally, some handy minutes by some usual suspects. Tohu Harris (71) played his second game this season and more than doubled his time on the park from last week. Moved to lock to start the game and playing mostly through the middle, it wasn't a flashy performance but good to see the motor is still there. Payne Haas (61) was back to normal, Klemmer (51) was big once again despite shaving a few minutes off the 60s he's been averaging of late, and Mitch Barnett (80) put his second full game in a row together on return from suspension.
.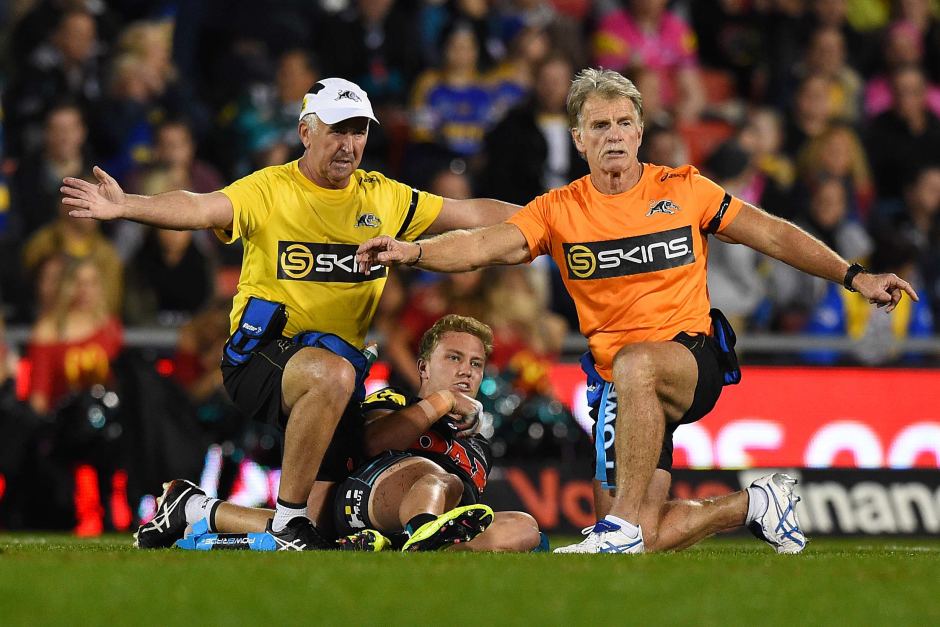 Injuries
Phillip Sami – Knee – TBA
Siosifa Talakai – Ankle – TBA
Teig Wilton – Leg – TBA
Charnze Nicoll-Klokstad – Hamstring – TBA
Bradman Best – Elbow – 4-6 weeks
Addin Fonua Blake – Foot – TBA
Kyle Feldt – Knee – 6 weeks
Jason Taumalolo – Knee – 1-2 weeks
Tom Trbojevic – Shoulder – Season
HIA – Tatola, Milne, Twal, Liddle (did not return).
Suspensions