JT's Weekend Roundup – Round 10
Magic Round has come and gone and it's fair to say there are a couple of talking points coming out of it. Notably for the wider NRL, it's the crackdown on contact with the head that saw a ridiculous 14 players binned and 3 sent off in the space of 3 days. Then for the SuperCoach world, we were left in awe by the ridiculous 225 put up by Nathan Cleary on the hapless Titans on Sunday night to cap off the weekend. The new SuperCoach record holder. It ensured yet another round of massive scores in the game and ensured people would vow never to use the VC loophole again.
Elsewhere, Tyson Gamble (another victim of the crackdown) put up a paltry 8 points to take the sting out of his massive expected jump in price, the twin fullbacks of Teddy and Turbo delivered for owners, poor Papenhuyzen got knocked into next week just after laying on a try assist to infuriate owners who have patiently held on, and Nicho Hynes continued his remarkable rise up the NRL rankings in what is looming a huge contract year for him.
And of course in a week when everyone decides to move Fifita on for Isaiah Papali'i, he puts up his worst score of the year. The fact that hitting 50+ is considered an ordinary week for him just goes to show how quickly expectations have risen for this dual FRF/2RF beast.
The Weekly Top 5
Rockers– the 'SuperCoach-relevant' players who killed it
Floppers – the 'SuperCoach-relevant' players who killed your week
Shockers – the left-field players who will no doubt be high on the list of trade-ins the next round and prime candidates for SC players chasing last week's points!
Trade Fail of the Week – always good value.
That Nathan Cleary had any tradeouts this week at all is a real head-scratcher. Not only that, but some of the names on this list…Troy Dargan and Brock Lamb? What's doing.
1. Nathan Cleary – 225. Enough said.
2. Nicho Hynes – 182. Such is the ridiculousness of scores this week that almost any other season, no one would be topping a 182 point game in the same week. Must have been something in the air on Sunday. An incredible 5 try assists, a try contribution, 6 busts, 3 offloads, two linebreaks, 4 linebreak assists and 13 hitups in total. His only blemish was his 1/4 goalkicking record for the afternoon! What a wild ride of an afternoon – initially shuffled into 5/8 for the returning Papenhuyzen, spelled briefly for an HIA, then playing at fullback for the whole time the Dragons were down to both 11 and 12 men. It was a recipe for disaster for the Dragons to try and defend that. What a pickup he has been for anyone who did a few weeks ago when he was first thrust into the FLB spot. Now very expensive for those wanting some bye week coverage.
3. James Tedesco – 131. After a very uncharacteristically low run of scores, it was only a matter of time before Teddy launched back to his best. The less said about his involvement in Burr's sinbinning and subsequent 5-second HIA on the sidelines from this unimpressed Cowboys fan, the better, though. The score was racked up without a single try to his name – just plenty of quality work in his 17 runs to help set up a couple of tries and prove very difficult to tackle outside of defenders using their stomachs…
4. Tom Trbojevic – 119. Since playing his first game in Round 6, Turbo has now put on a ridiculous 5RA of 123. Four tons in five games! A couple of tries to his name pushed him to this score, and for SuperCoach you do have to enjoy the way he brings an air of confidence to this Manly side that severely lacked it in the first month and a half. Is Jason Saab really the same player? The sides he has put to the sword so far have been the Titans, Tigers, Warriors and Broncos who are probably not in the 'tough' realm of the NRL draw, but outside of Parra this week, Turbo won't play a top 8 side outside of the Dragons (and look what Hynes did to them this week) until Round 20. Scary.
5. Angus Crichton – 119. This was Crichton at his best here and given this is his first ton for the year, it's been a while since we've seen it. This year he's had a tendency to go much lower than normal, including last week's 39, but we know he has this game in him. Two tries was great (one with a linebreak)v but tackle and hitup points totalling 60 is an even better sign. When you couple that base with the offloads (2) and busts (5) we know he can put on, it's the kind of clinical effort that made him such a no-brainer selection in 2RF to start the year.
1. Brian To'o – 34. What a weird turn of events. If you're to tell me the Panthers put 48 on the Titans and To'o doesn't clear 35 before this game you'd think for sure he'd been taken off the field or fell victim to the sinbin crackdown. Not without his moments during the game, including one near-miss try called back for an obstruction, and did always look dangerous carrying the ball, but the work was done through the middle by the Rocker of the Week.
2. Jarome Luai – 23. As above. When your halves partner is absolutely killing it, it can be hard to find a groove of your own which is what happened here. Normally the Cleary/Luai duo tends to go large at the same time, which is why such a low score comes as such a surprise. An error, a penalty and a bunch of tackles and not much else from Luai. Again, watching this game, those stats don't tell the full picture, with Luai close to an attacking stat or two. But for whatever reason, that right-edge defence of the Titans just held firm. Their middles and left edge? Not so much. And that's where Cleary struck.
3. Tyrone Peachey – 27. Top Three floppers from the one game in a 48-12 rout. Strange. For Peachey, he had some very ordinary moments in this one including a double missed tackle on the same player that ended up leading to a try for Cleary, and was taken off the field for an almost half-hour stint, which is the same as his last two weeks before this one and not a good sign for his scoring potential. When he came back on, he played dummy half to close out the game where his running game is blunted – just 8 for the evening. And his tackling? 7 missed for the night. In desperate need of a bounceback against the Dogs at home this week.
4. Sio Siua Taukeiaho – 24. His 35 minutes here were his lowest from a non-injury affected game all season. Has been easing his way back in off the bench for the last three weeks but jagging an attacking stat every now and again to help inflate his scores over the 50-mark. Not so here – literally just all base. I was keen to hold until last week when it appeared he wouldn't be getting a starting spot for a while and had lost the goalkicking to Sam Walker (who missed 3 this game anyway). His price has dropped to $445k and a BE of 88 this week should mean a further decline. If he can win back the starting role and the goalkicking he'd be a must-have post-R13, but if he's just coming onto the field midway through the game and punching some runs and tackles out, probably not going to see him in a lot of sides again.
5. Blake Ferguson – 21. Somewhat of a mixed bag for me in this game. I had just brought in Matto, who found the ball at regular intervals thanks to the debuting Jakob Arthur, but I also still own Fergo, who basically caught a cold out there with neither Waqa Blake or Arthur bothering to look right. Now with a 5RA of 45 while Sivo on the other side has one of 77. Is it Fergo's turn in the limelight sometime soon?
1. Adam Doueihi – 114. Not even a shift to centre could hurt him here. Lakey and I watched on in disbelief at the game as everything the Tigers did well seemed to go through this guy's hands. I guess Madge must know a thing or two about rugbaleeg.
2. Reece Walsh – 100. Some people use poorly managed rosters like the Bulldogs as evidence that expansion just won't work. On the other hand, you have a guy like Walsh (and Walker, above) who has finally gotten his start and hasn't looked out of place in the slightest. Building with confidence every week, and the Warriors desperately needed his injection into the game off the bench in this one when they briefly mounted a comeback. There would be a stack of good, young players who could round out an expansion side in this game who are plying their trades in the lower leagues. Focus on them, rather than on the poorer sides who would stink up the competition if it were down to just 8 teams anyway.
3. Reagan Campbell-Gillard – 94. This is somehow not even his highest score of the season, despite two tries in the space of 3 minutes! Going all the way back to Round 3, he nabbed a 97 against the Sharks with a try and even rarer try assist combination…
4. Mikaele Ravalawa – 136. His previous best was a 65 this year. Then goes on and puts a hattrick on while playing in a 12-man side, against the Storm. Who admittedly had injuries, but you can't tell me anyone saw that coming…
5. Jason Saab (100)/Charlie Staines (72). Loved your work on my NPRs yet again fellas.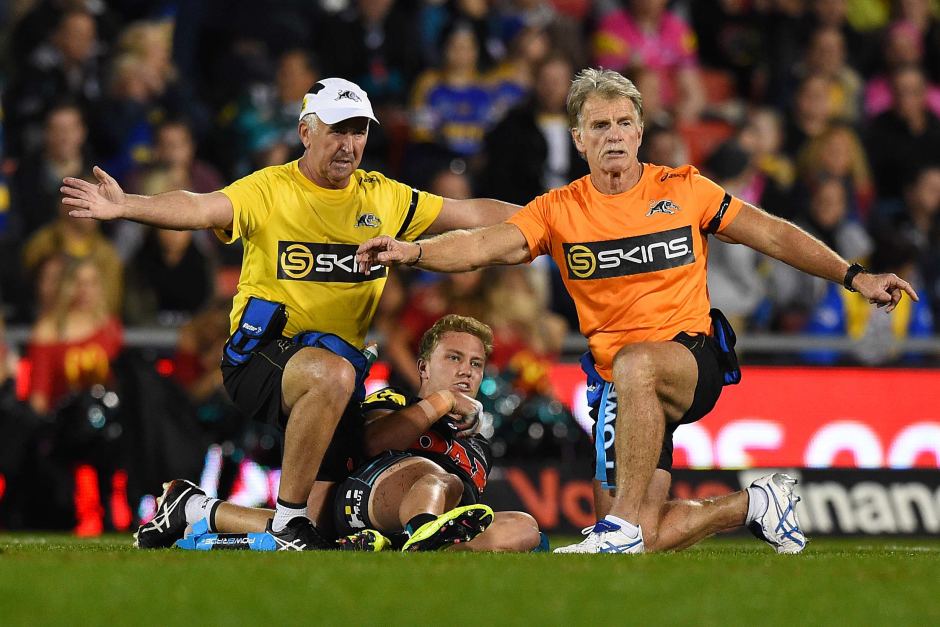 Injuries
Matt Dufty (Shoulder – 2-6 weeks)
Tyson Smoothy (Knee – TBA)
Josh Curran (Elbow – 1-8 weeks)
Mitch Moses (Foot – 0 weeks)
Kieran Foran (Hand – 2-3 weeks )
Hymel Hunt (Hamstring – TBA )
HIA – Ryan Papenhuyzen, Ryley Jacks, Andrew McCullough, Rocco Berry, Coen Hess
Suspensions
Josh Papalii – 3 weeks dangerous contact
Jack Wighton – 1 week dangerous contact
Josh Hodgson – 1 week dangerous contact
Jordan Riki – 2 weeks crusher
Josh McGuire – 5 weeks dangerous contact
Tyrell Fuimaono – 5 weeks high tackle
Mikaele Ravalawa – 2 weeks shoulder charge
Tyrone Peachey – 2 weeks crusher
Herman Ese'ese – 3 weeks high tackle
Tariq Sims – 1 game dangerous contact