JT's Weekend Roundup – Round 10
Another Magic Round has come and gone and apart from a few crowd mishaps and dodgy Friday & Saturday weather, was another cracking weekend. On the SuperCoach front, there were some huge upsets that resulted in a lot of popular players going unders this round. Not sure whether you blame some of that on the weather or, in the case of Turbo, niggling injuries that the coach is choosing to ignore.
With the arsenal of attacking weapons across Manly, Cronulla and Melbourne going very poorly, it puts this week's average around the 1050 mark. If you cleared 1100, give yourself a pat on the back as you move forward to a hopefully more normal Round 11. If you didn't have a great week, the gap between the top was hopefully not large enough to see you falling too far down the ladder.
Finally got to see the Cowboys get up at Magic Round but the way the crowd was baying for Alex Twal to score at the death down my end almost had me supporting the Tigers for a brief moment. There's nothing like the sea of different NRL jerseys getting around in the one location each year. Even saw a Toronto Wolfpack, Catalans Dragons and London Broncos' jerseys throughout the weekend for some added international rugbaleeg flair. Get around it in 2023 if you've never been before.
The Weekly Top 5
Rockers– the 'SuperCoach-relevant' players who killed it
Floppers – the 'SuperCoach-relevant' players who killed your week
Shockers – the left-field players who will no doubt be high on the list of trade-ins the next round and prime candidates for SC players chasing last week's points!
Trade Fail of the Week – always good value.
Manic Minutes – a quick check of any minutes of interest across the round.
There's not following the late mail during the week, then there's not even following the Team List Tuesday news. With big Cam Murray out for the short-term and with Origin looming, the time was right to move him on. The time was not right for SuperCoaches to begin trading him in, as they did with the likes of Isaiah Papali'i (1 SuperCoach) and Payne Haas (12). But there you go.
1. Isaiah Papali'i – 113. IPap had another huge game and notched his second hundred in the space of a month, both courtesy of a two-try outing. In the last fortnight, he's broken 14 tackles and thrown three offloads and looks at his destructive best. Plenty of ball was shifted his way during this game, particularly when Parramatta were mounting a late charge. And how's the big unit charging through as a support runner off of Moses' hip that led to his first try? An all-round gun.
2. Mitch Moses – 106. With Parramatta needing plenty of spark at different times throughout the game, it was Moses who stepped up to deliver. Normally he's nowhere to be found when the going gets tough, but a couple of very nice plays launched the Eels back into it. The kick and chase for himself to score was one of the plays of the weekend and after making just one run in his last two games (yes, that's correct), he ran 6 times here with most of them ending profitably. He's shed half of his owners since Round 6 when he was at his peak, and while this one game shouldn't have players falling over themselves to bring him in, it at least eases the holders' pain a little while.
3. Joseph Manu – 91. Another big score for Manu who has been a little inconsistent this season, but when he's on, he's on. Set up a try, busted nine tackles, threw an offload, made a linebreak and set two up. His hitup count isn't normally too high and it wasn't here, with just 10 runs all game, but the quality is there. Manu's relatively quiet run of late actually saw him shed $15k here with a high breakeven, but as he gears up for the Round 13 bye week against the Raiders where he will likely play fullback (and where he always kills it), he should be coming into serious consideration. A game against Penrith will be a good watch this week for non-owners.
4. Reuben Cotter – 89. With every week, Cotter plays himself well and truly into Origin contention. How's the dummy to absolutely no one on his long-range break downfield and just breaking the tackle to score anyway, his first-ever try? Elite prop things. Most impressive has been Cotter's fitness, with another game over the hour mark here. He doesn't play like a traditional prop, taking hitups every set, but he's heavily involved in defence (34 tackles here) and 21 hitup points to add to that shows a handy base for the dual 2RF/HOK.
5. Cody Walker – 86. Three good games out of four from Walker who is nowhere near his best but still doing enough against ordinary opponents to profit for SuperCoach. He had bottomed out a few weeks ago, and is still $139k off of his starting price, so there's still a long way to go for him. But at least the try assists are back. Three of them here as he extends his streak of try-assist games to five. Given he didn't get one until R6, that's a nice return. Normally his kicking game is relatively top-tier close to the line, but this week marked just his third forced dropout of the season. The bigger question now becomes just what happens to his game when Latrell gets back. There's a case for regression, with Latrell often taking the TS from him (as most fullbacks do during sweeping plays), or he reinvigorates the Bunnies and Cody plays off the back of that. For now as an owner, I'll take these points.
1. Tom Trbojevic – 23. Turbo is clearly not 100%. Maybe not even 50%. Imagine being outscored by Ethan Bullemor. The hitup count for Turbo was way down on his previous efforts, with just 12 of them on Friday night, and just two busts when he normally makes them for fun shows there's definitely some issues there. The Broncos did turn up defensively the entire night and Manly did themselves no favour, but games against the Eels and Storm to follow will be huge tests. A 166 breakeven, that tough run, Origin coming up and of course the niggling injuries will make Turbo a comfortable watch for non-owners (for now), and a nervous one for those that bought in this week.
2. Jason Taumalolo – 24. Shows how far the Cows have come in the space of a few months. If Lolo was taken off 31 minutes in and didn't get brought back on last season, Todd Payten would be pitchforked out of Townsville. This year with the game relatively in hand in the second half, Lolo was given the rest of the night off after his first stint, which was okay by his standards but nothing too special. Just seven runs and a bust all night. It's fair to say he'll be needed a hell of a lot more in games against Melbourne and Penrith coming up, so owners just need to grit the teeth and move on. Couple of down games lately, coinciding with me trading him in. Sorry.
3. Xavier Coates – 8. Don't worry, Coates owners. The last time he put two awful scores back-to-back, he then notched 239 points in two weeks. Hold fire. Just six runs all night, none above 8m. Ooft.
4. Tevita Pangai – 32. What was doing with the 45 minutes here? This was just his second game all year without an effective offload, which makes some sense given the terrible conditions this one was played in, but when has that ever stopped TPJ throwing caution to the literal wind before? It was just not his night, with plenty of penalties and errors meaning there wasn't a lot of running chances. Just 7 hitups all game which is his worst return all season. Tough to get a read on him this year. Maybe a new coach might change something up.
5. Siosifa Talakai – 34. Shoutout to the Unpopular Opinion of the Week man in Mattmobster who called this poor run a while back. Since utterly destroying the Manly side in the first half of Round 7, Talakai has since put on only one try contribution (no assists), broken 14 tackles, thrown just one offload and hasn't broken the line. The Broncos, Warriors and Raiders were meant to be opposition he would comfortably score big against, but it just hasn't fallen his way. It's as if the Sharks intentionally go away from him in attack. Fair play to Big Bad Bradley Schneider who defended very well against him all afternoon despite the size difference. In fact, most of the centre/halfback pairings he's faced since that Manly half have defended him tremendously. Hurts for SuperCoach.
1. Ryan Matterson – 107. A 3RA of 90 for a guy bumped back to the bench in favour of Shaun Lane this year. No one saw that coming. How's the 2,201 owners who are sitting back laughing all the way to the bank. A couple of tries have helped which won't always be the case, but Matto is involving himself in base a hell of a lot more than he had been at second row, so maybe he's worth some genuine consideration.
2. Izack Tago – 105. The drought well and truly broke for Tago this week, after many SuperCoaches had decided to cash in and use his money to fund some expensive players elsewhere in their side. I'm sure I wasn't alone in keeping him on the NPRs this week against the Storm.
3. Marcelo Montoya – 102. Two tries and a try assist. The first ever ton for the big man.
4. Taane Milne – 104. Normally right-wingers are surplus to requirements for the Bunnies but that was shelved this week as Milne went on an absolute tear. Each backline player went well, which is unfortunate news for Isaiah Tass who will now just sit on the extended reserves waiting on another bevy of injuries.
5. Peta Hiku – 87. How many 'licences to roam' has Payten given out? Hiku floating across the field to throw a cutout ball to Taulagi was not something I had pencilled into the playbook. His first try of the year as well. For the 8000 owners who have held on – well done. I actually had to play him this week through injury, so one of the few things to go right this year!
Let's kick off with a look at some of the more popular SuperCoach players who are coming off the bench for us. Despite Adam Elliott being a late scratching, Tom Starling (52) continues to come off the bench for the Raiders, with Zac Woolford (38) getting two stints during the game, including moving Starling into the forwards while he provided the linebreak from dummy half that led to the Raiders' matchwinning try. Elsewhere, Ryan Matterson (55) continues to provide quality in his time on the field. In three of his last four games, he's come off the bench for at least 50 minutes. Against tired forwards, he's finding a lot of value out there.
In a similar role, Nat Butcher (59) found okay minutes off the pine but nothing much to show for it with just 48 points. And I was duped by the weather on Friday night and played Max King (26) who ultimately played his worst minutes for the season and notched just his second score below 40 all year. And finally, Tohu Harris (29) made a long-awaited return to the field and looks to be getting eased back, moving to the bench on game day. A few more of those will have him very interestingly-priced once the Warriors return across the ditch.
In his return from injury, Payne Haas (56) played through the first 30 minutes and got back out there to close the game out for the final 25. Good signs given the game was over by that stage and Walters could have taken a precautionary stance and rested him.
In Cam Murray's absence, Jai Arrow (80) saw out the entire game, helped along by a very early injury to second-rower Jacob Host (2) which gave more time to Havili (42) and Knight (37) off the pine. And with the Knights' own injury problems, David Klemmer (60) continues to profit and looks a very interesting (well, safe) candidate in the front row.
Some strange unders for Tevita Pangai-Junior (44) who didn't handle the wet and Josh King (56) who has been stepping up to play big minutes in the Storm pack this year. With Tui Kamikamica (32) making his return over the weekend, this may be a sign of things to come for Jing.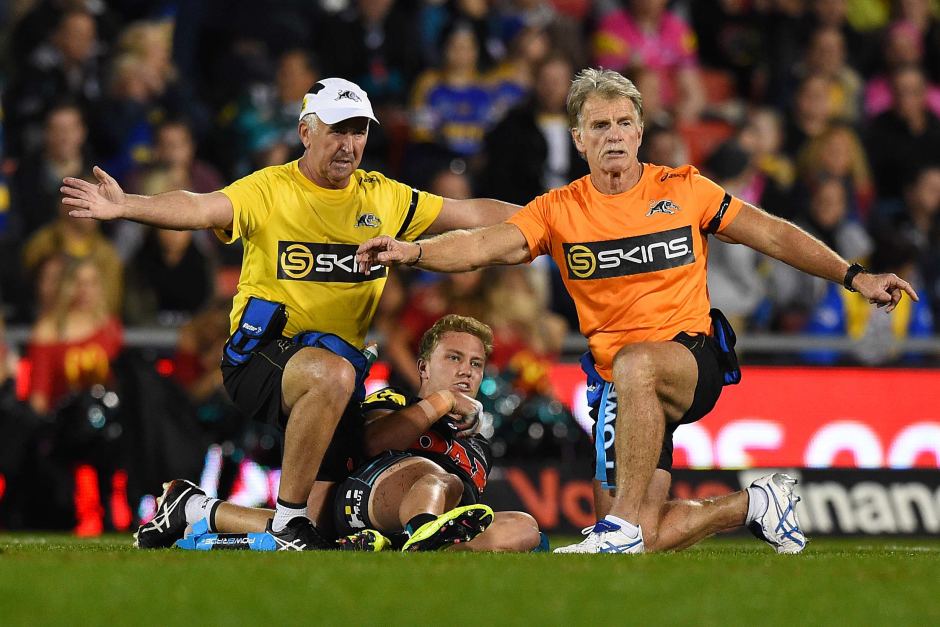 Injuries
Victor Radley – Ankle – TBA
Luke Brooks – Hamstring – TBA
Jack Williams – Shoulder – TBA
Josh McGuire – Groin – TBA
Jacob Host – Shoulder – TBA
Ben Trbojevic – Shoulder – TBA
Te Maire Martin – Hip – TBA
HIA – Dale Finucane, Corey Waddell, Jake Simpkin, Lachlan Fitzgibbon, Sitili Tupouniua (did not return).
Suspensions