JT's Weekend Roundup – R5
It was a round where a lot of big name players went large, with the likes of Dave Fifita (107), Nicho Hynes (116), Kotoni Staggs (107) and Joey Manu (104) putting on masterclasses to reward owners for their faith or for being savvy enough to jump on. Some of the games this round were very tight, either due to both team's scrappiness or for the high quality of the game, which meant scores could be fairly up and down across the board.
For me, they were mostly down, with an 877 way off the mark and meaning I'll be in SuperCoach ladder freefall this week! I checked my phone during the Manly/Knights opener to see my guy Dom Young on a solid 40 with the opening try, only to check again later and see not only did they take the try off him, but Young injured his knee in the process and wouldn't return. That summed up the week!
Well done to all who notched a score well into the 1000s as most did – anyone who zigged away from Papenhuyzen as captain this week was well-rewarded (unless it was to Tedesco). Papy's 39 was very flat in an otherwise decent-scoring SuperCoach game for his Storm. Just one of those rounds unfortunately!
The Weekly Top 5
Rockers– the 'SuperCoach-relevant' players who killed it
Floppers – the 'SuperCoach-relevant' players who killed your week
Shockers – the left-field players who will no doubt be high on the list of trade-ins the next round and prime candidates for SC players chasing last week's points!
Trade Fail of the Week – always good value!
Manic Minutes – a quick check of any minutes of interest across the round.
We spoke about it on the SC Report this Tuesday, but anyone trading out Taylan May this round had rocks in their head. The only explanation was they saw the police charges and thought he might be done for. Not to be, he stepped on the park and was straight back into the thick of things. So not sure what to make of the 10 or so tradeouts he had against his name this week. Much less to the likes of James Roberts, Siliva Havili and Sua Fa'alogo. None of whom actually played this week. There goes a lot of cash, much less points, for those former owners. Yuck.
1. Joseph Manu – 104. Manu has been on absolute fire these last few weeks, scoring a 75, 118 and now this 104 that will see his price skyrocketing towards the $700k mark shortly. He's always had these sorts of games in him when playing at centre, but far too inconsistent. This year, he looks powerful with every run, is commanding the ball (and getting it) frequently and the attacking stats are flowing. With a run that looks very tantalising coming up, anyone wanting to jump on will have to break the bank to afford him but he looks unreal. Two tries, seven busts and 35 base points. Huge.
2. Kotoni Staggs – 107. Touch unfair to put him behind Manu but his team ultimately lost so gave it to the Rooster. For Staggs this was the game we had all hoped for but most had lost patience for. While there was the occasional sign of life in his first month, the half-breaks never amounted to much and he had far too many errors in his game. On this night he might just have gotten the confidence back. A huge 14 busts, a try and never-ending nightmares for poor Paul Momirovski who had to mark up on him. One downside was 5 missed tackles but he's not there for his defence. Is this the start of the run?
3. David Fifita – 107. A handy 30 unicorns dropping in updates for Fifita who looked his usual quality over quantity self in this game. Finally opened his tryscoring account for the year and just decided, rather than wait for the ball to come his way, he'd just pick it up and stroll over from dummy half from 40m out. Mammoth run. This game's been building for a long time.
4. Nicho Hynes – 116. Hynes and Will Kennedy ran the show for the Sharks on their way to a 6-try thumping of the poor old Tigers, and he was given ample opportunity on their line to continue to notch attacking stats. A couple of try assists and even a 40/20 went into his scoresheet this week, along with 3 linebreak assists. Only downside so far this year for Hynes has been his somewhat wayward goalkicking. With the Sharks scoring lots of points out wide, he's had a lot of tough kicks. But you can't complain with that sort of score at the end of the day.
5. Euan Aitken – 94. Both Aitken and Curran benefitted from some woeful Cowboys defence on Friday night on their way to a couple of tries, with Aitken just pipping his lock teammate by a couple here. Aitken punched out almost 60 points in base this game and looked very solid, with this just his second try of the season. The scores haven't been massive before this round, but he's a very safe set-and-forget in your CTW this year.
1. Cody Walker – 10. Walker looked like he was bouncing back to some semblance of form with a couple of tries leading into this game but was absolutely nowhere to be found during this game. His price has freefallen $150k since the start of the year and he'll lose a ton after lockout's over again. It's a worrying sign for Walker as he normally just finds a way to inject himself into a game with his running, but he had only two friggin' runs all game. Don't know what it will take to stir him up but he will be in the $400k's before we know it.
2. James Tedesco – 28. Normally a game at Suncorp against the Broncos has a Teddy carveup written all over it, but this was a strangely ineffective outing. Just two busts and an offload is about all Teddy had to show for his game. It's been a strange season so far for him. He hit a 32 in the opening round before notching a 3RA leading into this game of 79. Can't imagine he stays down for too long but five weeks without a ton? It's a strange old year.
3. Viliame Kikau – 34. This score will inflate with a few offloads but it does just highlight the rollercoaster that is Kikau and his SuperCoach scoring. He now has three 80s, a 30 and this score to come. It's a wild ride but if you only look at total points across the season, he'd still be one of the best-performing 2RFs. Nothing really went his way and the Luai/Kikau combination wasn't clicking throughout the night.
4. Jeremiah Nanai – 30. This week might be time to get off the Nanai express with his 100 against the Broncos dropping out of his average and a big price drop looming. This is now three scores of less than 40 for him this season and his missed tackle count (6) was only one lower than his total runs tally. Needs to find a way to inject himself into the game a bit more as the catching of kicks to score tries will only take you so far.
5. Xavier Coates – 15. A safe play I thought to bring him in this week with his price on the rise and playing very well in this Storm outfit. Of course he then proceeds to cough up an abysmal score courtesy of just 9 runs (6 below 8m), some missed tackles and an error. I don't think it was any coincidence that Papenhuyzen's quiet game contributed to the low score here as the two have been combining very well to start the year off. Just move on to next week I guess.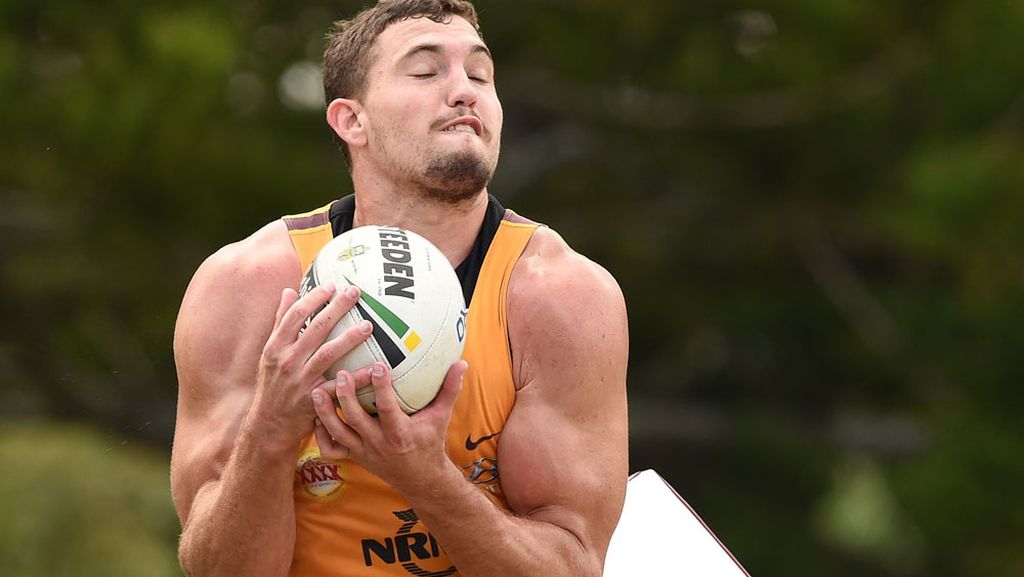 1. Corey Oates – 102. Three tries and just one error. I should have gone for this Coates, not the Melbourne one…
2. Scott Drinkwater – 94. Despite being one of the worst defenders in NRL history, Drinkwater finds a way to score SuperCoach points relatively regularly. In one game, he has comfortably outscored the Hammer who has a PB this season of 60.
3. Keaon Koloamatangi – 98. Three scores in the 40s, an 86 and now a 98. When this guy scores he goes massively.
4. Brad Schneider – 65. Like Ilias last week, Schneider is getting more comfortable by the week despite his rookie status. In a tough matchup against the Storm, he somehow cobbled this score together despite no real attacking stats. On a flatter track, which he'll get this week against the Cowboys, he looks like a genuine play.
5. Matt Eisenhuth – 64. Shoutout to Lakey for selling me this guy a few weeks ago. Who'd have thought I'd just need to wait a little while before he got a random try assist.
Dom Young (20)'s injury forcing a reshuffle and allowing the likes of Chris Randall and Kurt Mann (both 80) to profit.
While AFB had a shocker in-goal to gift the Cows a try, his 47 minutes was a handy return from injury. Good to see Josh Curran (80) kept on the park all game and play mostly at the more-profitable lock spot. For the Cows, Taumalolo (63) is always the focus and had another hour-or-so stint (not including golden point), while a guy I've slept on a little bit in Reuben Cotter (49) had his best game of the year despite minutes that were slightly down on the 59 he's averaged this year.
Some of the bigger names continued to get solid stints. Payne Haas (70), Harry Grant (69), Josh King (68) and Cam Murray (65) didn't play the full 80 but owners can't complain about those minutes. One big name who had a very quiet stint was Brandon Smith (36) who looks all over the place with his time so far this season. Was taken off a couple of times in this game before playing the final ten for Grant.
TPJ (80) and Kikau (80) both got the full game out there and had somewhat contrasting returns. Pangai built off the back of his 70-minute effort last week and if he can somehow manage to keep these minutes up looms a very genuine play at FRF. Of course, Isaiah Papali'i (80) looks to have more of a hold on those full-80 games, but both of them don't look like letting you down.
On the cheapie front, some slightly down weeks were handed to Max King (34) and Talatau Amone (25) who came off the bench once again. Amone was the definite tradeout this week but a late try assist will stop a little bit of the bleeding. Some eyes as well on Kobe Hetherington (41) who was starting lock for the Broncos but wasn't given much of a stint at all out there.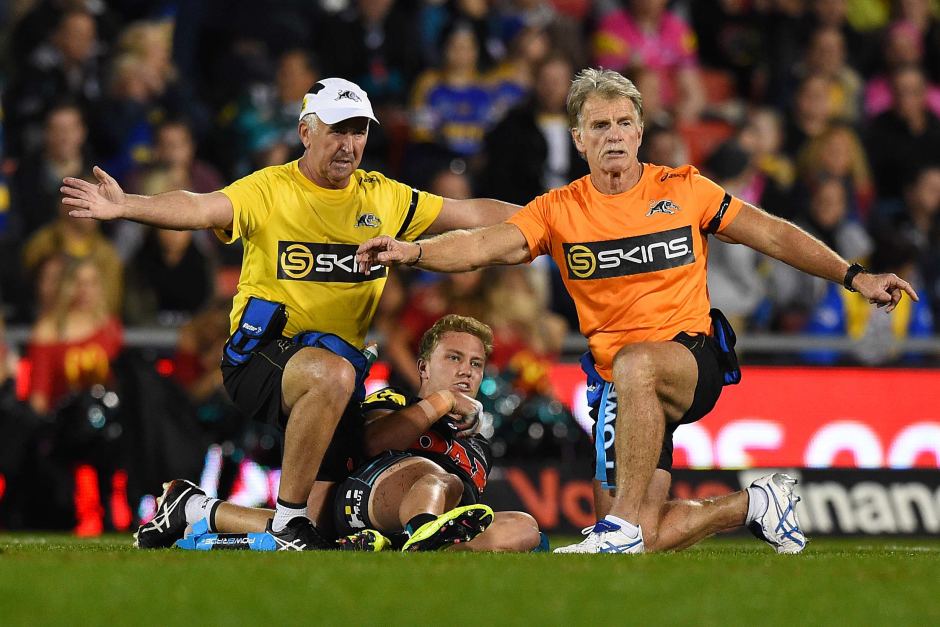 Injuries
Latrell Mitchell (Hamstring – 2-4 weeks)
Waqa Blake (Knee – TBA)
Dom Young (Knee – TBA)
Hudson Young (Toe – TBA)
Matt Timoko (Back – TBA)
Jirah Momoisea (Elbow – TBA)
Marty Taupau (Neck – TBA)
HIA – Griffin Neame, Nat Butcher (did not return)
Suspensions
Joseph Paulo – 1-2 weeks
Marcelo Montoya – TBA