JT's Weekend Roundup – R2
Round 2 got a little bit back to normal as some of the more usual suspects got their years kickstarted, but it's fair to say that there are a lot of genuine guns who have genuinely misfired to kick things off. It's left owners scrambling for the Trade Boost button early on as they rush to patch the sides of some very leaky SuperCoach boats. The early rounds in SuperCoach can often be misleading, and as the cream rises to the top, so will the scoring. There aren't many still believing that it will be to the same level as last year, though.
Mikaele Ravalawa had by far the biggest drop in points between weeks (86) while Nat Butcher (73) shot up the right way to be the biggest improver, with the Roosters showing last week's debacle against the Knights was just an aberration. Great news as well for Teddy owners with him looking every bit the superstar his pricetag suggests he is.
Tom Trbojevic is owned by 20% of SuperCoaches who will no doubt lost plenty of sleep over that call, with a poor showing this week sending his breakeven skyrocketing into the stratosphere (307!!!). If you never trade him out, the price drop is irrelevant for you, and maybe that's the way to go if you back Turbo in to be the next gun to kickstart their year with a game against (an admittedly improved) Bulldogs next week. In a year where the midrangers appear to be the way to go, maybe it isn't such an urgent call. Looking forward to seeing how this plays out during the week!
Finishing the round with 996 boosted me back up into the Top 15k. If you managed to crack 1000 you've done very well for yourself. Anything less than 900 means you have some ground to cover, but it's early days and it's only a good captaincy call or two away from climbing back up that ladder.
The Weekly Top 5
Rockers– the 'SuperCoach-relevant' players who killed it
Floppers – the 'SuperCoach-relevant' players who killed your week
Shockers – the left-field players who will no doubt be high on the list of trade-ins the next round and prime candidates for SC players chasing last week's points!
Trade Fail of the Week – always good value!
Manic Minutes – a quick check of any minutes of interest across the round.
Wasn't hard to find many head-scratching trades after just one round, but straight away on Thursday night I came across a few belters. Melbourne's Cameron Munster was a huge trade in this week given he'd had to cool his heels on the sidelines for a week to open the year. Why you would then buy him to start the year only to trade him out the week he's playing, much less for the likes of Billy Walters and Keiran Foran, beats me.
1. Harry Grant – 92. Grant launched himself straight back into the thick of things with a big two try-assist effort in a 77-minute effort out there. So much happens around Grant and unlike a lot of hookers, who pick and choose their runs very selectively, he just gets out and does it. If he averages anywhere close to the ten runs a game he notched here, he'll be in this list very, very regularly. Welcome back. Unfortunately his goalkicking left a little to be desired, so Papenhuyzen should have that role back permanently from now on…
2. Viliame Kikau – 87. Kikau backed up a good week last round with another great score here, helped along by two first-half tries including a rare one off a charge down. Two tries, two offloads, a linebreak assist. He doesn't do things in base, he just does it in attack. He got a boosted 72-minute stint this week courtesy of a few injuries (JFH and To'o). He will be a rollercoaster throughout the year with a flat score just around the corner, but the heights he's reached so far seem dizzying compared to some of his counterparts in the second row.
3. Nicho Hynes – 101. Another remarkable effort from Hynes who has wasted no time fitting right into things at the Sharks. He nailed the conversion that mattered after having gone 0/3 leading up to the post siren winner, and was in everything good the Sharks threw up out there in a solid win. A forced dropout, try assist, try contribution, five busts, three offloads and three linebreak assists. It was a massive effort and helped notch just the second ton by a half in SuperCoach this season after Jahrome Hughes' last week. Almost 20% of SuperCoaches own him at the moment and they'll be sitting very happily.
4. James Tedesco – 84. It didn't take long at all for normal service to resume, with Teddy causing the Manly defence plenty of nightmares out there. Three forced dropouts and three offloads, he had the ball on a string. 15 runs is another good showing but his workrate was never in question. Who knows how things turn out if he gets awarded that opening try last week?
5. Tyson Frizell – 80. An interesting name to see up on the list this week, and it could have also gone to his teammate Dane Gagai who has the highest average over the first two rounds (94). Nonetheless, Frizell wins this one out given his competitive position and big minutes each week. The catch off the chip kick for the Knights' second try was miraculous, but his floor even without that try (55), backing up from a good base game last week, is what prospective owners would want to see. Where Kikau might have the higher ceiling, Frizell looks a genuine play in a Knights side that is due plenty of cavalry back in the weeks to come. 16 runs last week, 17 this one. That's huge involvement for an edge forward.
1. Tom Trbojevic – 39. Not surprising to see him up here and all the talk will now be what owners do with him this week. There'll be plenty of analysis coming your way on that one this week but for now let's focus on this game. Just two busts and one offload, the same as last week. He'd notch that in his opening run last year. In fairness, he has come up against some pretty decent defensive units, and it goes without saying that flatter tracks are where he and the Sea Eagles really shine. Whether other teams can match the numbers, linespeed and intensity they've shown against Turbo remains to be seen but it's clear he needs to be doing more than just playing the sweeping fullback role on plays out wide to rack up the points. Only one error in his opening two games suggests it's not just bad luck causing these low scores.
2. Ethan Bullemor – 20. Bullemor was kept out there for 80 minutes last week (might have been because Karl Lawton got hurt very early) but then got only 32 minutes here. With the clock already ticking with Josh Schuster due back, it was not a good return. Nothing was going right for Manly while he was out there and given he had a mistake-free outing (no missed tackles, no errors) it was a strange rotation. He won't set the world on fire but that's a dreadful return.
3. Cody Walker – 17. Another horrible week for Cody Walker who looms as a big tradeout target this week. The Bunnies didn't spark to life until late in the game but it wasn't much of Cody's doing. With another tough assignment against the Roosters this week, few will be brave enough to keep him around at his huge pricetag. He ran the ball just three times all game this week, contributed one try contribution and put up 4 errors. Yuck.
4. Stefano Utoikamanu – 29. What could have been for Stefano. He barged his way over midway through the second half for what looked a simple try, only for the Bunker to intervene and rule that there'd been a little bobble while getting it to ground (exact same thing happened with Kotoni Staggs later in the day – 60 point turnaround for me there!). Terrible minutes (39), minimal output (only 6 runs) and only one tackle bust and no offloads across his opening two weeks. Where's that trade button.
5. David Fifita – 54. The Latrell Mitchell of the second row struck again here. Outside of one spectacular cutout ball for Greg Marzhew, Fifita was barely sighted out there. Runs are down, attacking stats are down and he didn't even finish the game out there. Of course with Fifita these games can arise every now and again, but it's been two weeks now where a terrible score has been salvaged by one moment of brilliance during the game. Being out on the right edge has hurt both his and Angus Crichton's output so far this season, as their respective teams turn all their attacking plays to the other side of the field. There are probably more pressing issues to fix in your SuperCoach sides this week but Fifita will have plenty of owners ready to jettison him.
1. Nat Butcher – 114. A bench forward coming on and nabbing two tries. Have to love that.
2. Jeremy Marshall-King – 100. I swear he finds his way into this list randomly at least twice a year. JMK barged over for a go-ahead try early in the second half to notch a rare ton.
3. Herbie Farnworth – 84. Sparked the Broncos to life in the second half to get them over the line, but SuperCoaches want to see that from the other Broncos centre…
4. Wayde Egan – 80. He has scored in both games and now averages 66. What a start to the year in this game.
5. Peta Hiku – 76. Last week he was in this list courtesy of somehow being the highest tackle buster of the round, this week he gets there because of his ridiculous try assist where he managed to lay a boot on a ball that had gone to ground and had it sit up perfectly for his winger. Outside of that one piece of play, the rest of his game was littered with random stats like an intercept (5 points) and a forced dropout. A very solid two weeks but surely that's not going to keep up…
Plenty of cheapies racked up some handy minutes over the weekend, with Max King (63) and Josh King (37) notching handy returns as a result of some decent time on the park.
There were also some interesting movements from last week. On the upswing, Cam Murray (68 – excluding golden point) and Viliame Kikau (72) made good on some increased time on the park, with Kikau's a result of a few Penrith injuries during the game and Murray a result of being benched for the early part of the game and brought on to play the remainder afterwards. As an owner, that was a little concerning but maybe that's the sweet spot for him after all. For now, it looks as though Jai Arrow (71) has a bigger role to play under new coach Demitriou, so he's worth some serious consideration. Josh Curran (73) also continued to show despite the conditions that he has a huge motor on him.
Harry Grant (73 – excl. GP) actually ended up beating out Damien Cook (65) for time on the park this week, which is somewhat of a surprise but again emphasises why he's almost a must-have for this year.
That is probably where the positives end for a lot of the guys we're keeping a close eye on.
The Roosters' rotation was a bit of a mess this week, with Connor Watson (43) initially benched before coming off with a shoulder injury, and Lindsay Collins (26) not utilised much at all. It allowed Shocker of the Week Nat Butcher (62) to pinch plenty of time out on the park. In the same game, owners would have been left very frustrated with Ethan Bullemor (32) looking like every bit the trap many had labelled him as pre-season. Benched in the first half for Andrew Davey who was then replaced by Sean Keppie, with Bullemor riding the pine the rest of the game. At least Haumole Olakau'atu (80) is being shown a great deal of faith.
Speaking of frustrated owners, maybe it was cramp, but David Fifita (64) coming off after another limited effort was a big concern. And Jason Taumalolo (53) looked a little better running the ball than he did last week but it's still not the hour mark that many thought he would be getting. Maybe next week? Cowboys teammate Heilum Luki (23) looms as a sell after an underwhelming stint off the bench.
Finally, Sunday's games fell a little flat on the minutes front for a lot of key players, with Kelma Tuilagi (52), Stefano Utoikamanu (39), Tevita Pangai (50) and Payne Haas (61) all on the low side of things. Tuilagi's was especially disappointing as he looked quite dangerous out there in a well-beaten Tigers side, and was replaced by Seyfarth who did little to improve the defensive structure out there. This was due to a failed HIA, so hopefully the 70-minute stint we saw last week returns.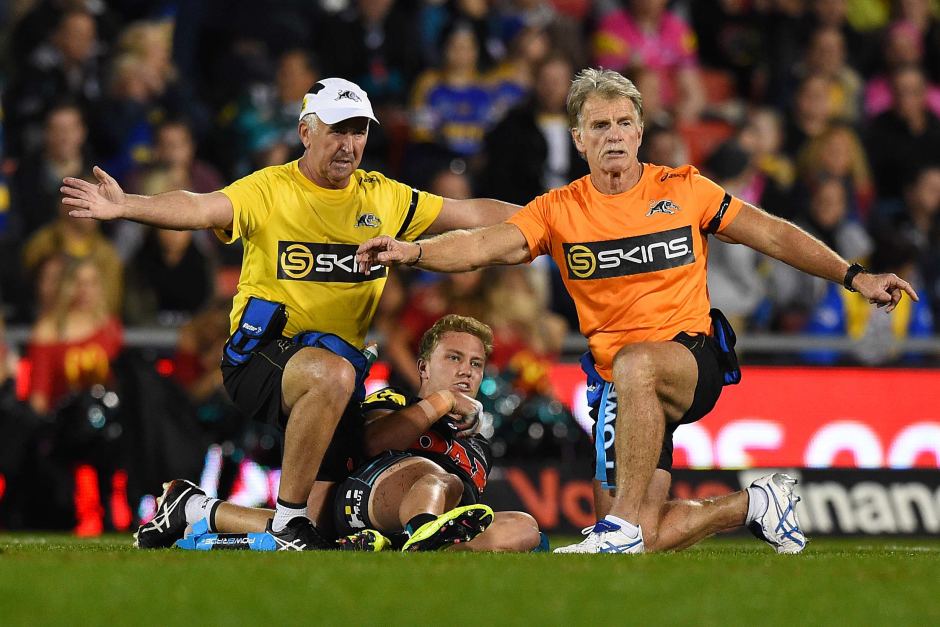 Injuries
Lachlan Fitzgibbon (3-4 weeks) – knee
Brian To'o (6-8 weeks) – knee
Andrew McCullough (2-3 weeks) – elbow
Nic Cotric (2-3 weeks) – quad
Kalyn Ponga (0-1 week) – knee
Connor Watson (0-1 week) – shoulder
Mitchell Dunn (Season) – ACL
Joseph Manu (0-1 week) – knee
James Fisher-Harris (0-1 week) – shoulder
Mitch Moses (0-1 week) – quad
HIA – Josh Kerr, David Nofoaluma, Jordan McLean, James Schiller, Ken Maumalo, Joe Ofahengaue (all returned), Sitili Tupouniua, Isaac Liu, Ronaldo Mulitalo, Kelma Tuilagi, Jack Bird, Dylan Walker (did not return)
Suspensions
Teig Wilton (1-2 weeks)
Jackson Hastings (2-3 weeks)