JT's Weekend Roundup – R18
Round 18 was a wild ride from start to finish.
We had Origin players dropping like flies after a rare Queensland win, games being moved interstate and timeslots changed at the last minute, HIAs, injury carnage, massive scores, disappointing flops and we have to somehow find a heap of spare trades to run us out for the next 7 weeks! We could be in store for some major headaches coming our way if this week was anything to go by.
At least moving forward we head into some semblance of normality, with no more Origin interruptions and players back with their NRL squads for the charge to the finals.
On the field in Round 18, the scores were massive, but it was probably a case for many of what could have been. If you held off until the last game of the round to play your captain, the returns of Cody Walker (given three try contributions by the scorers – tough markers!) and Alex Johnston (69 (lel) after coming off injured) left a bit to be desired. As did the inexplicably low-scoring game of Shaun Johnson. Tohu Harris owners were cheering at the sight of him being named back in the starting side far earlier than expected, but his early ACL injury was a devastating blow. Angus Crichton was benched, then came on and scored a try in a convincing performance backing up from Origin. If you were like me, following the late mail on Saturday meant that I'd moved the reserve from Crichton to Tohu and that clearly didn't work out! And how about poor Kalyn Ponga getting a very early HIA. Rough luck.
Personally, a 1378 was a pretty healthy return, but I'm also in the 'what could have been' boat with Jarohme Hughes, Alex Johnston, Campbell Graham (all off for an early shower through injury/HIA), Shaun Johnson (shite) and Tohu (ouch) in my side! A long way off the eventual round winner, who clocked a 1,756 with captain Hynes and five other century-makers bringing it home for him!
Elsewhere, Nicho Hynes continues to destroy his opposition and his breakeven target for the week in another incredible 166-point effort. With a game against the Cowboys this week, owners will be hoping the precautionary measures being placed around Ryan Papenhuyzen's return continue for just a little while longer.
The Weekly Top 5
Rockers– the 'SuperCoach-relevant' players who killed it
Floppers – the 'SuperCoach-relevant' players who killed your week
Shockers – the left-field players who will no doubt be high on the list of trade-ins the next round and prime candidates for SC players chasing last week's points!
Trade Fail of the Week – always good value!
We are often reminded how important it can be to make your trades as late as possible in the week, particularly during an Origin-affected week where players can be pulled from games at the last minute. Unfortunately, while it wasn't the last minute when James Tedesco was ruled out this week, the 100 or so new owners of the Ted would have been very red-faced when seeing the red cross next to his name on Stilesy's late mail Twitter post this week. In a daytime game against the Cows, that timing couldn't have been worse. Always beware pulling the early trigger!
1. Nicho Hynes – 166. Almost the perfect night. 8 goals from 8, a try, three try assists and three linebreak assists, a linebreak, 30 hitup points and even a forced dropout and an offload for good measure. The only blemishes were three errors to his name but that mattered little. After owners were fretting at the sight of a very high breakeven a few weeks ago, Hynes ended up making $40k in R18, sits at $843k and has a breakeven of 44 now courtesy of 270 points in his last two games. Sometimes it just pays to be patient and ride out the possible price drops for a guy who is delivering this many points. Papenhuyzen's return is imminent, but it really begs the question where they will move Hynes to. Surely you can't leave him off the park for long stints given the way he's playing, but is there even space for him as a utility?
2. Ryan Matterson – 135. Bounced back in a big way here. Before this week, his formline was looking a little patchy, with some nice scores surrounded by a fair few mediocre ones. Against the Titans, he finally found his offload again, with a huge 24 points coming from them. A couple of which led to linebreaks. The $10 I chucked on him to score a try in this game looked in jeopardy after he was somehow held up over the line in the first half, but he found himself eventually dotting over after backing up a slick play on the right side.
3. Adam Doueihi – 154. A huge five try assists against the Broncos and a very welcome return to his more preferred halves position. There are some handy games looming for Doueihi and his Tigers in the run home, and this game brings him back into the frame in a massive way for a POD 5/8 if you have spare trades (anyone?). It's a stacked position with Cody Walker already there, but Doueihi goalkicks which is a huge plus. All this said – this season has shown that we often need to just scratch any score a player puts on against the woeful Broncos from consideration. Whether that's the case for Doueihi, we'll have to wait and see what happens against Manly this week.
4. Corey Harawira-Naera – 124. Another week for a 2RF bounceback game. While Matto outscored him courtesy of his own try, CHN beat him in a lot of other areas. 7 offloads, 8 busts (Matto somehow only had 1!) and a try assist. CHN has been very reliable this year, and just had a quiet game last week for 44 against Manly, but everything finally clicked here. It's his first ton of the season, and based on the way he played, may not be his last. The Raiders have now won two in a row and with a bit of form, a player like CHN could benefit massively.
5. Cameron Munster – 115. Could have put a few other players in this spot here, with the likes of Olam (124), Ikuvalu (123), Walker (120), Gutho (110) and Reece Walsh (98) all scoring massively, but I've gone Munster for the way he's flown under the radar this season. Before this week, he had just the one ton to his name which is a little surprising given how well Melbourne have been playing. In fairness, he's played just the 4 NRL games since round 9, but has now gotten through the arduous Origin period unscathed. With a good run home and the cavalry returning, it's hard to see how this goes for Munster from here on. Do the likes of Harry Grant and Ryan Papenhuyzen take points off of him, or do they provide the catalyst for Munster to keep building his try assist column? Against the Knights, he had just one of them, and a try of his own, but had 5 offloads (by far his most for the year) and 20 hitup points, his second-most for the season. When Munster is running the ball like that, he will always score well.
1. Shaun Johnson – 17. A lone try contribution and a forced dropout were his only attacking stats for this game, in a match that should have been a little more open for a guy like SJ than it turned out to be. Brayden Trindall really is killing him at the minute. He got the try assist. He has taken the goalkicking. Please come back and save us SJ owners, Matty Moylan.
2. Kodi Nikorima – 20. He has absolutely fallen off a cliff in the last fortnight. After he was benched for the start of this game, his score could have been horribly low were it not for Tuivasa-Sheck having to leave the field for a nasty HIA about 15 minutes in. One of those bye week trades that just blows up in your face. Again just horribly uninvolved, with only three runs to his name to close the game out and not much coming off the back of them.
3. Isaiah Papali'i – 54. The Eels took advantage of some foul play by the Titans to bench Papali'i early on in the game, before benching him for the last 15-odd minutes of the match as well once it was well in hand. There wasn't much for Papali'i to do out there, with a lot of the attacking plays happening in the first half when he was either not on the park, or on the other side to where the action was happening. I'll put my hand up for this low score (by his standards) as I've just bought him in for the first time all year. Just one offload and two busts is very, very low for him based on what he's done all season. Usually those stats flow with every hitup he does. Or at least that's what it has looked like as a non-owners all season!
4. Jason Saab – 11. No Turbo, no Saab.
5. Tohu Harris – 6 / Kalyn Ponga – 9. Rough to include them on this list given their respective injuries, but the scores will not hurt any less for owners. For Tohu, it's particularly horrible news with him now facing an extended time off the park after rupturing his ACL. For Ponga, it's a reminder for SuperCoaches that he will be a risk in the run home (no matter how good that is) with his propensity for head knocks so far in his career. Only 32 minutes for Ponga this week before being taken off the field.
1. Josh Schuster – 96. One week too late for most who had held onto him hoping for a Round 17 return, but he was an absolute star out on the field and looked like he'd missed no time at all. What a player he looks like becoming.
2. Matt Lodge – 115. What a couple of weeks for Lodge owners. First he moves over the ditch (well, to the Central Coast, and then back to Brisbane) and suits up for the bye week, then he pulls out his first-ever ton. Courtesy of a great offload try assist and courtesy of the Warriors having nobody on their bench to replace him and meaning he pushed out a huge 80 minutes.
3. Viliame Kikau – 95. His highest score since Round 2 and a double. The type of output I'd hoped from him when I brought him in about three months ago!
4. Drew Hutchison – 119. As a Cowboys fan, I obviously didn't want to see any Roosters going massively (they basically all did), but great to see Hutchison come back so strongly after such an awful injury earlier in the season.
5. Xavier Savage – 114. Maybe it was out of necessity, but a huge round of applause to anyone who backed cheapie Savage into their starting side this week after his flop of a score a week prior. On the bright side if you had him on your NPRs, he will make a stack of cash now. Hopefully you've got the trades to take advantage! Great game from the three-game rookie.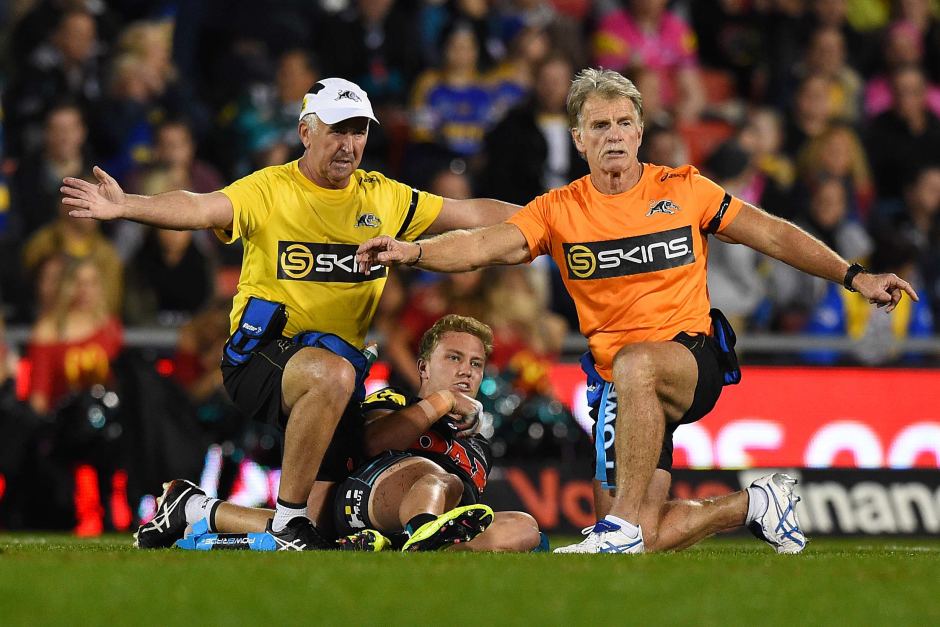 Injuries
Tohu Harris – ACL – season
Wayde Egan – Shoulder – season
Rocco Berry – Hamstring – 2-4 weeks
James Fisher-Harris – Neck – TBA
TC Robati – Leg – 0-1 week
Alex Johnston – Hamstring – 2-4 weeks
Javid Bowen – ACL – season
Jacob Saifiti – Ankle – TBA
George Jennings – Knee – TBA
Jahrome Hughes – Calf – 1-2 weeks
Jack Wighton – Ribs – 0-1 week
Philip Sami – Ankle – TBA
Jamal Fogarty – Hand – 2-4 weeks
Karl Lawton – Back – 0-1 week
HIAs: Roger Tuivasa-Sheck, Campbell Graham, Liam Knight, David Klemmer, Kalyn Ponga, Dale Finucane,
Suspensions