Deanie's Captains Calls – Round 2
What a first round! It started badly for all who captained Turbo, then really didn't get much better for Teddy and Little Pappi owners either. Just a tough week in general for all except for my brother's team "Noodlemantra" who put down 1040 points. Amore Farti bro! Round 2 is nearly upon us. Thursday night Latrell v Little Pappi, Walker v Munster. Friday night it's Turbo v Teddy, Saturday Hynes v Moses and Sunday TPJ v the Bronco's. Surely gets on report! Below are the Captain's calls for Round 2.
Latrell Mitchell (FLB) – $721k
After serving his suspension from taking Joey Manu's head off in Round 24 last season, the beast Latrell is back and starts at fullback for South Sydney. Mitchell can start his first game of the season like he did in Round 1 in 2021, where he played the Storm and went for 117. His 2021 season was a mixed bag. Averaged 82 for the entire SC season. Had five 100-point games in 2021 and eight DNP's, 5 of these were suspensions. He's a super pod at present at only 2% owned. Against the Storm his PPG is well down at only 53PPG but I just feel Latrell is ready to take off and show the competition that he is one of the best players in the competition. Mitchell will be amped up for his first game of 2022 if he controls his inner beast mode, links left and right with Cody and takes kicking duties, he's a definite shout out as a captain choice for Round 2.
David Fifita (2RF) – $745k
The Big D Train David Fifita, he polarizes people each week. Such a high ceiling player in the SuperCoach game. In the article last week, I said he was a player to avoid as naming captain. He scored 60 points so yes, I got one of my shout outs correct, however this week I'm aboard the D Train – toot toot! I watched the Parra v Titans game closely and it staggers me that Fifita barely touched the footy in both halves and still posted a score of 60. Crazy! He is up against the Warriors and it's worthy to note only averages 52 against them. The warriors leaked points, yes they scored some points but looked ordinary. Fifita will terrorise the Warriors on Saturday afternoon, just needs to see more ball go his way and also he needs to go looking for it and get more involved. Holbrook tell Brimson and Sexton just give him the god damn ball and as Peter Moody says let fast horses run fast!!
Jack Wighton (5/8) – $413k
The 2020 Dally M Player and Clive Churchill medalist in Round 1, looked to be back to the kind of football which made him the best player in 2020. His running game seemed back, was running to the line, making tackle busts, setting up tries and scoring one to boot. It was a dominant performance by the five-eighth. Owned by currently 5.3% of teams, up against a Cowboys team which displayed a real willingness to win a game of footy, but they struggle to score points. At Qld Country Bank stadium, Wighton has only played twice scoring 59 and 35 respectively. This Saturday night, Wighton goes bang and puts on a clinic in front of the Cowboys faithful. Sorry Gerry, no W for the Cows but enjoy the free black rats!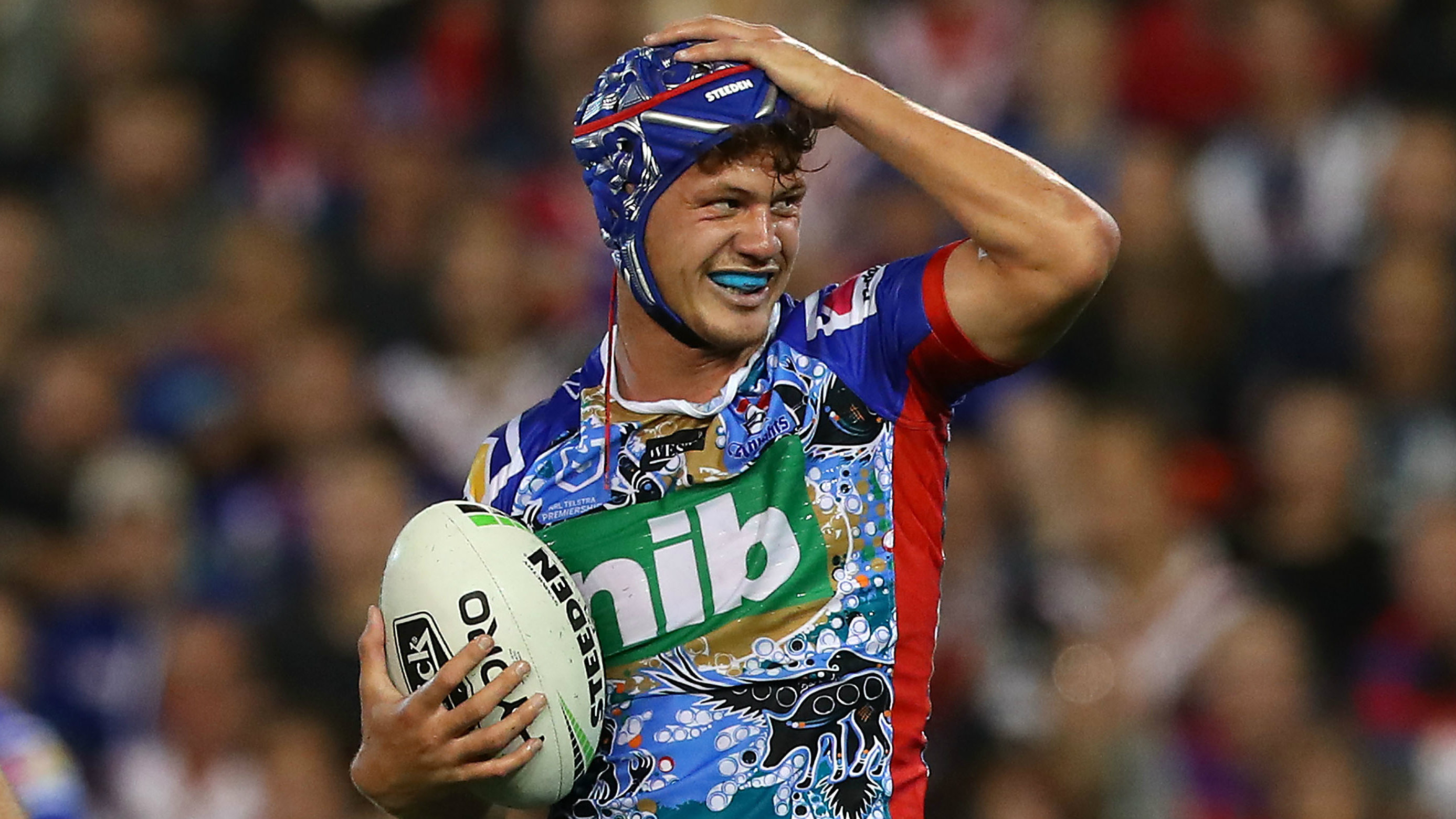 Kalyn Ponga (FLB) – $600k
A current POD and owned by 7.5% of team's in season 2022, I saw enough on the weekend to go out on a limb and say Ponga can lay one down against the Tigers. Let's be honest, none of us saw this Knights performance coming against the blue-chip Roosters outfit. The Knights played great footy and were dominant in most facets of the game. It's well known Ponga's scoring average has been on the decline over the past two seasons. In 2020, he was averaging 80 PPG and at the end of the 2021 season his PPG was 68. However, his highest score in SC was against the Tigers back in 2020 where KP put down 172. If the Knights perform and play like they did against the Roosters, they will skin the Tigers alive and KP will be a major beneficiary of this and go large.
Mikaele Ravalawa (CTW) – $498k
Well done to whoever had Mikaele Ravalawa starting in their sides last week. It's fair to say no one saw that coming last weekend. Bagged 3 tries and scored the highest overall SC score for all players with 119. Interesting, 1.8% teams have added Ravalawa into their teams so far this week. Why? Chasing points? Buying to sell in a few weeks' time? He's a trap this week and I would not be naming him captain nor would I put the VC on him either. The Dragons are up against the Premiers and the Premiers sent chills through the rest of the competition in the opening game of the season where they completely dominated Manly and dominated all Turbo owners! Ravalawa and the Dragons will struggle to score tries in this game. I see Penrith doing what they do best and that is stop teams and win games. I'll say Ravalawa does not score a try in Friday night's early game and comes back to earth with 30 odd points.
Deanie's Bold Selections
This week my bold selections are for David Fifita and Jack Wighton to collect a double, Ponga goes over 100 points and lastly Ravalawa doesn't score a try and scores below 28 points in the game. Good luck to everyone this weekend and enjoy Round 2.