Cheapie ChitChat – Round 3
It's final call for most cheapies this week as their prices will start to change at the end of the round and some of them are in for some hefty price increases. For most of us, this week is one of the most important as we make our final changes to our team to make as much cash as we can.  Last week we covered a majority of the cheapies, this week we will focus on who you really need, who to avoid, the ones to watch plus there are a couple of new kids on the block to discuss. Get your trades right this week and your team will be well on its way to SC glory. Whether your focus is on overall or head-to-head competitions you will want to make the right trades so sit down, relax but most importantly, take your time…. just like @CatfishSC's manscaping routine. Let's rip into it!
IZACK TAGO
2RF / CTW – STARTING PRICE $287,900 – OWNERSHIP 64% – AVG 63.5 – RATING 8/10
Another solid week from Tago scoring 56 mostly from base. Has a projected breakeven of -33 so he is going to make us all a truck load of cash. If he continues to average 60, he will make us close to $300k so if you don't have him, you need him. Currently the 10th best CTW option and we haven't really seen his attacking stats yet.
MAX KING
FRF – STARTING PRICE $188,700 – OWNERSHIP 41% – AVG 53 – RATING 7/10
Still only owned by 41% of teams however I suspect he will be one of the most traded in this week with his -45 breakeven. He is the 9th best FRF, bottom dollar and is averaging 53 from only 37 minutes, a cracking 1.4 PPM. Your challenge will be when to sell him. He plays in the first bye round (Rnd 13) so keep an eye on his minutes, if they stay the same then you can hold onto him until round 14.
WILL PENISINI
CTW – STARTING PRICE $255,700 – OWNERSHIP 56% – AVG 48 – RATING 7/10
Another base stat center, he has a breakeven of -13 and is on target to make us a tidy $200k profit by around 8-9. He doesn't play round 13 bye round so he is potentially a sell in the lead up as you start to get your team ready for the byes.
JOSH KING
FRF – STARTING PRICE $255,800 – OWNERSHIP 21% – AVG 46 – RATING 6/10
King is a border line must have cheapie, only due to his lack of attacking stats and his starting role security. When Brandon Smith returns, he will probably end up on the bench so expect less minutes but he may well still see about 40 minutes. Smith has been named on the extended bench but I'm not sure what to make of that, could he return early from injury? The Storm don't play the round 13 bye so he is a sell before then. One of the better FRF options.
ALEC MACDONALD
2RF – STARTING PRICE $175,400 – OWNERSHIP 4% – AVG 33.5 – RATING 5/10
Far from a must have, MacDonald is one of those cheapies that will make you $120k – $150k but it may take a little while. His minutes dropped this week from 55 to 22 minutes however he managed to score a similar score to the previous week thanks to a tackle bust and offload. Most likely keeps his bench spot when The Cheese returns and has a handy -10 break even so he should make us a little cash in the next few rounds. He'll be an early trade out so start planning on how you'll spend his cash.
CHRIS RANDALL
HOK – STARTING PRICE $245,500 – OWNERSHIP 57% – AVG 42 – RATING 5/10
A disappointing round 2 for Randall despite playing longer minutes this week. If he continues to score around 40 then he will be a slow burn so look to move to him on quite early. But don't despair, you're not alone as he is still owned by 57% of SuperCoaches. He has a -4 breakeven but will need to score 40+ to get a couple of decent price rises. If you are a non-owner, he is probably not worth the two trades to get him in and out as he will only make you just over $100k.
LEO THOMPSON
FRF – STARTING PRICE $175,400 – OWNERSHIP 8% – AVG 30 – RATING  5/10
A much better game this week from Thomson, he looked dangerous in patches. He played 36 minutes but was much more involved hence why he scored 45 points in 36 minutes, plus he has an offload. His points came mostly from base stats so he should be consistent however only available in FRF so if you already have the 2 Kings then you may not have room for him, unless of course you use one of the Kings as your second FRF, food for thought.
NEW KIDS ON THE BLOCK
MATT CROKER
FRF – STARTING PRICE $205,100 – OWNERSHIP 0% – AVG 48 – RATING 4/10
Croker was a late inclusion on the Newcastle bench covering for David Klemmer and he actually played really well. He played 33 minutes and scored a healthy 48, mostly in base to. His job security is poor though as Klemmer is due back in 3 or so weeks plus Brodie Jones should be available next week after a COVID illness so may not see a price rise however he is still worth watching.
TAYLAN MAY
CTW – STARTING PRICE $252,500 – OWNERSHIP 2% – AVG 0 – RATING 4/10
May comes into the Panthers side to replace the injured Brian To'o. We have a couple of weeks before his price changes so we can afford to watch him. He will only be an option for about 6-8 weeks but by that time he could have made some decent cash. Definitely watch how he scores in rounds 3 & 4 as he is a base stat machine, not quite in the To'o mould but he's close.
GREG WIREMU
FRF – STARTING PRICE $205,100 – OWNERSHIP 0% – AVG 0 – RATING 2/10
Wait and see how many minutes he gets, he's a hard running forward that can bust the line. We have 2 weeks see his impact however a 4 forward bench doesn't help.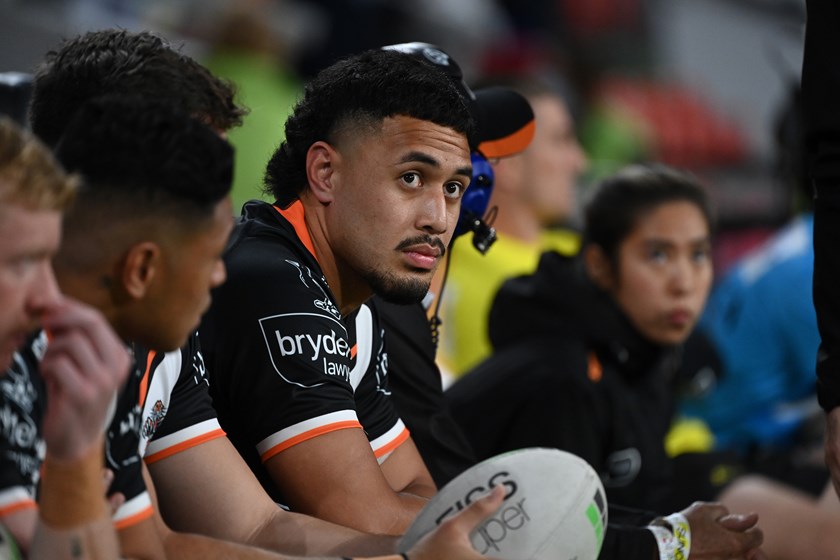 KELMA TUILAGI
2RF – STARTING PRICE $253,900 – OWNERSHIP 47% – AVG 39 – RATING 6/10
Failed a HIA last week and won't play this week which is a blessing in disguise really as there are plenty of other cheapies that you need. Only played 53 minutes for his 32 but looked dangerous every time he had the ball, I was just waiting for a line break or two. Despite his 32 he still has a relatively low break even of 4 however his round 1 score of 46 will leave his 3-game rolling average after his next game. Another player set to peak prior to the round 13 bye and considering he doesn't play he should give you some nice cash to set you up.
BRAD SCHNEIDER
HFB – STARTING PRICE $188,700 – OWNERSHIP 38% – AVG 45 – RATING 6/10
Schneider is back this week however you can hold off getting him for another week if you don't already own him. It would be nice to see whether he can be consistent as we don't another poor performing cheapie half (yes, I'm talking about you Ilias). If he can score 40+ then he is a decent option for some quick cash however he does play round 13 so may be worth holding onto, time will tell.
TALATAU AMONE
5/8 / CTW – STARTING PRICE $284,400 – OWNERSHIP 42% – AVG 36 – RATING 4/10
Scored a 49 last week however has shown he is inconsistent so I wouldn't recommend that you trade him as there are better options available in CTW. He is still worth watching with a 20-point break even as he probably won't rise too much. If you do own him just ride him out until the Dragons start to click and their draw opens up around round 9.
ANDREW FIFITA
FRF – STARTING PRICE $205,100 – OWNERSHIP 14% – AVG 26.5 – RATING 3/10
Still not an option in my opinion despite his 14-point breakeven, however I am curious to see how many minutes he gets now a utility player is on the Sharks bench. Another 15 minutes per game and I may be interested.
ETHAN BULLEMOR
FRF / 2RF – STARTING PRICE $280,000 – OWNERSHIP 49% – AVG 41 – RATING 3/10
Bullemor only played 33 minutes last week so if that is a sign of things to come then he will be a problem soon for the 49% that own him. He has a breakeven of 9 so we should see a decent price rise but Davey on the bench spells trouble. He certainly isn't an option to bring into your team and owners will be nervously watching his minutes and role in the coming weeks.
LACHLAN ILIAS
5/8 / HFB – STARTING PRICE $205,200 – OWNERSHIP 61% – AVG 22.5 – RATING 2/10
His 17 points in round 2 disappointed over 80k SuperCoaches. Most coaches will probably just have to wait and see if he comes good unless you have a spare $200k to upgrade him. Maybe look at trading him out when you cash out some cheapies but for now just look away.
WILL SMITH
5/8 / HOK – STARTING PRICE $205,100 – OWNERSHIP 10% – AVG 54.5 – RATING 2/10
Smith sucked in a lot of SuperCoaches with his 83 in round. Now 10% of coaches have him and they have just seen what they will get from him. 25-30 mins and at about a point per minute. His 83 leaves his rolling average after this week so if he doesn't score well, he is a sell before he starts to leak cash.
SPENCER LENIU
FRF – STARTING PRICE $257,900 – OWNERSHIP 5% – AVG 42 – RATING 3/10
Named to start on TLT however ended up coming off the bench, this week he is named on the bench so his role is clear in my mind. He ended up playing 31 minutes despite the injury to Fisher-Harris after 25 mins however he did cross over for a try and ended up scoring 61 so I suspect a few more will get sucked in this week. Try and resist the urge to trade him in despite his 0 breakeven. He is likely to see 2 price rises and then he'll start to go backwards. If you have him, keep him for a couple of rounds then offload him. If you don't then steer clear.
TYRAN WISHART
5/8 / HOOKER – STARTING PRICE $175,400 – OWNERSHIP 7% – AVG 21 – RATING 2/10
Despite Harry Grant not playing this week due to COVID, Wishart is not an option. His 2nd round score of 5 gives you some pretty good insight into how he will be used at this stage of the season. His breakeven is 15 which you would assume that he gets, he will lose this value once he goes back to the bench. What is interesting is that Brandon Smith has been named on the extended bench, is that because he is close to coming back or perhaps the Storm don't have any other fit players to put on their team sheet. Either way there's nothing to see here.
MATT FRAWLEY
5/8 / HFB – STARTING PRICE $205,100 – OWNERSHIP 1% – AVG 28 – RATING 1/10
Named on the bench for his 2nd game for the year and will most likely get limited minutes. He only Scored 28 last week so at best he is a watch and see however I suspect he a player to avoid.
TEPAI MOEROA
2RF / FRF – STARTING PRICE $205,100 – OWNERSHIP 10% – AVG 18 – RATING 1/10
With scores of 14 & 22 Moeroa is definitely a player to avoid. His breakeven is 31 which is higher than any of his scores so he is destined to become bottom dollar. Stay away at all costs.
JIRAH MOMOISEA
2RF / FRF – STARTING PRICE $205,100 – OWNERSHIP 21% – AVG 14 – RATING 2/10
Momoisea played 24 minutes for his 23 points last week, most likely due to the injury to Fitzgibbon. Too many backrow options for the Knights for Momoisea to get more minutes, needs another injury to be relevant. He has a breakeven of 39 so he will most likely lose cash but he is basically bottom dollar anyway so just park him on the bench until you have no other issues in your team.