Buy, Sell, Hold – Round 8
Your regular Buy, Sell, Hold author returned after taking a week off to move headquarters. The new high performance facility is open and hopefully should mean big things for the rest of the season. Many thanks to Wenin for doing an amazing job filling in. The easiest way to get replaced is to take a week off, but thankfully that hasn't happened (yet).
What did happen is that in the process of moving I had minimal time to tinker with my team, which somehow resulted in my best score of the season (1334) and my ranking rising to just outside the top 5k.
Best call – BUY Tom Trbojevic (118). Wenin nailed this one, and he's still a great buy this week
Worst call – BUY David Nofoaluma (50). Not a bad score but if you picked him up over Turbo then the Tigers/Sea Eagles game must have been excruciating viewing.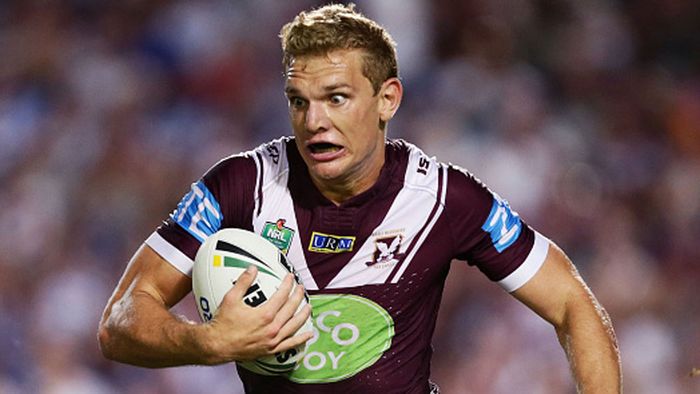 Tom Trbojevic ($593,500 FLB – 118 last round, Average: 117.0, Breakeven -18)
With Ryan Papenhuyzen looking unlikely to play for at least this week and possibly 1-2 more, and some uncertainty around James Tedesco after another head knock, most coaches will be looking for a fullback again this round. At under $600k he's a steal now and will most likely be closer to $700k this week.
There's the obvious red flag that Manly play Penrith this week, but after that the Sea Eagles play New Zealand and Brisbane, two very favorable matchups for him. Manly have looked like a different club with him on the field, and I'd rather be owning him than waiting a week.
Josh Curran ($203,100 2RF – 55, Avg: 66.0, BE 58)
There were two groups of coaches sweating on Curran's outcome at the judiciary on Tuesday evening. The first was those coaches who had brought him in early, hoping he'd be cleared and be able to play him in their 17. The other, which is most of us as he's only owned by 15% of coaches, were hoping that he might miss a week or two and be available for later downgrade given Simpkins is a must have this week.
Unfortunately for the latter group that didn't occur and now there are two must have cows this week. Curran has been very impressive in his first two games, scoring 77 and 55 playing the full game in both matches (other than a ridiculous stint in the sin bin against Melbourne). His first game was all base with 68 and followed that up with a nice try set up on the weekend as part of his 55. At -58 breakeven he's currently slated to increase by $70k with a score of just 34 this round. This means that if you don't get him now, there's a chance he could be over $300k by as early as next week.
Jake Simpkin ($173,700 HOK – 45, Avg: 50.5, BE -38)
When you need a cash cow they're never around, and when they do appear there's usually several of them and you have to make a tough decision. Simpkin is the one that you could most likely wait a week on, as even with a score in the 50s he would increase by $65-$70k and still be under $250k next week. The threat of Moses Mbye on the bench seems to be just that, a threat, as he was used primarily as a middle forward off the bench last week.
Tevita Pangai ($534,600 FRF|2RF – 100, Avg: 70.9, BE 33)
With all the extra cash sitting around from the downgrades available, it's time to focus on shoring up some weak positions. Front row is probably the easiest to fix, with Pangai bottoming out at $534k, over $80k down on the season. He has had some ordinary games this season, and you're going to have to expect some brain explosions, but in the last two weeks he's played 80 minutes against two quality sides (Panthers and Eels) and scored 61 and 100 in those games. He did score a try in each of those contests, but his base stats were in the mid-40s which is perfectly acceptable for an edge player. At this price, even factoring in he'll probably miss a week from suspension somewhere, he's very hard to pass.
Luke Thompson ($487,200 FRF|2RF – 65, Avg: 71.0, BE 47)
If you're too risk adverse for Pangai, then Thompson is a much safer bet with most of the benefits. He's played increased minutes in his first three games back (50, 54 then 64) and hasn't scored below 65 in those games. He's also dual position which is a handy bonus and even cheaper at $487k. The one downside over Pangai is that he won't cover Round 13.
Ryan Papenhuyzen ($895,000 FLB – 0, Avg: 117.4, BE 132)
If you didn't sell him last week, then he needs be moved this week given the news that he will miss at least one more week and probably two. He hasn't dropped any cash, which means if you do trade down to Trbojevic then you're going to pocket nearly $300k to use elsewhere. You'd have to think he will play Origin this season given his form, so he won't cover Round 13 ether. Pencil him in to return to your team after the first Origin game and hopefully his price will have dropped slightly by then.
Connor Watson ($470,100 5/8|HOK – 53, Avg: 63.0, BE 56)
Watson has done the polite thing and peaked in price right as a cash cow has emerged. He's not done anything to warrant selling otherwise, with no scores under 50 this season. But with Simpkin appearing this week he's the obvious choice to downgrade, as moving him to 5/8 is a no go with Josh Schuster still making fistfuls of cash and playable in your 17.
Josh Papali'i ($549,200 FRF – 51, Avg: 60.1, BE 86)
The Canberra forward is being rested this week, after playing only 41 minutes and posting his second lowest score of the season (51). He's basically a straight swap for Pangai this week, which will cover you for Round 13 when the Raiders don't play, and Papali'i would most likely be playing Origin anyway.
Matt Moylan ($347,700 FLB|5/8 – 0, Avg: 42.8, BE 57)
Moylan has been named in the 18 jersey this week and looks to be out of the 17 with Shaun Johnson's return form an Achilles injury. He did end up gaining $94 despite only one score above 52 this season, but there's little point holding as he won't play Round 13 and can't generate any more cash and there's plenty of better options at both of his positions.
Charlie Staines ($347,800 FLB|CTW – 25, Avg: 35.4, BE 87)
For someone who came into Supercoach with a bang last season's scoring four tries in one game, he's been a huge disappointment for owners in 2021. His three lowest scores of the season – 18,10 and 15 – have come against the Cowboys, Bulldogs and Broncos, while his two highest came against Melbourne and Canberra. Some fuel to the fire of those who don't like to rotate players for favourable matchups. Regardless, Staines is completely unplayable right now and is a great choice to downgrade to Curran if you have someone like Kurt Capewell as a dual player sitting in your 2RF. If you're travelling well, you could hold him as an extra body for Round 13, but you couldn't play him with any confidence at the moment.
James Tedesco ($590,200 FLB – 17, Avg: 76.4, BE 157)
After peaking at nearly $900k, three straight triple digit break evens have pushed his price well down to under $600k and another this week will put it even lower – a score around 50 would see him lose almost $80k. There's a chance he may miss this weekend, which will delay that further price drop but after the Parramatta in Round 9 game the Roosters have some great matchups against the Cowboys and Brisbane. You'll want him in your side this season and if you sell now, you're not unlocking any significant amounts of cash, and trading to Trbojevic could even be a sideways move.
Nathan Brown ($515,200 2RF – 32, Avg: 56.4, BE 102)
Even with a triple figure break even, it could be foolish to part ways with Brown before a matchup with the Bulldogs. His 32 last week co-incided with his lowest minute total of the season (44), the first time he had played fewer than 50 minutes all season. He will cover Round 13 as well, and the Eels draw before and after the first Origin break is quite beneficial other than games against the Roosters (Round 9) and Rabbitohs (Round 12).
David Fusitu'a ($237,800 CTW – 0, Avg; 26.0, BE 35)
Fusitu'a hasn't played in two weeks and by nearly bottoming out in price doesn't provide any benefit in trading him out right now. Even a trade to Curran is only going to give you an extra $30k. In his five games played he hasn't snared an attacking stat yet, which is why his scores have been so low. His break even is manageable and who knows what Cowboys team will show up.
Stefano Utoikamanu ($353,200 FRF – 28, Avg: 44.6, BE 60)
The Tigers prop played his second lowest number of minutes this season against the Sea Eagles (32), and only managed 28 points. Whilst his days as a cash cow may be over, he will be a handy body to have in Round 13, even if it's only adding another 30-40 points.