Buy, Sell, Hold – Round 6
The positional changes have hit for the first time in SuperCoach history, and the first bye round is slowly creeping up. With only 373 points separating the top 1k and top 20k, the SuperCoach season is very much up for grabs. This round however, I jumped on the NRLSCTalk podcast and went in depth with some of the below players and some players that aren't listed so I highly recommend having a listen when you have some spare time.
This week I'll again go through my top BUYS, SELLS, and HOLDS for the round along with the hits and misses of last week's article.
HITS
EUAN AITKEN – HOLD (94 points and $34.1k gain)
HAUMOLE OLAKAU'ATU – HOLD (83 points and $7k gain)
MISSES
KOTONI STAGGS – SELL (108 points and $44.4k gain)
BRODIE JONES – 2RF – $275,100 – BE 9
Brodie Jones will be one of the very few people to benefit from the injury woes that the Newcastle Knights are currently facing as he seems to have secured an 80-minute role on the edge. At a price only $100k more than the base price, he is a definite buy. May not be a start in your 17 however he will make a bit of money for your team and is a handy downgrade option.
DAMIEN COOK – HOK – $611,600 – BE 41
This is a PSA for all gunless hooker teams, get either this man or Grant in. I'm putting Cookie as the buy this week for several reasons. Firstly, I mentioned Harry Grant on a previous BSH article and I'm not a fan of doubling on players in quick succession. Secondly, the Rabbitohs draw from now until the first bye round and beyond is incredible and Cookie has shown that this season, he is taking a bigger role in the attack. His 3 round average is 76.3 points per game and two of those games were against the Roosters and the Panthers. The final reason as to why I have Cookie as the buy this week is due to the extreme ownership difference. Harry Grant is owned by almost 30% of teams whereas Damien Cook is at 13.9% at this stage. If you are without one of these two, get on them.
ISAIAH PAPALI'I – 2RF/FRF – $721,800 – BE 72
Despite the scepticism Big Ice faced going into this year after his phenomenal 2021 season, he has proven his gun status yet again. Playing 80 minutes in 4 out the first 5 games, he's currently averaging 1.5 points less than Haas, but his dual flexibility and draw makes him another appealing option. Yes, he is extremely pricey, but you know exactly what you get from him and if his current role doesn't change then he is an easy season long hold.
JAMES TEDESCO – FLB – $683,700 – BE 102
This will be different for each team; I went in depth with Teddy's current trade out stance on the podcast, but I will touch on it briefly here. I believe that for most teams, Teddy is not a trade out. He is a proven gun with a good draw. He is a captaincy option this week against a team who let Scott Drinkwater nearly ton up on them. For the brief number of teams that have used less than 5 trades and 0-1 boosts, you have the flexibility and trades to mess around with him in my eyes but besides that, he's a hold to me.
XAVIER COATES – CTW – $438,200 – BE 38
DO NOT SELL COATES. DO NOT SELL. Everyone who either started with him or has traded him in during the season, should know exactly what rollercoaster they signed up for. There will be games that he will score a hattrick and ton up, there will be games like last week that he doesn't score and will only get 15 supercoach points. He is not worth the trade out unless he's getting 3 or more of those games in a row.
PAYNE HAAS – FRF – $652,000 – BE 51
HOLD HAAS, DON'T BE SILLY.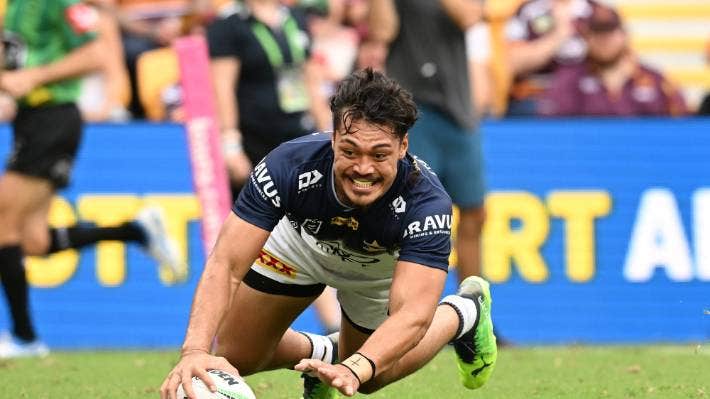 JEREMIAH NANAI – 2RF – $457,200 – BE 79
This sell is simple, Nanai has done what every owner has asked of him, and he's made the necessary cash to sell. Now that he's peaked out, if you are holding him from now on then you will start to lose that valuable cash.
SUITABLE REPLACEMENTS: Brodie Jones, Tolutau Koula, Reuben Cotter
LUKE KEARY – 5/8/HFB – $423,100 – BE 71
Keary hasn't quite fired along with the whole of the Roosters squad to start the year. With a season high of 63 and two scores below 20, he has proven that there are too many mouths to feed in the team and mixed with his return from the ACL injury, Keary has been suffering.
SUITABLE REPLACEMENTS: Blake Taaffe, Mitchell Moses, Dylan Brown