Buy, Sell, Hold – Round 4
I don't care that I got the slightest of red arrows or got about a par score, I care that I beat Clementine. If anyone was following myself or her on Twitter you would be aware of the bet we had going on. It felt very good to get that win and look forward to seeing her face the disgusting challenges she will have to down. As for my team, I'm quite well setup, only big issues for me is Adam Doueihi in doubt, Hughes suspended and Daniel Saifiti in doubt. Thankfully I've got about 260k in the vault to spend!
Round 3 Score: 1039 (Grant captain)
Overall Rank: 45,837
Team name: RugbyLeagueRealm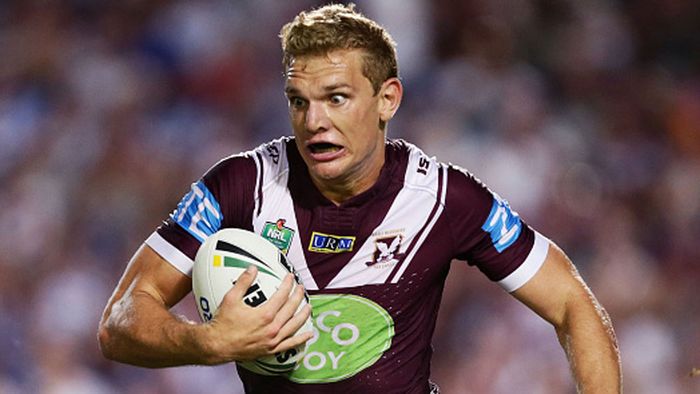 REECE WALSH – FLB – $554,800 – BE -32
Rating: 8/10
TOM TRBOJEVIC – FLB – $577,700 – BE -25
Rating: 10/10
I've looped these two superstars in together because they both fall under similar circumstances. I will say outright if you don't own either, target Tommy Turbo as hypothetically he should be a season long hold whereas Walsh won't be. For the 50% of SuperCoaches that already own Tom Trbojevic and are looking to pair him with another fullback then Walsh could be your man. Both players averaging exactly 100 over their first two games shows how great the current form is for both. Walsh's run over the next month is very SuperCoach friendly with games against Dolphins, Tigers, Raiders and Titans. To top that off his next three games are all at Suncorp and the last one against the Titans is at the Gold Coast. A great option over this period and can be flipped after that cash rise.
NICHO HYNES – HFB – $902,600 – BE 91
Rating: 6/10
Nicho is an out and out superstar, there's no denying that. After so much uncertainty and the promise of him being back every week we finally have him listed in the halfback jersey. The issue is Trindall looming in the 17 still, also the Sharks play the last game of the round annoyingly so if he is a late out you will be stuck with him and cop an AE most likely. There's a large risk to getting him in but also extremely large reward if it pays off. He's also a captaincy shout this week as his last three games against the Dragons he has scored 112, 124 and 182.
CAM MUNSTER – 5/8 – $848,300 – BE 110
Rating: 8/10
DYLAN BROWN – 5/8 – $771,700 – BE 40
Rating: 8/10
This is one I'm having trouble with myself. Both players here have their pros and cons and it's down to a gut call for me. Dylan Brown is cheaper, plays every major bye round and doesn't miss games from State of Origin. Cameron Munster is Cameron Munster. Tough right? While it appears Munster is extremely likely to take the field Friday night, there is still the looming injury risk. He should still finish as the top 5/8 by the end of the season but is it worth getting in the potential second/third best 5/8 in SuperCoach for his health and availability? That's the one that's down to a gut call.
TOM GILBERT – 2RF/FRF – $537,800 – BE 12
Rating: 8/10
I will say this first and foremost, if you have the option to get Payne Haas then go for it. He is the best prop in the game and I've been saying that all preseason. If you don't have that spare cash handy or are looking to use the 160k elsewhere in the team then Tom Gilbert is your man. Round 1 score of 49 seems to be his floor because he looks to be playing around the 60 minute mark each game. A base average of 57 so far this season is remarkable for his price tag and the fact he's already crossed the line hopefully shows that he's capable of getting a somewhat decent ceiling for his position. He could potentially be a season hold if his performances keep up to this standard but even if they slightly drop off then he should've made enough cash to bridge the gap to the likes of Haas.
LATRELL MITCHELL – FLB – $830,600 – BE 123
Rating: 10/10
We know the old saying of "never sell a gun" and how often that gets pounded into us. Well the games evolved and sometimes it is the right move, however this time it isn't. Latrell hasn't done anything to show he's a sell in my eyes, games against tough opposition such as the Sharks, Panthers and Roosters but has a low score of 62. Still unbelievable from him and now his next three games against Manly (conceded 30+ last week), Storm (rubbish at the moment) and the Bulldogs (love to concede). He could very easily average 100+ over this next period and if you are like me, you are looking to bring him in for it. 
NATHAN CLEARY – HFB – $841,000 – BE 161
Rating: 9/10
This one is all too similar to Latrell, while his scores have been a touch under Latrells he was incredibly unlucky to not go back-to-back tons in his first two games. He has all the potential to be the #1 player in SuperCoach this season still and could drop a 150 at any point. You do not want to miss that!
CHRISTIAN WELCH – FRF – $466,400 – BE 65
Rating: 7.5/10
Last weekend at the Gold Coast was an anomaly game for ol' Welchy. I played him so I know how it felt to cop his 25 score in only 33 minutes. He still isn't a sell just yet. It was about 40° that day and he was absolutely spent after playing almost 70 minutes the week prior. I expect his minutes to go back to the 50+ region and to average near 60 from here on out. His breakeven is still okay so shouldn't be losing much from now.
JAMES TEDESCO – FLB – $761,300 – BE 115
Rating: 9/10
SAM WALKER – HFB – $614,700 – BE 70
EGAN BUTCHER – 2RF – $467,600 – BE 48
I won't spend a lot of time on the above players but there's a few more I could've added from the Roosters (Suaali'i, Tupou, etc) but the team as a whole has been underperforming and now having the bye going onto a tough run it is now the time to move on from them.
Suitable replacements:
TEDESCO – Latrell Mitchell, Tom Trbojevic, Reece Walsh
WALKER – Nicho Hynes, Cam Munster, Dylan Brown
BUTCHER – Jacob Preston, Eli Katoa, Josh Schuster
JAHROME HUGHES – HFB – $706,900 – BE 92
Rating: 10/10
An unfortunate outcome for owners (cough *me* cough) but the game is the game so together we deal with it and move on. Out for two weeks so definitely not a hold.
Suitable replacements – Nicho Hynes, Cam Munster, Dylan Brown
REUBEN COTTER – FRF – $597,100 – BE 86
Rating: 9/10
If Cotter had been performing in SuperCoach this would be a completely different story but reality is he might've been a sell regardless of the injury. A season average of 52.7 but his minutes have been all over the shop (67, 56 and 46). So to the 25% of you who owned Cotter this injury is a blessing to you all as it should make this decision far easier to stomach than it would've been.