Buy, Sell, Hold – Round 20
This is it, the do or die for many SuperCoaches as this is the last round of the SuperCoach regular season. Teams fighting for that number 1 spot in their league to get bragging rights and others battling it out for a top 8 spot to earn some sweet sweet cash. Today we look to finalise our squads for the SC Finals!
Firstly, a quick look at how I went last week.
Round 19 score: 1163 (I ended up going Ponga over Teddy so missed out on quite a few points)
Overall Rank: 332nd
HITS
Valentine Holmes – BUY (119 points & $69.4k gain)
James Tedesco – BUY (152 points & $58.7k gain)
Mitchell Moses – SELL (41 points & $7k gain)
MISSES
Edrick Lee – SELL (89 points & $13.5k loss)
Daly Cherry-Evans – BUY (31 points & $21.7k gain)
PAYNE HAAS – FRF – $515,000 – BE 17
I've said it before in this article, I've said it on the podcast a couple of times, Payne Haas is a mainstay and I even made the claim on the round 17 podcast that Haas would average at least 70 points per game for the rest of the season and he comes out of the gates back from injury with a huge 105 with his 1st try of the season. If you have the trades or any major injuries, he's an easy get.
RATING: 9/10
MATT BURTON – 5/8 – $617,600 – BE 7
Burton is an out and out gun. Simple as that. He's a weapon in attack, the bulldogs are clicking and everything goes through him (except Fox intercepts). Add the goalkicking on and you get a Matt Burton who has only had one game under 70 points in his last 8 games (the 28 against Cronulla was in torrential conditions).
RATING: 8/10
JEREMIAH NANAI – 2RF – $627,900 – BE 46
A very POD play at 2RF compared to the likes of David Fifita and Cameron Murray, Nanai is a huge get for the season end. He hasn't scored under 63 since round 9 and in that time has played teams like Panthers, Storm and Broncos. Obviously an avid try scorer but has now upped his base to a decent standard. With a soft draw to finish the year, the Cowboy rookie is a perfect target for your 2RF.
RATING: 8/10
DANIEL TUPOU – CTW – $425,800 – BE 21
To start the year, Tupou was a solid play. Averaging over 60 for the first 12 rounds, he was then called up for Origin and Luke Keary was out with a concussion. In that time he never scored over 36. Now that Keary is back and the Roosters are fighting to get into the top 8, Tupou is a cheap buy and has potential to average way more than his price reads.
RATING: 7/10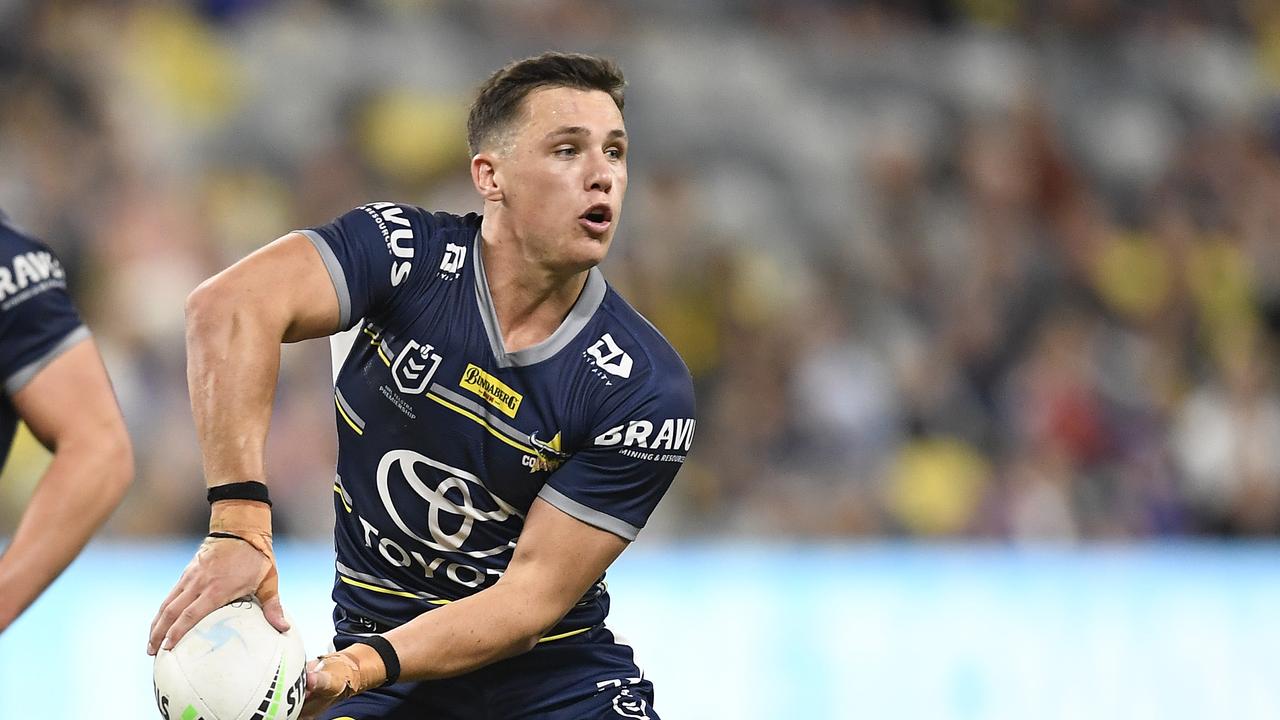 SCOTT DRINKWATER – FLB/5/8 – $567,400 – BE 121
Drinky comes with his highs and lows. With only two games between 50-70 all season it's clear that he's a very hit or miss player. Lucky for owners, he's in prime position to finish the season well with a soft draw coming up for the finals and Cowboys looking to secure their position in the top 4. As trades are lacking, premium players like Drinkwater are a hold in my eyes. 
RATING: 9/10
HAUMOLE OLAKAU'ATU – 2RF – $635,100 – BE 111
Despite not playing this round, Ola is still debatably the top 2RF of the season and is a season ender. He's not the one to sell!
RATING: 10/10
CAMERON MCINNES – 2RF/HOK – $523,700 – BE 76
With the news of Dale Finucane out for a couple of games, this will bring McInnes back into the starting team with a bigger role and more minutes. He's an easy play in your 17 and the dual flexibility is always handy.
RATING: 8/10
TOLUTAU KOULA – FLB/CTW – $512,100 – BE 65
A late bloomer if there ever was one. If you were like me you sold Stubby Koula long before he peaked in cash. If you are still holding him, well done. You have been patient and now can reap the rewards by cashing out on the $336k he's made since the season started.
SUITABLE REPLACEMENTS: Daniel Tupou, Valentine Holmes, Jojo Fifita
RATING: 8/10
CODY WALKER – 5/8 – $585,200 – BE 112
Calker has done his job, but this is Latrell's team quite clearly and that showed last game. Despite the Rabbitohs getting up over the Storm and there being some high scores, Walker only managed a 15. He's peaked in price and in my eyes is not a season ender. 
SUITABLE REPLACEMENTS: Cam Munster, Scott Drinkwater, James Tedesco
RATING: 8/10
INJURY WARD
KALYN PONGA – FLB – $482,400 – BE 94
STEPHEN CRICHTON – FLB/CTW – $505,000 – BE 105
JAROME LUAI – 5/8 – $497,400 – BE 77