Buy, Sell, Hold – Round 16
After a false start last round, it's finally here. This week brings us the super trade week where we can make five trades and finally jettison some of the deadwood we've all been carrying for the last few weeks or months.
Whilst it's tempting to stock up for players in Round 17, don't be afraid to use one or two trades on a genuine keeper who isn't covering that bye round. There's still nine rounds to go, and eight games of Jahrome Hughes scoring at 70ppg (540 total points) ends up beating nine games of Shaun Johnson scoring 60 per game (520).
Also make sure you're following the usual immediate post Origin round protocol. The first is don't trade out healthy players if unless you have to, as you never know who will get rested. Thankfully four of the big hitters (Melbourne, Sydney, Penrith, and Parramatta) play early in the week. Make sure you're following Stilesy on twitter for his late mail and check the site for any updates as well.
Lastly, leave your trades as late as possible. Tom Trbojevic is a must have right now but doesn't play until 3pm Saturday. It would be unfortunate to trade him in on Thursday evening only to find out Friday afternoon that he's been rested. Timing is everything.
Best call – BUY Cody Walker (110). He's an absolute must have right now. Just hope he doesn't get picked for Origin three. Pray for Moses?
Worst call – BUY Sisosifa Talakai (35). Just didn't get the minutes you'd want, playing just 46 against the Cowboys. Still given the Sharks draw and his price ($337k), he's still an intriguing buy.
Tom Trbojevic ($969,700 FLB – 208 last round, Average: 127.4, Breakeven 114)
Turbo has replaced Teddy as the ultimate mental health trade. If you don't own him then your whole weekend is spent hoping he doesn't score something ridiculous. And even if you do own him, if you don't captain him you get the same levels of anxiety. Who'd have thought looping a score of 140 wouldn't be the right choice? I'll never learn. At least I own him though, hey Wilfred?
Just keep an eye on the late mail from Stilesy, as Turbo did have a foot/ankle issue during Origin Game 2 and may be rested. If he's not then no one should be safe to make sure you secure him, as he could put another 200 score against the Bulldogs.
Tohu Harris ($585,600 2RF – 91, Avg: 77.0, BE 70)
The easiest trade in this week. His price has finally bottomed out at $585k, a discount of nearly $100k on his 2021 peak. His three round average is still a very impressive 68.7 and he's played less than 80 minutes just three times this season out of 13 appearances. A genuine keeper who plays Round 17, he ticks all the boxes. You shouldn't need much more convincing.
Luke Thompson ($524,000 FRF|2RF – 42, Avg: 66.0, BE 94)
He doesn't have a particularly high ceiling but his floor is excellent. He hadn't registered a score below 55 all season until the Bulldogs met the Eels in Round 15. That also coincided with his second lowest time spent on field all season at just 47 minutes. The Bulldogs do have a cushy draw home, facing the Titans, Knights and Tigers (twice!), which means a bit less for Canterbury than it would for other teams. Thompson would be the perfect 17th-19th player in your squad, switching between FRF and 2RF as needed. With his high break even you could wait a week to bring him in.
Addin Fonua-Blake ($418,900 FRF – 58, Avg: 50.8, BE 66)
A former keeper at a bargain price, as long as his legs hold up. AFB does have a history of lower leg injuries, and was thought to be out for most of the season before making a surprising early return. He only played 32 minutes in his return but that was upped to 58 in Round 15, where he scored at 1.0 PPM. If he continues that scoring rate, at this price and with the Warriors struggles with middle forwards this season he's a great pickup. At only 2% ownership he'll be solid point of difference in the short term as well.
Shaun Johnson ($512,900 HFB|5/8 – 59, Avg: 53.8, BE 53)
If you do want to trade out Nathan Cleary this week (see below), then you can free up enough cash for another keeper by replacing him with Johnson. Considering his return from a serious Achilles injury, Johnson has been tremendous in recent weeks, averaging nearly 70 points in his last three games. Combined with the Sharks soft upcoming draw, Johnson will provide excellent coverage for the next month and can easily be held as 3rd or 4th half.
Taane Milne ($230,600 CTW|2RF – 56, Avg: 37.8, BE 16)
There's not a lot of cheapies this week, especially with Matthew Timoko dropping to 18th man for the Raiders. Milne is the best of a bad bunch, but at $230k and dual position he's worth a risk especially as Souths play the Tigers, Cowboys, Warriors, and Bulldogs over the next month. He's only owned by 3% of teams as well, probably for good reason but that still makes him a point of difference. Just be prepared to move him on in Rounds 19-20.
Haumole Olakau'atu ($388,100 2RF – 68, Avg: 50.8, BE -11)
Speaking of points of difference, here's another at just 2% ownership. Olakau'atu seems to have nailed down his edge position and even played the full 80 minutes against the Cowboys in Round 14 on the way to 88 points. He followed that up with 73 against the Titans and has certainly passed the eye test this season. He's currently undervalued and will rise in price, but probably not by a lot. His points per minute was hovering around 0.7 earlier in the season but was upped to 1.1 and 0.9 over the past two rounds, although he did score a try in both games. That could continue if Trbojevic is playing as the Sea Eagles face the Dogs. If you already own the other popular forwards this round, then Olakau'atu could be a sneaky POD. But like Milne, he's not someone you'll keep in your side for the run home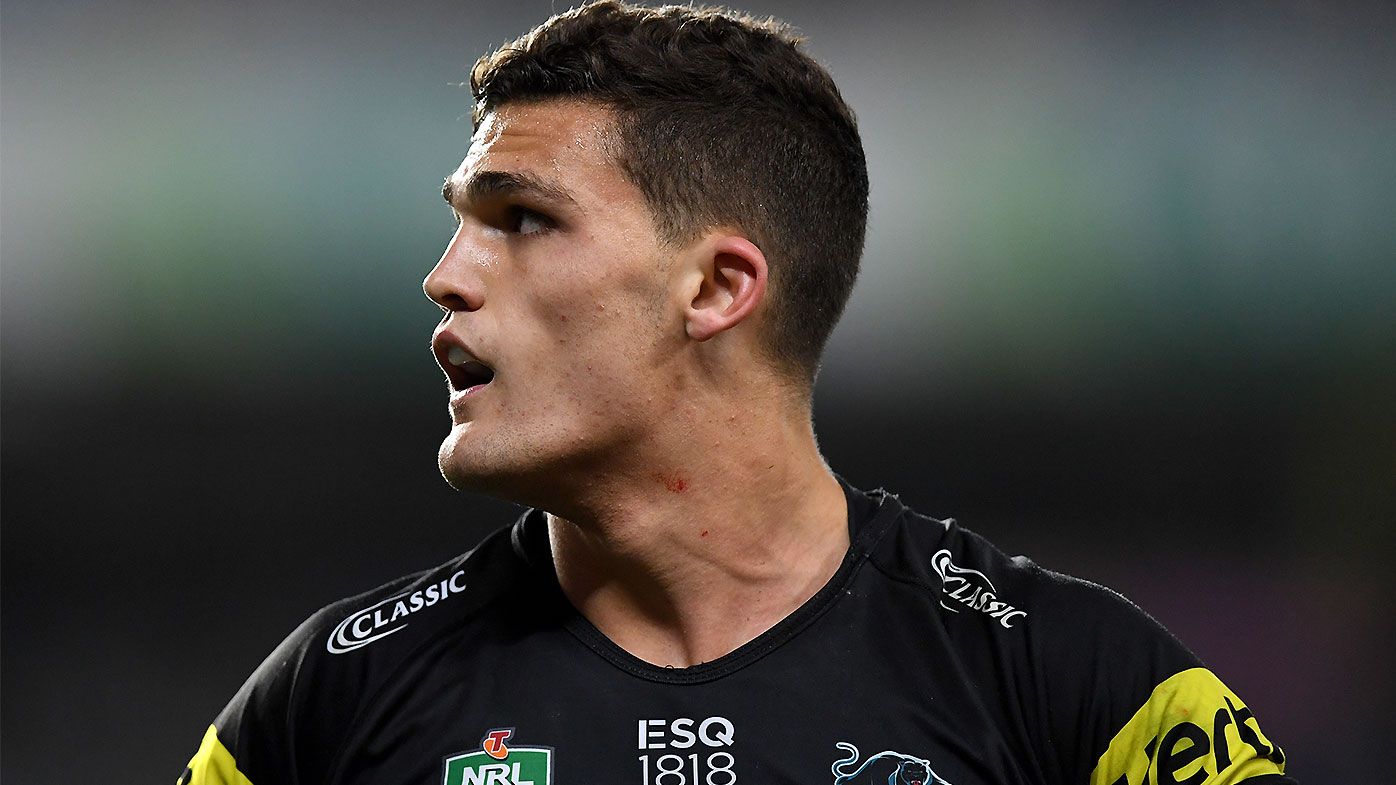 Nathan Cleary ($1,066,300 HFB – 140, Avg: 114.7, BE 204)
This is the literal $1millon question. At the time of writing we know he has a shoulder issue that will keep him out of the third Origin game and could be nursed through the rest of the season after missing the next 4-6 weeks. Hopefully the rehab is enough and he doesn't need surgery and his return is timely, but if you're chasing overall then he probably needs to go. Head to head players will have a more nuanced decision based on how they're travelling.
An unlikely early return after three weeks would mean Cleary is back in Round 18, which would be one game missed since Penrith have a bye for Round 17 which he was going to skip anyway. Four weeks back would mean a Round 19 return and three games missed. That's a long time to have $1million sitting on your bench.
The biggest issue will be finding $1million to fit him back in may be impossible with just two trades, although a 200+ BE will help reduce that upon his return. You don't want to be going into head to head finals without him if he's fully fit.
In the end it's more dependent on how much ground you need to gain, either in total points or head to head wins, and how many trades you have left. If you're struggling, then he has to go to fund upgrades elsewhere to enable you to chase points or wins. If you've already burnt through most of your trades, can you afford to use two more on a player you absolutely have to bring back in a month? Probably not. Sure you can keep some cash in the bank but will you be able to not spend it? It's harder to bring him back if you've already spent it.
Tevita Pangai ($529,100 2RF|FRF – 56, Avg: 67.3, BE 78)
Has been suspended yet again, and will miss the next three games which makes him an easy sell. Even if he'd managed to escape to the Tigers he wouldn't have covered Round 17 anyway. He could be useful in the final rounds of the season but can't be trusted right now.
Tino Fa'asuamaleuai ($494,300 FRF|2RF – 59, Avg: 58.3, BE 47)
It sounds like the Titans trio of forwards will back up after Origin, and with a sub 50 break even it's possible that Tino could make some more cash this week if you wanted to hold. Someone will need to go to find a spot for the likes of Harris, Thompson, and Fonua-Blake and Fa'asuamaleaui has been far too inconsistent this season to warrant holding as a keeper. Thompson in particular offers the same dual position flexibility at a similar price, and had been putting up much more consistent numbers until the Eels game.
Josh Curran ($411,100 2RF – 44, Avg: 58.9, BE 60)
Despite a negative covid test, Curran still has to spend 14 days in isolation, which would free him just one day before the Warriors Round 17 game. Given he won't have trained or taken part in captains run, he's almost no chance of playing and not covering that bye makes him expendable.
Connor Watson ($441,400 HOK|5/8 – 58.5, BE 91)
Somehow Watson managed to hold his value over the last two months despite coming off the bench. That's about to change with a 91 break even on the back of 34 and 40 point games in his last two outings. The Hooker position is slim pickings, as Semi covered on the site recently, but if you don't part with Watson now he could be under $400k shortly thanks to a three round average of just 41.7.
James Tedesco ($676,400 FLB – 54, Avg: 81.3, BE 93)
This is based on the assumption that he's rested this week, if not then he's a hold. Given the four-day turn around after Origin and the size of the pillow on his hip, you'd think he's at extremely long odds to back up against Melbourne on Thursday night. That means he would be missing at least the next two games, and possibly three as the Roosters play Saturday after Origin three, another four-day turn around. Trading him out this week also gives you the best chance at bringing in Tom Trbojevic.
There are reports both Tedesco and Angus Crichton have taken part in captain's run so they are likely to play. If he does play, will he be at his best or will the hip pointer injury continue to bother him? Thankfully the Roosters play in the first game of the round so you can trade accordingly once team lists are released. If he does play, then he's a hold unless it's your only way you can grab Turbo.
Unless he's your only route to Tom Trbojevic, then he's a sell. Hope that's as clear as mud then. Probably clearer than most Bunker interpretations at least.
Stefano Utoikamanu ($363,400 FRF – 38, Avg: 44.5, BE 59)
Like Watson, he's definitely reached his peak at $363k. His break even this round is 59, a number he's only beaten once since Round 4 and only has one score above 42 in his last eight matches. It's time to go.
Charlie Staines ($361,900 CTW|FLB – 42, Avg: 43.2, BE 73)
Don't be tempted to hold him by that #1 jersey, he's been a Supercoach spud. The absolute epitome of rocks and diamonds, but mostly rocks. Big ones. Sell while you still can.
Matt Burton ($589,300 HFB|5/8 – 76, Avg: 68.1, BE 36)
Given the above issues with Cleary, it's paramount to hold Burton now. He's guaranteed the starting #7 for the next few weeks and possibly longer depending how Cleary progresses. Even if Cleary makes a full recovery in a month, the way the Panthers are playing this season Burton would be a fantastic backup at either half spot.
Reece Walsh ($563,500 FLB – 30, Avg: 69.0, BE 97)
Walsh is out this week with a hamstring issue that forced him to miss his Origin debut on Sunday. Hopefully, he can overcome it to suit up for Round 17, but as we all know too well, hamstring issues can linger. Like Tedesco, feel free to punt him if it means locking in Turbo this week.
Brandon Smith ($645,800 HOK|2RF – 79, Avg: 68.9, BE 82)
Harry Grant is missing again for Melbourne, giving Smith another game spending most of his time at dummy half. Given his penchant for crossing the line this season – five tries in his last four games and seven in his last seven – he's looking like one of the few bright spots at the hooker position this season. At least until Grant returns.
Greg Marzhew ($267,400 CTW – 49, Avg: 65.0, BE -13)
A disappointing blow for owners, with Marzhew looking at a four week recover due to an elbow tendon injury. It looks like he will be back by Round 19 at the earliest. Given you can't make a lot of cash by selling him and he won't be an auto emergency issue then he's fine to hold.