Buy, Sell, Hold – Round 11
With the byes not far off, it's worth considering how you're stacked for numbers over the next few months. If you've got coverage over these tough weeks and your side doesn't have any burning fires, this week might not be a bad one to save a trade or two. Valynce Te Whare is the number one trade in at the moment, but you can definitely afford to wait here given his bye and the fact he's only played one game and was an injury fill-in for Brenko Lee. Still, plenty of guns on the radar though for those (like me) who need some urgent class injections.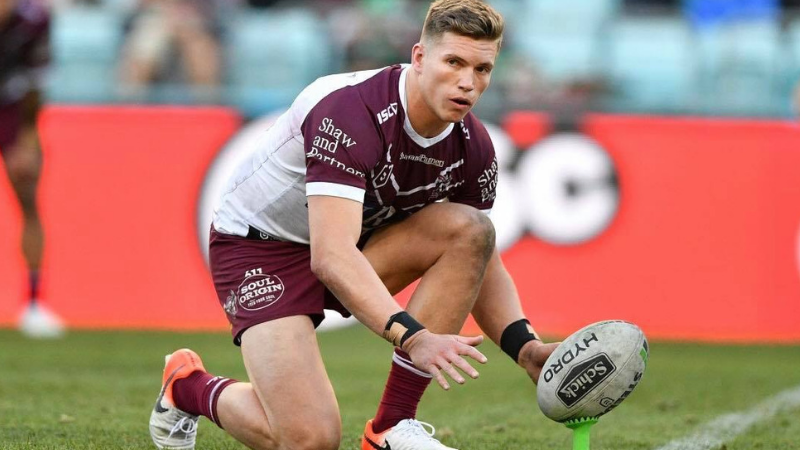 Reuben Garrick – $540,800 – CTW / FLB – BE 48
Plenty are looking the way of Alex Johnston this round but I think you can wait on him another week against an improved Tigers outfit and a decent breakeven (definite look for next week though). Garrick has shed $200k from his initial pricetag and looked much better back in his usual spot on the wing last week with Parker and Koula now back there. Manly have been very flat but with a good stretch of opponents, Garrick taking the goalkicking and fullback spots (should Turbo be selected for Origin – either way not a bad result for Garrick) and a bottomed-out price means a great chance to snap up a gun this week. The Sharks leaked plenty of points last week and come up against Manly at Brooky with Turbo on notice for a massive Origin statement game.
Jahream Bula – $282,700 – FLB – BE -32
Ignore the $80k premium you're paying if you didn't get him last week, Bula has been immense for the Tigers since coming in. Watching him live at the ground (as a non-owner) last round and his presence was everywhere in attack. He has taken a massive 51 hitups in his first three games and looks hungry for the ball. Faces a much tougher prospect this week with the Rabbitohs and won't play the R13 bye so aim to have some fullback cover if you can (Gutho a good choice). Regardless, he looks like he has plenty more points and value in him over the next few months and back-to-back wins should ensure there's no more random tinkering of this backline for a little while.
Jack de Belin – $597,100 – 2RF / FRF – BE 22
JDB has hit a very good patch of form, finding plenty of involvement in big minutes shifting time between both lock and prop lately and averaging 76 minutes in all games where he's started. His good base workrate (and just two penalties conceded and no errors all year), combined with the occasional offload and bust, are doing enough to prop up these scores. The Dragons are a shambles at the moment but they will play seven of the next eight weeks including the R13 bye. Dual flexibility and SuperCoach pedigree should give you a good mid-season forward buy here.
Dylan Brown – $750,500 – 5/8 – BE 6
If you haven't already jumped on, it may have cost you $100k in the last couple of weeks, but ignore that. Brown was chugging along with some middling scores at the start of the year but has really burst into life with back-to-back tons in recent weeks as the Eels have piled on the points. We know how good the Eels' bye stretch is, so it's still a good time to jump aboard.
Lachlan Miller – $674,900 – CTW / FLB – BE 79
Miller's scores have been too massive to ignore this season despite a couple of low games in losses recently (32 v Penrith in a grind and 45 v Parra in a game they were never in). He drops below $700k for the first time since R4 and now has a 3-game stretch that includes the first bye with the Titans, Sharks and Manly who have conceded plenty of points at stages through the year. The Knights should be feeling tremendous after a well-earned international break so jump aboard the Miller train. Some might not like having both him and Marzhew in their sides but both have shown genuine keeper games/scores this season. Can't hurt.
Mitchell Moses – $688,100 – HFB – BE 48
An unfortunate HIA last week will see him miss at least one round but no need to burn a trade on a guy who's been scoring well and will provide good coverage over the mid-year.
Harry Grant – $670,700 – HOK – BE 48
Grant's scoring has been unusually up and down this season but while he's a definite hold for this week (he averages 93 against the Broncos), I'm definitely looking at a trade up (!) to Jeremy Marshall-King after JMK's bye this week. JMK will play 8 of the next 9 games after R11 and Grant will be in and out of the side with Origin commitments. One or two final hurrahs would be nice before he goes. And I wonder why I run out of trades every year…
Isaiya Katoa – $383,500 – 5/8 / HFB – BE 26
See above for the Phins' run of vital games over the middle of the season. Katoa looks to be just hitting his straps, so not sure on the move that 3k coaches have made so far this week by turfing him.
Cam Murray – $567,000 – 2RF – BE 91
Murray is still held by 31% of SuperCoaches but has really flatlined in the last month, failing to go over 50 points at all. He missed the last ten minutes of the Storm game through an HIA that led to his worst output in terms of time on the park all year (53 mins). He has run the ball more than 10 times a game just once all season (against the Broncos two weeks ago when they were steamrolling them) and isn't offloading enough at all to make up for the lack of volume (like Fifita does). With Origin looming and Murray a near-certainty for the Blues, now's the time to get off the ship. Tough to see him coming back into your side once you do move on at the rate he's going.
Tyrell Sloan – $485,900 – CTW / FLB – BE 111
Well Sloan's been a bit of a let-down, with some bizarre play over the weekend having his spot in jeopardy and now standing to lose a ton of cash with a massive breakeven. He was tearing them apart a couple of rounds ago and now barely wants to take a run. Abort mission.
Will Warbrick – $403,400 – CTW – BE 64
A decent service to our SuperCoach sides with over $200k in cash made but I'm not sure there are many out there who've had him in their 17s when he has occasionally scored well. A classic case of play him, he goes shit, bench him he'll score a try. So no doubt that'll turn into 2 tries this round for the many (myself included) who are bidding him farewell.
Paul Alamoti – $332,800 – CTW – BE 32
Similar to Warbrick above, looks to have done his dash for us in SuperCoach this season if you're still holding on. For whatever reason just can't kick on from the 30s/40s he seems to consistently get.